UC

View Blog Entries

by Christine

Posted on 09/03 at 12:15 PM
---
---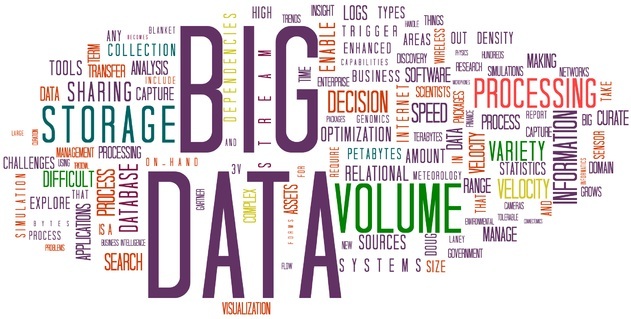 Companies often use analytics to improve their customer experience. When people engage with kiosks and digital signage, their interactions are helping personalize the experience while also increasing ROI within an organization. In addition to improved customer interaction with digital signage, the user's privacy is always protected.

When people are near a screen, a camera inserted inside of the signage can collect the presence of users and anonymously detect demographic information in order to deliver more relevant messages targeted towards a specific population. The privacy of users are protected by providing statistics as a group – the information of each individual is not saved. The statistics pooled from this group helps advertise specific information targeted towards a particular population.

In addition to gathering the number of visitors that engage with the screen, a face recognition software is able to detect presence of those who approach the screen. This will not only personalize the experience, but increase its value as well as the sales of products and services shown via digital signage.

Visual analytics allow for companies to determine what ads work best for customer engagement. From the use of visual analytics, customers can also learn what ads were not viewed or displayed on screen during the time it's operating. The consistent measurement of ads which target specific customers results in an overall better customer experience.
Go To Post >
---
Categories:
News
|
Miscellaneous
|
by Christine
Posted on 08/25 at 02:49 PM
---
---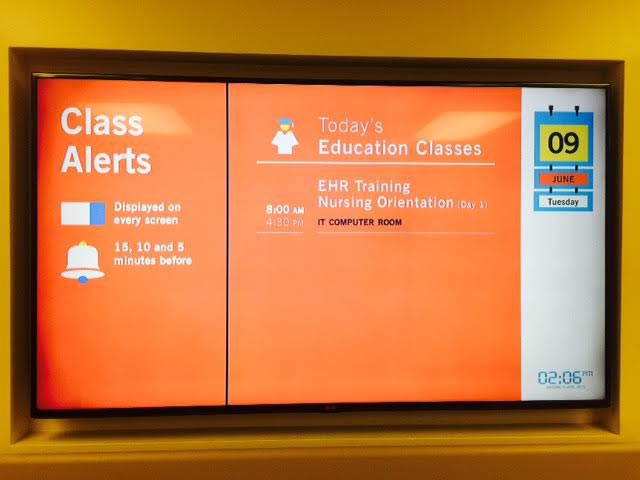 Hospitals can be a hectic environment and digital signage serves as an aid in effectively informing and educating visitors, patients, and staff. Efficient communication in real-time can greatly alleviate a highly stressful environment.

Helps Keep Personnel Up to Date

Keeping up to date with the news can be very challenging for those who work at the hospital. There may not even be time for personnel to engage with coworkers. In this case, digital signage serves as a crucial method of informing staff members about upcoming events, meetings, room schedules and more. Digital signage can also include rules and regulations that everyone needs to follow. Even just a quick scan of the displays can give staff all the information they need.

Provides an Effective Emergency Messaging

Hospitals can hold up to thousands of individuals so it's essential that there is an effective emergency system in place. More and more healthcare serves as an effective tool for integrating digital signage as an effective CAP (common alerting protocol) alert. CAP alert triggers a variety of public warning systems which will increase the chances of the recipient receiving the alerts. It includes content, such as streaming video or images and can geographically target a specific population. The alerts can also assist those who are hearing or visually impaired.

Helps Alleviate Wait Time

Waiting rooms can be very boring for patients. Digital signage can provide informative content, such as health care tips, or display fun trivia questions to help educate patients. These displays can carry a wide variety of health and wellness information which can be modified for each department.

Helps Direct People

Hospitals and health care centers are often maze-like and confusing for first-time visitors. One of the most essential uses of digital signage is for wayfinding or directional signage. Digital signage can help visitors and patients find just where they need to go quickly and with ease.
Go To Post >
---
Categories:
News
|
by Christine
Posted on 08/19 at 02:34 PM
---
---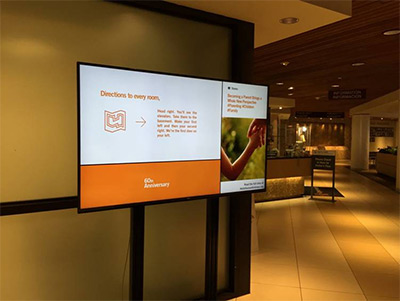 Keeping employees connected is just as essential as enhancing the customer experience. In addition to internal communication, digital signage is very beneficial for the workplace as it could be used as a tool to boost productivity and build motivation.

Digital signage for internal communication can be used in the following methods:


Display tasks and project updates
Implement screens for specific departments
Encourage motivation in the workplace by displaying messages
Display live weather or news feed
Utilize screens for training purposes
Entertain employees with live TV during break time
Display meeting reminders for specific departments
How To Get The Most Effective Digital Signage Software For Internal Communication

Is the software cloud-based? This is a more practical solution for multiple departments and users who want to display content for their employees. Anyone who has Internet access will be able to login to the interface from any location.

Digital signage creation tool should be extremely intuitive? The interface should be simple enough to use for any individual. If your content is being divided among multiple departments and users, it's essential that all departments are simply able to edit, create, and deliver content.

It's also essential that the interface contains permission settings which will allow for certain users to preview content and permit for it to be published to a wide audience.

Does the interface allow for playlist creation? Could a user schedule content to be deployed on a specific time and date? The web-based interface should be very simple to manage. Each department or user should be able to create multiple playlists which can be scheduled for a particular time.

Investing in digital signage is extremely worthwhile, providing an enriching experience for your employees.
Go To Post >
---
Categories:
News
|
by Christine
Posted on 08/14 at 01:58 PM
---
---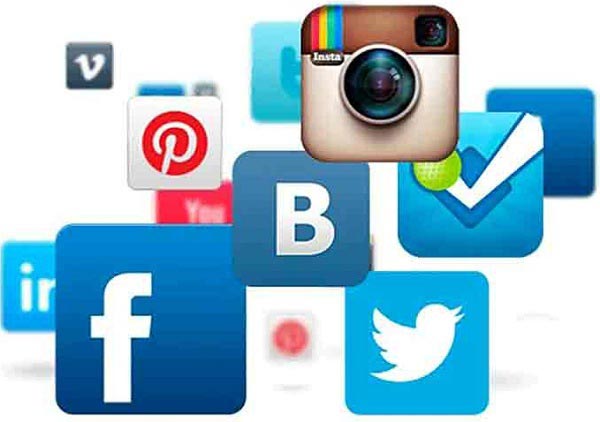 The millennial generation is the first demographic to be born into a new era of technology (Internet, mobile phones, etc). According to Nielsen (2014) "Millennials: Technology=Social Connection," approximately 77 million individuals who live in the U.S. are part of the millennial generation. This makes up roughly 24 percent of the country's population. Due to their exposure to technology at an early age, the majority of millennials (74%) believe that technology makes their lives easier as well as helping them build a better connection with friends and family. As Millennials age, they will make up approximately a third of those spend money in retail settings.

Millennials are quick at adapting to change and need constant stimulation in order to pay attention. Digital signage has done a fine job at evolving to accommodate changes based on the population interests. More and more companies are even adopting digital signage to keep up to date with a digital-based generation. In turn, many top retail settings have changed the way they engage with customers and are incorporating interactive kiosks to help produce sales. For instance, digital signage can be used to display social media news feeds, customer product reviews, and can even provide a list of products sold in store that will match each individual's need. Digital signage companies help provide the tools in which businesses can run multiple campaigns that feature videos, messages, user interaction, and more, yet still convey the overall company theme and message in each ad. Digital signage benefited even more with the introduction of smart phones, allowing for users to interact with digital signage on a more personal level. Consumers can interact with social media in stores. For instance, consumers can upload photos featuring their purchase and then hashtag the name of the campaign. Businesses can use digital signage to their advantage by actually focusing on the interests of their target population.
Go To Post >
---
Categories:
News
|
by Christine
Posted on 08/12 at 01:58 PM
---
---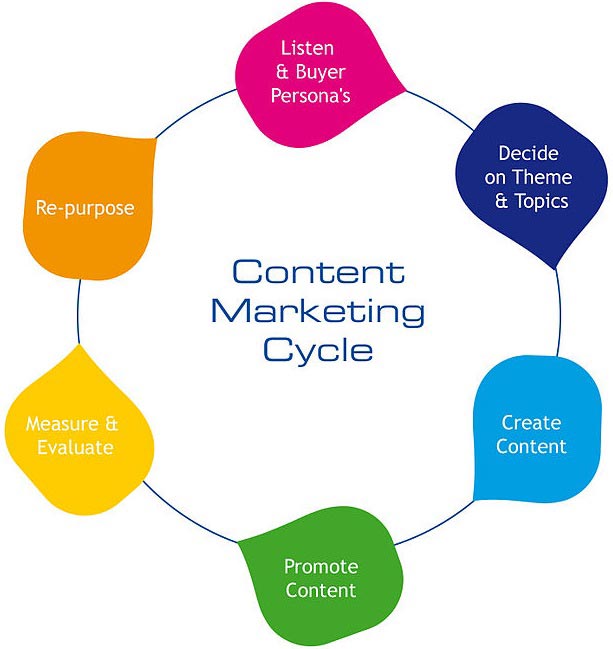 1) Display dynamic eye-catching content. If you keep displaying static images than you are missing out on what digital signage can offer your audience. It makes no sense to display just still images or slideshows on your screens. Movement is very eye-catching and by utilizing still images, you are missing out on providing people with vital information that will catch their interest.

2) Display updated information. If you regularly display content that's outdated, people are not going to rely on your screens for event details and information. With the ability to schedule content to be released at any time and date, there should be no excuse for leaving outdated content on the screen. If keeping content fresh is still a problem, try to incorporate RSS media feeds, real-time news, and weather to keep your information consistently up-to-date. Even the more complicated ads built from scratch shouldn't even take more than a few minutes to create and publish for your audience.

3) The design of your layout is a huge factor in providing eye-catching content, but not everyone has to be an expert with Photoshop to design the most beautiful layouts. There are many ready-made layouts available for use in UCView's app store and it takes only minutes to create a professional-looking layout from scratch.

4) Utilize the interactive capabilities of digital signage screens. Touch screen technology is pretty much the standard norm. Almost everyone is familiar with using touch screen technology and our software is so simple to use that individuals of all ages can utilize it. Interactive technology is also very engaging and influences sales of products and services.

5) Communicate a take-away message for the end-user. Displaying your product on screen can become meaningless if you don't tell your viewers what action to take next. Provide them with information on where the product or service can be found. This call to action is what will help generate sales for your company.

6) Content can be updated all from one location. Network operators have the ability to control which information is sent out for each display all from their desk or home. It's very simple to just update or remove content from multiple displays without having to go through the tedious process of updating each display locally.
Go To Post >
---
Categories:
News
|
by Christine
Posted on 08/06 at 03:37 PM
---
---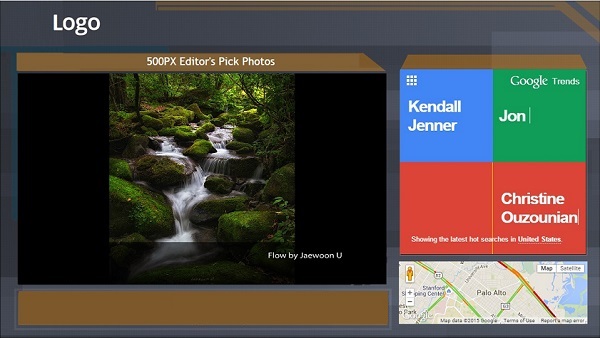 UCView has been working hard to provide all new features which will make the user experience with digital signage even better. Here we are showcasing our newest HTML5 Player Preview feature.If you take a look at the heading of this blog entry you will see a fully functioning, embedded HTML5 player running an ad campaign.
This new browser based HTML5 player is…
Fast
Lightweight
Shareable
Now users can watch their current playlist loop from any browser and Android mobile device. The HTML5 player also allows for users to share their current loop via email and even embed the playlist loop in any webpage.Users can engage effortlessly with the department head and interact with other users to deliver a flawless digital signage presentation to their audience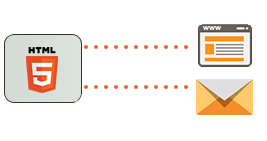 Digital signage is evolving and gradually heading towards the path of interactivity. Users can interact with digital signage the same way they interact with their own personal devices. For instance, HTML5 allows for users to view their current loops and make instant updates to the playlist directly from their mobile Android device.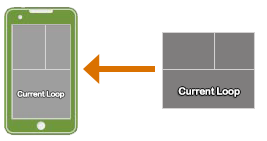 This player takes digital signage to the next level by advancing the way users connect with their audience. To try this feature, simply Log In to portal or create a free account.
Go To Post >
---
Categories:
News
|
Features
|
by Christine
Posted on 08/04 at 01:41 PM
---
---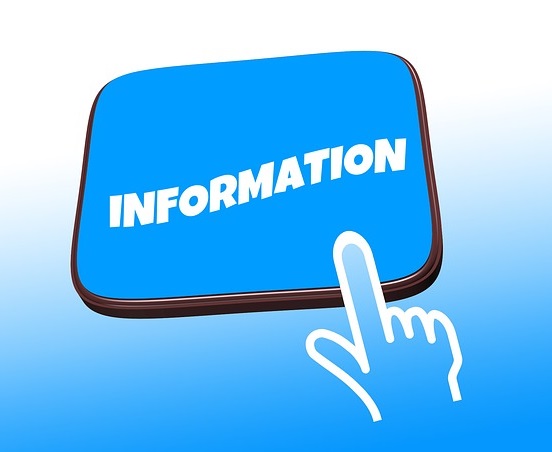 Digital signage content is often a haven for providing information and entertainment. However, information is still its main source of use for obvious reasons. Many displays are placed in areas which allow for only a brief encounter with viewers, such as the hallway of a building. This is why keeping content short and concise is so essential for digital signage. This of course doesn't mean the user should not put in any effort to create a stunning display. Digital signage has one of the highest memory recall rates. According to Nielsen's (2013) Digital Place-Based Video Report, ad recall for POS digital signage is roughly 60%, which is more than twice the recall rate for static signs or other forms of technology used to inform or entertain viewers.

It's important to look at where digital signage is being displayed and what will work best for your viewers. Digital signage content is often created in order to stop passersby for just a brief moment and provide them with all the information they need before they move on their way. If you can successfully get a passerby to stop and look at the screen for just an instant, than your digital signage is already becoming a success. There is a high chance that the viewer will look at the screen again as they pass by and even rely on it for information. It's essential to keep your content fresh, relevant, and to the point. The content you display is like pitching a movie to a producer. If the pitch is too lengthy or boring, they will instantly lose interest. Draw them in and show them why your content is interesting and worth watching. Unless your screens are located in an area where people are staying for a prolonged period of time, content should be displayed no more than 60 seconds. This includes displaying a list of upcoming activities for incoming freshman or displaying the new employee of the month photo. Entertainment content such as video clips or music videos are better used for a university's student lounge or gym. Take the time to work with your content, determine important key words, create an eye-catching background, and then build your viewership by connecting with your audience for just that brief moment.
Go To Post >
---
Categories:
News
|
by Christine
Posted on 07/28 at 01:43 PM
---
---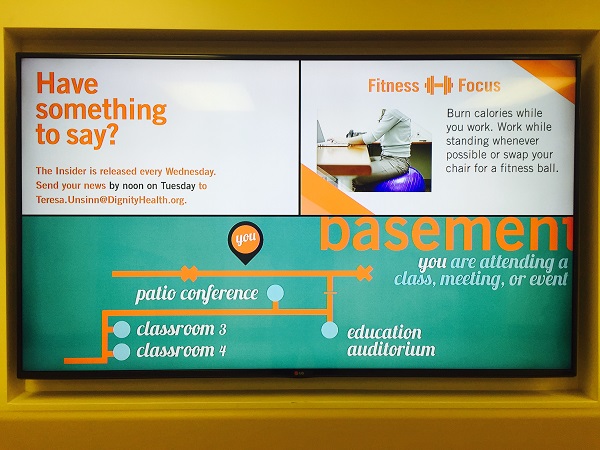 Digital signage plays a large role in marketing products and is recognized as one of the most successful methods in grabbing consumer attention. According to SignAd Network, nearly 1 in 5 of those who viewed an ad via digital signage has made an unplanned purchase after viewing the item on screen. This advertising medium can even be effectively used for other services, such as wayfinding or directional signage.

Wayfinding assists consumers by directing them to their desired destination. Wayfinding is often displayed within a building and is an efficient self-service source for consumers. Wayfinding maps could be color-coded, include helpful icons, and a "You are here" locator to guide individuals to the right direction. Directional signage is similar to wayfinding, however, it's typically used to point the way to a particular destination. Directional signage is typically used to direct individuals to a room, such as in a hospital. However, wayfinding maps and directional signage are becoming increasingly interactive and can provide helpful information on the destination as well as provide step-by-step directions. Paper maps are becoming obsolete and increasingly difficult to read as people becoming more reliant on technology. Wayfinding maps can be used in a variety of industries, such as university campuses and healthcare settings.
Wayfinding maps are extremely beneficial to use for the following reasons:


It reduces the time spent at a location and alleviates the need to contact staff for assistance.
If information changes, it's extremely easy to upload new changes to the system and the updates can be made in an instant.
It can also be utilized for advertisement and provide information on products and services a company offers.
It can withstand extreme weather conditions if placed outdoors.
It can even reflect the overall theme of the organization, by displaying its colors and logo.
Wayfinding is just one of the many ways digital signage is being used to enhance the consumer experience. It also alleviates pressure among staff members to provide information that could be easily disseminated through digital signage.
Go To Post >
---
Categories:
News
|
by Christine
Posted on 07/24 at 12:04 PM
---
---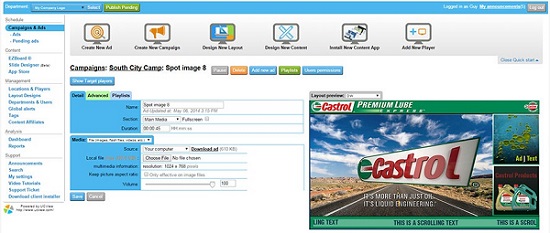 Many companies tend to forget that digital signage software is being used by all types of individuals, many of whom are new to digital signage. Not only does it have to be easy to access, but the overall software needs to be easy to use on a regular basis. If it becomes too complicated to use, network operators may opt for other solutions or irregularly maintain the system, therefore, never seeing its true marketing potential. Even if there is a major upgrade to the software, users should be able to follow the system's new features and add-ons without having to refer to a guide for support. If anything, the new upgrade needs to enhance the customer experience rather than make it even more complicated.
Users who are learning the system should take no more than 3 minutes to complete the following tasks.
Stream or upload a video
Install as well as customize an app
Create a text message
Be able to schedule an ad to be released on a specific time and date
Be able to copy and paste the RSS URL and have it run on the preview
Be able to copy and paste the URL of a website or webpage and have it run on the preview
Be able to make quick changes with your smartphone
Even tasks that may take a little bit longer, such as creating a Welcome message for incoming freshmen at a university with its logo and accompanying images, should take no more than 5 minutes to complete. Although a training session is recommended if you are new to the system, the web-based interface should be user-friendly for long term use.
Go To Post >
---
Categories:
News
|
by Christine
Posted on 07/21 at 02:29 PM
---
---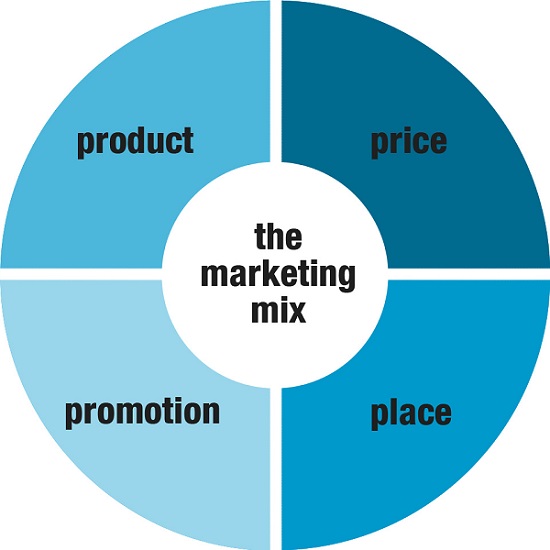 Myth # 1: Digital signage is difficult to install

Digital signage implementation, especially on a large scales basis, may seem intimidating for those who are new to the system. However, over the years, digital signage has evolved to become much less complicated to set up and can be successfully executed by anyone within an organization (even those who claim to be technically-challenged). A simple cloud-based and even server software solution eliminates the hassle of installing and maintaining software and can be easily accessed via the Internet. Many digital signage players sold today are small, yet powerful enough that additional components are not necessary in order to run a full-scale digital signage system. Players can even be configured via Wi-Fi connection, which allows for the user to set up their solution within seconds and not hours.

Myth #2: Digital signage is just a screen

Digital signage is more than just a screen that displays promotional materials. Digital signage is an investment which can deliver much more than you think. It's a vital customer engagement tool which can showcase dynamic and interactive content that could generate more sales and ROI. Digital signage is a very cost-effective system and if it's used correctly in terms of promotion, it can be very successful for your business. Digital signage has the added benefit of completely eliminating print costs and can be scheduled to deliver the right content in a timely manner.

Myth # 3: Content management is a hassle

Obtaining and managing content is thought to be a time intensive process. Any user can manage, edit, and create content by utilizing a web-based platform for simple digital signage content creation and deployment. This is a much more cost-effective solution rather than using print sources to use as promotional materials. Users are able to not only schedule their ads to be released at a specific time, but they can also manage and maintain an unlimited number of ads from a web-based interface. In addition, there are multiple free apps that are available to install within seconds. The interface also has an added benefit of allowing multiple users and departments to manage content on screen in an organized manner.

MYTH #4: Digital signage is not an effective marketing tool

Digital signage is much more marketable than many people think. It's one of the most successful solutions for reaching your audience and has great potential in influencing brand awareness and driving product sales. According to TTV Marketing Report, digital signage has a proven recall rate of 52% compared to other forms of promotion, such as television or billboards. Digital signage is a vital communication tool that could easily be used to target your audience and build your business.
Go To Post >
---
Categories:
News
|
Page 1 of 35 pages
1
2
3
>
Last ›
---