UC

View Blog Entries

by Christine

Posted on 11/16 at 01:49 PM
---
---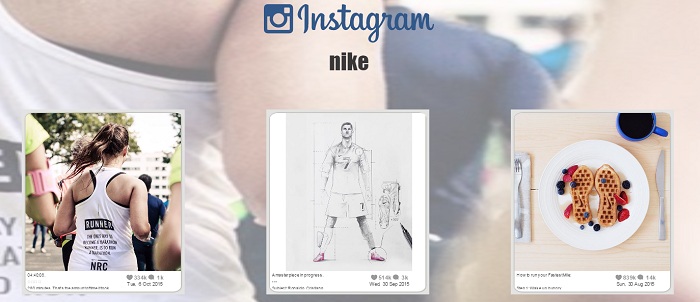 UCView recently unveiled the Instagram digital signage app with HTML5 technology. This highly-popular mobile social media app enables for users to upload photos/videos and share it across multiple social media platforms, such as Facebook and Twitter. This free digital signage app allows for you to display numerous videos and photos featuring your company's best-selling products, events, and more. Each photo includes the number of likes it received, making it great for customer interaction. Accessing the app is very simple, all you need to do is enter in the username and password to view your company's page. In addition, you can manage the number of posts you would like to rotate through and how many posts will show up on screen at one time. The Instagram app with HTML5 technology is a highly effective method of engaging your audience.
Go To Post >
---
Categories:
App Store
|
News
|
by Christine
Posted on 11/10 at 01:31 PM
---
---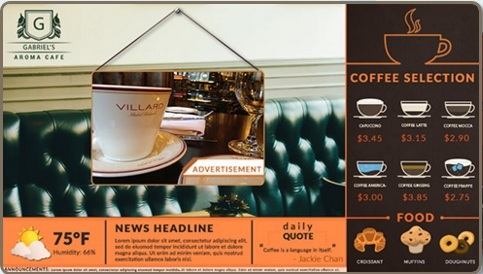 Digital menu boards are commonly showing up in restaurants throughout the nation. It helps build brand awareness and has been shown to be overall more cost-effective than other forms of communication. Menu boards can be typically located behind a counter, providing content that's simple and to the point. The typical digital menu board has even evolved to include kiosks in which customers can easily place orders and speed up service.

Speed and Flexibility

Digital signage is a tool which is adaptable for future use. No matter what needs to be included in the future, digital signage can be adjusted to fit the criteria that's needed, such as nutrition or allergy information. Displaying different menu content throughout the day can be easily accomplished using scheduling functionality and digital menu boards can quickly be used to match inventory levels. For instance, operators can stop a promotion from showing up on screen in a matter of seconds. Having the ability to make changes within seconds helps alleviate the possibility of confusion or complaints. Operators can even change pricing flexibly on the screen instead of wasting unnecessary resources on printed menus.

Benefits

Studies have been carried out in the past demonstrating that digital signage is an effective tool for communication. According to a Networld Media Group and Neilsen's (2013) Digital Place-Based Report, digital menu boards have been very beneficial in marketing and promoting items as is shown below:
Reduce overall menu printing costs
Roughly 30% of customers find digital menus to be a motivating factor for purchase of a product
The average sales lift of any digitally promoted item on a menu board is 3-5%
Ad recall for POS-type digital signage is roughly around 60%
Go To Post >
---
Categories:
News
|
Miscellaneous
|
by Christine
Posted on 10/29 at 04:31 PM
---
---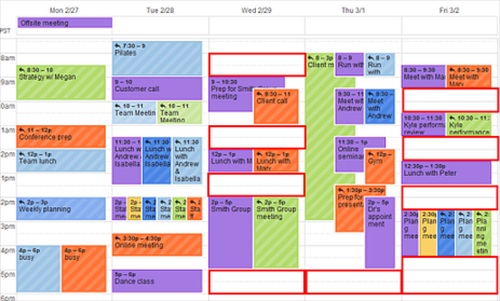 Google Calendar is a quick and efficient method of organizing upcoming events and details all in one place. With a stylish design, the free Google Calendar app is extremely useful in corporate settings, enabling for supervisors to display important meeting dates, times, fundraising events, and holiday activities to keep their employees up to date with details. Each department can keep their staff organized and focused on tasks by even including deadlines for important projects. This can also be effectively utilized in educational settings, allowing for the student body to keep up to date with sporting events, final exam schedules, graduation dates, and more.

By simply entering in the company's Google User Name, your company can have the Google Calendar app up and running on multiple displays within seconds. Customize your company's Google Calendar app by entering in a title, such as "Associated Students - October Calendar of Events." Specify how the calendar is viewed on your displays by selecting from Month, Week, and Agenda. With access to a smartphone, quick changes or updates to your calendar can be made in an instant. The Google Calendar app makes keeping track of details a breeze!
Go To Post >
---
Categories:
App Store
|
News
|
by Christine
Posted on 10/23 at 04:11 PM
---
---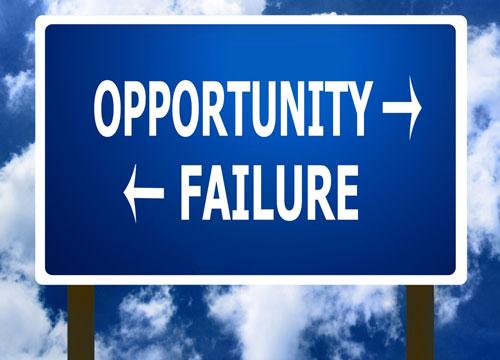 Delivering too much content: It's essential to not clutter your digital signage with as much content as possible. This can be a recipe for disaster. The goal of digital signage is to deliver information in a concise, simplified manner which looks clean and professional. Passersby often just glance at digital signage, therefore, operators have a very small window of time in which to catch their attention. Display content that's easy to read and in large font. Not keeping content organized: Imagine having to make a presentation at a very important business meeting. Would you start discussing the budget of a proposed project before you even tell anyone what the project is? No. The same format follows digital signage. Each content needs to consistently flow from one ad to another and make sense. For example, digital signage at a university's engineering building should display upcoming events focusing on technology. The content needs to stay focused and appeal to the interest of your target audience. Selecting consumer-grade screens: One big mistake people do is purchasing the wrong screens to operate their digital signage network. Not all screens are the same. Yes, you may be saving big bucks by purchasing a consumer-grade screen, but you won't get the same benefits as you would with a commercial-grade screen. The consumer-grade screens was built to view at most five hours of television per day. Commercial-grade screens were constructed to last 24/7. It's much more powerful and has a much longer battery life in comparison to consumer-grade screens. In addition, a commercial grade- screen can effectively be utilized for indoor and outdoor purposes, being robust enough to handle varying temperature levels. Not keeping up to date: Keeping your content up to date is essential, otherwise, people will lose interest. Content shouldn't be created until your business knows its target audience. This is especially useful for the restaurant industry which often needs to update their entire menu from breakfast to lunch to dinner. The content on digital menu boards also has to correlate with the overall theme of the restaurant. For instance, a restaurant which claims to have low-calorie and healthy meals should consider incorporating calorie counts or information on nutritional facts within their menu. Selecting the wrong solution: The main motivating factor in selecting digital signage should be the software, not the hardware. The CMS is what network operators are interacting with. It's the main tool utilized for creation and deployment of content. What's the point of implementing a digital signage network if the software you are using can't even achieve what you are trying to do? The overall structure of the CMS should be simple to use and be able to successfully achieve your end result. The hardware, which is a mini PC device, is essential in powering the displays and having it run smoothly for a lengthy period of time.
Go To Post >
---
Categories:
News
|
Miscellaneous
|
by Christine
Posted on 10/16 at 03:19 PM
---
---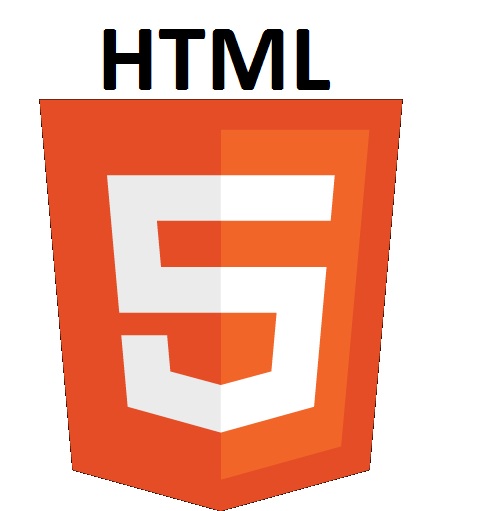 UCView revamped its digital signage app store by introducing the innovative, faster, and more efficient HTML5 technology to its content. The technology behind HTML5 is very different from Flash. Both include features in order to play audio and video within web pages. HTML5, however, is more compatible for technology such as smartphones. HTML5 has even been shown to use up battery more efficiently than Flash. HTML5 is also much faster (roughly 58%) when it comes to running on Linux and Mac OS X. It takes up less power and is also much more effective in providing interactive content for touch screen devices. UCView recently introduced free digital signage content apps below which use HTML5 technology:
Yahoo News: View Yahoo U.S. top news stories with HTML5 technology. Keep up with the latest news. This app functions as a slideshow, allowing for your audience to consistently keep up to date with the constant flow of information and up-to-the minute news stories. In addition, this app allows for operators to simply change the colors of the background.
Sky Sports News: Sky Sports News HTML5 delivers a constant flow of hot topics focusing on the world of sports. This app functions as a slideshow, allowing for your audience to keep up to date with top sport news stories occurring throughout the globe. Customize the app by selecting a text theme color or background color of your choice.
CNN News: CNN News HTML5 now allows for your audience to view the latest top headlining news stories throughout the U.S. and the world. Do you have a news category you are particularly interested in? This free content app allows for you to select from categories, such as Top Stories, World News, U.S., Business, Politics, Entertainment, iReports, and much more. Tailor your content app even more by selecting a background and text color which reflect the theme of your business.
5 Day Weather Forecast: The 5 Day Weather Forecast HTML5, powered by Yahoo Weather, provides the most reliable and accurate weather forecast for the week. Further specify the forecast by entering in the zip code of your city. The Forecast allows for you to select from Fahrenheit or Celsius as well as select a background color and theme for your weather forecast.
1 Day Weather Forecast: The 1 Day Weather Forecast HTML5, powered by Yahoo Weather, provides the most accurate weather forecast of the day. You may specify the forecast by entering in the zip code of your city. In addition, you can further customize the forecast app by selecting between Fahrenheit or Celsius as well as choose a background color which will complement your business theme.
Washington Post HTML5: Watch live streaming video from the United States most reliable news source. This engaging app will really reel you in as it's not only informative and appealing for your audience, but it allows for you to play as many videos as you would like per loop. This free digital signage content app is customizable, allowing for operators to select a background shade from Light Grey to Black.
CNN RSS HTML5: CNN RSS HTML5 allows for you to display a constant flow of live reports and videos from CNN's official RSS feed. Customize your app by selecting the number of videos you would like to play per loop. You may also select a background color of your choice and adjust the volume to your liking.
Link TV Post Video News: Link TV Post Video News HTML5 enables for your audience to view the latest streaming news videos. Link TV is a non-commercial satellite television network which provides diverse perspectives on national and world news. Customize your free digital signage app by selecting the number of videos you would like to play per loop. Ideal for viewing in lobbies and waiting rooms, tailor the background color to reflect the theme of your business.
TED Talks Podcast Channel: TED Talks is a nonprofit devoted to ideas worth spreading. View streaming videos which take place at their annual conferences and local events. Tailor the app by selecting the background color of your choice.
Digital Clock: Display an accurate digital clock with HTML5 technology on your digital signage displays. You can easily customize this free digital signage app by modifying the hours, minutes, and even seconds to reflect the theme of your business.
Go To Post >
---
Categories:
App Store
|
News
|
by Christine
Posted on 10/09 at 04:04 PM
---
---
UCView showcased its 12-port video wall digital signage player which can be configured to support up to a massive 18 screens. This powerful and robust player is built with cutting-edge components which will provide the 12-port video wall player with superior and long-life performance. This customized high-performance unit includes an i7 Quad-Core Processor, 8GB RAM, and 120GB Solid State Drive with multiple 3.0 USB ports.

Due to its nature in drawing attention from a mass audience, video walls of this stature are often placed in high traffic zones. The video wall unit is pre-embedded with UCView's digital signage software. The highly simplified software is customizable, versatile, and allows for operators to display exactly what they need all from a remote location.
Go To Post >
---
Categories:
News
|
Digital Signage Technology
|
by Christine
Posted on 09/30 at 11:41 AM
---
---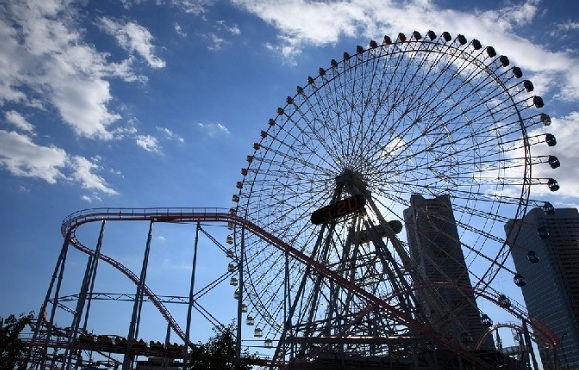 Digital signage has been successfully implemented in many industries, including amusement parks. Between the many fun rides, theaters, retails stores, eateries, and advertisements that occur within theme/amusement parks, there are numerous possibilities for communication. Patrons are likely exposed to hundreds of signs throughout their stay at a theme park, water park, or family entertainment center, which makes digital signage a great solution to utilize for all day communication.

Digital signage offers seamless flexibility that enables for it to be used within all areas of the park. Digital signage screens and interactive kiosks can be customized to reflect the theme of the park, delivering the right look and logo throughout all displays. How do you manage digital signage in locations as big as a park? It's actually very simple. A few staff members can remotely monitor digital signage in all locations or the tasks can even be divided among multiple users. Having an organized system in place allows for much needed messages to be deployed at the right place and at the right time.

Digital signage is a dynamic and engaging communication tool that could be used within all aspects of park signage. Below are just a few benefits of utilizing digital signage:
Digital signage kiosks can be displayed at ticket booths for quick and easy purchase and registration. These kiosks can also display information about park hours of operations, eateries that are available, event schedules, welcoming and closing notifications, and much more.
Public safety notices in regards to poor weather conditions and other emergency notifications can quickly be sent out though out the entire park or even in designated areas.
Individually customized screens can offer detailed information about a specific exhibit or even provide instructions for patrons waiting in line.
Wayfinding kiosks can be displayed throughout the theme park, offering a self-service source for patrons. These full-scale 2D or 3D maps can be color-coded, include icons, and a "You are here" locator to guide patrons to the right direction.
Retail stores can drive their brand image and advertise their top-selling items within high traffic zones. Digital signage screens can be implemented inside or outside stores, offering interactivity that wouldn't be possible with printed signs. Interactive displays can deliver product information, social media feeds, and QR codes for product discounts.
Eateries and restaurants within the park can utilize digital menu boards. Digital menu boards are simple to manage and with dayparting, employees can offer time-appropriate menu items based on the time of the day.
Dayparting enables for employees to schedule various menu items and content to display automatically throughout the day or week based on their preference.
Transportation systems within the park can utilize digital signage directly inside of shuttles or at transportation stations. GPS-triggered ads can inform patrons once they arrived at their designated spot. Transportation systems can also provide entertainment and basic information related to the park.
Resorts can utilize digital signage by offering a quick and simple registration process for guests. Digital signage screens can utilize digital signage dayparting. Hotel and resorts can display complimentary meals offered throughout the day, swimming pool hours of operation, and basic resort information. Wayfinding kiosks can also be installed to direct guests to their room, the main lobby, spa, gym, and much more.
Movie theaters and plays can utilize digital signage by offering patrons information on ticket pricing, start time, available meal options, and dress code and policy regulations.
Go To Post >
---
Categories:
News
|
by Christine
Posted on 09/22 at 10:46 AM
---
---
A creative and innovative concept, which was implemented throughout digital signage screens, recently took place at a mall in East London. This clever ad displayed an on-screen dog which would follow passersby from screen to screen. This campaign was deployed by a local animal shelter who wanted to raise awareness on the need to rehome dogs. This emotionally-engaging campaign, which is targeted towards people of all ages, is a great way to grab attention from those who may or may not have thought about adopting a dog from a local shelter. People who were visiting the Westfield Stratford City mall were given specially-made fliers which contained an RFID tag by volunteers of the animal shelter. Those with the flier would activate Barley, a former shelter dog, to display on each screen they neared and also playfully interact with them. This ingenious campaign does a great job of tugging at people's heartstrings in the hopes of encouraging more people to rescue dogs.
Go To Post >
---
Categories:
News
|
Digital Signage Technology
|
Miscellaneous
|
by Christine
Posted on 09/18 at 11:57 AM
---
---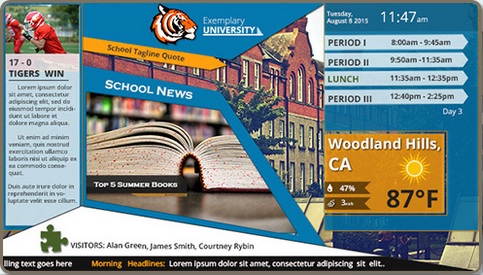 As the start of the school year begins – teachers and staff are clamoring to find a better communication system which will fit the needs of their students. Digital signage is increasingly growing in use within the school system. It is not only very eye-catching, but it greatly helps communicate much needed messages to students throughout campus grounds.

One major need for digital signage in schools are emergency alerts. More schools and college campuses are using mobile phones to deliver emergency alerts via text or email. Digital signage complements this by delivering much needed information to students and staff who may not have access to their phone or email. In addition, UCView's software has the additional benefit of implementing CAP (Common Alerting Protocol) alerts to increase the likelihood of recipients receiving those alerts.

Digital signage is also much more effective in delivering information in an organized and efficient manner. Bulletin boards and posters are a waste of paper, take up too much space, and often display outdated information. Digital signage not only looks more visually appealing, but it helps remove that clutter by electronically delivering the same exact information in controlled display(s). These screens can even be easily managed by a few staff members with little to no technical experience.

According to Pew Research Center (2013) "How Teachers are Using Technology At Home and in Their Classrooms," 45% of teachers that were surveyed reported using e-readers and 43% use tablet computers in the classrooms to complete assignments. Teachers are increasingly using technology to interact with students in the classroom. Digital signage can greatly enhance the learning environment by broadcasting independent messages throughout each classroom. Teachers can even customize their screen to deliver instructions and display relevant videos for the day.

Digital signage acts as a marketing tool which helps promote the school's culture and mantra. Something as simple as implementing more digital screens around campus can greatly help set one school apart from another. As students grow up in a digital age, it's essential that schools keep up-to-date by utilizing technology which students are familiar with - this simple-to-use tool does that by helping enrich the school environment and increase the drive to learn.
Go To Post >
---
Categories:
News
|
Miscellaneous
|
by Alex
Posted on 09/09 at 10:25 AM
---
---
Digital signage has come a long way from VCRs and closed circuit TVs populating 1970s storefronts.In 2015, the digital signage industry is growing at a rapid pace of 8.18% annually and is expected to reach $23 billion by the year 2020. A large variety of industries, with businesses big and small, are utilizing digital signage for advertising, internal communication, brand building, and creating unique interactive environments.
Interactive kiosks and menu boards are some of the most popular ways businesses are utilizing digital signage technologies in today's world. The infographic below outlines just some of the benefits digital signage brings to retail and restaurant industries, as well as the effect it has on customers in general.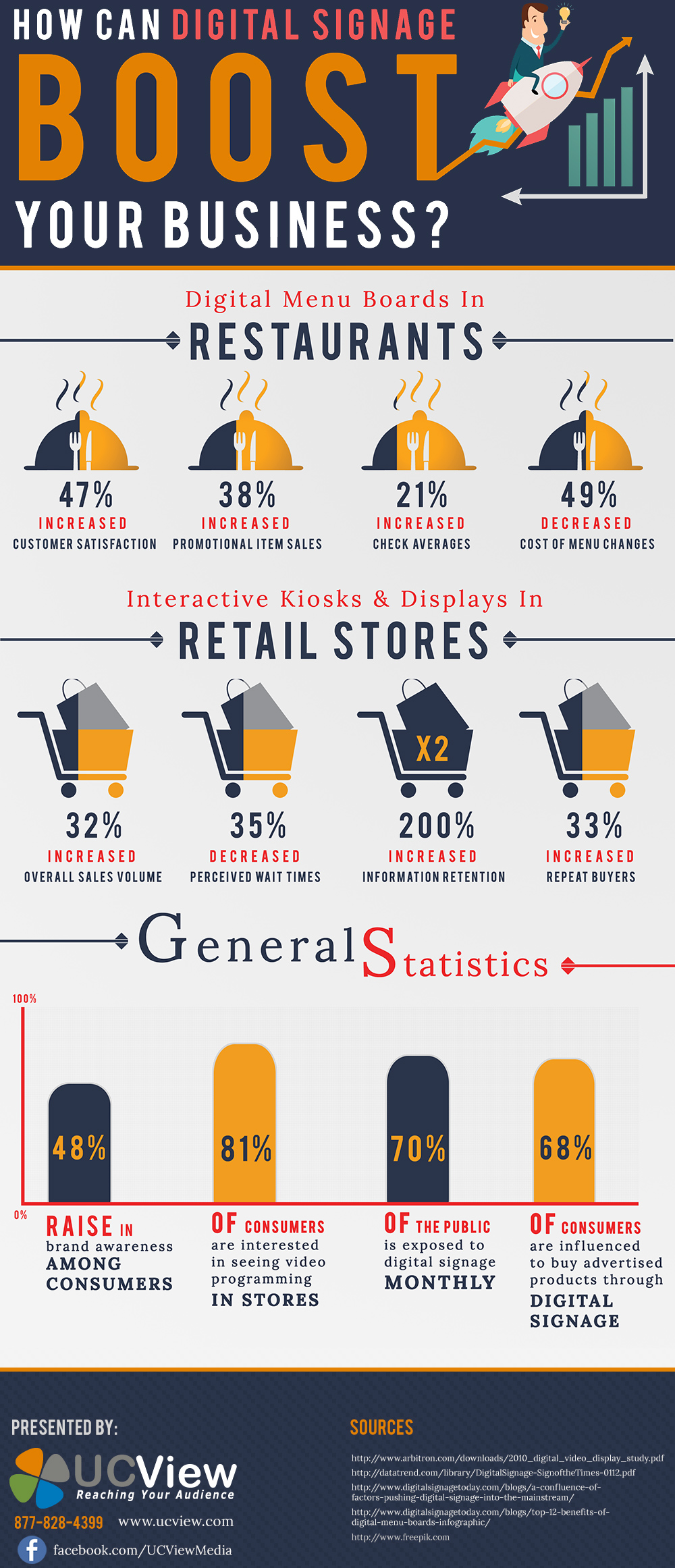 Share this Image On Your Site
Go To Post >
---
Categories:
Miscellaneous
|
Page 1 of 36 pages
1
2
3
>
Last ›
---