UC

View Blog Entries

by Christine

Posted on 06/23 at 03:22 PM
---
---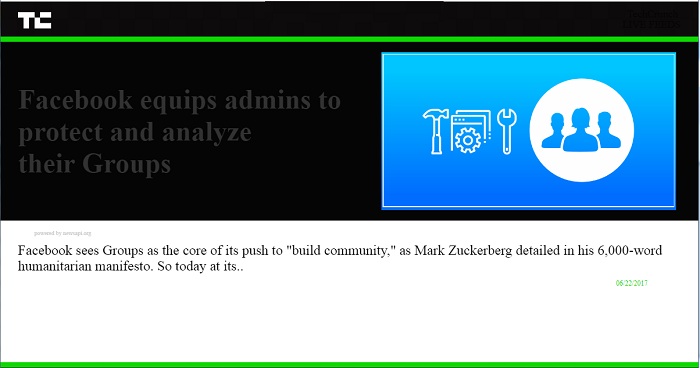 UCView launched the TechCrunch digital signage app to keep tech-savvy viewers informed on the latest news in technology. TechCrunch is an online publisher of technology industry news. It covers the business side of technology, breaking news, up-and-coming trends, and opinions. This free digital signage software app, now available to install on UCView's app store, is ideal for use in education institutions and tech corporations. Users can also customize the digital signage app in order to reflect the organization's theme and color scheme.
Go To Post >
---
Categories:
News
|
by Christine
Posted on 06/15 at 02:26 PM
---
---
Our UCView representatives are having a busy, yet successful day displaying SignEdge digital signage software at InfoComm 2017. InfoComm is the largest annual conference and exhibition for AV buyers and sellers throughout the Western Hemisphere. If you happen to be at the show, be sure to stop by booth #1265 to learn more about our latest software features. Don't forget to check out our Facebook page and follow us on Twitter to learn more about what we have to offer.
Go To Post >
---
Categories:
News
|
Behind the Scenes
|
by Christine
Posted on 06/06 at 02:18 PM
---
---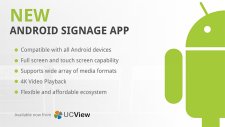 Northridge, CA, June 6, 2017 - UCView announced the launching of the new digital signage player app for the Android operating system. The low-cost app offers flexible playback functionality, enabling for the user to create and upload stunning images, videos, and HTML5 content with 4K video. Content can also be displayed in a touch screen environment.

The app is available to install via Google Play Store and can be used by virtually anyone interested in deploying digital signage, even first-time users.

"Our economical app takes advantage of the versatile android ecosystem. It is capable of running 24/7 and offers great computing performance with 4K video playback" states Guy Avital, CEO of UCView, Inc.

Despite its low cost, UCView's Android app delivers an effortless experience for the user. The app was built with security in mind, ensuring a safe and sound experience for any Android user.

The player app is available and ready to download on Google Play Store. Certain models may be free with a yearly subscription. For more details, please contact a UCView Business Development Representative at (877) 828-4399.
Go To Post >
---
Categories:
News
|
Digital Signage Technology
|
Press Releases
|
New Products
|
by Christine
Posted on 06/02 at 02:15 PM
---
---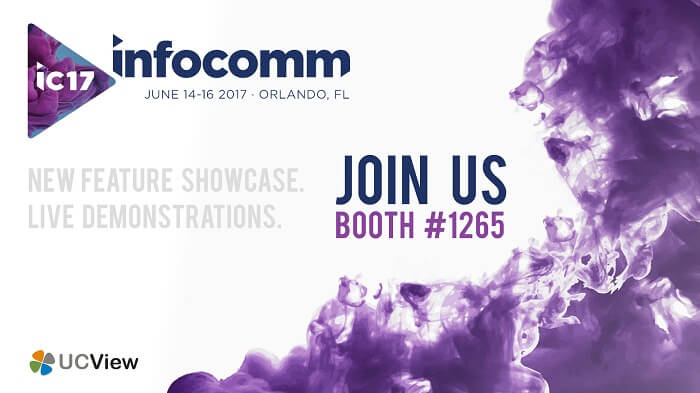 UCView Digital Signage invites you to visit us in Booth #1265 at InfoComm 2017! We will present our innovative Enterprise-level digital signage software and highlight our latest user-friendly features, including Microsite, Player Profiles, and Mobile Channel. InfoComm is the largest professional tradeshow in North America which showcases cutting-edge audio-visual technology and digital signage. The exhibit will take place from June 14-16th at the Orange County Convention Center in Orlando, Florida.
Go To Post >
---
Categories:
News
|
Behind the Scenes
|
by Christine
Posted on 05/23 at 11:37 AM
---
---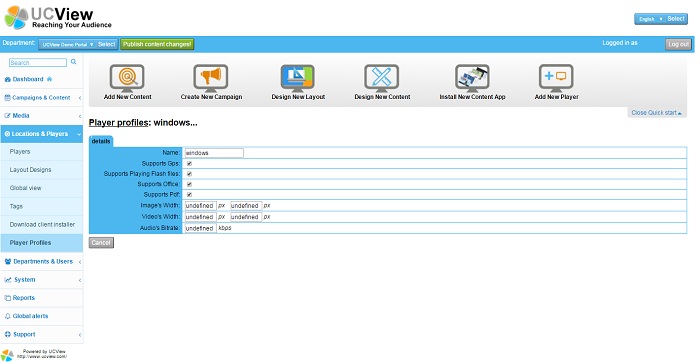 Player Profiles, listed under Locations and Players in UCView Portal, is a new module which gives you (the administrator) control over the type of content allowed to be pushed to your screens. You can simply check a box to enable or disable types of content from being deployed. If the player is unnecessarily overwhelmed with content that shouldn't be there on portal, you will receive a warning notification. This will help prevent any future problems with the system. You can also customize your own profile if you are using your own system. This module's intuitiveness offers a more streamlined digital signage experience.
Go To Post >
---
Categories:
News
|
by Christine
Posted on 04/14 at 10:04 AM
---
---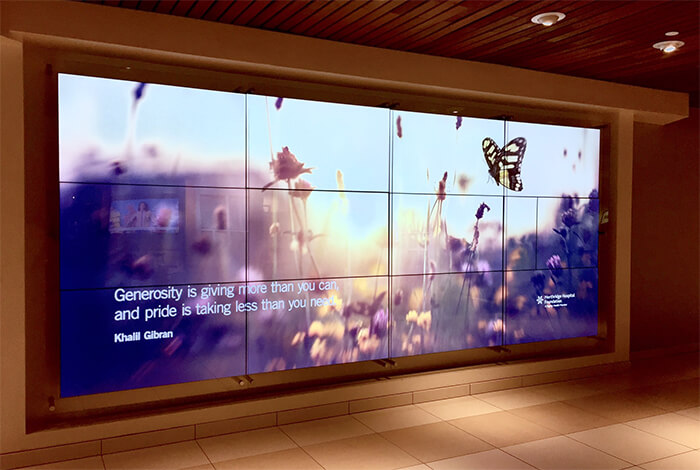 A video wall can offer a dynamic and highly engaging visual experience for your viewers. However, before you even being to install, you have to plan way in advance before setting up your video wall.

The first thing to consider is where the video wall will be displayed. The size of the space and its surroundings will determine the size of the video wall. If you decide to go beyond a traditional video wall and do something that requires more power, a video wall controller may be your best option. It will offer more power and flexibility behind the screens.

Second, consider the type of digital signage video wall you would like to choose. Many organizations want to do something unique and fancy, but it may not necessarily be the best option for their business. If the culture of your company encourages creativity and thinking outside the box, it may be a good idea to try an artistic or mosaic-style look. A company that encourages professionalism may prefer to go with a more traditional, grid-like look. No matter what you choose, consider what would be the best method of getting your messages out there.

Third, consider how to get power and data connectivity to your screens. In addition, video walls need to be properly mounted and secured as well as receive proper cabling. Keep in mind that video walls are meant to be in areas with high traffic areas, such as in the lobby of a casino or hotel. It not only offers relevant messages, but has a powerful method of communication that goes beyond just a regular digital signage screen.
Go To Post >
---
Categories:
News
|
by Christine
Posted on 03/30 at 11:55 AM
---
---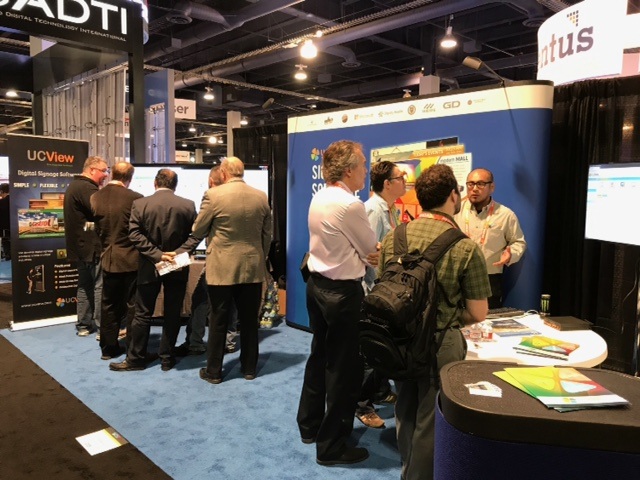 Our representatives are hard at work presenting UCView's latest digital signage software features for thousands of Digital Signage Expo attendees. Today is day two of the Exhibit Hall and we are looking forward to another successful day at DSE. If you happen to be at the event, be sure to stop by Booth #236 to view and learn more about our latest SignEdge software solutions! Don't forget to check out our Facebook page and follow us on Twitter to view our photo gallery and learn more about what we have to offer.
Go To Post >
---
Categories:
News
|
Behind the Scenes
|
by Christine
Posted on 03/28 at 10:55 AM
---
---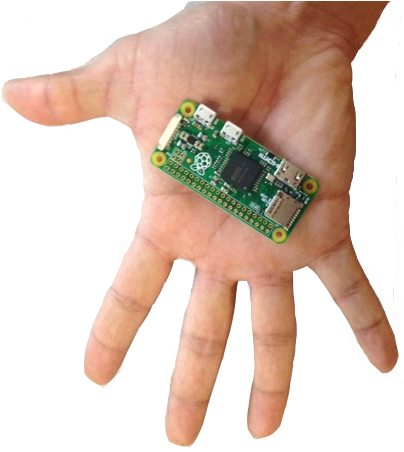 UCView now offers the Raspberry Pi Zero digital signage player! The Pi Zero (ARM Caster HD) consists of powerful, yet highly efficient computing components, such as a 1GHz single-core CPU, 512MB RAM, mini HDMI port, and a micro USB port. As shown in the image, the Pi Zero is so small that it can easily fit into the palm of your hand. Preloaded with UCView's intuitive digital signage software, this mini device offers a lot of value for a very affordable price. This unit is ideal for those who want to run a small-scale digital signage network.
Go To Post >
---
Categories:
News
|
New Products
|
by Christine
Posted on 03/24 at 04:21 PM
---
---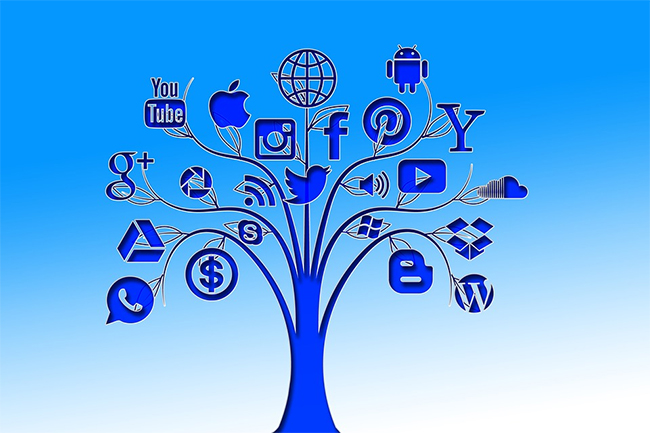 The demand for technology is constantly growing in need within higher education. According to PEW Research Center, those between the ages of 18-29 years old use the Internet more often than any other age group (Internet Use by Age, 2017). This age group encompasses the majority of students that are in higher education, making the demand for digital media crucial for keeping students updated and aware on what's going on around campus. However, some campuses may come across a few problems when deploying digital signage. Whether it's due to budget constraints or miscommunication, it's important to watch out and not do the following when deploying digital signage technology across campus.
Overwhelmed IT: IT staff on campus are often overwhelmed as the need for technology increases year after year in colleges and universities. If multiple software platforms are being displayed simultaneously, this will only increase burden among staff and cause more devotion than what's necessary for a signage network.
Inconsistent Messages: When individual departments across campus deploy their own digital signage, there is often very little consistency with the type of content shown on screen. It's important to display consistent messaging and layouts throughout campus, not just for branding purposes, but to ensure that the right information is shown across campus at the same time.
Multiple Platforms for Emergency Messages: When an emergency occurs on campus, it's essential that the alert reaches the entire campus. When multiple systems are utilized throughout campus, it can hinder these messages from reaching everyone.
Disorganized Permission Approvals: It is essential to know who has access to network management and content development on any signage network. It can become very difficult to manage it if multiple software platforms are used across campus.
Digital signage is great when it's used in the correct manner throughout campus. When only one software system is deployed, IT staff can maintain more control, set permissions levels, and ensure that all networks are secure. It will also become less of a hassle and provide a more successful experience for everyone on campus.
Go To Post >
---
Categories:
News
|
by Christine
Posted on 03/02 at 04:05 PM
---
---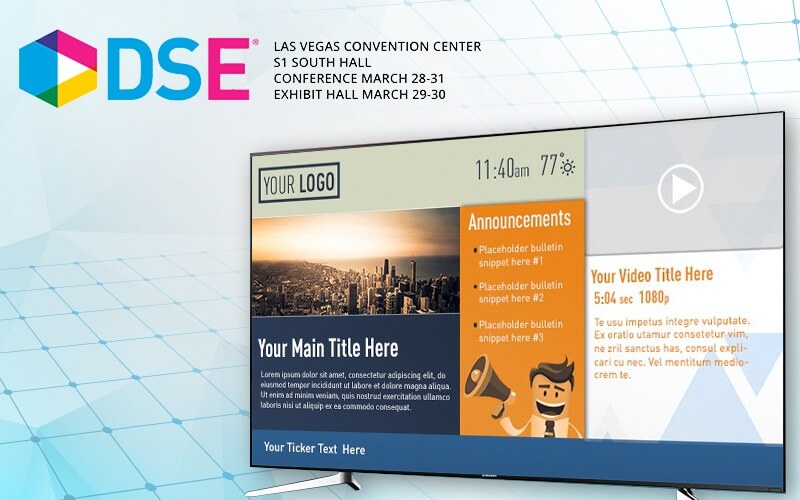 UCView, a leading provider of digital signage software worldwide, invites you to visit us in Booth #236 at Digital Signage Expo 2017! We will present our Enterprise-level digital signage software with its new intuitive design and user-friendly platform. Along with our world-class software, we will also highlight our latest features, such as Microsite, Gallery, and Dropbox support using Samsung's state-of-the-art SMART Signage Platform. Digital Signage Expo is the world's largest and longest running conference and trade show exclusively dedicated to showcasing digital display and interactive solutions. The conference will be held at the Las Vegas Convention Center, Las Vegas, NV.
Go To Post >
---
Categories:
News
|
Miscellaneous
|
Page 1 of 41 pages
1
2
3
>
Last ›
---