UC

View Blog Entries

by Christine

Posted on 07/28 at 01:43 PM
---
---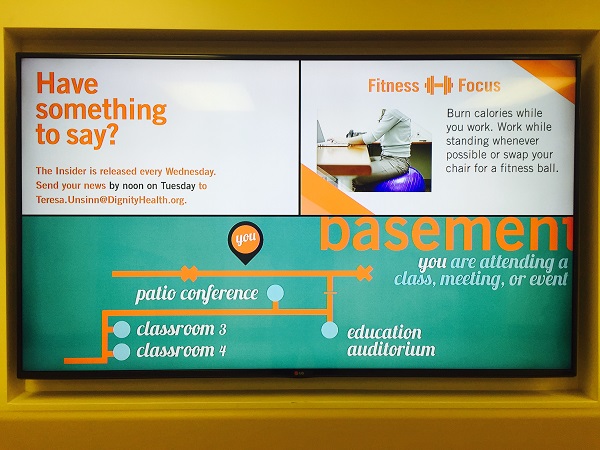 Digital signage plays a large role in marketing products and is recognized as one of the most successful methods in grabbing consumer attention. According to SignAd Network, nearly 1 in 5 of those who viewed an ad via digital signage has made an unplanned purchase after viewing the item on screen. This advertising medium can even be effectively used for other services, such as wayfinding or directional signage.

Wayfinding assists consumers by directing them to their desired destination. Wayfinding is often displayed within a building and is an efficient self-service source for consumers. Wayfinding maps could be color-coded, include helpful icons, and a "You are here" locator to guide individuals to the right direction. Directional signage is similar to wayfinding, however, it's typically used to point the way to a particular destination. Directional signage is typically used to direct individuals to a room, such as in a hospital. However, wayfinding maps and directional signage are becoming increasingly interactive and can provide helpful information on the destination as well as provide step-by-step directions. Paper maps are becoming obsolete and increasingly difficult to read as people becoming more reliant on technology. Wayfinding maps can be used in a variety of industries, such as university campuses and healthcare settings.
Wayfinding maps are extremely beneficial to use for the following reasons:


It reduces the time spent at a location and alleviates the need to contact staff for assistance.
If information changes, it's extremely easy to upload new changes to the system and the updates can be made in an instant.
It can also be utilized for advertisement and provide information on products and services a company offers.
It can withstand extreme weather conditions if placed outdoors.
It can even reflect the overall theme of the organization, by displaying its colors and logo.
Wayfinding is just one of the many ways digital signage is being used to enhance the consumer experience. It also alleviates pressure among staff members to provide information that could be easily disseminated through digital signage.
Read More >
---
Categories:
News
|
by Christine
Posted on 07/24 at 12:04 PM
---
---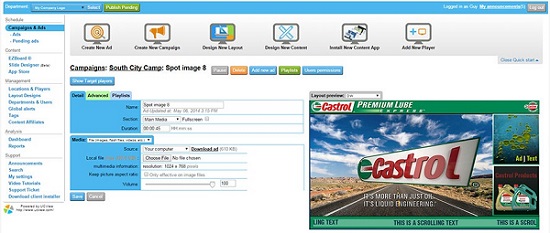 Many companies tend to forget that digital signage software is being used by all types of individuals, many of whom are new to digital signage. Not only does it have to be easy to access, but the overall software needs to be easy to use on a regular basis. If it becomes too complicated to use, network operators may opt for other solutions or irregularly maintain the system, therefore, never seeing its true marketing potential. Even if there is a major upgrade to the software, users should be able to follow the system's new features and add-ons without having to refer to a guide for support. If anything, the new upgrade needs to enhance the customer experience rather than make it even more complicated.
Users who are learning the system should take no more than 3 minutes to complete the following tasks.
Stream or upload a video
Install as well as customize an app
Create a text message
Be able to schedule an ad to be released on a specific time and date
Be able to copy and paste the RSS URL and have it run on the preview
Be able to copy and paste the URL of a website or webpage and have it run on the preview
Be able to make quick changes with your smartphone
Even tasks that may take a little bit longer, such as creating a Welcome message for incoming freshmen at a university with its logo and accompanying images, should take no more than 5 minutes to complete. Although a training session is recommended if you are new to the system, the web-based interface should be user-friendly for long term use.
Read More >
---
Categories:
News
|
by Christine
Posted on 07/21 at 02:29 PM
---
---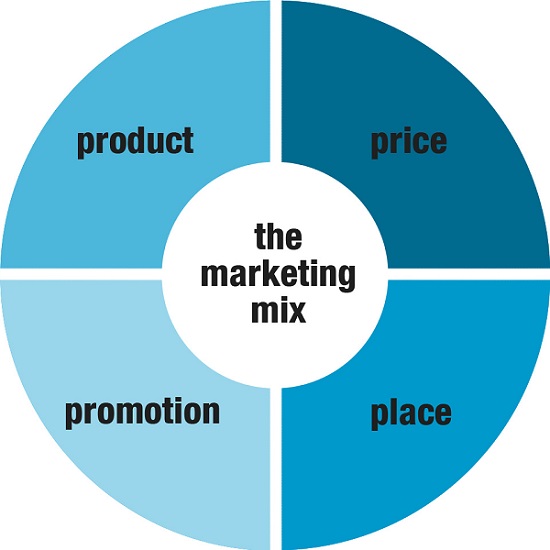 Myth # 1: Digital signage is difficult to install

Digital signage implementation, especially on a large scales basis, may seem intimidating for those who are new to the system. However, over the years, digital signage has evolved to become much less complicated to set up and can be successfully executed by anyone within an organization (even those who claim to be technically-challenged). A simple cloud-based and even server software solution eliminates the hassle of installing and maintaining software and can be easily accessed via the Internet. Many digital signage players sold today are small, yet powerful enough that additional components are not necessary in order to run a full-scale digital signage system. Players can even be configured via Wi-Fi connection, which allows for the user to set up their solution within seconds and not hours.

Myth #2: Digital signage is just a screen

Digital signage is more than just a screen that displays promotional materials. Digital signage is an investment which can deliver much more than you think. It's a vital customer engagement tool which can showcase dynamic and interactive content that could generate more sales and ROI. Digital signage is a very cost-effective system and if it's used correctly in terms of promotion, it can be very successful for your business. Digital signage has the added benefit of completely eliminating print costs and can be scheduled to deliver the right content in a timely manner.

Myth # 3: Content management is a hassle

Obtaining and managing content is thought to be a time intensive process. Any user can manage, edit, and create content by utilizing a web-based platform for simple digital signage content creation and deployment. This is a much more cost-effective solution rather than using print sources to use as promotional materials. Users are able to not only schedule their ads to be released at a specific time, but they can also manage and maintain an unlimited number of ads from a web-based interface. In addition, there are multiple free apps that are available to install within seconds. The interface also has an added benefit of allowing multiple users and departments to manage content on screen in an organized manner.

MYTH #4: Digital signage is not an effective marketing tool

Digital signage is much more marketable than many people think. It's one of the most successful solutions for reaching your audience and has great potential in influencing brand awareness and driving product sales. According to TTV Marketing Report, digital signage has a proven recall rate of 52% compared to other forms of promotion, such as television or billboards. Digital signage is a vital communication tool that could easily be used to target your audience and build your business.
Read More >
---
Categories:
News
|
by Christine
Posted on 07/16 at 11:23 AM
---
---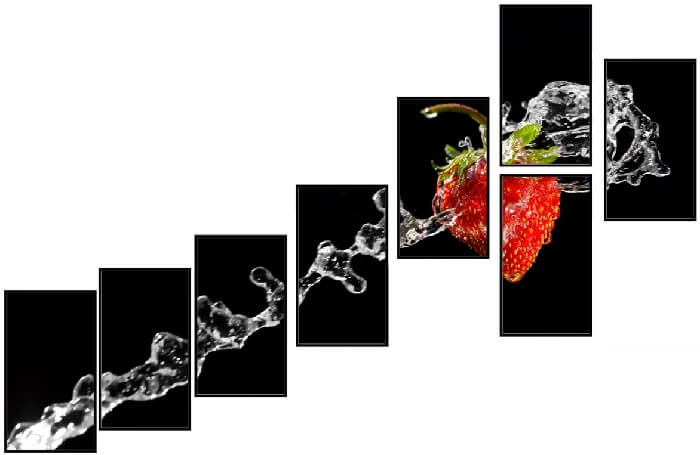 Video walls are a great resource for engaging your audience and delivering relevant messages. Digital signage video walls are eye-catching and are mainly placed in high-traffic zones, such as the entrance lobby of a casino. Advancement in digital signage over the years has allowed for operators to take video walls to the next level and add some creativity. Although it's an extremely engaging solution, setting up a video wall could become a huge challenge if certain factors are not taken into account. There are several steps to consider when installing a video wall:

Step 1: Determine what the video wall will be used for. It's crucial have a particular goal in mind. Determine if going with a video wall solution will be the most feasible and cost-effective option for your business.

Step 2: Decide how many images you plan to display on the screens. Do you want to show a large image that spans across each screen or do you want to display multiple sources at one time?

Step 3: Make sure to discuss content that will be displayed on screen before installation. It's important that the content that's displayed is relevant to your industry and its purposes. It's also crucial that the screens you select are color calibrated. The colors and brightness of the displays need to be uniform in order to have the most success with your video wall.

Step 4: Select a professional grade product. Professional-grade options are designed to handle harsh environments, can be used 24/7 use, and contain cooling fans and robust inputs.

Step 5: Choose an appropriate mounting system. Make sure the wall that's intended for video wall use is sturdy and structurally sound. Determine if there is enough space to install the number of screens desired and the video wall itself is easily accessible.

Step 6: Determine what the appropriate electrical requirements and components will be needed for the video wall.
Read More >
---
Categories:
News
|
How to Knowledge
|
by Alex
Posted on 07/09 at 12:06 PM
---
---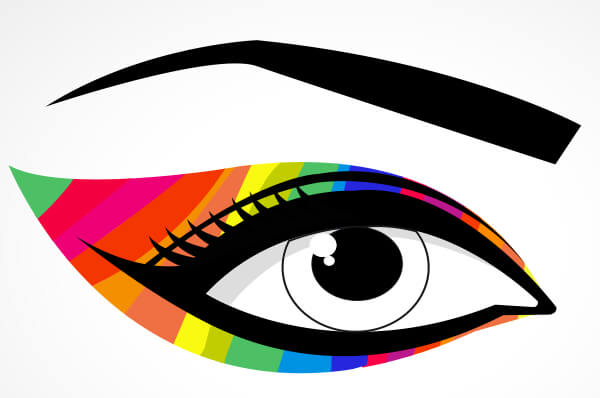 Utilizing smart layout techniques can mean a difference between a viewer giving your message a mere passing glance and actually engaging with your content.Luckily, decades of eye tracking research can help us create clean, well-organized digital signage layouts that point the viewers attention to the most important elements of your message. Here we present 5 eye tracking facts that you can consider when creating your next layout.
1. Make the Right Visual Elements Standout
This seems like a fairly simple concept at first: you tend to notice things that 'pop'. But what actually makes a visual element stand out? According to Fitts Law, the target's size and its proximity to your line of sight is directly correlated to how fast you will notice that target. So, the bigger and closer something is the faster you will see it. Many people tend to overlook this fact when designing websites, banners and, yes, even electronic advertisements. So, how can you make use of this law when creating your next layout?
Make sure the elements that you want your audience to focus on the most are the ones that stand out either by taking up more screen real estate or by having a contrasting color compared to the rest of the layout.
2. Only Use Images That Add a Story To Your Message
All too often we come across digital advertisements, websites, billboards that look good from a purely technical standpoint but do not really grab us with their message. Something just seems…off. In a lot of instances, this is a result of a poor choice of visual assets. There are a lot of things in the environment fighting for the attention span of your viewers – if they don't see anything in your layout that immediately intrigues them, chances are, you already lost a potential conversion.
A good rule of thumb is to use images that convey exactly what is being said in the written portion of your advertisement. If you are feeling very creative you can even try to come up with an image that grabs the viewers' attention by telling a story. The viewer will be interested to find out more about the context of the image and will be more inclined to view the rest of your message.
Images to avoid:
• Generic stock images that only have a tenuous connection to your message.
• Pixilated, low quality images.
• Images of large crowds that do not have a main focus point. People tend to respond better to images of individuals.
3. Harness The Power of Directional Cues
We, as human beings, have a natural curiosity to find out what others are looking at. When we see somebody attentively looking in a particular direction we have a natural urge to look there as well. This phenomenon can be cleverly employed in the field of digital advertising. You can use arrows, a person's gaze or their body position to guide your viewers to the important parts of your digital signage message. Using images of human faces is particularly effective because they make your advertisement more personal.
4. Follow the F-pattern If You Are Displaying A Lot Of Written Info
In 1997, Jakob Nielsen, co-founder of Nielsen Norman Group, conducted a study on how people read text on digital screens. The study showed that the reader's eye is heavily drawn to the left side of the screen. This finding makes a lot of sense considering that people in English speaking countries read from left to right. More specifically, readers tend to first scan the content from left to right at the very top of the screen, then move down slightly, scan horizontally again and finally scan the left side of the page vertically.
How can this be applied to digital signage? Just make sure to place the content you want your users to notice the most on the left side of the screen. Specifically, place it in the top left portion of the screen if it's something bitesized, such as a logo or a tagline.
5. Use Negative Space To Prevent Information Overload
Famous graphic designer, Antoine de Saint-Exupéry, once said, A designer knows he has achieved perfection not when there is nothing left to add, but when there is nothing left to take away.
Many people tend to think that leaving empty spaces (a.k.a negative spaces) is a waste of screen real estate but that could not be further from the truth. Our eyes instinctively look for visual breaks in between content.
Negative space gives us subtle cues where to look next. If you have too much content and not enough negative space in your layouts then nothing will stand out and the viewer will quickly lose interest. The key to effectively relaying your message is to present the information to your audience in the clearest way possible - ample use of negative space does just that.
Read More >
---
Categories:
News
|
How to Knowledge
|
by Christine
Posted on 06/29 at 02:06 PM
---
---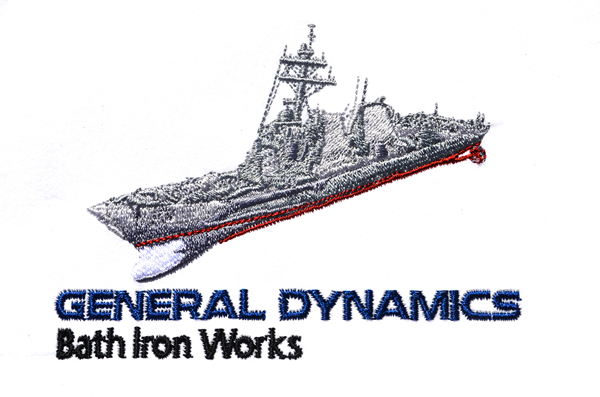 General Dynamics is an aerospace and defense company that provides a wide variety of products and services that caters to business aviation, combat vehicles, weapons systems and munitions, shipbuilding, and communication and information technology systems and solutions. General Dynamics is comprised into four business groups: Aerospace, Combat systems, Information Systems and Technology, and Marine Systems. Bath Iron Works, which is in the Marine Systems sector, provides expert design and precision in building superior surface combatants for the U.S. Navy. UCView exceeded the security requirements needed for installation of digital signage servers within the General Dynamics network ecosystem. We are proud to serve General Dynamics/Bath Iron Works by providing the highest quality digital signage solutions which meet government regulations.General Dynamics/Bath Iron Works offers optimal services in an efficient manner for their customers.
Read More >
---
Categories:
News
|
by Christine
Posted on 06/16 at 03:53 PM
---
---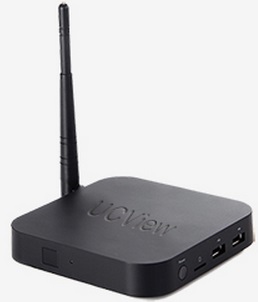 UCView just launched the View Media 20 digital signage player! This small form factor device is ultra portable and can be easily mounted behind a display screen. It can support virtually any media format and is capable of 1920x1080 HD video playback. This optimal player delivers stunning graphics for a flawless viewing experience. The View Media 20 comes with a Windows 8 operating system, however, Ubuntu is optional. It is sold at an ultra affordable price and is reliable enough to handle smooth playback 24/7. This digital signage device is capable of managing and delivering digital signage software that supports the latest development tools. It is ideal for use in small businesses that want a powerful, yet practical device to deliver rich and compelling content for their audience.
Read More >
---
Categories:
News
|
New Products
|
by Christine
Posted on 06/12 at 02:09 PM
---
---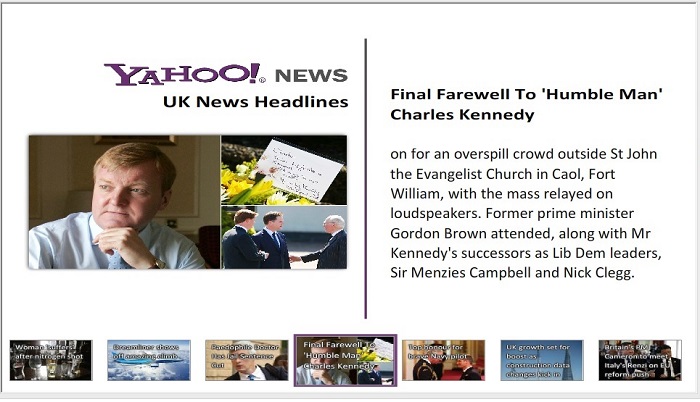 Yahoo U.K. News is now available in UCView's content store. Delve into multiple categories offered, such as UK News, UK Politics, Tech, Health, World, Business, Science, and Entertainment. In addition, you can further specify your digital signage news interests by selecting from a variety of sub-categories. Visually enrich your news stories by modifying the background theme and text color. You can also adjust the length of time before your news stories transition to the next slide as well as choose whether to show or remove thumbnail images from your screens. Yahoo U.K. displays up to the minute news stories focusing on hot topics throughout the United Kingdom. This free digital signage app can be featured in multiple industries, including schools, corporate offices, healthcare settings, and more. Keep your audience informed and up-to-date with Yahoo U.K. news!
Read More >
---
Categories:
App Store
|
News
|
by Christine
Posted on 06/05 at 03:47 PM
---
---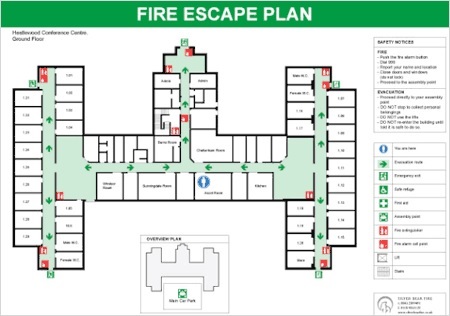 Emergency Alert System (EAS) is a public warning system that requires broadcasters to disseminate warnings, such as Amber Alerts to specific areas. The Integrated Public Alert and Warning System (IPAWS) works with FEMA and the Department of Homeland Security to provide emergency messages to the public in times of need. Government officials, from the local, state, and federal level - as well as local systems integrated with CAP - can use IPAWS to effectively alert the public with emergency notices.

Common Alerting Protocol (CAP) is an interactive public alert system which allows for emergency messages to be circulated simultaneously over multiple communication systems. UCView, the industry's leading digital signage provider, worked with Cooper Alert in order to integrate CAP into its Global Alerts feature available through UCView Portal. CAP alerts can trigger a variety of public warning systems which will increase the chance of recipients receiving the alerts.

CAP is capable of integrating both text and audio, which would be essential for those who are hearing or visually-impaired. CAP is capable of including content, maps, safety videos, and images to better communicate these much needed messages to its targeted population. To better serve the needs of a diverse population, CAP is also available in multiple languages.

Timely communication helps save lives. One of the benefits of digital signage is that it's highly visible in high traffic zones, making it an essential tool for disseminating emergency alerts. Digital signage can be utilized to post emergency notices, but many end-users can actually benefit greatly by posting an emergency exit plan in times of need. These can include a map of the building or essential tips on where to reach a safe area.

In addition to CAP, UCView also allows for users to create their own alert template by pasting a template page URL into the interface. End-users can select from multiple CAP categories, such as Safety and Fire. Users who activated their alerts in the past can view the activation history, the status, and origin of the alerts.
Read More >
---
Categories:
News
|
Features
|
by Christine
Posted on 05/26 at 04:09 PM
---
---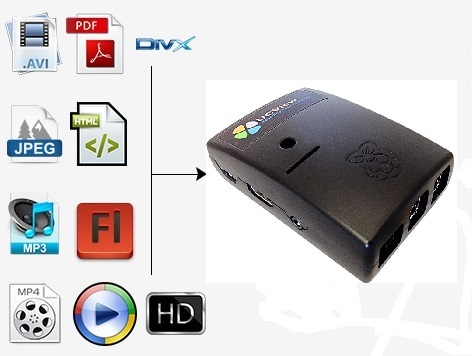 UCView now offers a Raspberry Pi 2 client image which is completely compatible with the original ARM Caster HD (Raspberry Pi 1) digital signage player. The Pi 2 offers optimal computing performance with a 900MHz quad-core ARM Cortex-A7 CPU – which is 6 times more powerful than the original Raspberry Pi 1. The Raspberry Pi 2 offers twice the memory at 1GB LPDDR2 SDRAM. The Linux-compatible digital signage player offers stunning HD resolution, supports multiple content, and can deliver information to a wide audience in just an instant.
Read More >
---
Categories:
News
|
Page 1 of 34 pages
1
2
3
>
Last ›
---