Digital Signage Helps Improve Workplace Productivity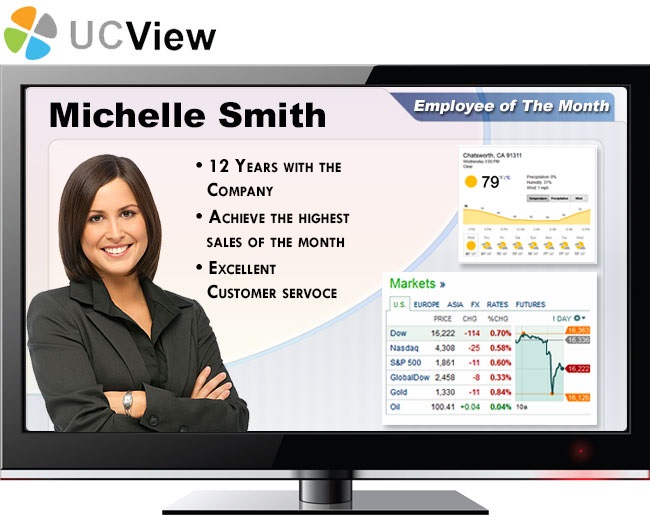 It's evident that many companies struggle with corporate communication. Communication among employees is difficult, especially when new information is constantly coming in. Even emails are not an effective tool for communication as employees can receive numerous emails throughout the day. A bulletin board used within the break room might work for one week, but eventually the information will become outdated. Many employees won't even have the time to create a flier, print it out, and post it at the right time. So what is an effective tool for communication?

Digital signage is being used more and more for corporate communication because it's easy to maintain and flexible enough to be used in multiple environments. A company with a large amount of employees can install digital signage screens within each department. Accurate information can be published for the right people within the right area.

Meetings: Alert employees about meetings on screen in advance. Inform employees about the location of the meeting room, time, date, and description about the meeting. This will help employees organize their schedule and be accurately informed about where to go. This will allow for your meetings to start on time and end on time without any interruptions.

Motivation: This is a great way to recognize employees who have done a great job within the workplace. Display an Employee of the Month notice to recognize their hard achievements. Dynamic signage is a great way to present the latest sales numbers and once a deadline is approaching, remind employees about their tasks. Share coverage stories focusing on the company. This will help keep employees motivated and remain on task.

Training: Use digital signage as a training tool for new employees. Create an orientation session involving a touch screen kiosk . Display informative videos, safety clips, and test employees on how to do certain tasks. Using digital signage as a training tool will help aid in workplace efficiency and will keep your new employees accurately informed.

Internal Communication for Employees: Publish information within the break rooms, conference rooms, or any other place where employees congregate. Schedule content so that certain employees throughout the day will receive information that specifically targets them. Signage can also be set up in the lobbies, so visitors can learn more about your company. Publish company news stories, display posts from your company's social media page, or information about community events your company participated in.

Digital signage used for corporate communication offers a lot of possibilities. Corporate offices can greatly benefit from using digital signage and it can help improve the workplace environment.