UC

View Blog Entries

by Guy Avital

Posted on 09/25 at 01:30 PM
---
---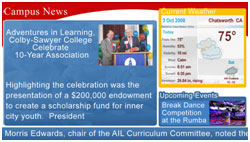 The world in which we live is constantly bombarded with new technology. Some seem to only be intrusive and unnecessary. Digital signage systems are not one of these. It is an innovative way to display a variety of information in various applications. From advertising to education, digital signage is becoming an extremely important part of getting crucial information to people quickly. Whether you are trying to find a more effective way to advertise or you hope to improve the communication within a school or office, consider investing in this important new technology. It is truly changing the way we communicate with students, clients and employees.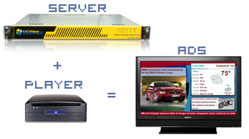 On the outset, such technology was expensive. Today, however, with the changes and advances constantly seen in technology, digital signage systems have become accessible to retailers, educators and others hoping to expand their name and influence. The ability to present a wide range of content in various formats at an affordable price is proving to be a great benefit. The lower costs of this extremely valuable source of advertising are sure to increase your revenue to the point where it pays for itself. The ability to give announcements and make promotions as they happen is irreplaceable when it comes to advertising and effective communication.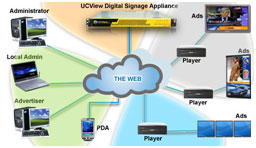 A network of electronic devices, whether they are plasma screens, electronic signs, or scrolling message boards, is controlled by a single digital signage system at a central location. This setup allows for easy addition, removal or material editing to take place. Imagine being able to replace those outdated, unreadable bulletin boards with modern digital signage systems. Never again will outdated information still be posted, for this comes across as very unprofessional, the last thing you want to convey in your advertising.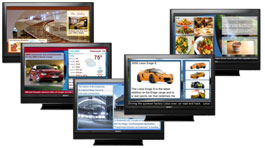 digital media is a technology that is really taking off now that the prices of integrating a system have come down. Whether your goal is better advertising for your product or increasing effectiveness of communication within a school or workplace, adopting a digital signage system is for you. Once you have the system, services are available to assist you in coming up with how you may wish to advertise or communicate using the screen media. From the early creative process to implementation to continually updating information, digital signage service professionals can help you make the most out of your investment. To reach your system's potential, look into a service that suits you needs the best today.

Go To Post >
---
Categories:
News
|
How to Knowledge
|
Digital Signage Technology
|
Behind the Scenes
|
by Guy Avital
Posted on 09/24 at 01:29 PM
---
---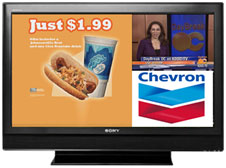 The concept of digital signage is becoming a hugely popular method of advertising. It is quickly becoming one of the most influential, effective ways to generate sales today for virtually any kind of business. More than just advertising, however, digital signage is a technology that can be used for many different purposes in generating sales and getting information passed around quickly. Digital merchandising is a very prominent category for digital signage.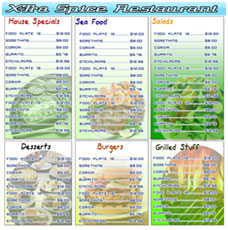 Imagine you are visiting a food court in your local mall. You walk up to one vendor and notice their signage is quite unprofessional. Since prices have been modified but the manager did not want to put out the extra cash to get it professionally changed on the sign, hand-written numbers are scribbled in some places indicating the current prices. The images are fading and look old fashioned. Sure, the food is probably good there, but your eyes are drawn to the Digital Signage menu boards of the vendor next to this one. The signs are not old, faded light boxes but rather six, large, clear and easy to read LCD screens. The images are crisp, the prices may have changed yesterday and you would never know it. The special for the week is emphasized on its own screen with a description of the product. Next week it may be different, but the message will be just as clear and professional.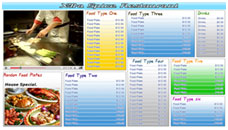 This restaurant example is only the beginning of the potential of digital signage
menu boards. Since this technology is still so new and developing, experts say we have only scratched the surface of the prospective application of digital merchandising. If you see your company benefiting from the implementation of this new technology in your advertising or merchandising, you are certainly correct that it will. Perhaps you hesitate to make the switch because you fear the cost, responsibility or fact that you have no time to incorporate something new like this. Put your worries aside, because a light box or other similar merchandising technique costs about the same as a digital sign. If yours needs repair anyway, make the switch! As clearly illustrated by the restaurant menu boards example, customers are drawn toward up-to-date signage and are more likely to purchase from a location that seems technologically savvy. Your revenue will without a doubt see an increase.

To help you generate the required creativity and design that will draw you customers in the most effective way, there are services you can hire for such assistance. Look into one that works the best for you today to modernize your digital merchandising.
Go To Post >
---
Categories:
News
|
How to Knowledge
|
Behind the Scenes
|
Case Studies
|
by Guy Avital
Posted on 09/21 at 01:28 PM
---
---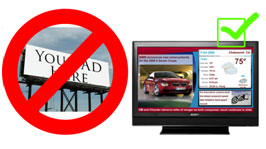 It seems most businesses these days are using less conventional means of advertising. The use of digital signage is becoming so popular due to its success, however, "traditional advertising" is quickly on its way to becoming obsolete. Digital signage is already morphing from unconventional to necessary. There is software available today that provides a digital signage solution for retailers and others in all areas of quite a variety of industries.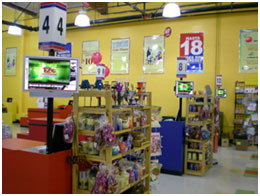 The first application of a digital signage solution was in the retail industry. Videos are pre-recorded and shown at various times on a variety of screens throughout the sales floor of a retail location. Certain videos can be shown in corresponding departments, capturing the attention of people that will most likely be interested in the product being advertised. Why would a business owner find the need to advertise men's clothing in the toy section or power tools in the women's department? Digital signature software that controls the display of such videos and advertisements prevents pointless marketing and helps to better target a specific audience. Aside from retail, digital signage solutions are also utilized in educational and hospitality territories. Unlimited possibilities have been opening regarding the ability to convey important instructions from a central location to remote areas, like separate classrooms in a school or the lobby of a business, simultaneously. A wonderful benefit to using such technology in schools is increasing the education of the ever developing technology with student-run systems.
A digital signage solution can also be utilized in training, getting information out, and distributing products. Eliminating the need for different departments of a retail store to inconveniently gather in a central location for training, digital signage can inform the store employees right where they are of important changes and updates they need to know. The known applications of screen media are ever expanding, yet many believe we have only just seen the tip of the iceberg of what this technology could be capable of.
The vast variety of applications for a digital signage solution should be telling enough in the potential of this technology. From advertising to education and training, screen media will clearly continue to expand and become even more influential in many ways than it already is. From as diverse industries as retail locations, other businesses, schools, hospitals and more, this important and evolving technology will not be slowing down any time soon.
Go To Post >
---
Categories:
News
|
How to Knowledge
|
Behind the Scenes
|
by Guy Avital
Posted on 09/16 at 01:27 PM
---
---
The players
Chevron, based in San Ramon, Calif., conducts business in more than 100 countries and is engaged in every aspect of the crude oil and natural gas industry, including marketing its gasoline products at about 10,000 Chevron- and Texaco- branded stations across the United States.
PumpMedia, based in Costa Mesa, Calif., installs specifically designed media equipment at fuel dispensers to display high quality multimedia. Their program delivers entertaining and informative content to refueling motorists. PumpMedia also manages the installation and implementation of its "Pump Top Video" systems, advertising sales and network management.
UCView Media Inc., based in Chatsworth, Calif., offers a comprehensive set of digital signage solutions, including online management tools and robust servers and players tailored to the needs of virtually any industry. The UCView network-management software administers digital content distribution from a Web-based centralized console; creates and updates separate schedules for each display to allow targeted ads at each terminal or location; and
delivers multiple, high-definition video and audio formats, Flash and PowerPoint presentations, RSS feeds and image slideshows. UCView also provides digital signage and interactivity by touch, as well as cell phone SMS.
The problem
Drivers appreciate the convenience of pay-at- the-pump technology, but deployment of the technology has done little for gas station operators in the way of giving the a competitive advantage or increasing sales of products other than gasoline. Research from 2007 found that about 70 percent of drivers pay at the pump, which means that up to 70 percent of potential customers have no need to enter the store. That loss of floor traffic significantly hampers station operators' attempts to sell impulse goods and services.
The solution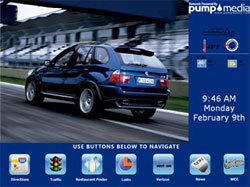 Chevron Products Company selected PumpMedia in 2007 to burnish its brand image by providing a "video at the pump" program, aimed at entertaining motorists while they refuel and at driving traffic into the convenience store. PumpMedia's LAN, operating as a network of individual pump-top displays, was rolled out to independent service station owners to influence consumer behavior by affecting both non-fuel and off-site sales. The technology allows gas station owners to connect each pump-top unit to the convenience store without running wires or installing a non-secure wireless networking system, reducing both installation and security costs. It targets specific, captive and demographically desirable audiences using daylight readable 19-inch LED back light LCDs.
Recently, PumpMedia upgraded the Chevron pump-top units with glass-front touchscreen technology.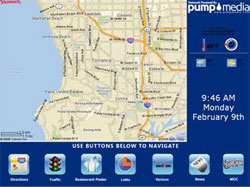 The upgrade also included installing UCView software that allows individuals to interact with each pump-top unit, delivering up-to-the minute digital signage content over wireless and TCP/IP networks — thereby bridging the gap between pump-top kiosks and interactive digital signage. The content features news and entertainment interspersed with advertiser messages.
The UCView network management distributes content from a Web based console. Also, gas station owners can section the screens as desired, providing advanced playlist scheduling, change of layouts and ad rotation and sequential or random play lists.
The UCView software infrastructure facilitates the industry's first synchronization of media across all screens at a single station. The technology coordinates downloads and playlists so audio and video content is presented simultaneously, without echo, with concurrent execution to the millisecond.
The basic system in a participating Chevron station includes an off premise server and several on-premise UCView smart media players. The players are encased in pump-top displays from PumpMedia. Installation is nondisruptive, taking less than 30 minutes per fuel dispenser and not requiring the station to close during the process.
The results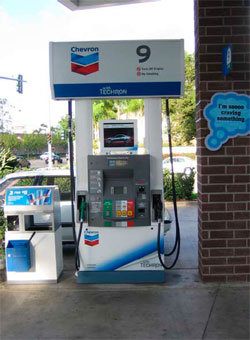 The gas station industry's first interactive, pump-top digital signage kiosk, now installed within Chevron's nationwide network of c-store/ gas station sites, has generated an average 40-percent lift on c-store items advertised on the units for at least one station, according to station owner Pratap Gandhi of Orange, Calif. Described by Gandhi as a "PC on a pump, a cross between a kiosk and digital signage," the units provide customers with Web-based information such as promotional specials and in-store coupon printing; news, weather and traffic updates; a restaurant finder; printable directions; current lottery jackpot data and more, with just a touch of the screen. Consumers also can interact with the Web sites of third parties who advertise on the network.
"Since installation, we've seen increased non-fuel and car wash sales, as well as an upsurge in frequency of visits," Gandhi said. "More customers are moving to us from nearby competitors because we have these touchscreen, interactive portals."
By Lorna Pappas,
Contributing writer Digital signage Today
Go To Post >
---
Categories:
News
|
Digital Signage Technology
|
Case Studies
|
by Guy Avital
Posted on 09/16 at 01:27 PM
---
---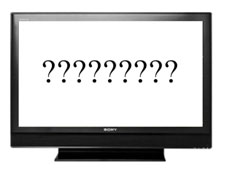 Screen media, or advertising through a digital source, is becoming more and more popular in this digital age in which we live. Advertising with color and with moving animations has put screen media at the top of marketer's list of effective ways to advertise. Anyone can pop an ad on a screen, however, so how can you make your advertisement the best it possibly can be?


Content is the most important part, obviously. It may be a cliché to say "content is king," but that is what makes it true. If you want attention for your sign or other advertisement, you had better give people a reason to look at it. It must be new, fresh, interesting—most importantly it must serve your audience's needs while looking as professional as your competitors' presentations. Successful marketers understand these truths without faltering. Perhaps you are a small business owner and appreciate the success your enterprise has achieved thus far. To continue to stay in the race and not lag behind, you must learn to incorporate screen media in you advertising. This is an important additional responsibility your company must adopt to continue to see revenue increase.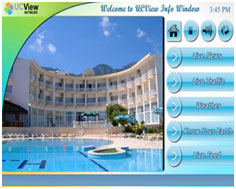 Obviously, many small business owners have already begun to incorporate screen media in their advertising techniques because they understand the importance of promotion. In understanding that, they also recognize that digital signage is the popular way to go these days. The fact is, however, that most of these business owners do not have the complete knowledge, expertise or time to develop the content their advertisements should have to really reach the potential of using screen media. Then the question becomes, how can a small business owner with restricted resources, knowledge and time create the best screen media for their advertising purposes? How can they attract the attention their products or services deserve? How can they get the highest return possible their investment? The answer is logical: hire a digital signage service to help you attain your advertising goals.


A service that assists small business owners every day in researching, developing and creating screen media advertisements is the best option for making the most of your digital signage. This important step that must be taken by every business that desires to continue to excel is easily and inexpensively achieved by hiring an honest outside source to help expand your advertising techniques and knowledge. Look into the best company for your purposed today!
Go To Post >
---
Categories:
News
|
Digital Signage Technology
|
Behind the Scenes
|
New Products
|
by Guy Avital
Posted on 09/10 at 01:26 PM
---
---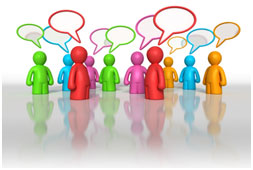 The concept of narrowcasting is essential in finding successful through advertising. Certain people are more interested in particular services and products than others. The key to finding and advertising to those correct people is advertising in the right place at the right time. This occurs in many instances, like in television commercials. For example, late-night television will be completely free from commercials for children's toys while morning and mid-afternoon television will be full of them, especially on certain channels advertisers believe people will be interested in their product. That's the key. Understand what kinds of people frequent certain places at certain times, what they might be most interested in and advertise accordingly.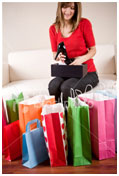 The current skyrocketing use of digital signage is an excellent way to employ the use of narrowcasting. The new popularity in recent years has transformed the idea of digital signage from an advertising risk to a crucial method of communication for marketers hoping to increase their influence on potential buyers. Important things to remember are the location for your advertisement and the time of day it is displayed. When used in the context of internet marketing, a useful aspect is to incorporate where the web user is looking now into where you place your ads. Advertising on social networks makes sense if you wish to advertise to a young, very current generation. Marketing on a news website is proper if your audience is a more prominent class of people and you hope to reach them in that way.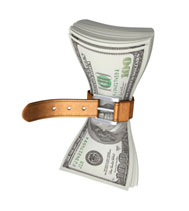 So how can you accomplish all this? How can you think of everything you need to employ to get the most return from your advertising investment? Narrowcasting services are available to help retailers recognize customer potential and maximize their financial return on the use of digital signage. These services provide help in all aspects of advertising, from the creative production of a great looking ad, to research of your audience, to installation of the physical LCD screen, if you choose to use this medium, to revamping your ad in order to continue focusing productively on your audience. Narrowcasting professionals can also assist you in altering messages on your digital signage due to changes in season, trends or promotions.
The extreme cost-effectiveness of digital signage makes utilizing a narrowcasting service an important part of making the most of your investment. The money you save using this innovative technology and then employing the use of a narrowcasting service will increase your return, guaranteed!
Go To Post >
---
Categories:
News
|
How to Knowledge
|
Case Studies
|
by Guy Avital
Posted on 09/09 at 01:25 PM
---
---
Place-Based Media - Interactive Digital Signage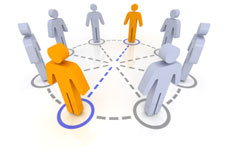 Place-based media, or interactive digital signage, has overcome the pace of internet growth. The idea is to get people involved where they work, play and socialize. It is driven by lower infrastructure rates as well as its ability to convey and optimize lush interactive media. Screens for such a purpose come in a variety of formats, powered by built-in computers. The content can be easily altered to respond well to anyone within its reach at different events with different kinds of audiences. People are intrigued by interactive signage and find it more entertaining than other forms of media.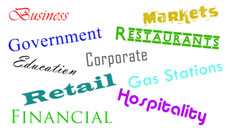 Place-based media is effective because it encourages immediate action from its users. A methodical approach must be taken to ensure that the location of interactive digital signage is appropriate for what kind of audience you are trying to reach. In order to drive consumer action, you must aware of the needs and interests of you target audience. Marketers understand the benefits of engaging consumers with a specific brand by promoting consumer action as opposed to only projecting a message and hoping the potential buyer is paying attention..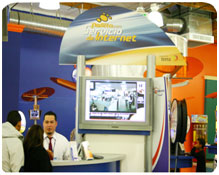 One of the newest forms of advertising, place-based media is becoming extraordinarily popular in retail locations. The cost, it is becoming clear, is well worth the impact of this marketing method. The futuristic feeling you get from walking into a retailer with plasma screens integrated into the walls or floor with stimulating images shown on them is one to remember. And that is the point. If you remember a certain location based on its advertising, then marketers have reached their goal. You may find yourself becoming envious if you are a business owner struggling to realize how you can incorporate place-based media in your store.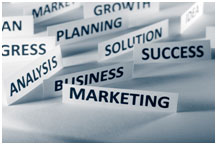 If you are a business owner and want a piece of this financial treasure, hop on the train! Services are available to help you get started in developing your place-based media. Even if you no idea currently where you would like to go with your advertising, services can help you get a creative idea started. After the research and other preliminary components are complete, they can assist you in making your vision a reality. Once everything is set up and running, they can provide continual assistance with updating your images and advertisements based on the season, shopper trends and various promotional deals your business may be having that you want to be made known.

Go To Post >
---
Categories:
News
|
How to Knowledge
|
Behind the Scenes
|
Case Studies
|
---