UC

View Blog Entries

by Guy Avital

Posted on 03/24 at 10:12 AM
---
---
Ever since its release, EZBoard has been a huge hit with UCView's partners and clients worldwide. This content creation and modification tool has been one of the key features of our software, allowing network operators to save valuable time and energy. As our platform continues to grow more powerful and flexible, it remains user friendly thanks to EZBoard.
To understand why EZBoard has been so popular with our customers, you have to understand the process of updating content on a digital signage network. The only way to edit on-screen content used to be uploading the new content to replace the old content. To get the new content, the network operator would have to wait for the digital artist to create the new design. A simple mistake like a typo could take hours to replace. Imagine how long it took to update the content of a large network where dozens of screens featured different content and the updates were to be made daily. It would take a whole department just to keep up with the demand. Even a small network like a restaurant would balk at the task of changing the menu daily because of the time-consuming nature of the process.
With the coming of EZBoard, a quick and effective solution was finally presented for the problem. Now you could create a background layout and easily manipulate the text data that was presented on top of it. A process that used to consume hours of several employees' time became a quick hassle-free update at the fingertips of a single person. The person responsible for the updates also didn't have to have knowledge of any design software such as Photoshop or InDesign – anyone could update a screen's content since it was merely data entry. Another added benefit was the fact that this was all achievable remotely using only a browser. This eliminated the need for being on-site to change the content of a location, as well as allowed one person to update several locations' content from one place.
Today, EZBoard maintains its status as one of the most important features of our platform. Over the last few months we have lent the content creator even more flexibility by adding new features such as:
• Simplified solution for creating interactive displays
• Support for multiple languages, including right-to-left languages
• Ability to customize RSS/XML feeds to include images and break up the feed into separate sections
• Placement of rich media (video, Flash-based animation, etc) into designated content areas
• Ticker option for scrolling information (either pre-typed or live feeds) across the screen
• Streaming live television within a designated content area
UCView Media's development team continues to work daily on integrating all the latest technological advances into our platform. With each new feature added, we enable our customers to make the most out of their digital signage network. We have a list of exciting additions coming up in the near future that will make the UCView platform stand out even more.
Stay tuned.
Go To Post >
---
Categories:
Features
|
by Guy Avital
Posted on 03/17 at 03:49 PM
---
---
Interactive displays – we all love them because they are eager listeners, they take our commands without questions, and they respond with information to answers our needs. They are tireless providers of assistance, as well as a symbol of modernity that enhances our experience in any given environment. Every industry can find a great use for interactive displays, but most digital signage network operators will not even begin to dream about them.
For a long time now, the privilege of creating a network of touchscreen displays has been reserved for companies who had the budget and manpower to invest in the technology. Despite all the technological leaps made within the digital signage industry in the last few years, touchscreen capabilities remained far from accessible to most customers. The required knowledge of HTML and other programming languages prevented most clients from even exploring the possibility of using touchscreen displays on their network.
Following its long-standing tradition of simplifying digital signage network operations through innovation, UCView's development team has found a way to make touchscreen capabilities accessible to any network operator. Our content creation tool EZBoard eliminates the prerequisite programming skills and trained personnel needs for producing interactive displays. Gone are the thousands of lines of code and the hundreds of hours invested in touch screens. Even a novice user can design and deploy interactive displays across an entire network in minutes using UCView's web-based platform. The only thing you need to be armed with is a vision for your interactive display, and our software will provide you with the tools to embody that vision.
Step 1: Define your touch areas.
Step 2: Configure each area's function, name, and appearance.
Step 3: Place your interactive area into your campaigns.
Step 4: Save your changes and you have an interactive touch screen ready to go!
Contact UCView today and request a demo to see how easily our platform can help you turn ordinary displays into interactive technological wonders.
Go To Post >
---
Categories:
News
|
Features
|
by Guy Avital
Posted on 03/01 at 02:07 PM
---
---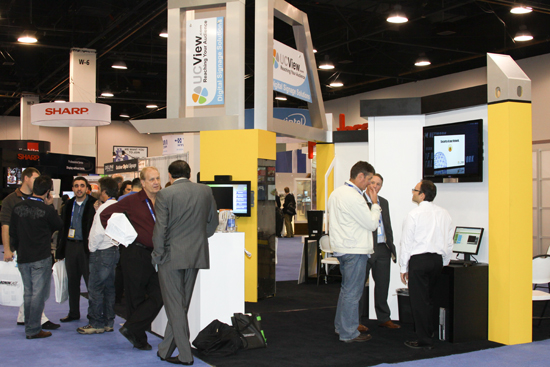 Thank you for visiting us at the 2010 Digital Signage Expo. We enjoyed all of the inspiring conversations, and the positive feedback we received regarding our products exceeded all our expectations. UCView Media had a very fruitful experience, and we will continue to champion digital signage solutions for our partners worldwide.
Our team is relentless in its pursuit of designing and developing a platform to suit our partners' ever-growing needs. We were very pleased with the overwhelmingly positive response to some of the newest additions to our platform that we unveiled at DSE2010. Some of the newest key additions to our products included:
• Global View, a feature providing a live snapshot of all your network's displays
• EZ Board, an easy-to-use content creation tool
• GPS and audience measurement integration
• Touchscreen capability for interactive displays
• ViewEdge Digital Signage Server series
• World's first interactive gas station pump top
We invite our guests from DSE2010 to experience the benefits of UCView Media first-hand. Visit our website at http://www.ucview.com and receive a free 30-day trial. We look forward to all of your feedback on our software, and we encourage you to share this risk-free offer with your customers and partners.
Thank you again for your interest in our innovative digital signage products. We will contact you soon to discuss how our solutions can cater to your specific needs.

Best regards,
Guy Avital
CEO
UCView Media Inc
Go To Post >
---
Categories:
News
|
Features
|
Digital Signage Technology
|
Behind the Scenes
|
Press Releases
|
Case Studies
|
---