UC

View Blog Entries

by Christine

Posted on 08/11 at 04:36 PM
---
---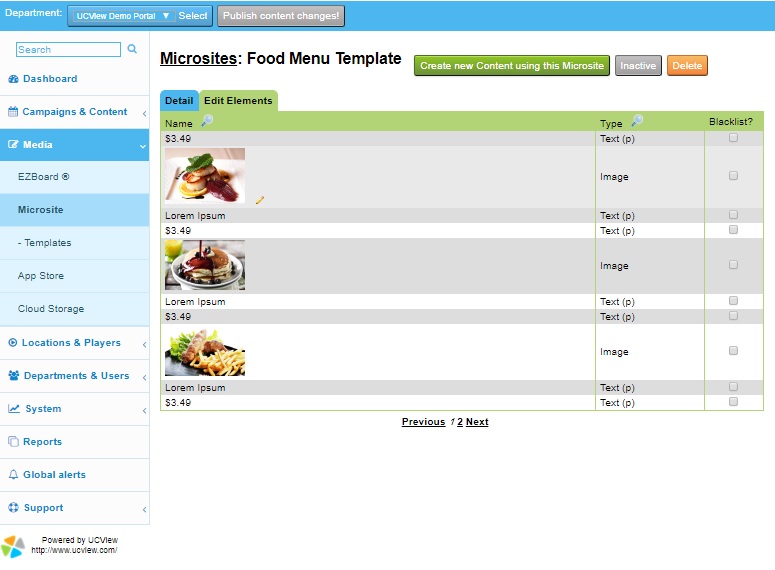 UCView launched an upgraded version of Microsite. This intuitive software solution offers you a more user-friendly experience. You can use Microsite in its traditional format by quickly uploading a zip file with any HTML template to UCView's content management system or take advantage of its many ready-to-use templates fit for any industry. After uploading content, you can modify the HTML and CSS code, images, and more directly through the UCView Portal on Microsite and then select Save. This can be done by using a UCView Microsite template or your own uploaded template. By selecting the new Edit Elements tab, you can make edits directly to the template itself, including any text and images. This is a simple, yet practical feature for any user that's unfamiliar with how to code. Once your template is uploaded and ready to be published, you can select for it to be assigned to a Campaign & Playing Location, make last minute adjustments to its duration, and then publish your content to reach your audience.
Go To Post >
---
Categories:
News
|
Features
|
by Christine
Posted on 12/29 at 10:45 AM
---
---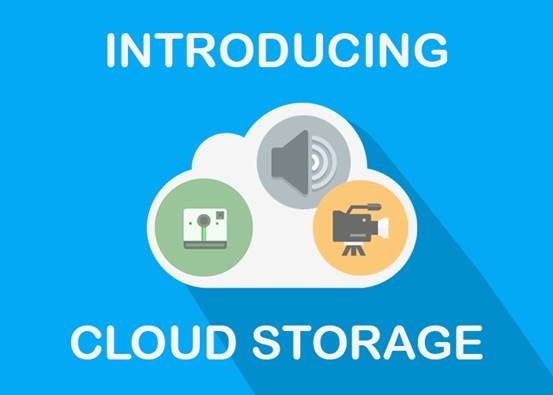 UCView recently introduced the Cloud Storage module which allows for you to upload, store, and publish content all from one location on UCView's digital signage portal. With this feature you can directly upload content to the software using any FTP server. FTP is a standard network protocol used to transfer files between computers on a network. Similarly, UCView will soon introduce Dropbox to Cloud Storage. Dropbox is a widely popular file hosting service which allows users to upload files to a folder and quickly access it from anywhere using any computing device. This will greatly minimize the amount of time it takes to publish content since all you will need to do is input your company's account information and then upload the desired content directly to Cloud Storage. In addition, the module also includes the Gallery feature which allows for you to upload and store multiple videos, images, etc. to portal and then publish it at a later time.
Go To Post >
---
Categories:
News
|
Features
|
by Christine
Posted on 12/16 at 04:26 PM
---
---
UCView will soon release the Gallery module available via Portal. This how-to video tutorial demonstrates how to use the upcoming digital signage gallery. The module will allow for users to create and access a built-in gallery which can carry multiple types of content, such as images, videos, and animation. The content can be easily uploaded to the digital signage software using a simple drag and drop tool and then placed into folders - greatly alleviating the amount of time it takes to upload and publish content for viewers. It is extremely intuitive to use and will enable for the user to store multiple content in one area and then access it at a later time once they are ready to upload and publish.
Go To Post >
---
Categories:
News
|
Features
|
Digital Signage Technology
|
by Christine
Posted on 12/09 at 02:53 PM
---
---
UCView users can now access Microsite digital signage video tutorials available on the website and via Portal. The intuitive feature alleviates the amount of time it takes for users to create and upload content on to their screen(s). Microsite allows for the user to upload a zip file, using any HTML template, to the UCView content management system and then edit or rearrange the HTML content inside a friendly graphical interface. The collection of video tutorials provide a step-by-step demonstration on how to use the Microsite feature in conjunction with Google Web Designer. Even novice digital signage users can use this functional feature to build and generate eye-catching HTML templates and display animation within a matter of minutes.
Go To Post >
---
Categories:
News
|
Features
|
by Christine
Posted on 08/19 at 04:28 PM
---
---
UCView released the innovative Microsite feature which allows users to quickly upload a zip folder, containing any type of HTML template, to the UCView content management system. The system automatically unzips the folder and lets the user rearrange and edit the HTML content inside using a friendly graphical interface. In addition to a quick and easy upload, the user can make instant edits and even rearrange text and images by using the move tool to drag and drop items anywhere on the preview. This allows for end-users to keep their content consistently up-to-date and fresh for their viewers without the need to write code for their digital signage.
Go To Post >
---
Categories:
News
|
Features
|
by Alex
Posted on 04/18 at 04:27 PM
---
---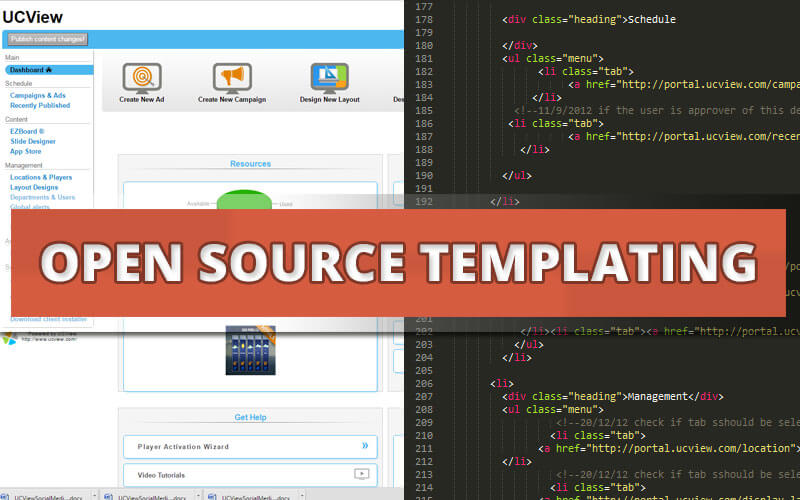 At UCView we believe in giving our customers as much freedom as possible when it comes to picking the right digital signage solution. This philosophy is ingrained in every aspect of our business. We offer our clients the option to use our software on their own hardware, clients have a choice between using cloud or local server options for data storage, and our server licensing options suit both large and small businesses. We even give our customers the ability to change the layout of their admin dashboard with our open source digital signage customization options.
Our clients can change the color scheme and customize the look and feel of their digital signage admin dashboard. With open source digital signage access you can change any visual element on the dashboard to be fully in line with your brand's character. White label re-sellers, universities and brand name businesses can easily change how their digital signage admin dashboard looks with some quick customization to the markup code.
Upload your own custom logo to be displayed on the CMS dashboard,
Rearrange the menu structure to have quick access to the CMS features you use the most
Change the template skin to reflect your brand's identity.
Change menu icons, fonts and text to customize the dashboard specifically for your users.
Our open source templating option is handy for any customer that wants to white label or personalize their SignEdge CMS dashboards. If you would like to find out more about our open source template customization, or any other of our flexible options, please feel free to schedule a quick online demo with one of our experts.
Go To Post >
---
Categories:
Features
|
by Christine
Posted on 01/19 at 01:19 PM
---
---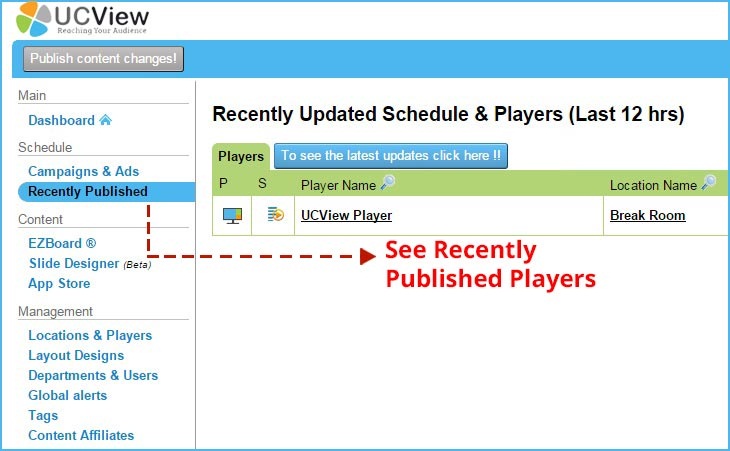 UCView introduced the Recently Published module to its digital signage software. This intuitive feature provides a list of players that were recently published within the last 12 hours. Once an operator saves their content and selects the Publish Content Changes button, he/she will be able to monitor recent players by accessing the Recently Published module. In this feature, operators can view a preview of their display, access the playlist it's running in, and view the player name, location name, as well as the time and date it was last scheduled. This simple feature is a great way to oversee or make modifications to content that has been published for your target audience.
Go To Post >
---
Categories:
News
|
Features
|
by Christine
Posted on 01/08 at 01:39 PM
---
---

UCView recently introduced new icons to the Campaigns and Ads module which enables for you to schedule times and dates for multiple ads at once. You can select running ads within your campaign and then click on the calendar icon
with the plus symbol to quickly schedule the date and time for all selected ads. The ads can play once per day or throughout a specified time range. You can also swiftly reset the dates and times for each ad by selecting the calendar icon with the X symbol. This feature helps create an optimal digital signage experience for the user as he/she no longer has to arrange the date and time for each ad. Instead, users can breeze by the ad creation process and quickly communicate their intended messages to targeted customers at the right date and time.
Go To Post >
---
Categories:
News
|
Features
|
by Christine
Posted on 09/08 at 11:28 AM
---
---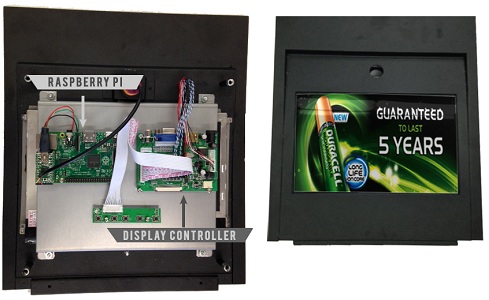 Digital signage can be found everywhere, from a massive video wall solution installed within a casino to a wayfinding kiosk located in a building of a university campus. In addition to increased digital signage use, the need to combine digital signage with interactivity has been immensely growing in popularity over the years. Smart sensors built into digital signage is helping increase consumer engagement as well as boost sales.

UCView recently implemented a digital signage unit, powered by Raspberry Pi, which contains a built-in proximity sensor. A proximity sensor is able to detect the presence of those who are nearby without any physical contact. For instance, an ATM screen with a built-in proximity sensor can automatically trigger a playlist of ads for display whenever it senses an approaching patron. Once the patron steps away from the screen, the ATM will revert back to displaying previous content. This solution helps deliver personalized content to passersby at the right time, therefore, enhancing the relationship between the business and the consumer.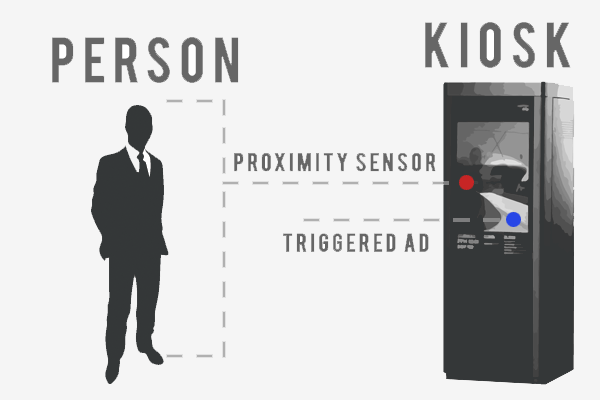 Proximity detection has a variety of unique uses in digital signage. In certain circumstances it can replace some touch functionality; the user would not have the need to touch the screen to navigate to a particular option. Paired with voice over technologies, proximity sensors can be used to help the visually impaired navigate through touch screen interfaces. When used in a contextually relevant environment, proximity sensors can provide passersby with relevant information. The use of proximity sensors are extremely beneficial for patrons as it not only enhances the consumer experience, but it boosts their attention, awareness, and overall satisfaction.
Go To Post >
---
Categories:
News
|
Features
|
Digital Signage Technology
|
by Christine
Posted on 08/06 at 03:37 PM
---
---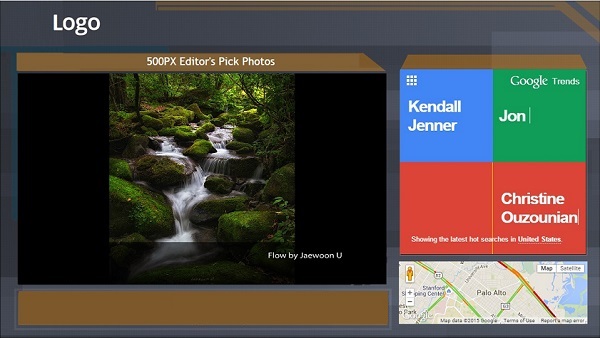 UCView has been working hard to provide all new features which will make the user experience with digital signage even better. Here we are showcasing our newest HTML5 Player Preview feature.If you take a look at the heading of this blog entry you will see a fully functioning, embedded HTML5 player running an ad campaign.
This new browser based HTML5 player is…
Fast
Lightweight
Shareable
Now users can watch their current playlist loop from any browser and Android mobile device. The HTML5 player also allows for users to share their current loop via email and even embed the playlist loop in any webpage.Users can engage effortlessly with the department head and interact with other users to deliver a flawless digital signage presentation to their audience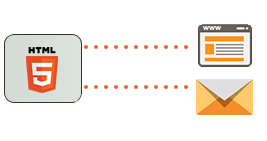 Digital signage is evolving and gradually heading towards the path of interactivity. Users can interact with digital signage the same way they interact with their own personal devices. For instance, HTML5 allows for users to view their current loops and make instant updates to the playlist directly from their mobile Android device.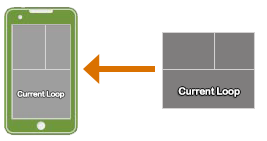 This player takes digital signage to the next level by advancing the way users connect with their audience. To try this feature, simply Log In to portal or create a free account.
Go To Post >
---
Categories:
News
|
Features
|
Page 1 of 6 pages
1
2
3
>
Last ›
---