UC

View Blog Entries

by Christine

Posted on 06/06 at 02:18 PM
---
---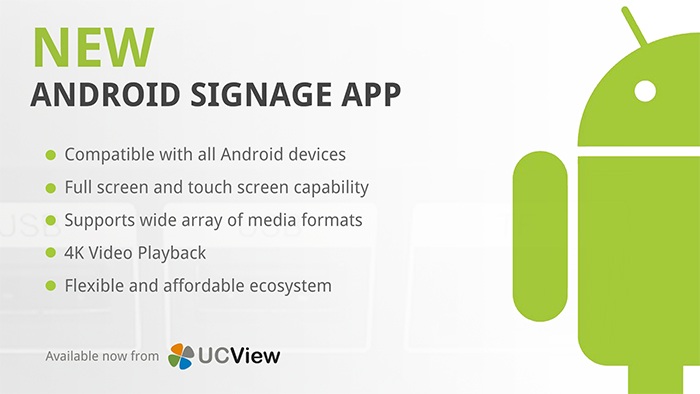 Northridge, CA, June 6, 2017 - UCView announced the launching of the new digital signage player app for the Android operating system. The low-cost app offers flexible playback functionality, enabling for the user to create and upload stunning images, videos, and HTML5 content with 4K video. Content can also be displayed in a touch screen environment.

The app is available to install via Google Play Store and can be used by virtually anyone interested in deploying digital signage, even first-time users.

"Our economical app takes advantage of the versatile android ecosystem. It is capable of running 24/7 and offers great computing performance with 4K video playback" states Guy Avital, CEO of UCView, Inc.

Despite its low cost, UCView's Android app delivers an effortless experience for the user. The app was built with security in mind, ensuring a safe and sound experience for any Android user.

The player app is available and ready to download on Google Play Store. Certain models may be free with a yearly subscription. For more details, please contact a UCView Business Development Representative at (877) 828-4399.
Go To Post >
---
Categories:
News
|
Digital Signage Technology
|
Press Releases
|
New Products
|
by Christine
Posted on 08/06 at 09:29 AM
---
---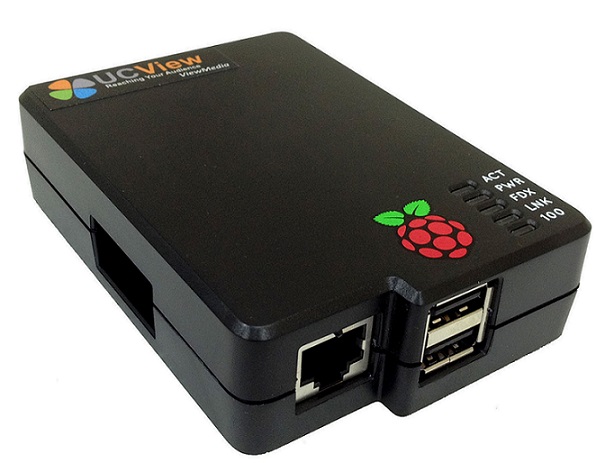 Northridge, CA – August 6, 2014 - UCView, Inc., a leading provider of digital signage software, is pleased to announce the release of the ARM Caster HD. The new product will serve as one of the smallest digital media players available on the market.

"Due to its simplicity of use and size, the ARM Caster HD meets the demand of clients who want to operate a single digital signage screen at their site without having to manage an overly advanced system", said Guy Avital, CEO of UCView, Inc.

The ARM Caster HD represents UCView's effort to offer customers a device that's flexible, solid, affordable, and convenient. The newly released media player is the length of a credit card, and a little over two inches thick, making it portable and practical enough to hide from view.

The ARM Caster HD, with the combined use of a SaaS or server, is capable of displaying full 1080p high-definition video. Player specifications include an HDMI output, 512MB RAM, 8GB hard drive, and two USB ports. The device is unique from other players as its CPU/GPU is compressed onto an SoC. This single powerful micro-chip allows for full-scale digital signage to run with the use of the palm-sized digital media player, which includes a small price tag too.

With software enabling for centralized control, monitoring, and customization, the media player flawlessly distributes tailored content to a wide audience. The system is ideal for use in a small corporate or retail environment. The inexpensive ARM Caster HD ensures that the user has full-control and the flexibility to deliver content to the right place at the right time.
Go To Post >
---
Categories:
News
|
Press Releases
|
New Products
|
by Guy Avital
Posted on 01/25 at 09:30 PM
---
---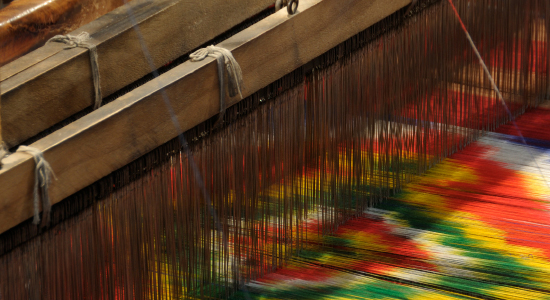 Mohawk Industries, the world's largest flooring supplier, is using UCView's digital signage software platform to improve workforce communications and maximize uptime and efficiency on plant floors. Based on employee feedback and cost-savings, what started as a test is now being rolled out globally.

Challenge
The global recession hit the commercial and residential building industry hard, and the world's biggest flooring supplier was not immune to the slowdown in new building and renovation activity. Shrinking demand forced Mohawk Industries to reduce its workforce by roughly 20 percent, and the company saw morale start to slip as staff worried about their futures.

Go To Post >
---
Categories:
News
|
Press Releases
|
Case Studies
|
by Guy Avital
Posted on 06/07 at 11:38 AM
---
---
New integrated content app store to provide attractive content for digital signage displays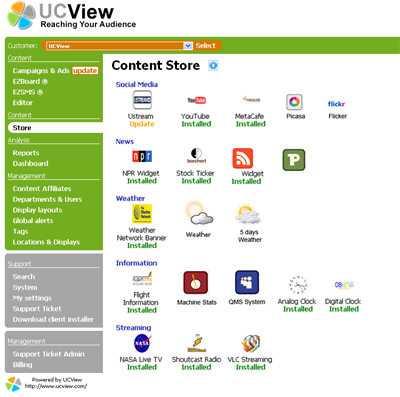 UCView is a premier international digital signage company that has recently announced its launching of its Content Apps store. The growing demand in the digital signage industry to provide interesting and up to date attractive content made it a challenge for network owners to be on a constant search for content. Now with UCView Content store, customers can select and publish content from a variety of categories and of different suppliers to utilize within their networks.
"At UCView we are extremely thrilled by our new apps store," said CEO of UCView Guy Avital. "We know that attractive content is what provides strength to our digital signage solution. Until today, our users had to search for content across multiple providers or design their own content. Now, we have aligned with content providers to display their products in one apps store and allow customers to utilize it via our platform."
UCView Content Apps is accessible through our portal or server platform. When a customer logs in to our portal or their own view edge digital signage server, they are able to select content from numerous apps in a wide array of categories, preview the content and then publish it. UCView has been working with a number of content providers for this new endeavor, and we continually encourage all providers and creators to constantly apply and submit content to be available to all of our customers. Our content store will provide a powerful tool for network owners and location managers to publish updated dynamic content to their screen with an ease of mouse click.
About UCView
UCView is a worldwide digital signage solutions provider providing top-quality digital signage application solutions and content management software that is not only reliable, but easy and efficient to use, and affordable to operate. The objective of UCView is to allow for the convergence between display owners, the advertisers, and consumers. UCView is responsible for the installation and support of thousands of systems across the spectrum of business industries, including retail, supermarkets, government, education, hospitality, and financial. UCView is a private company and its international headquarters and main manufacturing facility is located in Northridge, California.
Go To Post >
---
Categories:
News
|
Features
|
Press Releases
|
by Guy Avital
Posted on 10/19 at 10:36 PM
---
---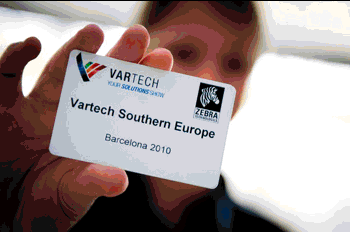 A team from UCView that included UCView CEO Guy Avital, VP Latin America ,Marcelo Teyer, joined a few hundred of our closest POS and Digital Signage VARs friends at VARTECH Barcelona 2010. The vibe was literally electric as the UCView team met with Solution Partners, current and potential digital signage providers and experts in the industry - all clamoring to learn about our company products.

UCView Team had a very busy booth at the show, held several lerning sessions and lectures with key partners, and enjoied an evening of fun and good food for with our partners. We had a great time with our partners and future relellers. Thank you for coming to see us at VARTECH Barcelona 2010


Go To Post >
---
Categories:
News
|
Behind the Scenes
|
Press Releases
|
Case Studies
|
by Guy Avital
Posted on 03/01 at 02:07 PM
---
---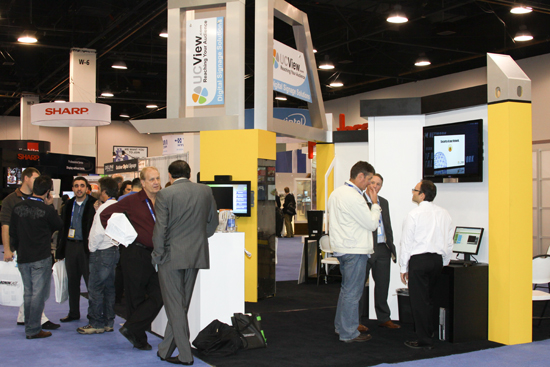 Thank you for visiting us at the 2010 Digital Signage Expo. We enjoyed all of the inspiring conversations, and the positive feedback we received regarding our products exceeded all our expectations. UCView Media had a very fruitful experience, and we will continue to champion digital signage solutions for our partners worldwide.
Our team is relentless in its pursuit of designing and developing a platform to suit our partners' ever-growing needs. We were very pleased with the overwhelmingly positive response to some of the newest additions to our platform that we unveiled at DSE2010. Some of the newest key additions to our products included:
• Global View, a feature providing a live snapshot of all your network's displays
• EZ Board, an easy-to-use content creation tool
• GPS and audience measurement integration
• Touchscreen capability for interactive displays
• ViewEdge Digital Signage Server series
• World's first interactive gas station pump top
We invite our guests from DSE2010 to experience the benefits of UCView Media first-hand. Visit our website at http://www.ucview.com and receive a free 30-day trial. We look forward to all of your feedback on our software, and we encourage you to share this risk-free offer with your customers and partners.
Thank you again for your interest in our innovative digital signage products. We will contact you soon to discuss how our solutions can cater to your specific needs.

Best regards,
Guy Avital
CEO
UCView Media Inc
Go To Post >
---
Categories:
News
|
Features
|
Digital Signage Technology
|
Behind the Scenes
|
Press Releases
|
Case Studies
|
by Guy Avital
Posted on 01/25 at 10:11 AM
---
---
UCView Media, Jan 20, 2010. UCView media's digital signage software division, the leading developer of digital signage management software, released an innovative enhancement to the UCView Enterprise family. The inclusion of Mobile Access makes UCView one of first solutions to provide visibility into and live monitoring of digital signage networks in real time from mobile phones or personal digital assistants (PDAs).
"We believe in practical solutions, we design solutions to solve a problem and help you manage as opposed to creating a market. From the research we recently conducted today, UCView is the first or only digital signage management solution enabling proactive and live player snapshot and resolution of network issues over a mobile device's without the need to install software", announced Guy Avital President, UCView Media Inc. "UCView Software platform is already a comprehensive product with superior real time diagnostic and practical capabilities, but now UCView users can benefit from the flexibility of having a proven digital signage management solution in the palm of their hands."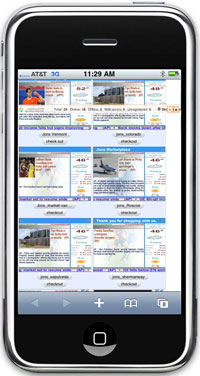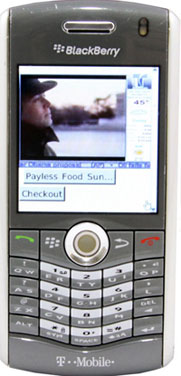 With innovative features such as snapshots of the entire network, restart devices, player info statistics EZLink notifications, UCView brings a whole new dimension of portability to digital signage management, providing a secure and transparent window to your digital signage network status and from anywhere, at anytime. For more information on UCView, to view a demo or to download a free trial, visit http://www.ucview.com/contact/request_demo/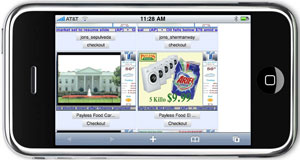 Many large firms have been using UCView for over 3 years and it has proven an invaluable digital signage solution to run their growing digital signage network. "I always know about network status or outages instantly," states Marcelo Teyer, Digital signage network owner. "The addition of mobile access saves precious time, as now I can immediately check player's status from my smart phone."
UCView mobile Access Features for digital signage monitoring:
Player status View with snapshot images.
EZLink Notifications for SMS and email alerts.
Maintenance player configuration.
Restart Players Remotely.
SSL support for mobile access sessions
About UCView Media Management

UCView media is the leading digital signage management software solution with thousands of players reliably managed worldwide. Built on a scalable architecture offering automated player discovery and network monitoring, real-time player monitoring, and versatile alerting, notification, and reporting functionality, UCView media delivers 360° visibility, manageable digital signage frame work.

UCView Media software scales from the small digital signage to the large digital signage deployments, and its functionality can be easily extended. UCView software monitor player's performance and operation for precise measurement of poof of ads played to provide the quality of service (QoS) necessary for a growing digital signage network. To learn more about UCView software, request your free demo or to make a purchase visit http://www.ucview.com/contact/request_demo/
Go To Post >
---
Categories:
Features
|
Behind the Scenes
|
Press Releases
|
New Products
|
by Guy Avital
Posted on 12/03 at 10:55 AM
---
---
A UCView Financing for digital signage options are available for the hardware and the software required to deploy the digital signage network. Qualifying customers may include small and medium size digital signage network owners, Retailers, Educational Facilities, network operators, resellers and integrators. UCView media, in collaboration with its financial partners, provides one stop solution for successful digital signage networks implementations including education, retail, hospitality, health care, and transportation, Gas stations and more.
Go To Post >
---
Categories:
News
|
Digital Signage Technology
|
Press Releases
|
by Guy Avital
Posted on 02/02 at 11:03 AM
---
---

UCView NewsChatsworth, CA (February 1 2009) UCView Media a provider of digital signage
solution announced the release of 2nd generation digital signage solution.
The new version release provides the latest media technology and performance.
Some of the new features include:
• Network management options, expanded and enhanced Active Information.
• Dynamic content distribution, network management and security features.
• Addition content categories, including Financial News, Business Headlines…
• Most advanced scheduling by ad and by campaign, location and player.
• Advance layout management allows you to change layout while playing
• Group ads in sequential and random play order
• Advertising module to track ad ROI and Performance
• Schedule play event on specific time
• Background support Flash, Images, and overlay with transparency
• Enhance Media play to most existing media type.
• New interactive module that allows you to interact with the screen using your
cell phone or touch screen.
• SMS Messaging and Marketing Module
• Enhanced Live TV with sub-titles options
• Support for Steaming live content
• Various performance enhancements and fixes
• Application Program Interface (API): Allows end-user programs, applications to
interface with UCView
• Support Vista, XP, XP Embedded, CE, *Linux
• 24-hour e-mail support available globally
The UCView release "is just another step towards providing complete powerful
digital signage solution to support our rapidly growing digital signage market"
says Michele Cohen, Business Development at UCView Media
For more information about UCView Media solutions, please contact the company
directly by calling
1-877-828-4399 www.ucview.com
To be remove from mailing list please click

here Unsubscribe
Go To Post >
---
Categories:
News
|
Features
|
Digital Signage Technology
|
Press Releases
|
by Guy Avital
Posted on 12/03 at 10:17 AM
---
---
Strategy Institute presents the 4th Annual Building Your Digital Signage Business Conference, an industry event to show you how to make money and grow your digital signage business, supported by numerous industry experts and providing exceptional networking opportunities. The event will be held November 19 & 20, 2008, at Hotel Holiday Inn Chicago Mart Plaza in Chicago.
The fourth year of this prestigious event will once again bring together all the stakeholders who are serious about building and growing their digital signage business. With expanding end-user verticals and increasing acceptance for digital out-of-home advertising, this event makes a marked difference in contributing to best practices, strategies, and tools for success.
Go To Post >
---
Categories:
News
|
Press Releases
|
Case Studies
|
---