UC

View Blog Entries

by Christine

Posted on 07/07 at 11:14 AM
---
---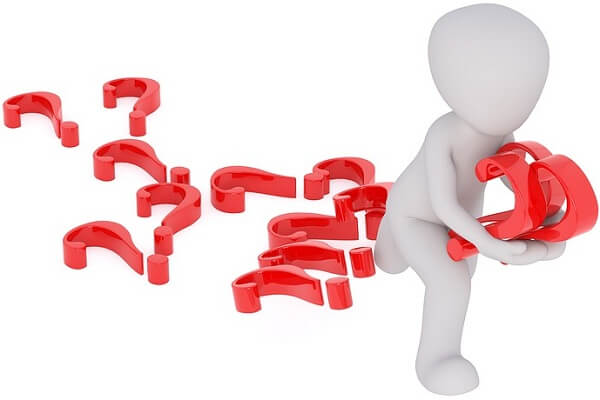 UCView is pleased to announce that we have extended our technical support hours to accommodate our clients on the East Coast!

Beginning July 10th, our technical support team will be available Monday through Friday from 10:00am – 8:00pm Eastern Standard Time via phone, email, chat, and support ticket.

For assistance, please call our toll-free phone number at 877-828-4399 or chat with a technician via Portal. If you would like to fill out a support ticket, please go to Open Support Ticket and a technician will promptly assist you with any questions.
Go To Post >
---
Categories:
News
|
Miscellaneous
|
by Christine
Posted on 03/02 at 04:05 PM
---
---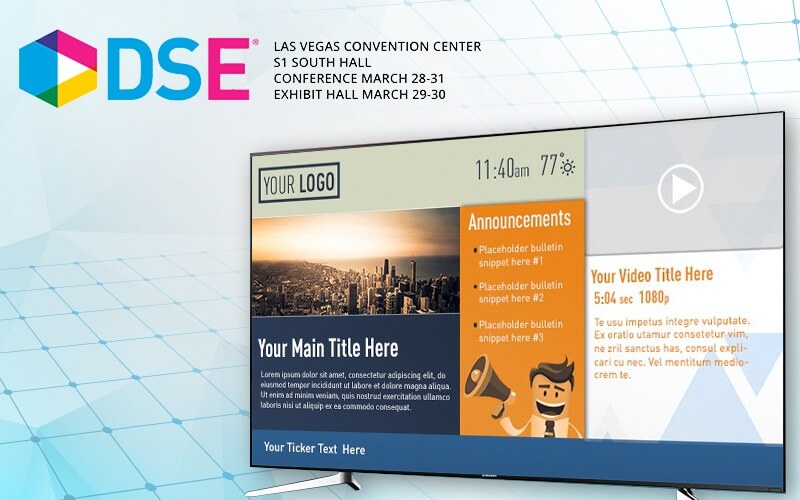 UCView, a leading provider of digital signage software worldwide, invites you to visit us in Booth #236 at Digital Signage Expo 2017! We will present our Enterprise-level digital signage software with its new intuitive design and user-friendly platform. Along with our world-class software, we will also highlight our latest features, such as Microsite, Gallery, and Dropbox support using Samsung's state-of-the-art SMART Signage Platform. Digital Signage Expo is the world's largest and longest running conference and trade show exclusively dedicated to showcasing digital display and interactive solutions. The conference will be held at the Las Vegas Convention Center, Las Vegas, NV.
Go To Post >
---
Categories:
News
|
Miscellaneous
|
by Christine
Posted on 02/10 at 04:04 PM
---
---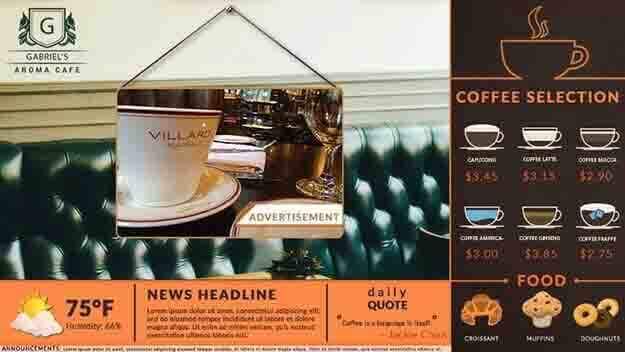 Digital menu boards dramatically improve customer experiences in restaurants across the spectrum from fine-dining establishments to fast-food joints. Nothing catches the eye like colorful and exciting digital signage in restaurants – whether they seek to create a calming and elegant dining experience or an exciting and upbeat retail environment.
How is the Digital Menu Board Market Growing and Expanding?
Once a rare luxury, digital signs in restaurants have become increasingly popular. Increasing numbers of small businesses take the plunge and invest in digital menu board software and systems. Digital signage providers have created entry-level systems and price options that encourage all sizes of food service companies to purchase digital signage for their retail locations. These entrepreneurs have learned that investing in the startup costs of digital signage systems quickly pays off, even in micro-retail outlets like food trucks, cafes, mom and pop shops, and outdoor fast food kiosks.
How do Restaurants Create Interactive Environments with Digital Signage?
Many early-adopting companies that "went digital" long ago revamp and expand their customer experience offerings with new and innovative digital signage systems. These trendsetters use digital signs not just as menu boards – but also for interactive entertainment. Customers interact directly with restaurant environments by controlling venue playlists via their smartphones and digital signs.
How do Franchises Order and Install Digital Menu Boards?
The quick-serve food industry has rapidly adopted digital signage in restaurants. Food service corporations have encouraged franchise owners to invest in these technologies. Big brands strive to provide high-end and engaging customer experiences across all venues. When top franchisees in high-end retail environments first featured digital signs, other outlets quickly followed suit.

Some digital signage suppliers sell to large companies and others target individual franchisees. They tailor their multi-screen display systems to meet each retail space's unique requirements. Depending on a corporation's structure, they may find it easier to sell digital menu board systems in bulk or work on a custom-order basis.
Customers Love Engaging with Multi-Function Digital Signage
Major chain quick-serve restaurants use digital signs to entertain and engage with their customers while they wait in line. Upon entering the retail space, patrons use interactive touch screens to learn about their menu options and get excited about their meals. Some restaurants even use touch screen technology to allow customers to "skip the line." This feature delights people waiting in line for food service, just as it does in airports and movie theaters.

Fast-food businesses benefit from these line-shortening devices which free up cashier time and allow team members to focus more attention on customers with unique tastes and needs. Carry-out customers can use interactive menu boards/kiosks to speed up flow-through times. During valuable lunch and dinner rush hours, these quick and convenient engagement platforms dramatically increase restaurants' total capacities and revenues.
Digital Signage Costs: Win/Win Investments
Customers love interacting with digital signage in restaurants. Food service companies appreciate the cost savings and increased volume facilitated by these devices. As digital signs continue to show up in all sectors of the restaurant market, these multi-use engagement portals will revolutionize the dining experience – and industry profits!
Go To Post >
---
Categories:
News
|
Miscellaneous
|
by Christine
Posted on 02/03 at 04:10 PM
---
---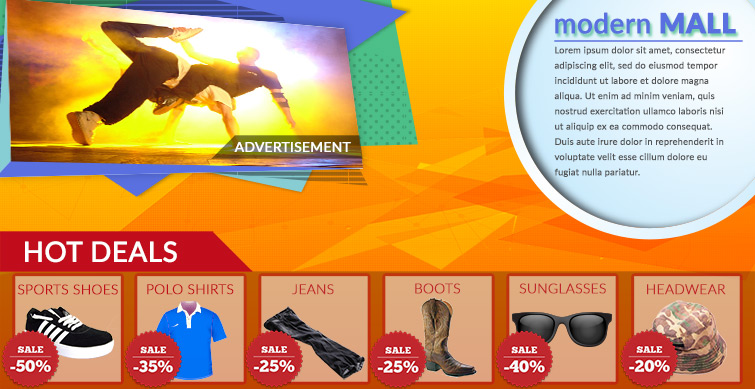 Appealing to customers who are waiting in line may seem tricky, but it's actually very simple if you know what your target population wants to view. Below are a few helpful tips on how to appeal to your customers in a retail environment.

Interactivity: Engage your customers by giving them something to do. When presented with enjoyable and interactive content, many customers will take the opportunity to engage with the content, even if it's just a onetime thing. Implement an interactive game or even encourage customers to post real-time content or write product reviews on Facebook or Twitter via their smart phone. Customer engagement and interactivity via digital signage will help improve their recall, encouraging for them to return back to the store more often.

Smart Promotion Tactics: Don't overwhelm customers with too much advertising materials. Of course every store wants to promote their products, but bombarding customers with too many sales pitches may come across as tacky, especially if the templates displayed look unprofessional. Instead of having them turn their heads away from digital signage, encourage them to view the screens by tailoring it to their needs. Digital signage is ideal for reinforcing your brand image, but when it is combined with other functionalities, such as videos, testimonials, social media integration, etc., it can become a pleasant and immersive experience. In addition, displaying templates that are consistent and easy on the eyes can create a positive outlook for your consumers.

Simple: No matter the situation, it's best to keep your content simple and to the point. Keep in mind what the majority of your customers are doing. Are they mainly standing in line or sitting down in a waiting room? Also, keep in mind the average wait time for your consumers. The delivery of your content based on what your customers are doing at the moment can make a difference. If the average wait time for your customer is five minutes then display content that lasts only 3-4 minutes. Keep in mind that your content needs to be up to date and represent what you are selling at that moment.
Go To Post >
---
Categories:
News
|
Miscellaneous
|
by Alex
Posted on 01/27 at 12:31 PM
---
---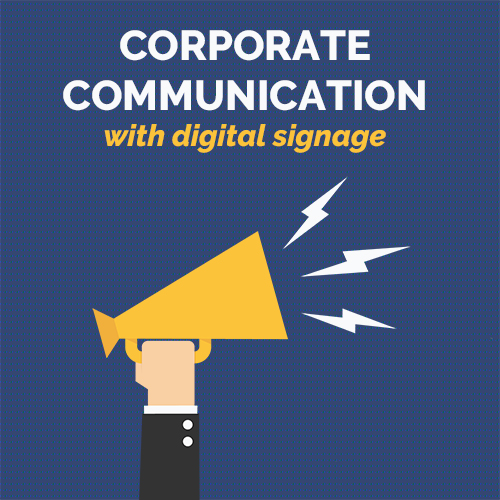 Corporate leaders know digital signs convey powerful first impressions on consumers. These marvelous devices dramatically increase customer satisfaction and retention. However, smart businesses also use digital signage to create substantial gains in safety, productivity, and more!By using digital signage in corporate communications, you can dramatically increase your company's effectiveness. Businesses that use digital signs for internal workplace communications enjoy major advantages over their slower-moving competitors. By keeping your team members informed, you can boost employee performance across the entire scope of your business.
In the modern workplace, employee engagement is key!
Digital Signage = Safety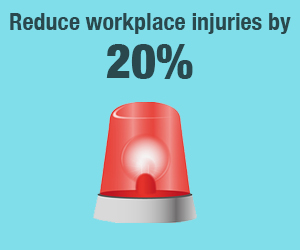 Digital signs reduce workplace injuries by 20%, creating healthier workspaces. For this reason, companies save $5 for every dollar they invest in digital signage. Centrally-controlled digital signs provide life-saving speed and clarity in emergency situations. With real-time communication throughout your facilities, you can give your teams the best possible chances of staying healthy and whole.
Digital Signage = Attention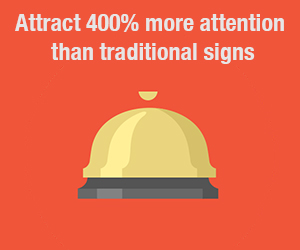 These compelling visual presentations attract 400% more attention than static displays. You can employ digital signage with audio and interactive features that can dramatically increase your 2-way corporate communication. Animated, engaging digital signage messages facilitate clearer and longer-lasting communication!
Digital Signage = Retention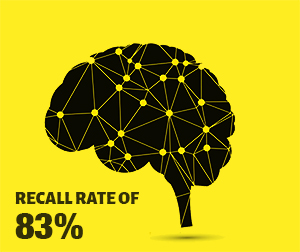 Researchers have shown that visual messaging far surpasses text-only messages. By fully engaging your team members' senses, you help them easily remember your messages. Digital signs boast a recall rate of 83%, making it much easier for your teams to absorb essential information.Use digital signage to train new employees. Cutting edge "gamified" training programs engage team members and help you measure their capabilities.
Digital Signage = Productivity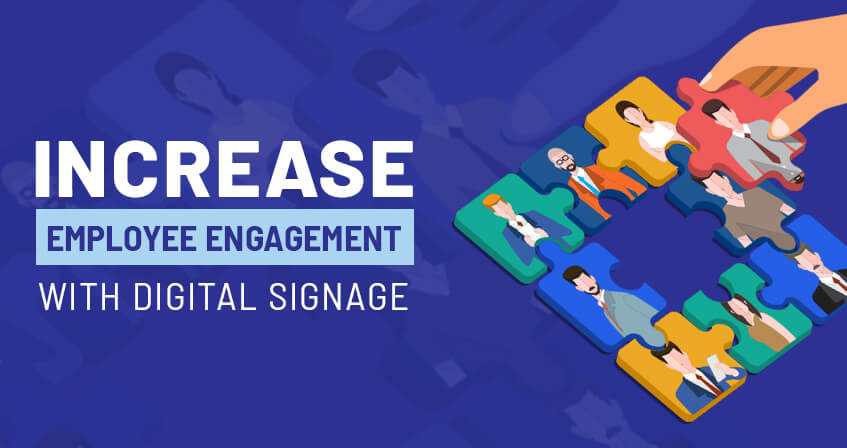 With digital signs, you can increase employee engagement and productivity by over 22%. Use digital signage to create performance dashboards for monitoring key performance indicators (KPIs) and responding quickly to demand spikes.
Digital Signage = Reputation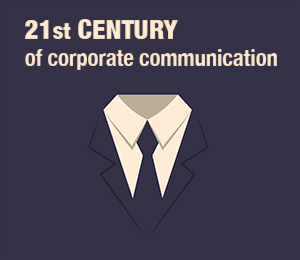 Digital signs impress your workers just as much as they do your customers. Your team members will see your company as tech-savvy, professional, and highly-efficient. When you replace your outdated and dirty paper signs with digital signage, your employees can trust that they have the most current and targeted information available.
Digital Signage = Speed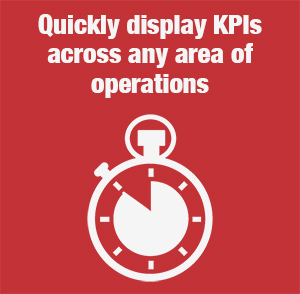 You can use digital signs to instantly communicate vital and time-sensitive information. In addition to sharing in-the-moment safety information, you can monitor KPIs across all areas of your operations.
Digital Signage = Motivation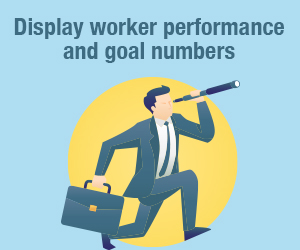 With digital signage, you can communicate real-time productivity and efficiency information to your teams. Your managers can inspire greater dedication from their teams by displaying performance/goal numbers and other essential metrics.
Digital Signage = Consistent Messaging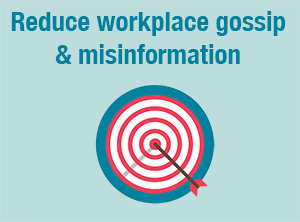 By broadcasting digital messages throughout your facility from one central location, you can easily ensure your messages remain the same. You can avoid playing the "telephone game," reduce workplace gossip and misinformation, and maintain consistent branding across all channels.
Digital Signage = Happy Workers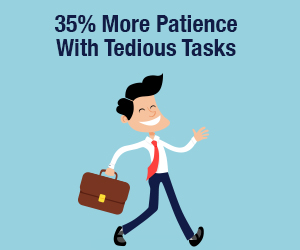 People love digital signs! When viewing these devices, people show 35% more patience with tedious tasks such as waiting in line. Your employees will be proud to work for a company that uses technology to reduce its paper waste. By positioning digital signage screens throughout your facilities, you can employ a far-reaching corporate communications strategy and experience a stunning growth in efficiency, training, and productivity!
Go To Post >
---
Categories:
Digital Signage Technology
|
Miscellaneous
|
by Christine
Posted on 12/30 at 11:48 AM
---
---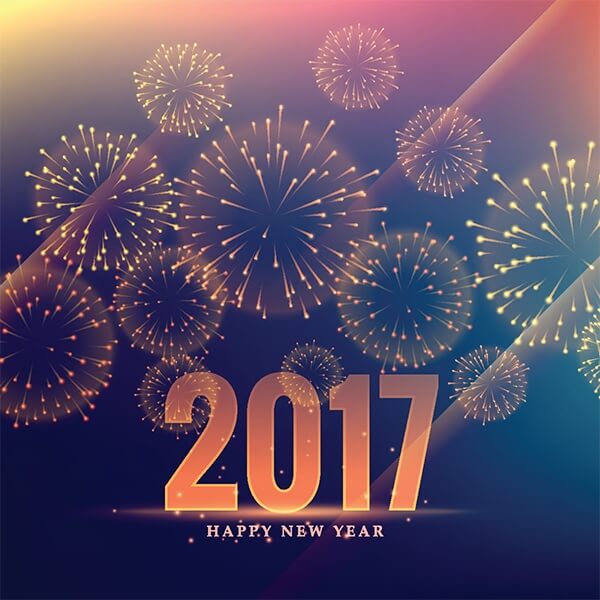 We would like to take the time to thank all of our customers and partners for helping make 2016 a success! This year has included a rapid growth in development as we introduced revolutionary digital signage software, products, and features. Our technology is created with our customers in mind and we are consistently looking for new ways to improve the overall user-experience. We are looking forward to expanding our cutting-edge digital signage technology by providing our valuable customers with a more user-friendly, scalable, and intuitive software solution in 2017. We wish you and your family a happy and safe new year!
Go To Post >
---
Categories:
News
|
Miscellaneous
|
by Christine
Posted on 11/04 at 03:36 PM
---
---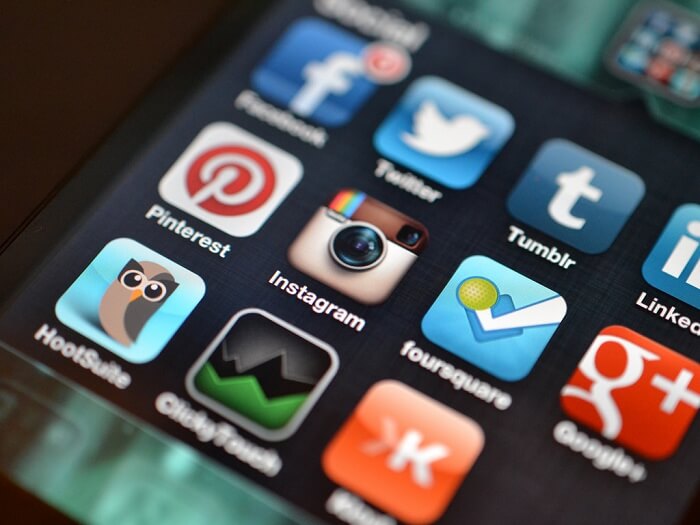 Digital Signage Dissemination of Information: Digital signage makes information available whenever and wherever it's needed. Information can be scheduled and updated remotely and at a moment's notice. Disseminating information is much simpler with digital signage and is much more cost-effective as it saves on printing costs. Strengthen Learning in the Classroom: Many college classrooms offer the opportunity to use multimedia to enhance lectures. In fact, the majority of students are already exposed to digital technology on a daily basis. According to PewResearchCenter (2015), roughly 68% of Americans have smartphones and 45% have tablet computers. Using media with interactivity, high-definition videos, graphics, etc. to reach out to students can help maximize overall enjoyment and engagement. In addition, approximately 86% of those ages 18-29 have a smartphone, allowing for many students to interact with the instructor and perform activities such as polls or surveys right inside the classroom setting. Improve Campus Community: Oftentimes, universities promote themselves as a community, however, there are many cases where departments don't communicate well with each other or are closed off from the rest of the university. Digital signage can be a great way to enhance interdepartmental communication. Highlighting information on sports, clubs, and fundraiser events can increase morale among the student body and motivate more students and staff to get involved. Emergency Announcements: Digital displays are optimal in providing accurate and reliable emergency information across college campuses. However, students or staff members could be anywhere when a crisis strikes. Digital signs can be updated instantly and since emergency evacuations can be controlled from one remote location, the reaction time can be very quick for everyone on campus. Social Media and Education: Social media is widely used for networking and engagement purposes; however, it also serves as a vital communication tool for classrooms to create a sense of cultural pride. Universities can utilize their Facebook page and other social media platforms to reach out to the student body. According to PewResearchCenter (2015), approximately 76% of online adults use social networking sites. The majority of these adults are between the ages of 18-29. Social media can serve as a tool to help quickly circulate pertinent information about the university to those on campus.
Go To Post >
---
Categories:
News
|
Miscellaneous
|
by Christine
Posted on 08/05 at 03:25 PM
---
---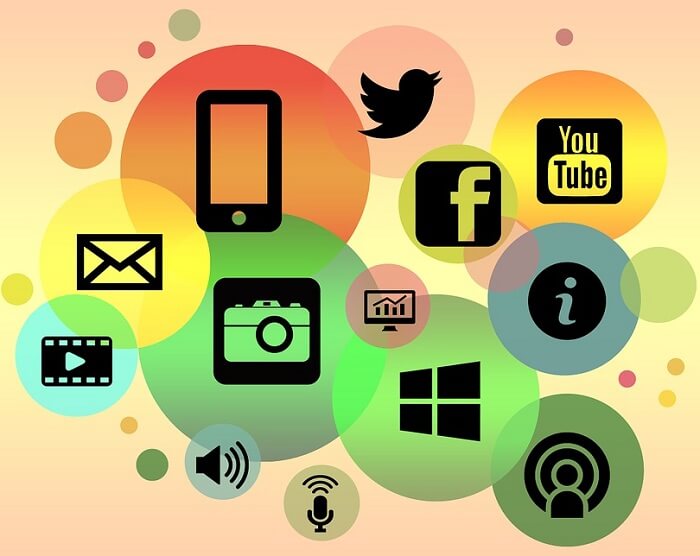 Digital signage can be a very successful and powerful tool for communicating information to your targeted viewers. However, if used incorrectly, its potential in reaching your audience can fall completely flat. Below are just five of the most important things to remember when creating and administering digital signage.

Keep Messages Simple: When displaying text, make sure that it's easy to read and stands out for viewers who are simply passing by the screen. It's best to use dark text on a light background, such as black on white, or vice versa in order to guarantee ample amount of contrast on screen.

Timing of Content: What's the point of displaying significant messages if viewers passing by the screen won't even have enough time to read it. The screen frequency should not be too fast. It's recommended to keep messages on the screen for no less than 8 seconds. On the contrary, it's also important to not keep content on the screen for too long; otherwise your viewers will quickly lose interest.

Dynamic Signage: Most digital signage screens are silent, meaning that any images, videos, and text that display on screen needs to be dynamic. It should also be consistent throughout a loop, displaying relevant, yet engaging content with brand imaging or colors.

Relevant Content: Evaluate the content that's displayed on screen. Is it more educational or entertaining? Make sure that the message is clear, relevant to your industry, and is easy enough to read with very basic terminology. Consider using words that rhyme with each other in order to help your audience retain the information.

Call to Action: Begin a call to action by embedding it into each screen being used. For instance, displaying text such as "Try it for Free" can be enough to motivate the viewer to try the product being advertised. It's also helpful to display a QR code for the viewer to learn more about a product. Placing a call to action on screen enables for the viewer to actually take action, therefore increasing sales.
Go To Post >
---
Categories:
News
|
Miscellaneous
|
by Christine
Posted on 04/27 at 03:50 PM
---
---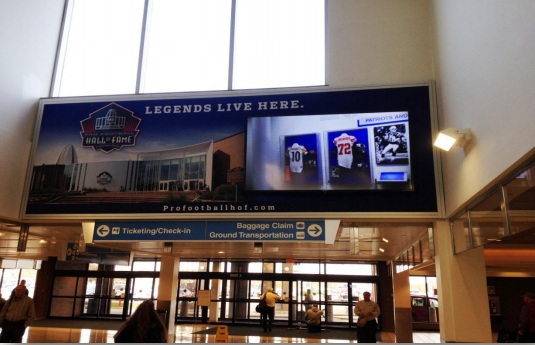 The springtime marks the start of the travel season. Along with an increase in travel comes a wave of stress among personnel in the transportation industry as well as the travelers themselves. With hectic situations, such as increasingly long lines and the hassle of getting through security, many airports and subway/train stations are opting to use digital signage to help alleviate such conditions.

Only a few years ago digital signage was mainly used to as a snazzy way to display arrival and departure information, however, due to its evolvement in flexibility and ease of use, digital signage is now being used as a vital tool for getting people to the right place in the quickest and most effective way possible. One such digital signage tool includes wayfinding kiosks, which makes the experience of navigating through a maze-like airport much smoother for travelers, especially those who are inexperienced. Digital signage is also frequently used to market products within stores and even digital menu boards now adorn the walls of restaurants in terminals.

The subway/train station is also now flooded with digital signage being used as a tool to help tourists get from point A to point B. Digital signage is used in a growing number of stations to help people get where they need to be and can commonly even be found inside of subways/trains as well.

Along with traveling to the destination, hotels and resorts are also booming in business as well. The hospitality sector is increasingly depending on digital signage to get weary and impatient travelers checked-in to their rooms and informed with the amenities that are offered at the hotels/resorts. Travelers this summer will be expected to see many forms of digital signage in places such as amusement parks and museums as well. Digital signage is becoming vital for tourists, providing them with a smooth experience during their travels.
Go To Post >
---
Categories:
News
|
Miscellaneous
|
by Christine
Posted on 03/18 at 02:20 PM
---
---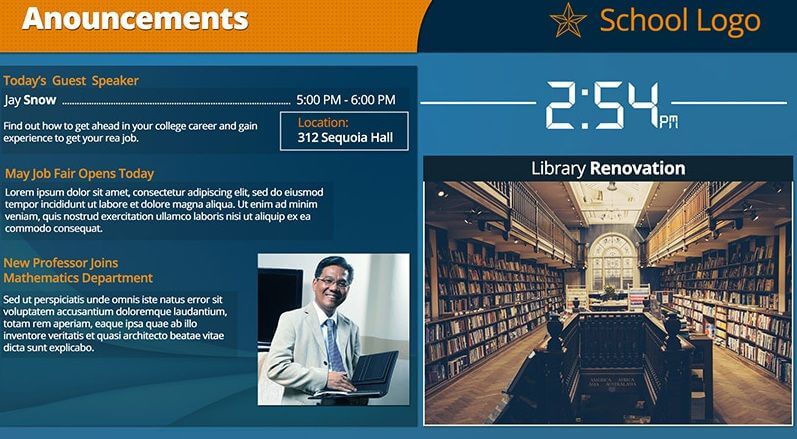 Digital signage provides a great look and feel to your university's setting, but what's the point of displaying content if your students aren't actually paying attention to your screens. Learn a few quick tips on how to use digital signage to actually engage your students.

Displaying a campaign that's consistent is more engaging than displaying a onetime message. It's recommended to promote an upcoming event on a regular basis to enhance students' recall of the message. However, students can get bored quick so try to spice it up a bit by displaying different layouts and tweaking the message to allow some variation. Regularly keeping up to date with your messages can go a very long way. You also need to consider where and when to publish your campaigns. It wouldn't make sense to advertise an upcoming job fair for computer science majors in the nursing department. Make sure to plan ahead when it comes to advertising your content so it can be released in the right place at the right time.

Many campuses even allow for students and instructors to send in PDFs of an event they would like to promote to network administrators. Once it's approved, it will be displayed on screen(s). This is a very practical solution, but it could also become a hassle if students or instructors decide to send in their content at the last moment. If this is the case, you can try to set guidelines clearly stating that PDFs need to be sent in at least two to three weeks prior to the date of the event.

Students are constantly in a rush so keeping your messages short and simple is the best way to go. You don't need to display a long, lengthy message to impact your students; all you need to do to draw their attention is by displaying a concise message that gets to the point. When targeting an event to your audience, think of the following elements: Who, What, Where, and When.

Interactivity is a key technique for engaging with your students. Allowing your students to see the information is great, but it can only get you so far. You want them to actually interact with the screen. This can be anything from allowing them to reserve a study group room in the library, having them vote for a student officer, or liking a Facebook page so they may receive up-to-date newsfeeds. In addition to keeping your messages short and simple, you can have students gain more details about a subject by including a QR code on screen. Implementing clear calls to action can help you measure the effectiveness of your message. This will be very helpful in the future when it comes to scheduling and promoting your future messages.
Go To Post >
---
Categories:
News
|
Miscellaneous
|
Page 1 of 4 pages
1
2
3
>
Last ›
---