UC

View Blog Entries

by Christine

Posted on 06/12 at 02:09 PM
---
---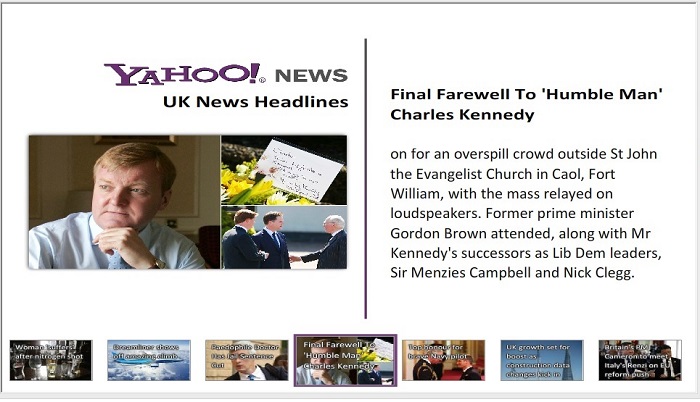 Yahoo U.K. News is now available in UCView's content store. Delve into multiple categories offered, such as UK News, UK Politics, Tech, Health, World, Business, Science, and Entertainment. In addition, you can further specify your digital signage news interests by selecting from a variety of sub-categories. Visually enrich your news stories by modifying the background theme and text color. You can also adjust the length of time before your news stories transition to the next slide as well as choose whether to show or remove thumbnail images from your screens. Yahoo U.K. displays up to the minute news stories focusing on hot topics throughout the United Kingdom. This free digital signage app can be featured in multiple industries, including schools, corporate offices, healthcare settings, and more. Keep your audience informed and up-to-date with Yahoo U.K. news!
Go To Post >
---
Categories:
App Store
|
News
|
by Christine
Posted on 03/13 at 02:13 PM
---
---
UCView revamped their digital signage content store webpage. UCView provides their users access to the world's largest digital signage app store with over fifty different apps to choose from. UCView's app store offers practical and unique content that can be used across multiple industries for free or at a very low-price. Users can select apps from various categories, such as Social Media, RSS News, Weather, Finance Data, Information, Streaming TV, and Widgets. Relevant and up to date communication is king for a successful digital signage network, which is why UCView generously offers their users simple to install apps that generate much needed message to their audience in real time. Digital signage software content, such as Instagram or Facebook, allows for businesses to interact and engage with their audience by providing information that's enjoyable to view and relates to their consumers. UCView allows for their users to implement as many state-of-the-art digital signage content as they would like as well as give them the flexibility to customize their apps.
Go To Post >
---
Categories:
App Store
|
News
|
by Christine
Posted on 01/20 at 01:30 PM
---
---
Instagram allows for you to post and share your most valuable moments with your friends and family – so why can't you do the same with your target customers. UCView unveiled a one-of-a-kind Instagram app which allows for you to share your most worthwhile company photos and videos with your audience. Publish images from your school's fundraising event or the hottest new items released at your retail store. This free digital signage content app displays a sequence of photos and short video clips which will keep your audience entertained at all times. Allow for your audience to even interact with the screen and share their own photos or videos to your digital signage displays. You may even customize the app so it can reflect your company's image. Build a connection and communicate like never before using the innovative Instagram digital signage app.
Go To Post >
---
Categories:
App Store
|
News
|
by Christine
Posted on 01/19 at 02:47 PM
---
---
How often have you sat in a waiting room and watch a digital signage screen play the same ads over and over again? After the first round of ads your audience will obviously start to lose interest. It's important to keep your content updated at all times, yet many users don't realize how easy it is to do this. UCView's Facebook Posts app offers short videos clips and photos which can be shared from your company's Facebook page. This dynamic app not only offers thrilling images and clips straight from your Facebook page, but it also promotes you company at the same time. It's such a simple, yet highly effective solution. Virtually all companies have their own Facebook page which makes this a practical solution in order to keep your content fresh and your audience entertained. This free digital signage content app allows for you to customize and select the number of photos and videos you would like to publish for your displays. Along with your content, you audience will be able to view the number of likes you received on your Facebook page along with the date. Keep your audience entertained at all times with the Facebook Posts app.
Go To Post >
---
Categories:
App Store
|
News
|
Case Studies
|
by Christine
Posted on 08/15 at 01:58 PM
---
---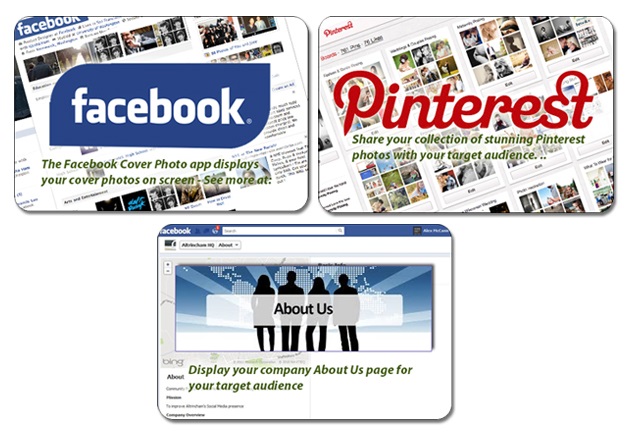 It's almost impossible to be in business and not have a social media page. The demand for social media has increased significantly over the years and is now used as an important source of information. A social media page for your business is just as essential as a website in helping your business grow. Social media is a great communication tool. It allows for current or potential customers to voice their opinions on a product or service. Many stores commonly use digital signage as a tool for communication and it makes perfect sense to integrate it with social media. Customers can use their smart phone to post pictures, make comments, take advantage of discounts, and more all within the parameters of a retail store.

UCView has unveiled one of the largest collections of social media apps available for digital signage. These cutting-edge apps are great communication tools for businesses, both large and small. With just a simple click of a button, you can install Twitter, Facebook, and Pinterest apps. Publish a slide-show of up-to-the-minute Facebook posts (text, images, videos), which can be customized to fit the needs of your business. Display your Facebook About Us page to accurately inform your customers about your business. Publish your company's newest Facebook Cover Photo and release the latest Pinterest images or videos. Customers in stores can actively engage with the displays by making comments and even 'Like' or share posts.

Social media offers an abundance of opportunities to boost sales and build your company's reputation. Allowing for your customers to have a voice via social media will help humanize your business. However, it's understandable that some businesses might be wary of displaying their social media page. What if a negative comment shows up from a customer? Although it can take courage, the benefits outweigh the disadvantages. Employees can quickly respond back with an apology and an explanation of how they will fix it. This will demonstrate to other customers that their voice is being heard and your business is taking action to help resolve an issue. Overall, displaying social media apps on your screens will help build a positive relationship with your customers.
Go To Post >
---
Categories:
App Store
|
News
|
by Christine
Posted on 06/26 at 02:59 PM
---
---
Entertain and educate your audience by providing news focusing on politics, business, sports, and more. The Washington Post, one of America's leading newspapers, can now be displayed on your digital signage screen. With this free digital signage app, you can display streaming TV content that's reliable and up-to-the-minute. This app is great to display in markets, such as education institutions, banks, and corporate offices. Reach your audience by displaying live or recorded news stories from the Washington Post TV channel.
Go To Post >
---
Categories:
App Store
|
News
|
by Christine
Posted on 04/21 at 10:59 AM
---
---
ScreenFeed Media RSS offers a wide collection of ready-made digital signage content which can be used to entertain and inform your audience. ScreenFeed provides captivating stories featuring the world of news, sports, and entertainment. By using the RSS URL provided by ScreenFeed, you may display a selection of videos for your target audience. This digital signage app is great to display in the student lounge area, in the employee break room, in the lobby of a hotel, or elsewhere. ScreenFeed Media RSS is a great way to draw the attention of viewers of all ages.
Go To Post >
---
Categories:
App Store
|
News
|
by Christine
Posted on 04/02 at 11:59 AM
---
---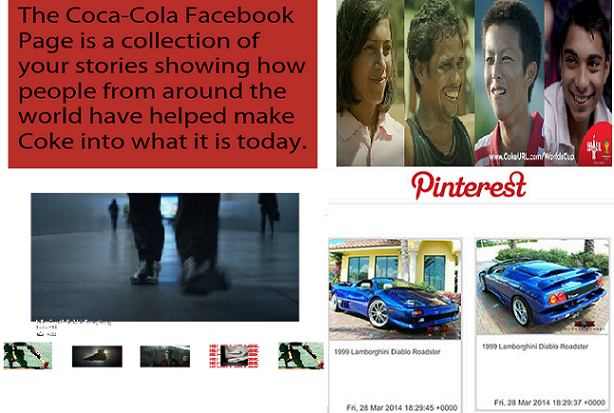 UCView unveiled the largest collection of social media apps available throughout the world. Social media is one of the largest platforms used for communication. Knowing the importance of communication, UCView introduced Facebook and Pinterest into its growing collection of social media content apps available for free. However, our social media apps are unique as we allow for you to tailor the apps based on what you would like to show. Imagine being able to post your Facebook wall on screen in the form of numerous video clips. That's just what the Facebook Posts app allows for you to do. The Facebook Posts app can be entirely your own, you can edit the animation, how the content is loaded, the position of the thumbnails, and much more. In addition to this innovative app, UCView released Facebook apps in which you can post stunning cover photos and the About Us page. This will allow for your target audience to learn more about your company as well as actively build more followers. UCView is also the first digital signage corporation to introduce Pinterest to its app store. The Pinterest app allows for you to share striking company photos with your audience. Build a relationship with your customers and grow your market by integrating social media with digital signage.
Go To Post >
---
Categories:
App Store
|
News
|
by Christine
Posted on 10/31 at 10:06 AM
---
---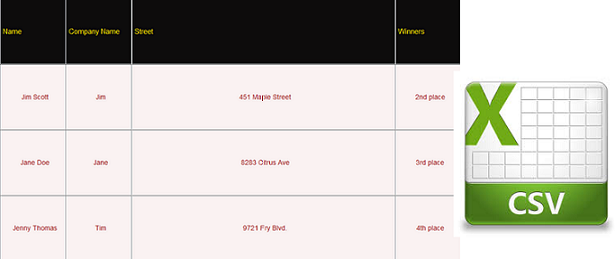 CSV file reader is an innovative content app which allows for you to grab data from a CSV file and display it on your screen. For instance, you can take any data you have from a local folder or DropBox and then customize the content for your audience. Change the color of the background, the text size, the header color, the text color, the scroll delay interval, the number of display lines, and more. The CSV file folder is great to use for a presentation within a corporate office . Educational institutions can even use it to list the name of students who made it on the Dean's list. Spice up your data sheets and post it for your audience using CSV file folder digital signage content.
Go To Post >
---
Categories:
App Store
|
News
|
by Christine
Posted on 10/30 at 03:08 PM
---
---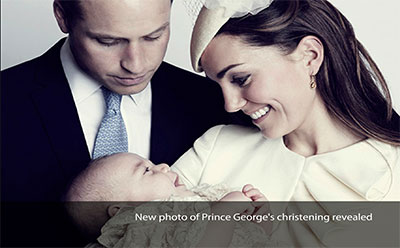 Visuals with a short and simple message can go a long way in reaching your targeted audience. NBC News is a popular American broadcast network which provides up to the minute news stories. This free digital signage content enables for you to select from different categories, such as Today News, Today Entertainment, Today Health, Today Money, Today Pets, Today Moms, Today Style, or even Kathie and Hoda. Communicate with your audience using a slideshow of news images from a reputable source.
Go To Post >
---
Categories:
App Store
|
News
|
Page 1 of 4 pages
1
2
3
>
Last ›
---