UC

View Blog Entries

by Christine

Posted on 06/15 at 02:26 PM
---
---
Our UCView representatives are having a busy, yet successful day displaying SignEdge digital signage software at InfoComm 2017. InfoComm is the largest annual conference and exhibition for AV buyers and sellers throughout the Western Hemisphere. If you happen to be at the show, be sure to stop by booth #1265 to learn more about our latest software features. Don't forget to check out our Facebook page and follow us on Twitter to learn more about what we have to offer.
Go To Post >
---
Categories:
News
|
Behind the Scenes
|
by Christine
Posted on 06/02 at 02:15 PM
---
---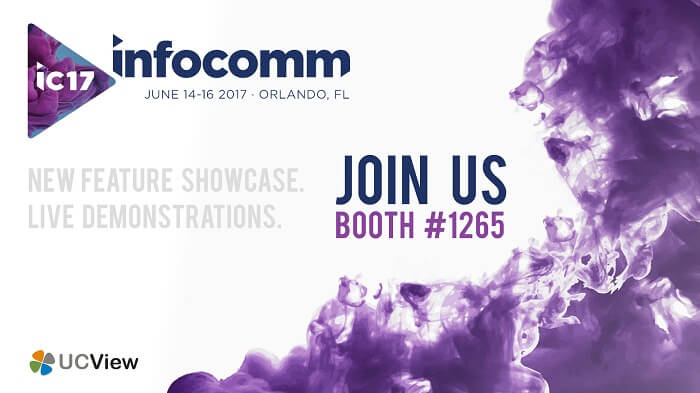 UCView Digital Signage invites you to visit us in Booth #1265 at InfoComm 2017! We will present our innovative Enterprise-level digital signage software and highlight our latest user-friendly features, including Microsite, Player Profiles, and Mobile Channel. InfoComm is the largest professional tradeshow in North America which showcases cutting-edge audio-visual technology and digital signage. The exhibit will take place from June 14-16th at the Orange County Convention Center in Orlando, Florida.
Go To Post >
---
Categories:
News
|
Behind the Scenes
|
by Christine
Posted on 03/30 at 11:55 AM
---
---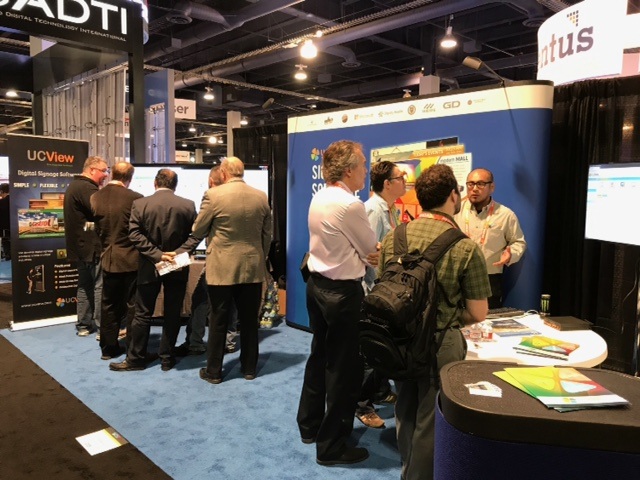 Our representatives are hard at work presenting UCView's latest digital signage software features for thousands of Digital Signage Expo attendees. Today is day two of the Exhibit Hall and we are looking forward to another successful day at DSE. If you happen to be at the event, be sure to stop by Booth #236 to view and learn more about our latest SignEdge software solutions! Don't forget to check out our Facebook page and follow us on Twitter to view our photo gallery and learn more about what we have to offer.
Go To Post >
---
Categories:
News
|
Behind the Scenes
|
by Christine
Posted on 04/16 at 02:19 PM
---
---
In this article we are going to cover the deployment of Live TV content in digital signage. One of the main reasons for creating zones in digital signage is to enable multiple messages from different sources on the same screen. Basically any video input source can to be displayed on the screen with surrounding advertisements or any type of content. The main advantage of using live feed is to entertain your audience with live video content and at the same time engaging this very audience with advertising or other information. There are several ways to integrate Live TV to your digital signage display. We will cover some of the options while pointing the pros and cons of each technology.
Inputs and Outputs:
When choosing a video capture device for your player it's important to consider the inputs you have to integrate with. Most video cameras, DVDs and live feed devices come with an Analog Composite connector or HDMI out. If you want to capture video from these devices, you'll want to make sure your capture device supports your live feed out connector. If you want to use a CCTV camera or analog signal with your video capture device, you will more than likely need RCA A/V inputs.
There are some factors to consider when choosing a USB capture card for your digital signage. With prices ranging from only $30 to up to over $150, making the decision doesn't have to be difficult or costly. We'll attempt to help you choose the device that's right for you.
USB Capture Card:
A USB TV and Video Capture Device is a device that is capable of transferring an analog audio and video signal from DVD, cable TV or satellite to your digital signage screen. The USB TV Capture Device inputs the video signal by either Composite, S-Video or RF inputs. The signal from the USB Capture Device is output to the player by a USB 2.0 connection. The USB TV capture card can support Analog signal in NTSC format with Max Resolution of 720x480 at 30FPS and PAL Video Capture: 720x576 at 25FPS. UCView's digital signage software, bundled with the USB TV Capture device, captures a signal and plays it in the appropriate zone or in full screen.
The following diagram shows the use of the USB Capture card with a digital signage player.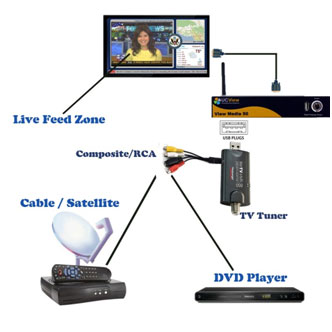 HDMI / Component Input:
The HDMI Capture card is equipped with HDMI input and analog through the included Dongle Cables. Users will have Component, S-Video and Composite Video input interfaces as well. This type of capture card allows you to connect to their Cable / Satellite Set-Top-Box and HD Video recorders to capture High Definition video content and display it on the digital signage display. With strong visual enhancement, the HDMI capture device will boost the graphics and content displayed on your screen. Capture 1080i/720p HD Video via HDMI Connection with the Avermedia CaptureHD, you can play high definition video content directly to your digital signage player via the HDMI or component inputs.
High Quality Analog Capturing:
With the accompanying analog dongle cable, capturing standard and high definition analog video is also effortless. Moreover, you can capture 1080i HD video via component input and display it on your digital signage screen easily.
Multiple-card Support:
When there is more than one AVerMedia HD in your digital signage player, UCView can present the images from different devices in the same zone at the same time.
The following diagram shows the use of HDMI Capture card with a digital signage player.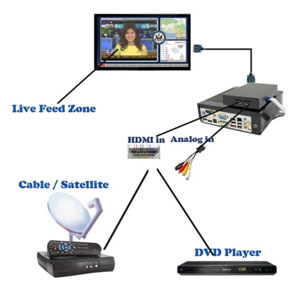 Streaming HD and SD Feeds:
Steaming technology has become a main stream content distribution in the last couple of years, allowing you to broadcast HD content through WAN / LAN networks. This technology allows you to utilize it in digital signage by broadcasting the live feed signal to your digital signage players. Streaming media is a multimedia that is constantly received by and presented to the digital signage player while being delivered by a streaming server or streaming device. The distinction is usually applied to media that is distributed over telecommunication networks.
This type of content distribution is a great solution to broadcast live feed in an intranet environment like universities or corporate communications. Your digital signage screen can be fed on demand content from one or multiple streaming feed devices.
The following diagram shows the use of streaming live feed to multiple digital signage players.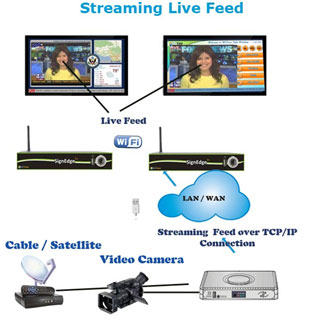 Go To Post >
---
Categories:
Features
|
How to Knowledge
|
Digital Signage Technology
|
Behind the Scenes
|
by Christine
Posted on 03/29 at 10:58 AM
---
---

Welcome to the EZBoard webinar! This webinar will introduce people to a web based seminar on how to use UCView Media's EZBoard. EZBoard is a flash-based content creation platform, which simplifies the way customers and network owners modify and release messages. EZBoard revolutionizes the way customers and network owners input data into the system, allowing a quicker and more efficient method of modifying content and creating ads and messages.
EZBoard is a versatile tool; you can select any background image, change content, input widgets, and make other modifications with a simple click of a button. With the use of EZBoard, customers will be able to play their messages and ads any time of the day. Our webinar will provide you with a concise step-by-step guide on how to use EZBoard, which will be your most effective method of communicating to the public.

Date: April 4, 2012

Presenters: Guy Avital

In this webinar, attendees will learn:

Create Simple EZboard Template
Integrate RSS feeds inside EZBoard
Use apps and widget with EZBoard
Simple Content Editing Template (list of Items)

Register Here
Go To Post >
---
Categories:
News
|
Features
|
How to Knowledge
|
Behind the Scenes
|
by Alex
Posted on 03/06 at 05:19 PM
---
---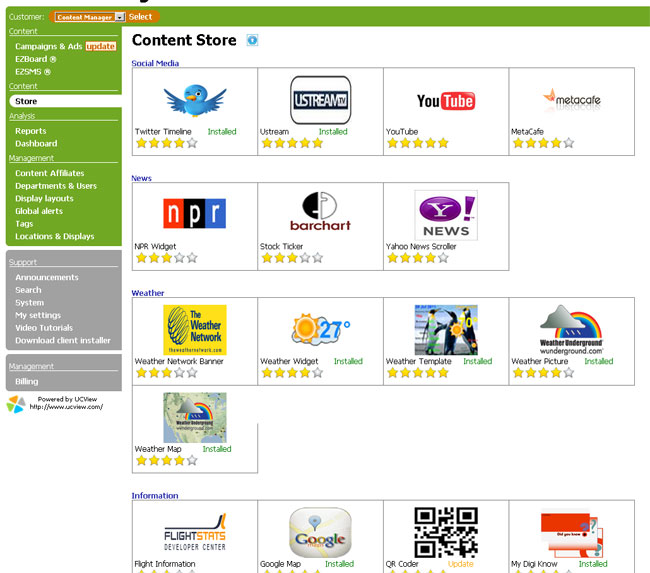 Our development team just released the new store design. Our Content store is booming, we have so many apps and amazing content in the pipeline. Some of the apps we release are in the content store show case, you can check it out any time at http://www.ucview.com/content-store/
To use our free digital signage content ...Just log in click install and Enjoy
Go To Post >
---
Categories:
App Store
|
News
|
Features
|
Behind the Scenes
|
by Guy Avital
Posted on 02/20 at 09:53 AM
---
---
The digital-signage industry is gaining steam at a phenomenal rate. This video we found gives you a sneek peak to the future of digital signage and interactivity that will affect our daily lives.
Go To Post >
---
Categories:
News
|
Behind the Scenes
|
Miscellaneous
|
Case Studies
|
by Guy Avital
Posted on 10/19 at 10:36 PM
---
---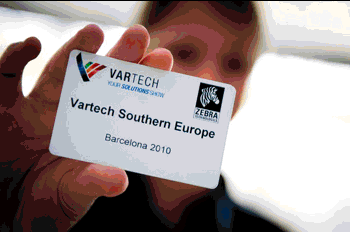 A team from UCView that included UCView CEO Guy Avital, VP Latin America ,Marcelo Teyer, joined a few hundred of our closest POS and Digital Signage VARs friends at VARTECH Barcelona 2010. The vibe was literally electric as the UCView team met with Solution Partners, current and potential digital signage providers and experts in the industry - all clamoring to learn about our company products.

UCView Team had a very busy booth at the show, held several lerning sessions and lectures with key partners, and enjoied an evening of fun and good food for with our partners. We had a great time with our partners and future relellers. Thank you for coming to see us at VARTECH Barcelona 2010


Go To Post >
---
Categories:
News
|
Behind the Scenes
|
Press Releases
|
Case Studies
|
by Guy Avital
Posted on 03/01 at 02:07 PM
---
---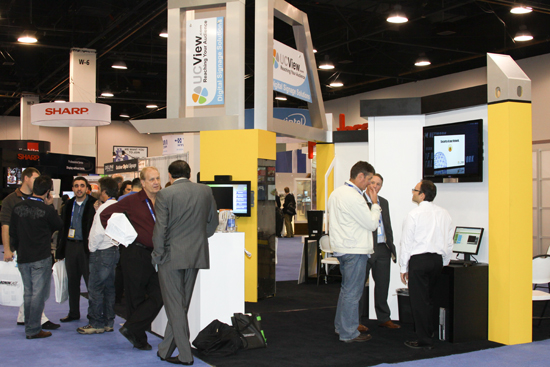 Thank you for visiting us at the 2010 Digital Signage Expo. We enjoyed all of the inspiring conversations, and the positive feedback we received regarding our products exceeded all our expectations. UCView Media had a very fruitful experience, and we will continue to champion digital signage solutions for our partners worldwide.
Our team is relentless in its pursuit of designing and developing a platform to suit our partners' ever-growing needs. We were very pleased with the overwhelmingly positive response to some of the newest additions to our platform that we unveiled at DSE2010. Some of the newest key additions to our products included:
• Global View, a feature providing a live snapshot of all your network's displays
• EZ Board, an easy-to-use content creation tool
• GPS and audience measurement integration
• Touchscreen capability for interactive displays
• ViewEdge Digital Signage Server series
• World's first interactive gas station pump top
We invite our guests from DSE2010 to experience the benefits of UCView Media first-hand. Visit our website at http://www.ucview.com and receive a free 30-day trial. We look forward to all of your feedback on our software, and we encourage you to share this risk-free offer with your customers and partners.
Thank you again for your interest in our innovative digital signage products. We will contact you soon to discuss how our solutions can cater to your specific needs.

Best regards,
Guy Avital
CEO
UCView Media Inc
Go To Post >
---
Categories:
News
|
Features
|
Digital Signage Technology
|
Behind the Scenes
|
Press Releases
|
Case Studies
|
by Guy Avital
Posted on 01/25 at 10:11 AM
---
---
UCView Media, Jan 20, 2010. UCView media's digital signage software division, the leading developer of digital signage management software, released an innovative enhancement to the UCView Enterprise family. The inclusion of Mobile Access makes UCView one of first solutions to provide visibility into and live monitoring of digital signage networks in real time from mobile phones or personal digital assistants (PDAs).
"We believe in practical solutions, we design solutions to solve a problem and help you manage as opposed to creating a market. From the research we recently conducted today, UCView is the first or only digital signage management solution enabling proactive and live player snapshot and resolution of network issues over a mobile device's without the need to install software", announced Guy Avital President, UCView Media Inc. "UCView Software platform is already a comprehensive product with superior real time diagnostic and practical capabilities, but now UCView users can benefit from the flexibility of having a proven digital signage management solution in the palm of their hands."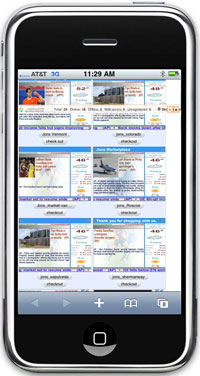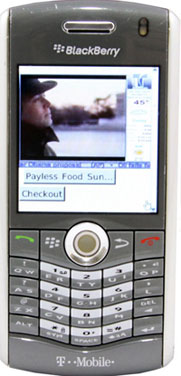 With innovative features such as snapshots of the entire network, restart devices, player info statistics EZLink notifications, UCView brings a whole new dimension of portability to digital signage management, providing a secure and transparent window to your digital signage network status and from anywhere, at anytime. For more information on UCView, to view a demo or to download a free trial, visit http://www.ucview.com/contact/request_demo/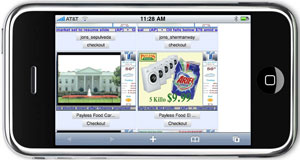 Many large firms have been using UCView for over 3 years and it has proven an invaluable digital signage solution to run their growing digital signage network. "I always know about network status or outages instantly," states Marcelo Teyer, Digital signage network owner. "The addition of mobile access saves precious time, as now I can immediately check player's status from my smart phone."
UCView mobile Access Features for digital signage monitoring:
Player status View with snapshot images.
EZLink Notifications for SMS and email alerts.
Maintenance player configuration.
Restart Players Remotely.
SSL support for mobile access sessions
About UCView Media Management

UCView media is the leading digital signage management software solution with thousands of players reliably managed worldwide. Built on a scalable architecture offering automated player discovery and network monitoring, real-time player monitoring, and versatile alerting, notification, and reporting functionality, UCView media delivers 360° visibility, manageable digital signage frame work.

UCView Media software scales from the small digital signage to the large digital signage deployments, and its functionality can be easily extended. UCView software monitor player's performance and operation for precise measurement of poof of ads played to provide the quality of service (QoS) necessary for a growing digital signage network. To learn more about UCView software, request your free demo or to make a purchase visit http://www.ucview.com/contact/request_demo/
Go To Post >
---
Categories:
Features
|
Behind the Scenes
|
Press Releases
|
New Products
|
Page 1 of 4 pages
1
2
3
>
Last ›
---