UC

View Blog Entries

by Guy Avital

Posted on 03/01 at 11:05 AM
---
---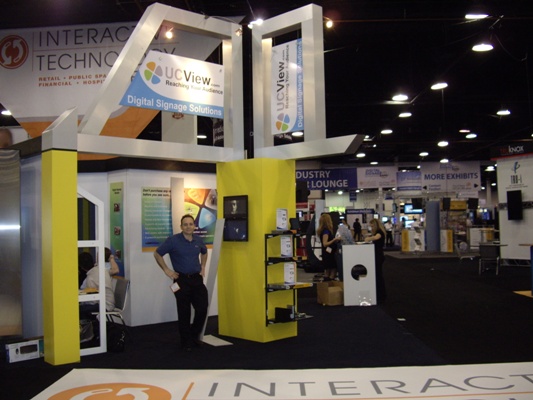 Thank you for visiting at our booth at Digital Signage Expo We enjoyed the many inspiring conversations, and we were impressed at the number of visitors to our booth and the great interest in our products. UCView Media had a very successful experience, and the positive feedback this year exceeded all our expectations.
In particular, visitors were interested in the new features of UCView Media products, which we launched for DSE:
• Touch Screen, SMS and Cellular digital signage interaction.
• Our enhanced scheduling and playlist options
• ViewEdge Digital Signage Media Server series.
• Our Enhanced Second generation player functionality
• World First Interactive gas station digital signage.
Now we are offering our DSE guests the opportunity to experience for themselves the benefits of UCView Media products http://www.ucview.com and receive a free 30 days demo. We look forward to receive your feedback on our software, and we encourage you to share these attractive offers with your customers and partners.
Thank you again for your interest in our innovative digital signage software! We will contact you soon to discuss your specific needs.
With best regards
Guy Avital
CEO
UCView Media Inc
Go To Post >
---
Categories:
News
|
Digital Signage Technology
|
Behind the Scenes
|
by Guy Avital
Posted on 02/18 at 11:05 AM
---
---
Digital signage is gaining popularity in almost every market where people walk, wait or work. Now you have ads and entertainment while you are fueling. VST International was the first company to mass-produce a pump-top signage solution in 2005 in 2006 Pumptop TV and Gas Station TV started their first large deployment. Currently this market is shared between 8 companies which hold less than 2% of the gas station market.
The annual stations count decreased slightly in the last year down to 167,768 gas stations in the US market. Although current market changes and challenges such as the unstable gasoline prices and inflation, are negatively impacting gas stations profits and sales. 2009 economy may show more impact. The two major oil companies topping the gas stations count in 2008 remain. Shell has the No. 1 spot with 14,000 gas stations, with increase by about 600 gas stations per year. BP increased its amount of stations to 13,000+ in 2008.
Total Gasoline Sales
ExxonMobil has the No. 1 position in total gasoline sales in the United States. ExxonMobil reported that it sold over 24.5 billion gallons of gasoline. ConocoPhillips has the No. 2 spot, with almost 19.1 billion gallons in sales. BP has the No. 3 spot, with its sales of 16.1 billion gallons of gasoline, and Shell has the No. 4 spot, reporting 13 billion gallons.
The 8 companies targeting gas station di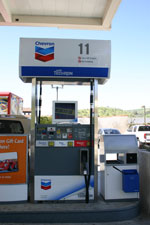 gital signage are:
Gas Station TV with 1000+ Gas stations
Pumptop TV with over 750+ Gas stations
Fuel Cast with over 600+ Gas stations
Petro TV with over 175+ Gas Stations
Pump Media with over 155+ Locations
FUEL VIEW with over 13+ location
FILLNTHRILL with over 10+ Gas Stations
The combined number of Gas stations deployed by all these companies, are only around 3000 gas stations nationwide which provide larger space for other companies to grow.
Digital out-of-home media at Gas stations provide localized advertising for media buyers to reach consumers at a much lower CPM than any other traditional media, with control of the location time and impression of each ad. Most gas Stations digital signage are installed in high profile gas stations with traffic over 30,000 motorists a month. They rely on the statistics that more than 65% of Americans spend at least 3-6 min per week in a gas station. The challenge with this market is the proof of concept. Selling digital signage ads in this economic time, is no easy task, especially when this venue carries one of the highest costs per location, running around $15,000 -$20,000 per location.
We already know "content is king" and it becomes very crucial in gas station digital signage. High Broadcast quality is really expectation. You have to entertain the customer. The days of static banners and pictures are fading. The new century customers are tough. You will lose if they see a high-end display with boring and outdated content. Within budget, you've got to go high-end with your content. The contents needs to be relevant, informative and not a strictly sales tool. There are several elements that go into producing striking digital signage content, but the most important element is making it relevant to your audience.
The best approach in creating attractive digital signage content is partnering with a content provider. I think this is one of the key successes of Gas Station TV and Outcast, when they partner with major content provider like NBC and CBS for content and news.
Go To Post >
---
Categories:
News
|
How to Knowledge
|
Digital Signage Technology
|
Behind the Scenes
|
Case Studies
|
by Guy Avital
Posted on 02/07 at 11:04 AM
---
---
Digital signage layout is gaining more focus on how to design the screen to gain more consumer attention. The advantage of digital signage screen over traditional signs is the ability to design the screen with no restraint, create and display content in various customized presentations. Split-screen features enable the digital signage display to show several media sources at the same time in different parts of the screen. The presentation can include a combination of different media types, such as video, Live TV, Flash, Images, RSS feed and more.
When designing digital signage layouts, we need to consider the type of media we plan to play on the screen. I f we are using only pictures and flash presentation, we can divide the screen in any shape or form, because we can adjust the content to the size of the section it's going to play on. Nevertheless if we play video or live TV, we need to design the video or TV section in 4:3 or 16:9 ratio to avoid stretching or black bars around the video or the live TV.
The most common digital signage layouts used today are the 3 parts wide and standard screen layout, where the main media is covering 80% to 90% of the left side of the screen, with a side banner and bottom banner stroller. In this type of layout we maintain the 16:9 or 4:3 ratio in the main media section.
4:3 ratio Layout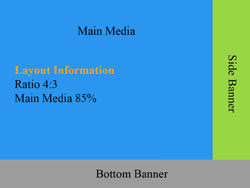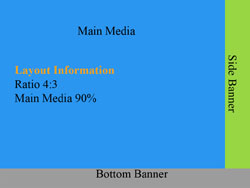 16:9 Ratio Layout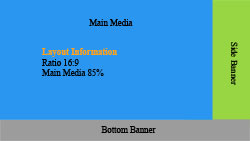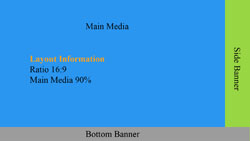 The concept behind 3 parts layout is simple. Main media section displays live TV, video commercials and other main interest programming or combinations of the above. Side banner, plays live text base or animation base information, for example: weather, news, traffic, etc. Bottom stroller is designed for text ticker of timely customized messages and news. This type of layout fits markets like retail, checkout stands and any 4:3 displays.
Another common display layout we see more is the 16:9 Quad sections. this type of layout has more horizontal space due to its 16:9 shape , which provides more width to its side banner sections. Wider side banners gives you the ability to create square shape side sections which can play any type of content as main media but smaller. Such as, TV, video, animation, pictures and more. Like the 3 sections layout (above), the 16:9 quad sections have the text ticker scroll as well. We notice demand for this type of layout in education, corporate, and message boards where there is a need for more information to display simultaneously.
16:9 Quad Sections Layout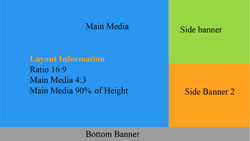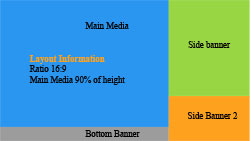 Branded Digital Signage Screen
Branding the digital signage screen become popular especially in digital signage screen that sells ads. When there is a need to brand the screen with a logo of the location or the network, the layout needs to have a branding layout that includes a background with a logo or a section that displays the branding. In branded layout, an area of the screen needs to be reserved for logo or name brand. The goal when creating branded layout is to keep the same ratio rules of regular layout while reserving a space for the logo or the name brand.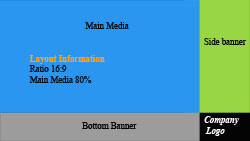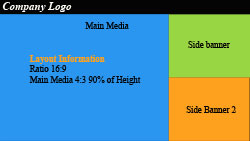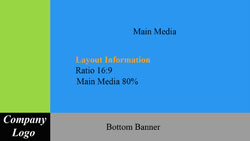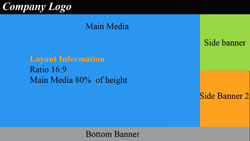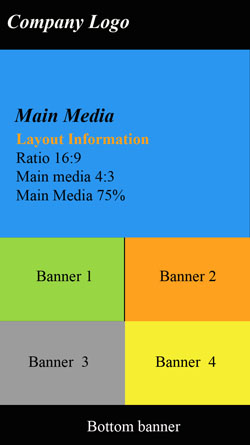 Food menu and Information Screen Layout
Digital signage for menu board and other information screen becomes a new stream for digital signage use. When designing a screen to display information like menu boards, you need to consider the distance between the audience to the screen and the amount of content is displayed in a given moment. A common layout design for menu boards and restaurants is a vertical page layout, where you divide the screen to 2 or 3 sections that replace the look of traditional printed menu boards.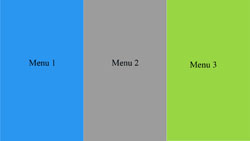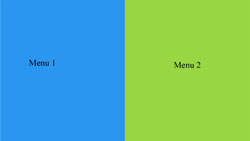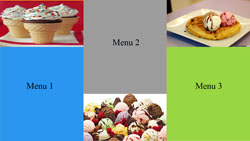 Sport Bar and Clubs
Bars, club and restaurants are taking advantage of digital signage features. By turning a sports bar TV to a digital signage display creates enormous advertising opportunities. Bars and Clubs are famous for their Large number of TV screens to support sport fan audiences during games. Digital signage layouts in these venues need to be sensitive to the audience interest and keep as much real-estate in the display for main media interest, and not to Claude the screen with too much advertising. These are common layout in Restaurants, bars and clubs.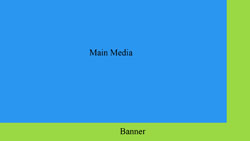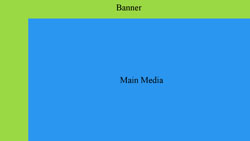 In the example above the main media takes up the most area of the screen while reserving small banners for branding and advertising. This type of layout is most affective during high rating games in sport event.
The most important rule when designing a digital signage screen is "keep your audience in mind". Design the screen to your audience interest. Taking into consideration the time your average customer spends in front of the screen, the size of the screen and the type of programming playing on the screen, you can design the screen to accommodate your customer interest while introducing other ads simultaneously.
Go To Post >
---
Categories:
How to Knowledge
|
Digital Signage Technology
|
Behind the Scenes
|
Case Studies
|
by Guy Avital
Posted on 09/03 at 10:59 AM
---
---
Testing a digital signage is not a trivial task and requires careful consideration before releasing the new update – every feature and option that is release need to be tested with all the available option and make sure it's not affecting any existing feature and operation on the existing displays. Every link and content that is distributed to the screens must be checked, every form must be filled out and submitted, every feature must be checked and submit to multiple screens, every ad need to be checked, etc.
Therefore it is vital to have a plan, including testing scenarios applying feature in a local and live displays in the fields before actual release can be performed. The test is done by the quality assurance team and report error and bugs to the development team.
The development team is working on multiple beta server where they checked and deploy their code. After intensive testing the code is merge with beta1 server where is been tested and release as RC version (release candidate) this version is than deploy to about 20-30 location for 2 weeks for testing , leaving enough time to report and fix any possible issues, before it deploy as latest version to thousands of UCView digital signage players with its Nation world wide locations. Apart from system functionality, the following website quality aspects also need to be considered during the testing process:
·Essential ads analysis – navigation, ads, campaigns, schedule, loops, content errors, etc.
Accessibility problems
· Code quality - markup errors, broken scripts, code structure, etc.
· Cross-browser compatibility issues
· Layout issues, and display issue
· Player Performance , and stability
Testing Procedure
We at UCView want our digital signage application to be as bug-free as possible; Software testing is a critical component of the software development cycle. And software testing procedures are critical to the success of the testing phase. Feedback from UCView customers is a great benefit for the whole QA process. Community members also have the possibility to report any bugs found, which are then reviewed, verified and assigned to a proper developer to fix. Posts on the forum are a great help too, as UCView customer often come up with ideas for further improvements
Go To Post >
---
Categories:
Digital Signage Technology
|
Behind the Scenes
|
Case Studies
|
by Guy Avital
Posted on 08/02 at 10:54 PM
---
---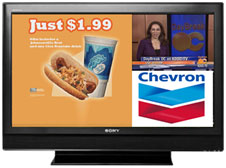 The concept of digital signage is becoming a hugely popular method of advertising. It is quickly becoming one of the most influential, effective ways to generate sales today for virtually any kind of business. More than just advertising, however, digital signage is a technology that can be used for many different purposes in generating sales and getting information passed around quickly. Digital merchandising is a very prominent category for digital signage.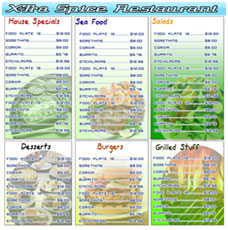 Imagine you are visiting a food court in your local mall. You walk up to one vendor and notice their signage is quite unprofessional. Since prices have been modified but the manager did not want to put out the extra cash to get it professionally changed on the sign, hand-written numbers are scribbled in some places indicating the current prices. The images are fading and look old fashioned. Sure, the food is probably good there, but your eyes are drawn to the Digital Signage menu boards of the vendor next to this one. The signs are not old, faded light boxes but rather six, large, clear and easy to read LCD screens. The images are crisp, the prices may have changed yesterday and you would never know it. The special for the week is emphasized on its own screen with a description of the product. Next week it may be different, but the message will be just as clear and professional.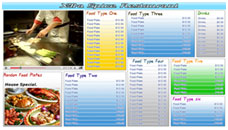 This restaurant example is only the beginning of the potential of digital signage
menu boards. Since this technology is still so new and developing, experts say we have only scratched the surface of the prospective application of digital merchandising. If you see your company benefiting from the implementation of this new technology in your advertising or merchandising, you are certainly correct that it will. Perhaps you hesitate to make the switch because you fear the cost, responsibility or fact that you have no time to incorporate something new like this. Put your worries aside, because a light box or other similar merchandising technique costs about the same as a digital sign. If yours needs repair anyway, make the switch! As clearly illustrated by the restaurant menu boards example, customers are drawn toward up-to-date signage and are more likely to purchase from a location that seems technologically savvy. Your revenue will without a doubt see an increase.

To help you generate the required creativity and design that will draw you customers in the most effective way, there are services you can hire for such assistance. Look into one that works the best for you today to modernize your digital merchandising.
Go To Post >
---
Categories:
News
|
Digital Signage Technology
|
Behind the Scenes
|
by Guy Avital
Posted on 06/06 at 01:41 AM
---
---
The Problem
Increased sales and community exposure demonstrated shortcomings in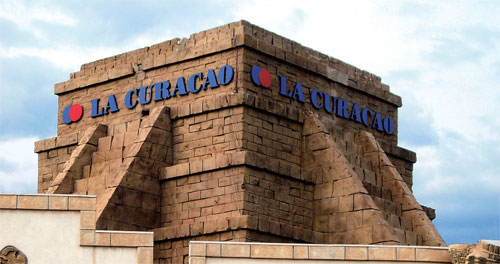 La Curacao's traditional, print media based marketing programs. Every
sale requirement, change in credit terms or variation in retail product
and service cost would require another print media campaign, costing
thousands of dollars and taking weeks to implement. To address this
static limitation, La Curacao began a DVD-based signage system, but
found the system too cumbersome to update effectively with changes at
the store level. It also required specialized IT personnel to create media,
burn it on DVD and install on each media player in the store. They
needed a more flexible and robust solution to their expanding marketing
dilemma.
The Solution
UCView was then called in to implemented a successful, large scale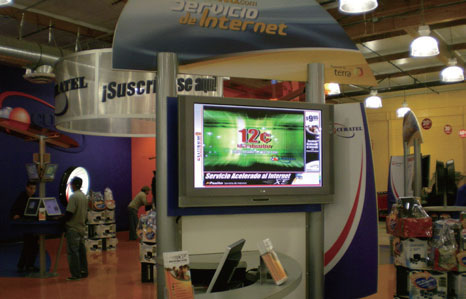 in-store media network that allowed advertisers to interact with their
audience in more dynamic and diverse ways. Our state-of-the art digital
signage was installed in all La Curacao stores, totalling over 300 19"
to 42" monitors at checkout stands, home electronics, prepaid phone,
money transfer and each store. To keep the system running reliably
with minimal effort, La Curacao chose UCView's hosted option.
Now, static print ads and slow DVD media updating have been replaced
with a web-server based application that can control each monitor at
each section of each store. Different locations can run their own advertising
campaigns, update money transfer rates, credit terms and internet
access rates in a moment and completely redesign each campaign
rapidly and without expensive IT implementation issues. Plus, when
another store is built, running existing campaigns (or creating new
ones) is a simple matter of installing UCView Smart Media Players and
monitors, logging in to our web-based administration tool, adding the
new displays and sending campaign content to each monitor as needed.
Because their media was hosted at UCView's server farm, no additional
set up was required.
Campaign Campaign
Duration
Loop time 15 second 30 second
Bronze 1 month 10 minutes $7000/Month $14000/Month
Silver 3 month 10 minutes $6300/Month $12600/Month
Gold 6 months 10 minutes $5950/Month $11900/Month
Platinum 1 year 10 minutes $5250/Month $10500/Month
The UCView Digital Signage System has given La Curacao the ability to
target messages directly to shoppers where marketing information
makes its biggest impact. Favorable first impressions from shoppers,
along with careful administration of ad campaigns, has increased sales
and accelerated expansion for this major player in the department store
industry. And every time La Curacao expands, UCView will be right there,
ready to provide seamless upgrading integration of all of their digital signage
needs. UCView has specifically designed systems for virtually every industry,
in both hosted and non-hosted configurations. We have helped many
companies of various sizes get the most out of their targeted marketing
needs. To find out how UCView can expand your business or organization,
contact our sales department today.
Go To Post >
---
Categories:
News
|
Digital Signage Technology
|
Behind the Scenes
|
Case Studies
|
by Guy Avital
Posted on 02/24 at 12:17 PM
---
---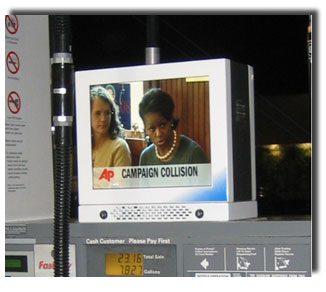 LAS VEGAS, NV – KVBC, NBC Las Vegas has teamed up with UCView to provide news, weather and sports for its gas pump digital signage network located at 92 Las Vegas area Terrible Herbst stations. The program is aimed at attracting motorists to Terrible Herbst gas stations and entertaining them while they refuel. The digital signage network can reach over 100,000 Las Vegas area motorists per day.
The program includes custom designed pump toppers each complete with dual-sided 19" LED backlit LCD displays. During refueling, motorists view a 4-minute television loop which includes news, weather, sports, and on and off-site advertisements.
Updated daily, motorists will receive a News 3 Minute from KVBC. In addition, KVBC is directing its audience to Terrible Herbst stations to fuel up and stay informed. "We are very excited to provide our motorists with the most stable and quality digital signage in gas stations . "KVBC brings the highest level of professional journalism to our network." Dale Wyman, Director of Creative Services & Production at KVBC, adds, "With this program, we can offer motorists news and weather updates each time they refuel. News 3 is Watching Out For You!"
About KVBC
KVBC is the NBC affiliate television station for Las Vegas, Nevada. It ranks as the number one news station in the market. KVBC is owned by Sunbelt Communications which operates 16 television stations in 5 states. To learn more, please visit www.kvbc.com
About Terrible Herbst
Terrible Herbst is the operator of over 150 service stations, car washes and lube centers located predominately in the Las Vegas, Nevada area. Other areas include Newport Beach, CA, Reno, NV, Park City, UT, Barstow, CA, Lake Havasu, AZ, Parker, AZ, Laughlin, AZ and Mesquite, NV. In addition, Terrible Herbst owns and operates hotels and casinos, most notably Terrible Herbst Hotel in Las Vegas, NV and Whiskey Pete's/Primm Valley/Buffalo Bill's located in Primm, NV. To learn more,
please visit www.terribleherbst.com.
Go To Post >
---
Categories:
News
|
Digital Signage Technology
|
Behind the Scenes
|
Case Studies
|
by Guy Avital
Posted on 01/25 at 12:15 AM
---
---
State College, PA, April 04, 2007—(PR.com)—AccuWeather, Inc. announced today that UCView Media, Inc. has licensed AccuWeather's news, sports and weather content for redistribution on digital signage networks across the United States and Canada. The AccuWeather content functions as a powerful tool to draw viewers and reduce perceived wait times.
AccuWeather's digital signage content modules include current local weather conditions, hourly and five-day forecasts, regional radar, video forecasts, and weather trivia, plus sports, U.S., world, and business news. Many of AccuWeather's digital signage modules are also available in Spanish.
Digital signage has become an essential element for advertising to captive audiences, but displaying only advertisements can cause viewers to completely tune out the information. The AccuWeather modules integrate timely and localized information into digital signage playlists to grab viewer interest.
"Weather is, by its very nature, relevant and dynamic information that draws eyes to the screens again and again. That is why weather consistently gains top audience ratings in all existing media, and why advertisements integrated with weather information in existing media command premium rates," said Dr. Joel N. Myers, Founder and President of AccuWeather. "Now the content that AccuWeather has developed will offer to digital signage systems the same attractive power of weather."
AccuWeather engaged with UCView Media to integrate AccuWeather's content has been fully integrated into the UCView System, the flag ship product of UCView. The UCView system delivers up-to-the-minute digital content over wireless or TCP/IP network. The system enables display owners to manage, schedule, and deliver their content. An optional advertising module allows for advertisers to login, manage, schedule, and control their advertising campaigns. The UCView system provides display owners a revenue channel without the headache of managing the advertisers.
"Bundling fresh, informative content into digital signage will keep the eyes of the targeted audience focused on the screens, providing advertisers the perfect stage to promote their products," said Guy Avital, UCView Media CEO. "This latest addition to our system enables instantaneous delivery of weather information to a digital signage network. Setting up your own digital signage network can take less than 15 mintues!"
Distribution of AccuWeather content across the United States and Canada by UCView is effectively immediately.
About UCView Media, Inc.
UCView Media, Inc. is a digital display solutions company. UCView's headquarters resides in Chatsworth California, with offices in Los Angeles, and Hollywood. Using their UCView System, they offer a dynamic, modular, win-win based solution that provides the beneficial gain for each participating party. For additional information please visit http://www.ucview.com.
About AccuWeather, Inc.
AccuWeather, The World's Weather Authority®, presents accurate, localized, branded forecasts and severe weather bulletins to over 106 million Americans each day via the Internet, mobile devices and IPTV, through the airwaves, and in print. The 113 meteorologists at AccuWeather deliver a portfolio of customized products and services to media, business, government, and institutions, and inform millions of visitors worldwide through the free AccuWeather.com website. AccuWeather also provides content onto more than 20,000 third-party Internet sites, including CNN Interactive, ABC's owned and operated stations, The Washington Post and The New York Times. Visit http://www.accuweather.com for more information.
###
For more information:
AccuWeather, Inc.
385 Science Park Road
State College, PA 16803
Contact: Scott Homan
(814) 237-0309 ext. 7743
.(JavaScript must be enabled to view this email address)
UCView Media, Inc.
8921 Fulbright Ave
Chatsworth, CA 91311
Phone: (877) 828-4399
Fax: (818) 772-7901
.(JavaScript must be enabled to view this email address)
Go To Post >
---
Categories:
News
|
Digital Signage Technology
|
Behind the Scenes
|
by Guy Avital
Posted on 12/02 at 12:08 AM
---
---
Digital signage today becomes one of the fastest growing ad distribution media in the future. Digital signage is taking more and more percent from the traditional advertising budget.
According to the updated report and studies, out-of-home media and in-store digital signage media will grow at a annual rate of 20%-23% through 2012, which make it fastest than the traditional advertising marketplace.
In 2007 digital signage network grew the fastest due to the strong rollout of digital billboards primarily from Lamar and Clear Channel. These spending on digital signage billboard increase by close to 400Million in 2007
UCView Digital signage report an increase of 500% in its outdoor digital signage network and expecting a major sales increase in the first quarter of 2008
Go To Post >
---
Categories:
Digital Signage Technology
|
Behind the Scenes
|
Case Studies
|
Page 4 of 4 pages
‹ First
<
2
3
4
---