UC

View Blog Entries

by Christine

Posted on 03/03 at 10:47 AM
---
---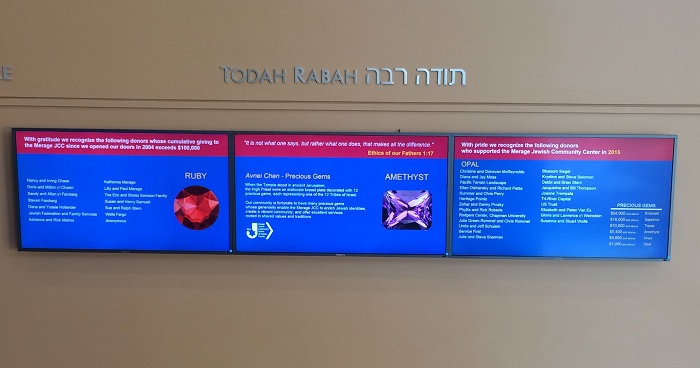 UCView digital signage recently started work with the Merage Jewish Community Center. The Merage Jewish Community Center, which opened in 2004, offers a wide variety of activities geared towards individuals of all ages. This extraordinary and spacious facility offers programs and services such as a top-notch health and fitness complex, licensed preschool and toddler care, Teen Lounge, gymnasium, Jr. Olympic swimming pool, senior center, adult education rooms, a professional theater and auditorium with banquet facilities, Kosher café and the new Holocaust Education Center and Memorial Garden. In order to commemorate those who helped expand the facility, the community center decided to display a digital donor recognition wall, powered by UCView digital signage software, which can be viewed by the many members and visitors who walk through their doors. Read the case study for more details.
Go To Post >
---
Categories:
News
|
Case Studies
|
by Christine
Posted on 01/19 at 02:47 PM
---
---
How often have you sat in a waiting room and watch a digital signage screen play the same ads over and over again? After the first round of ads your audience will obviously start to lose interest. It's important to keep your content updated at all times, yet many users don't realize how easy it is to do this. UCView's Facebook Posts app offers short videos clips and photos which can be shared from your company's Facebook page. This dynamic app not only offers thrilling images and clips straight from your Facebook page, but it also promotes you company at the same time. It's such a simple, yet highly effective solution. Virtually all companies have their own Facebook page which makes this a practical solution in order to keep your content fresh and your audience entertained. This free digital signage content app allows for you to customize and select the number of photos and videos you would like to publish for your displays. Along with your content, you audience will be able to view the number of likes you received on your Facebook page along with the date. Keep your audience entertained at all times with the Facebook Posts app.
Go To Post >
---
Categories:
App Store
|
News
|
Case Studies
|
by Christine
Posted on 03/13 at 02:43 PM
---
---

Vance-Granville Community College is located in North Carolina. The large community college operates four main campuses, the Franklin County Campus, the Main Campus, the South Campus, and the Warren County Campus. Vance-Granville Community College has over forty different curriculum programs available which allow for students to work towards obtaining their certificate or degrees. The campus currently uses multiple digital signage displays on campus in order to communicate with their students and staff. Read the Vance-Granville Community College case study here.
Go To Post >
---
Categories:
News
|
Case Studies
|
by Christine
Posted on 11/06 at 02:27 PM
---
---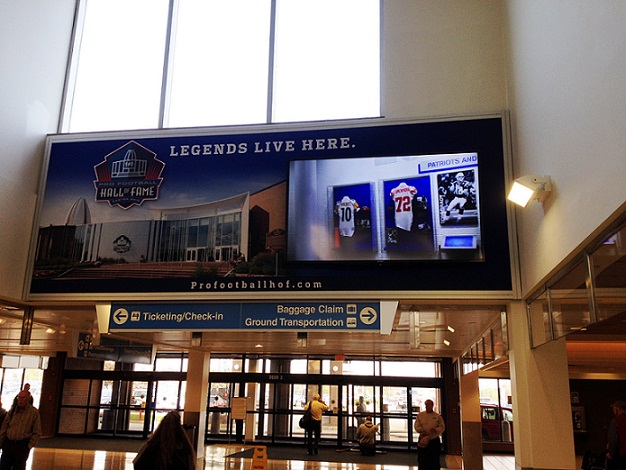 WRL Advertising is a full service agency that provides businesses, both large and small, with the latest in website design and programming, multimedia, broadcast, print, branding, traditional, and internet marketing and public relations services. WRL Advertising adheres to their mission statement and delivers optimal results with superior customer service. The advertising corporation has a base of over 100 clients in 12 states and the headquarters is located in Canton, Ohio. Just recently, the advertising corporation underwent a project to provide graphics and set up a large 90" digital signage monitor at the Akron-Canton Airport. Read the WRL Advertising case study here.
Go To Post >
---
Categories:
News
|
Case Studies
|
by Guy Avital
Posted on 05/15 at 12:33 PM
---
---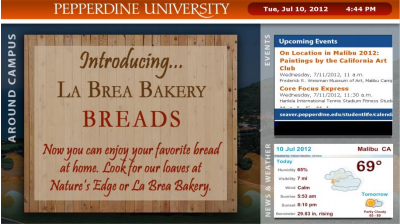 Summary: Pepperdine University uses digital signage to communicate to students, staff, and visitors on campus.

Challenge: Pepperdine University wanted to install a digital signage system throughout their campus. However, administrators needed to determine if it would become a valuable asset for the campus. Originally the campus was using DVD players to communicate to people on campus; however, it was not very effective. Instead, in order to improve communication to thousands of students, staff, and visitors, a student group proposed a plan in which Pepperdine University would transition from static forms of advertisement (this includes the use of DVD players) to digital signage. It was a challenge making a big change and determining if digital signage would be a useful investment over the upcoming years. Read the entire case study here: Digital Signage Education Case Study
Go To Post >
---
Categories:
News
|
Case Studies
|
by Christine
Posted on 01/09 at 03:27 PM
---
---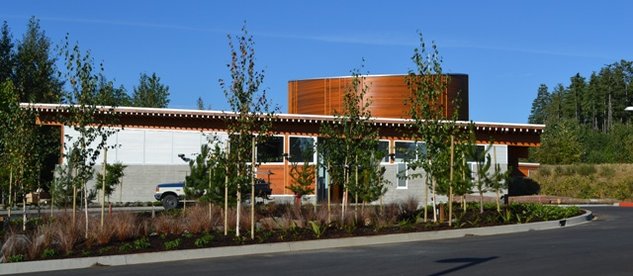 The Comox Valley Economic Development Society developed a tourism center, which provides information on activities the valley offers. Comox Valley is located in the center of Vancouver Island and offers an ideal vacation spot for both locals and tourists. In order to inform tourists about the amazing outdoor adventures they may partake in, the local tourism center decided to install digital signage monitors which are triggered by motion. Once a tourist walks by a monitor, a sensor will trigger the monitor to start playing content on activities, such as hiking, skiing, and more. Read the case study on how digital signage is being used in the tourism center by clicking on Comox Valley case study.
Go To Post >
---
Categories:
News
|
Case Studies
|
by Christine
Posted on 01/03 at 02:29 PM
---
---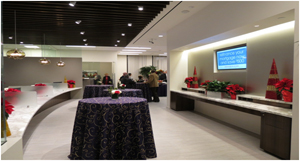 Pacific Trust Bank provides thousands of consumers with essential banking information. Support for their customers and the community is extremely important. In order to further assist their customers, PacTrust Bank decided to utilize digital signage and deploy it for their customers located throughout Southern California. The digital signage displays were strongly favored by many consumers and are used on a daily basis to inform customers on their brand core values.

You may read the latest case study for Pacific Trust Bank by clicking on digital signage case study .
Go To Post >
---
Categories:
News
|
Case Studies
|
by Guy Avital
Posted on 12/10 at 02:18 PM
---
---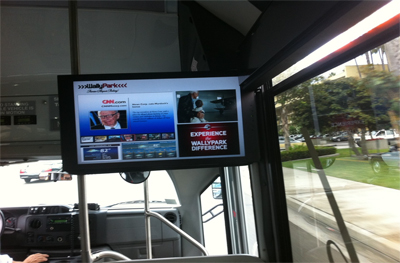 Digital Signage for Transportation.

WallyPark uses digital signage, which has GPS triggered ads, to communicate to travelers on a shuttle going to and from the airport.-

—"The digital signage display must run accurately and on time, without any issues. In such a busy environment, where many passengers couldn't afford any delays, proof of performance was key for the success of the project."—


Read the Case Study Here
Go To Post >
---
Categories:
News
|
Case Studies
|
by Guy Avital
Posted on 01/25 at 09:30 PM
---
---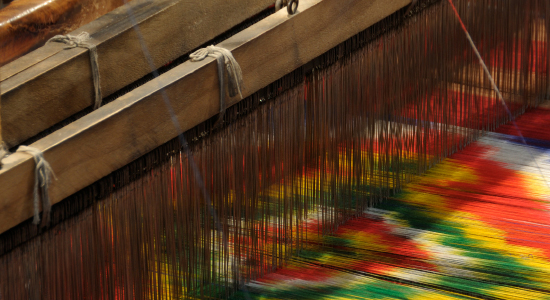 Mohawk Industries, the world's largest flooring supplier, is using UCView's digital signage software platform to improve workforce communications and maximize uptime and efficiency on plant floors. Based on employee feedback and cost-savings, what started as a test is now being rolled out globally.

Challenge
The global recession hit the commercial and residential building industry hard, and the world's biggest flooring supplier was not immune to the slowdown in new building and renovation activity. Shrinking demand forced Mohawk Industries to reduce its workforce by roughly 20 percent, and the company saw morale start to slip as staff worried about their futures.

Go To Post >
---
Categories:
News
|
Press Releases
|
Case Studies
|
by Guy Avital
Posted on 06/22 at 01:04 PM
---
---
Let's share something different today, which can be helpful for our digital signage users as well as new UCView customers. Today, this is a release for Twitter widget where the user can share his twitter account through the digital signage screen, to enhance audience experience.
Twitter Widget is an easy-to-use interface menu, through our digital signage platform. The widget allows you to share your twitts live while modifying the look color and animation of the widget. To use the new widget go to UCView store and click install on the widget and you are ready to go. Last but not least, using Twitter widget app is FREE DIGITAL SIGNAGE CONTENT provided by UCView.
Go To Post >
---
Categories:
App Store
|
News
|
Features
|
Case Studies
|
Page 1 of 5 pages
1
2
3
>
Last ›
---