UC

View Blog Entries

by Christine

Posted on 06/06 at 02:18 PM
---
---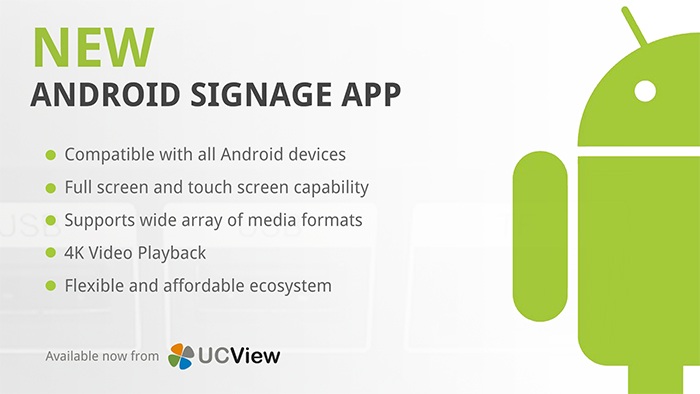 Northridge, CA, June 6, 2017 - UCView announced the launching of the new digital signage player app for the Android operating system. The low-cost app offers flexible playback functionality, enabling for the user to create and upload stunning images, videos, and HTML5 content with 4K video. Content can also be displayed in a touch screen environment.

The app is available to install via Google Play Store and can be used by virtually anyone interested in deploying digital signage, even first-time users.

"Our economical app takes advantage of the versatile android ecosystem. It is capable of running 24/7 and offers great computing performance with 4K video playback" states Guy Avital, CEO of UCView, Inc.

Despite its low cost, UCView's Android app delivers an effortless experience for the user. The app was built with security in mind, ensuring a safe and sound experience for any Android user.

The player app is available and ready to download on Google Play Store. Certain models may be free with a yearly subscription. For more details, please contact a UCView Business Development Representative at (877) 828-4399.
Go To Post >
---
Categories:
News
|
Digital Signage Technology
|
Press Releases
|
New Products
|
by Alex
Posted on 01/27 at 12:31 PM
---
---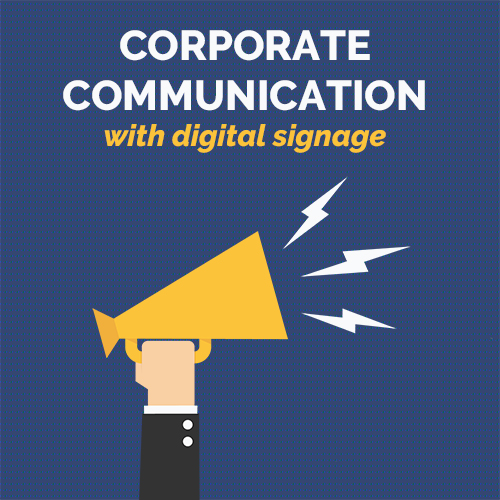 Corporate leaders know digital signs convey powerful first impressions on consumers. These marvelous devices dramatically increase customer satisfaction and retention. However, smart businesses also use digital signage to create substantial gains in safety, productivity, and more!By using digital signage in corporate communications, you can dramatically increase your company's effectiveness. Businesses that use digital signs for internal workplace communications enjoy major advantages over their slower-moving competitors. By keeping your team members informed, you can boost employee performance across the entire scope of your business.
In the modern workplace, employee engagement is key!
Digital Signage = Safety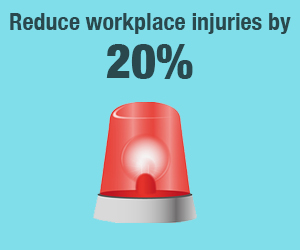 Digital signs reduce workplace injuries by 20%, creating healthier workspaces. For this reason, companies save $5 for every dollar they invest in digital signage. Centrally-controlled digital signs provide life-saving speed and clarity in emergency situations. With real-time communication throughout your facilities, you can give your teams the best possible chances of staying healthy and whole.
Digital Signage = Attention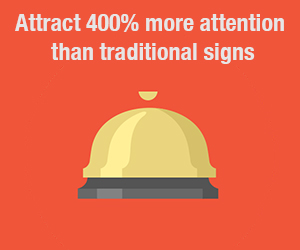 These compelling visual presentations attract 400% more attention than static displays. You can employ digital signage with audio and interactive features that can dramatically increase your 2-way corporate communication. Animated, engaging digital signage messages facilitate clearer and longer-lasting communication!
Digital Signage = Retention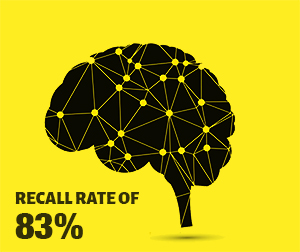 Researchers have shown that visual messaging far surpasses text-only messages. By fully engaging your team members' senses, you help them easily remember your messages. Digital signs boast a recall rate of 83%, making it much easier for your teams to absorb essential information.Use digital signage to train new employees. Cutting edge "gamified" training programs engage team members and help you measure their capabilities.
Digital Signage = Productivity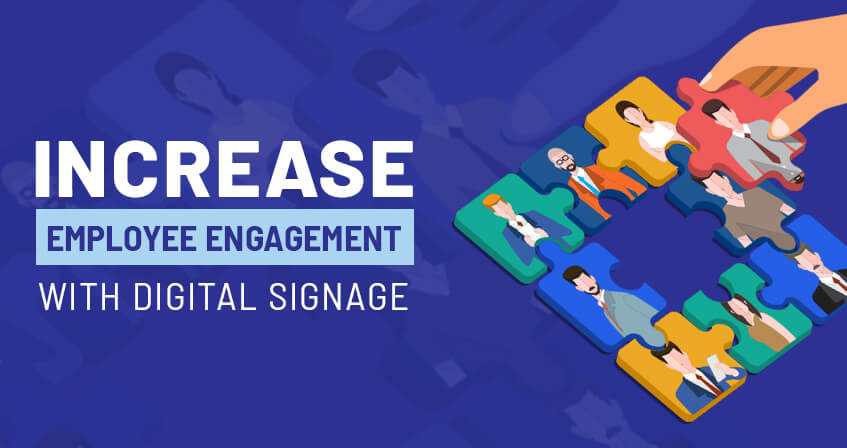 With digital signs, you can increase employee engagement and productivity by over 22%. Use digital signage to create performance dashboards for monitoring key performance indicators (KPIs) and responding quickly to demand spikes.
Digital Signage = Reputation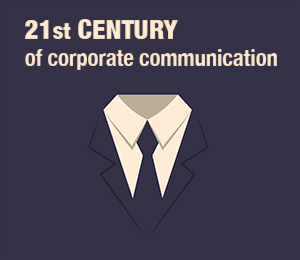 Digital signs impress your workers just as much as they do your customers. Your team members will see your company as tech-savvy, professional, and highly-efficient. When you replace your outdated and dirty paper signs with digital signage, your employees can trust that they have the most current and targeted information available.
Digital Signage = Speed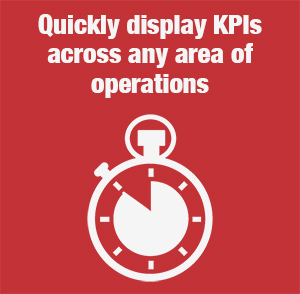 You can use digital signs to instantly communicate vital and time-sensitive information. In addition to sharing in-the-moment safety information, you can monitor KPIs across all areas of your operations.
Digital Signage = Motivation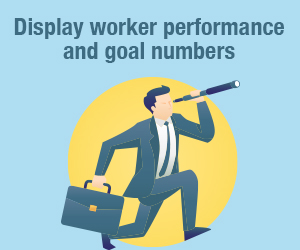 With digital signage, you can communicate real-time productivity and efficiency information to your teams. Your managers can inspire greater dedication from their teams by displaying performance/goal numbers and other essential metrics.
Digital Signage = Consistent Messaging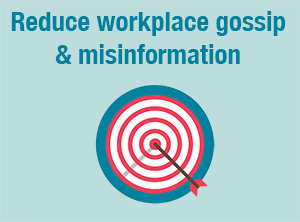 By broadcasting digital messages throughout your facility from one central location, you can easily ensure your messages remain the same. You can avoid playing the "telephone game," reduce workplace gossip and misinformation, and maintain consistent branding across all channels.
Digital Signage = Happy Workers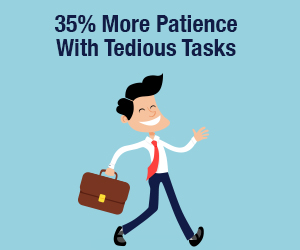 People love digital signs! When viewing these devices, people show 35% more patience with tedious tasks such as waiting in line. Your employees will be proud to work for a company that uses technology to reduce its paper waste. By positioning digital signage screens throughout your facilities, you can employ a far-reaching corporate communications strategy and experience a stunning growth in efficiency, training, and productivity!
Go To Post >
---
Categories:
Digital Signage Technology
|
Miscellaneous
|
by Christine
Posted on 12/16 at 04:26 PM
---
---
UCView will soon release the Gallery module available via Portal. This how-to video tutorial demonstrates how to use the upcoming digital signage gallery. The module will allow for users to create and access a built-in gallery which can carry multiple types of content, such as images, videos, and animation. The content can be easily uploaded to the digital signage software using a simple drag and drop tool and then placed into folders - greatly alleviating the amount of time it takes to upload and publish content for viewers. It is extremely intuitive to use and will enable for the user to store multiple content in one area and then access it at a later time once they are ready to upload and publish.
Go To Post >
---
Categories:
News
|
Features
|
Digital Signage Technology
|
by Christine
Posted on 12/28 at 03:29 PM
---
---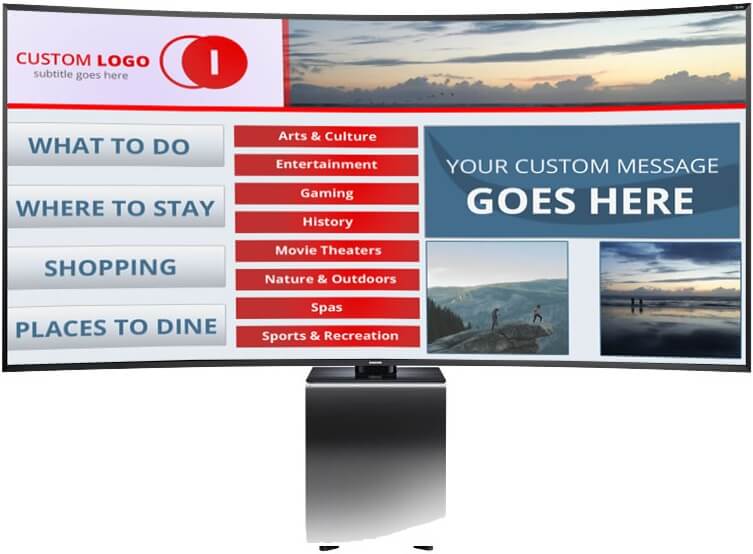 Digital signage is evolving to deliver a simpler, yet highly effective method of communication. UCView and Samsung recently worked on a revolutionary approach which greatly enhanced the digital signage user experience for network operators. The commercial-grade Samsung Smart TV with URL launcher now includes the UCView embedded digital signage player. The commercial-grade Samsung Smart TV is also touch screen, enabling for interactivity and quick user access with just the touch of a finger.

The UCView built-in player, available only through Samsung Smart TV, allows for end-users to download the software player directly from the TV. This functionality helps drive down cost while at the same time deliver a highly reliable and efficient communication solution for both small and large businesses. Digital signage content can be delivered on any sized display, including Samsung's 82-inch LED Smart screen. The media player is just as powerful as a traditional hardware system, alleviating the setup and mounting process, and delivering seamless wireless content management for users. Immerse your audience in highly engaging digital signage content which is driven by the innovative, yet highly functional UCView digital signage software.
Here are just some of the features offered through UCView's player:
Access free digital signage content, including numerous HTML5 apps, through the world's largest digital signage app store
Make quick updates and changes using any Android device
Experience an optimal user-experience with UCView's web-based interface
Display HD quality content within an instant using Samsung's highly interactive touch screen display
This simple, yet highly intuitive solution allows for administrators to operate their digital signage network in an efficient manner. Deliver content using a web-based interface which is highly intuitive, customizable, and simple enough to use for both novice and advanced end-users. Improve operational efficiency and communicate valuable messages to your target audience using digital signage powered by UCView.
Go To Post >
---
Categories:
News
|
Digital Signage Technology
|
by Christine
Posted on 10/09 at 04:04 PM
---
---
UCView showcased its 12-port video wall digital signage player which can be configured to support up to a massive 18 screens. This powerful and robust player is built with cutting-edge components which will provide the 12-port video wall player with superior and long-life performance. This customized high-performance unit includes an i7 Quad-Core Processor, 8GB RAM, and 120GB Solid State Drive with multiple 3.0 USB ports.

Due to its nature in drawing attention from a mass audience, video walls of this stature are often placed in high traffic zones. The video wall unit is pre-embedded with UCView's digital signage software. The highly simplified software is customizable, versatile, and allows for operators to display exactly what they need all from a remote location.
Go To Post >
---
Categories:
News
|
Digital Signage Technology
|
by Christine
Posted on 09/22 at 10:46 AM
---
---
A creative and innovative concept, which was implemented throughout digital signage screens, recently took place at a mall in East London. This clever ad displayed an on-screen dog which would follow passersby from screen to screen. This campaign was deployed by a local animal shelter who wanted to raise awareness on the need to rehome dogs. This emotionally-engaging campaign, which is targeted towards people of all ages, is a great way to grab attention from those who may or may not have thought about adopting a dog from a local shelter. People who were visiting the Westfield Stratford City mall were given specially-made fliers which contained an RFID tag by volunteers of the animal shelter. Those with the flier would activate Barley, a former shelter dog, to display on each screen they neared and also playfully interact with them. This ingenious campaign does a great job of tugging at people's heartstrings in the hopes of encouraging more people to rescue dogs.
Go To Post >
---
Categories:
News
|
Digital Signage Technology
|
Miscellaneous
|
by Christine
Posted on 09/08 at 11:28 AM
---
---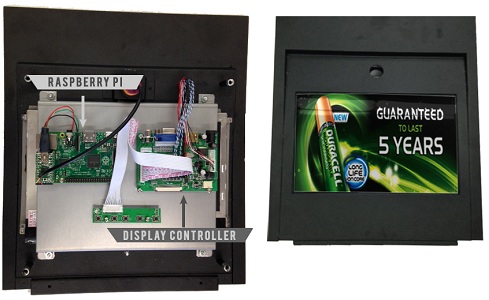 Digital signage can be found everywhere, from a massive video wall solution installed within a casino to a wayfinding kiosk located in a building of a university campus. In addition to increased digital signage use, the need to combine digital signage with interactivity has been immensely growing in popularity over the years. Smart sensors built into digital signage is helping increase consumer engagement as well as boost sales.

UCView recently implemented a digital signage unit, powered by Raspberry Pi, which contains a built-in proximity sensor. A proximity sensor is able to detect the presence of those who are nearby without any physical contact. For instance, an ATM screen with a built-in proximity sensor can automatically trigger a playlist of ads for display whenever it senses an approaching patron. Once the patron steps away from the screen, the ATM will revert back to displaying previous content. This solution helps deliver personalized content to passersby at the right time, therefore, enhancing the relationship between the business and the consumer.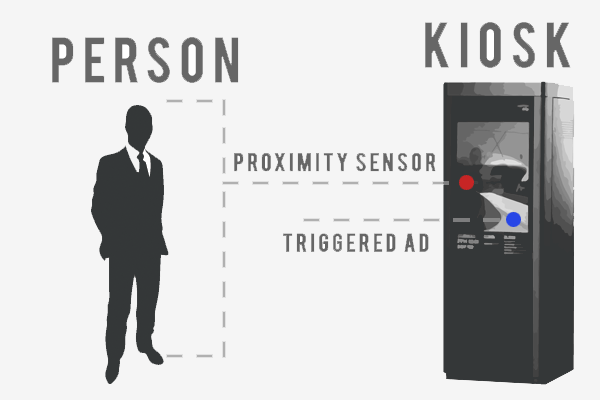 Proximity detection has a variety of unique uses in digital signage. In certain circumstances it can replace some touch functionality; the user would not have the need to touch the screen to navigate to a particular option. Paired with voice over technologies, proximity sensors can be used to help the visually impaired navigate through touch screen interfaces. When used in a contextually relevant environment, proximity sensors can provide passersby with relevant information. The use of proximity sensors are extremely beneficial for patrons as it not only enhances the consumer experience, but it boosts their attention, awareness, and overall satisfaction.
Go To Post >
---
Categories:
News
|
Features
|
Digital Signage Technology
|
by Alex
Posted on 09/11 at 11:09 AM
---
---
UCView recently released the newest version of the ARM Caster HD,which is powered by Raspberry Pi. Known as one of the smallest media players available on the market; the credit-card sized player can accomplish a lot for its tiny size. Powered by UCView's software, the Raspberry Pi player not only has the ability of displaying full-scale digital signage for your audience, but is capable of engaging viewers by displaying 1080p HD video, images, web pages, and more. The motherboard comes with 512MB RAM, an HDMI output, and four USB ports.
Powered by UCView, you have the full-functionality of a digital signage player with all the bells and whistles of a full PC player.
-Full HD video 1080P
-Multi-zone layouts with overlay and transparency.
-Play images, Flash , widgets, and apps
-Support touch screen functionality
The Raspberry offers small businesses the opportunity to use digital signage at their establishment for a low cost. This media player is great to use for menu boards, message boards, posters, screens, and can be embedded inside any device with touch screen functionality, like kiosks or small-form screens. The ARM Caster HD comes with a small price tag, making it one of the most affordable players available on the market.
Go To Post >
---
Categories:
News
|
Digital Signage Technology
|
New Products
|
by Christine
Posted on 07/03 at 11:28 AM
---
---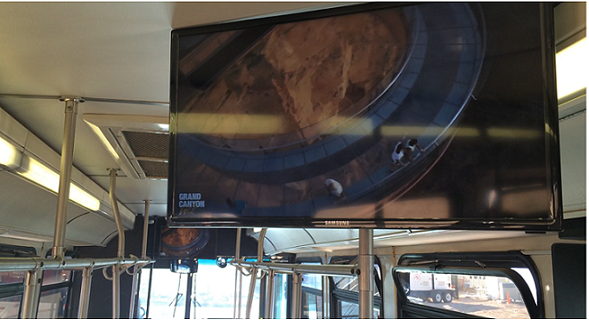 UCView recently launched the View Media transportation player which is ready for use on transportation vehicles. The box is built with premium components which are required for it to flawlessly work on a bus/cab/automobile application. The unit contains multiple outputs which allow for the network operator to feed to several displays in the vehicle. The robust and powerful View Media transportation player offers the convenience of turning on the screens once the vehicle starts up. In addition, the screens will shut down once the vehicle has been turned off. The all-in-one box has several safety features which include a power override switch, multiple fuse points, low voltage alarm, and short protect. Transportation vehicles commonly use GPS triggered ads in order to direct passengers to their desired terminals and to provide entertainment. UCView carries the largest collection of digital signage apps available, allowing for network operators to set up streaming TV, news, weather, social media and more.
Go To Post >
---
Categories:
News
|
Digital Signage Technology
|
New Products
|
by Christine
Posted on 06/24 at 03:05 PM
---
---
The video wall with five screens, displayed at Terrible's convenience store, is a great way to help boost sales and pique customers' interest. Customers walking into the store or browsing for products can easily view product promotions and discounts on the video wall. This not only helps boost sales, but is more eye-catching and beneficial compared to using posters as a form of communication. Customers waiting in a long line can also be entertained by watching videos on screen. The screens are stretched across the wall of the convenience store, making it difficult for customers to miss. As shown in this video, the first three screens and the last screen display connected video content; whereas, the fourth screen displays advertisements. This just shows you how advanced and innovative dynamic signage really is compared to other forms of communication.
Go To Post >
---
Categories:
News
|
Digital Signage Technology
|
Page 1 of 7 pages
1
2
3
>
Last ›
---