UC

View Blog Entries

by Christine

Posted on 07/16 at 11:23 AM
---
---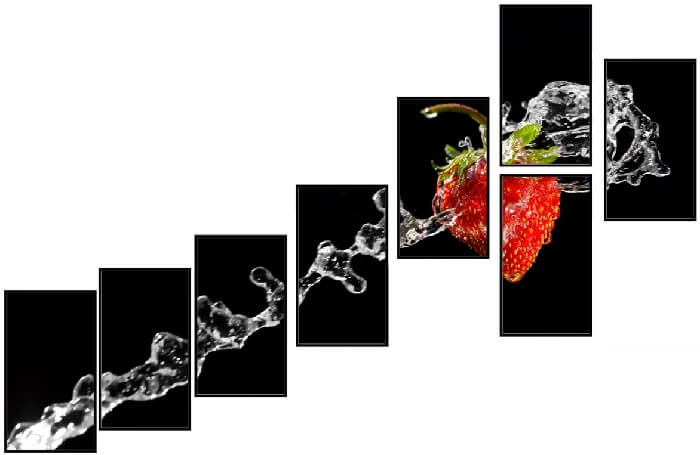 Video walls are a great resource for engaging your audience and delivering relevant messages. Digital signage video walls are eye-catching and are mainly placed in high-traffic zones, such as the entrance lobby of a casino. Advancement in digital signage over the years has allowed for operators to take video walls to the next level and add some creativity. Although it's an extremely engaging solution, setting up a video wall could become a huge challenge if certain factors are not taken into account. There are several steps to consider when installing a video wall:

Step 1: Determine what the video wall will be used for. It's crucial have a particular goal in mind. Determine if going with a video wall solution will be the most feasible and cost-effective option for your business.

Step 2: Decide how many images you plan to display on the screens. Do you want to show a large image that spans across each screen or do you want to display multiple sources at one time?

Step 3: Make sure to discuss content that will be displayed on screen before installation. It's important that the content that's displayed is relevant to your industry and its purposes. It's also crucial that the screens you select are color calibrated. The colors and brightness of the displays need to be uniform in order to have the most success with your video wall.

Step 4: Select a professional grade product. Professional-grade options are designed to handle harsh environments, can be used 24/7 use, and contain cooling fans and robust inputs.

Step 5: Choose an appropriate mounting system. Make sure the wall that's intended for video wall use is sturdy and structurally sound. Determine if there is enough space to install the number of screens desired and the video wall itself is easily accessible.

Step 6: Determine what the appropriate electrical requirements and components will be needed for the video wall.
Go To Post >
---
Categories:
News
|
How to Knowledge
|
by Alex
Posted on 07/09 at 12:06 PM
---
---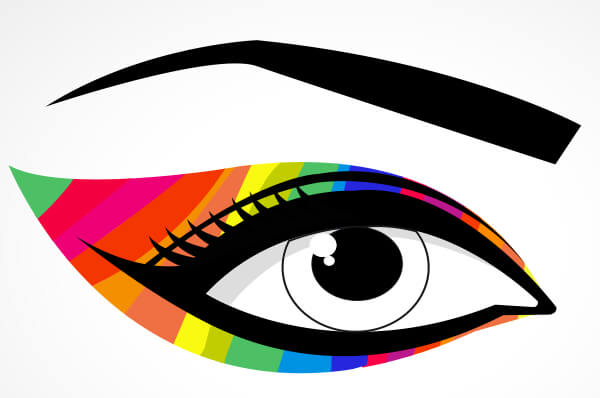 Utilizing smart layout techniques can mean a difference between a viewer giving your message a mere passing glance and actually engaging with your content.Luckily, decades of eye tracking research can help us create clean, well-organized digital signage layouts that point the viewers attention to the most important elements of your message. Here we present 5 eye tracking facts that you can consider when creating your next layout.
1. Make the Right Visual Elements Standout
This seems like a fairly simple concept at first: you tend to notice things that 'pop'. But what actually makes a visual element stand out? According to Fitts Law, the target's size and its proximity to your line of sight is directly correlated to how fast you will notice that target. So, the bigger and closer something is the faster you will see it. Many people tend to overlook this fact when designing websites, banners and, yes, even electronic advertisements. So, how can you make use of this law when creating your next layout?
Make sure the elements that you want your audience to focus on the most are the ones that stand out either by taking up more screen real estate or by having a contrasting color compared to the rest of the layout.
2. Only Use Images That Add a Story To Your Message
All too often we come across digital advertisements, websites, billboards that look good from a purely technical standpoint but do not really grab us with their message. Something just seems…off. In a lot of instances, this is a result of a poor choice of visual assets. There are a lot of things in the environment fighting for the attention span of your viewers – if they don't see anything in your layout that immediately intrigues them, chances are, you already lost a potential conversion.
A good rule of thumb is to use images that convey exactly what is being said in the written portion of your advertisement. If you are feeling very creative you can even try to come up with an image that grabs the viewers' attention by telling a story. The viewer will be interested to find out more about the context of the image and will be more inclined to view the rest of your message.
Images to avoid:
• Generic stock images that only have a tenuous connection to your message.
• Pixilated, low quality images.
• Images of large crowds that do not have a main focus point. People tend to respond better to images of individuals.
3. Harness The Power of Directional Cues
We, as human beings, have a natural curiosity to find out what others are looking at. When we see somebody attentively looking in a particular direction we have a natural urge to look there as well. This phenomenon can be cleverly employed in the field of digital advertising. You can use arrows, a person's gaze or their body position to guide your viewers to the important parts of your digital signage message. Using images of human faces is particularly effective because they make your advertisement more personal.
4. Follow the F-pattern If You Are Displaying A Lot Of Written Info
In 1997, Jakob Nielsen, co-founder of Nielsen Norman Group, conducted a study on how people read text on digital screens. The study showed that the reader's eye is heavily drawn to the left side of the screen. This finding makes a lot of sense considering that people in English speaking countries read from left to right. More specifically, readers tend to first scan the content from left to right at the very top of the screen, then move down slightly, scan horizontally again and finally scan the left side of the page vertically.
How can this be applied to digital signage? Just make sure to place the content you want your users to notice the most on the left side of the screen. Specifically, place it in the top left portion of the screen if it's something bitesized, such as a logo or a tagline.
5. Use Negative Space To Prevent Information Overload
Famous graphic designer, Antoine de Saint-Exupéry, once said, A designer knows he has achieved perfection not when there is nothing left to add, but when there is nothing left to take away.
Many people tend to think that leaving empty spaces (a.k.a negative spaces) is a waste of screen real estate but that could not be further from the truth. Our eyes instinctively look for visual breaks in between content.
Negative space gives us subtle cues where to look next. If you have too much content and not enough negative space in your layouts then nothing will stand out and the viewer will quickly lose interest. The key to effectively relaying your message is to present the information to your audience in the clearest way possible - ample use of negative space does just that.
Go To Post >
---
Categories:
News
|
How to Knowledge
|
by Alex
Posted on 05/14 at 04:18 PM
---
---
UCView offers two ways for customers to store and manage their digital signage content: cloud based solution or server based solution.
Cloud based solution means that all of the client's digital signage content is hosted on UCView's data centers and published to the client's players via internet with SaaS (Software as a Service). Client does not need to deploy and maintain their own servers, in this case, as everything is hosted in the cloud.
Server based solution means that the client will set up and host their own digital signage servers. In this case, all of the digital signage content will be published and distributed internally. Digital signage players will be able to directly connect to the customer's local sever without needing an internet connection. This solution is widely requested when an internet connection to the players is restricted and control over content security is the primary goal.
What are the main benefits of a Cloud based solution?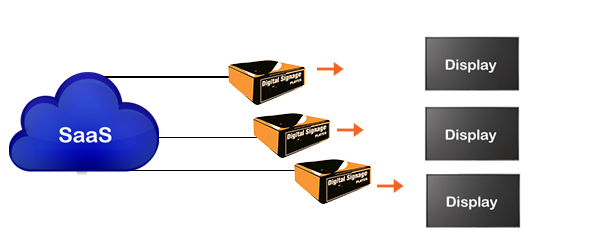 • No need for server setup and maintenance. Everything is hosted on our data centers.
• 24/7/365 monitoring for 99.8% uptime operations.
• Managed, secured firewall and anti-virus services.
• Managed backup and failover services.
• Advanced support for client-specific needs and lifetime free software upgrades
• Subscription pricing: month-to-month
What are the main benefits of a Server based solution?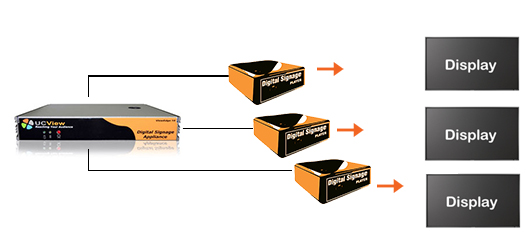 • Host on your own hardware.
• Active Directory LDAP Integration.
• Complete application control.
• Full security and control.
• Players do not require internet access.
• Internal file delivery.
• Fine-tune network optimization.
• Perpetual license: one-time purchase or subscription base licensing.
What kind of players do I need?
A type of player that will fit your needs depends on your intended playlist size and the types of files you will use in your signage content. Whether you require a powerful player or not depends on whether your content will be using a lot of sophisticated resources and if you plan on displaying multiple zones on the screen simultaneously. It's a good idea to think about whether you will expand your playlist and content layout requirements in the future and if your current player will be able to handle them. UCView sells players that are compatible with both cloud and server based solutions. You can find out more about UCView's ViewMedia and RackMedia player product lines by visiting our digital signage players page. Alternatively, you can use your own players as long as they meet the recommended hardware requirements.

In Conclusion
Cloud based solution is perfect for companies of any size that do not want to apply IT resources to install and maintain their own digital signage servers.
Server based solution is great for companies that want full control over their digital signage network and want their players to play digital signage content without being connected to the internet or require the content to be internal only.
Next Steps…
A) If you are interested in a cloud based solution you can take a look at our subscription plans.
B) If you are interested in a server based solution you can take a look at UCView's server product line. Alternatively, you can use your own server hardware along with UCView server software
.
Go To Post >
---
Categories:
News
|
How to Knowledge
|
by Christine
Posted on 04/07 at 10:53 AM
---
---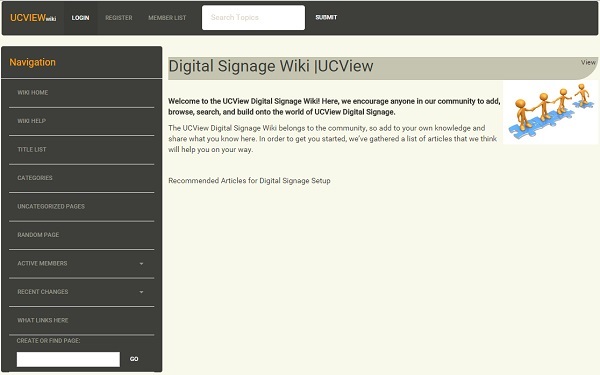 UCView modernized their Wiki page! The UCView Wiki page consists of multiple categories which guides the end-user on how to operate our products and digital signage software. The Wiki page is simple to navigate through and allows for the user to create, edit, or even search for multiple how-to guides created by the UCView team.
Go To Post >
---
Categories:
News
|
How to Knowledge
|
by Christine
Posted on 06/12 at 02:24 PM
---
---
Learn how to create an ad by watching the Create an Ad video tutorial. UCView allows you to distribute different types of content (such as advertisements, public service announcements, promotions, viewer instructions, news, etc.) in different areas of your layout across one or more locations. This how-to video offers step-by-step instructions on how to create your first ad and release it for your audience.
Go To Post >
---
Categories:
News
|
How to Knowledge
|
by Christine
Posted on 06/06 at 10:48 AM
---
---
Check out UCView's Locations & Players video tutorial. The Locations and Players module allows for you to create a location, register, and manage your digital signage players. This feature enables for you to effectively view the health status of your players, ensuring that your system runs well all day, every day. UCView's video tutorial guides you through the steps necessary to help you create your first location and add a player.
Go To Post >
---
Categories:
News
|
How to Knowledge
|
by Christine
Posted on 05/28 at 10:14 AM
---
---
Learn how to quickly create a campaign for your digital signage display with our new video tutorial. A campaign is a library of content that plays on your signage and defines the displays the content will play on. UCView allows for you to create and manage an unlimited number of campaigns running on one or more players. Creating a campaign is necessary to do before creating your first ad. This video will guide you through the crucial steps needed to flawlessly set up your first campaign.
Go To Post >
---
Categories:
News
|
How to Knowledge
|
by Christine
Posted on 04/04 at 12:33 PM
---
---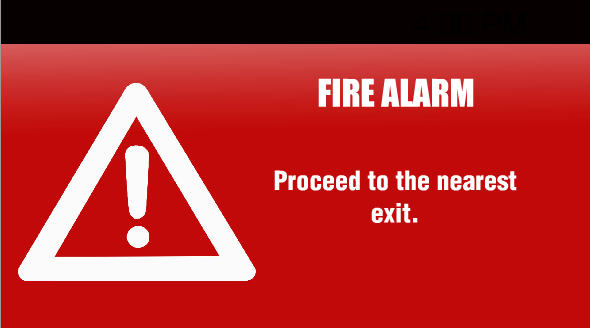 Many industries seek a reliable emergency alert system for their recipients. Digital signage is an essential tool which can effectively target those alert messages to your audience. Use dynamic content to broadcast an emergency escape plan for each area of your facility. Display directions to safe exits and places to avoid. Communicate messages on screen and alert recipients using a clear audio system. UCView digital signage allows for you to remotely broadcast your alerts in an instant. Due to recent software updates, UCView allows for you to simply customize your alerts to appear in specific locations in times of need. Our how to guide provides easy to follow instructions on how set up an alert.
Go To Post >
---
Categories:
News
|
How to Knowledge
|
by Christine
Posted on 03/21 at 12:12 PM
---
---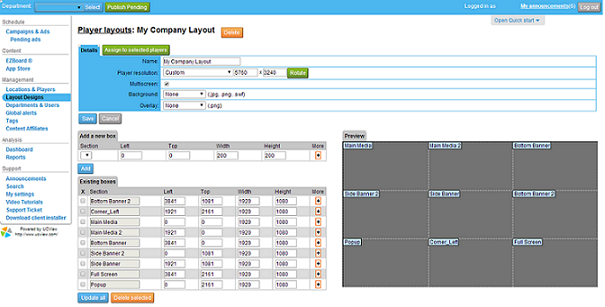 Video walls are extremely popular and are a great way to engage your audience. They can be seen in many different applications, such as restaurants, corporations, educational institutions, and retail settings. A multi-screen layout is essential to create in order to provide an optimal video wall experience. Our how-to guide provides a step-by-step tutorial on how to create a layout for a three, six, and nine screen video wall.
Go To Post >
---
Categories:
News
|
How to Knowledge
|
by Christine
Posted on 07/05 at 01:39 PM
---
---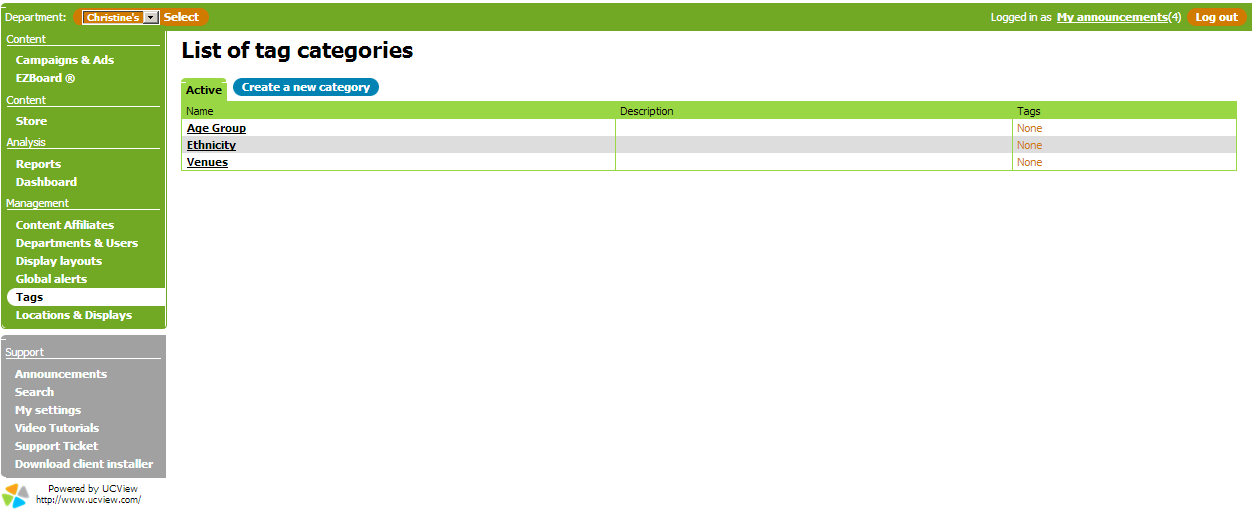 Tags allow for you to categorize your displays for each location. Each category you create can be segmented by demographics, such as age, ethnicity, and venue. Tag categorization allows for you to better manage your displays, providing appropriate communication fit for your audience. You may filter through your tag categories and assign the tags you created to a display. Learn how to create tags by clicking on Digital Signage Tags.
Go To Post >
---
Categories:
News
|
How to Knowledge
|
Page 1 of 6 pages
1
2
3
>
Last ›
---