UC

View Blog Entries

by Christine

Posted on 03/24 at 01:20 PM
---
---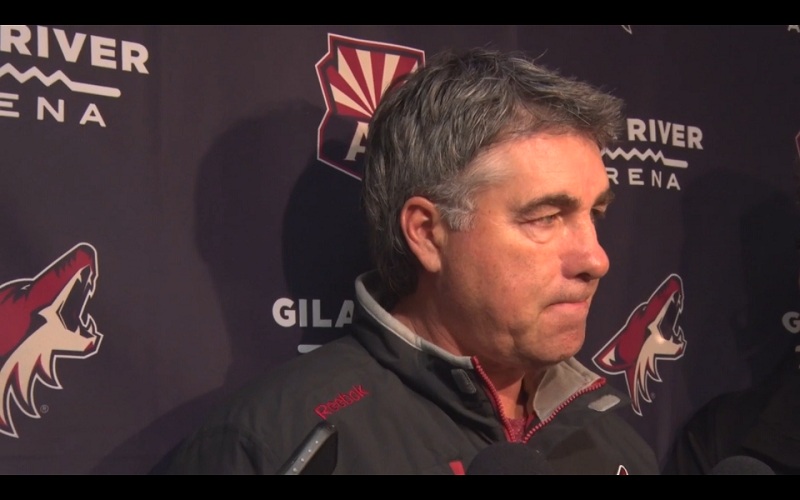 FOX Sports is a regional and national cable channel which is responsible for broadcasting sports news and highlights. This channel commonly televises games from the NFL, MLB, NHL, NBA, NCAA Basketball, NCAA Football, UFC, NASCAR, Soccer and more. This free digital signage content provides the latest sports news which will keep your viewers on the edge of their seat. This free digital signage content is ideal for locations, such as a sports bar or education institution, that want to relieve boredom and provide entertainment for their viewers.
Go To Post >
---
Categories:
App Store
|
News
|
by Christine
Posted on 03/22 at 04:27 PM
---
---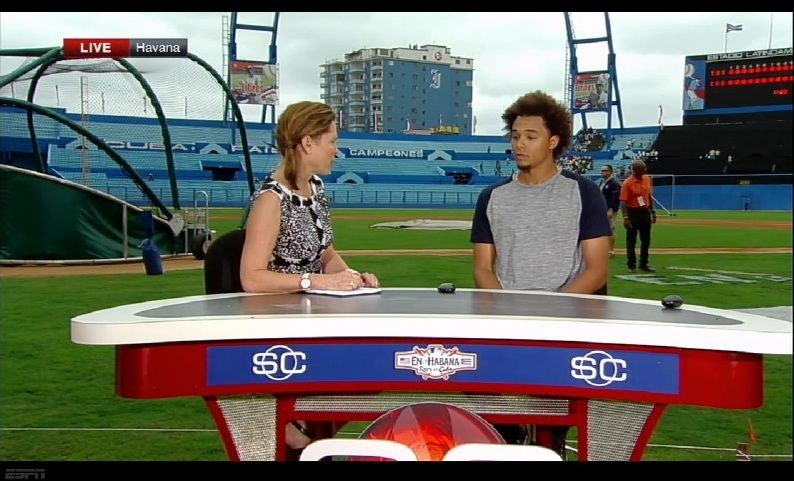 UCView introduced ESPN digital signage content to its app store. ESPN is a classic U.S. cable and satellite television channel which broadcasts leading news in sports. Watch major sporting events take place live as well as listen to a variety of entertaining sports talk shows, such as SportsCenter and Baseball Tonight. This free digital signage content will look great in the student lounge, especially to display live events and highlight scores from NCAA March Madness. Entertain your audience and build your viewership by displaying top news in basketball, football, baseball, soccer, and more.
Go To Post >
---
Categories:
App Store
|
News
|
by Christine
Posted on 03/21 at 02:17 PM
---
---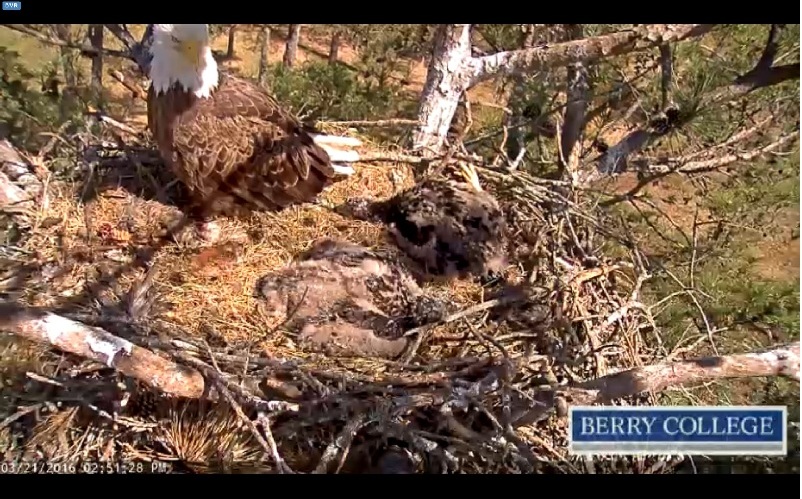 UCView introduced Livestream digital signage content into its App Store. Livestream is the most trusted and popular live video platform which allows for people to broadcast and stream to any device. With over 40 million viewers each month, Livestream allows for your audience to actually be involved in the action as large and exciting events unfold right before their eyes. One of the most popular Livestream events at this moment displays a bald eagle caring for her chicks which just recently hatched. Live Stream is accessible for free via UCView's digital signage software app store and could be used within any industry, including education institutions. Simply input your company's Account ID and Event ID in order to view the Livestream of your choice.
Go To Post >
---
Categories:
App Store
|
News
|
by Christine
Posted on 03/18 at 02:20 PM
---
---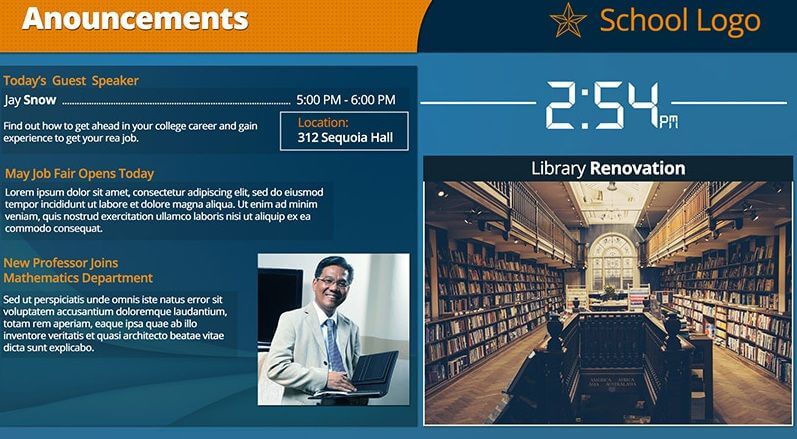 Digital signage provides a great look and feel to your university's setting, but what's the point of displaying content if your students aren't actually paying attention to your screens. Learn a few quick tips on how to use digital signage to actually engage your students.

Displaying a campaign that's consistent is more engaging than displaying a onetime message. It's recommended to promote an upcoming event on a regular basis to enhance students' recall of the message. However, students can get bored quick so try to spice it up a bit by displaying different layouts and tweaking the message to allow some variation. Regularly keeping up to date with your messages can go a very long way. You also need to consider where and when to publish your campaigns. It wouldn't make sense to advertise an upcoming job fair for computer science majors in the nursing department. Make sure to plan ahead when it comes to advertising your content so it can be released in the right place at the right time.

Many campuses even allow for students and instructors to send in PDFs of an event they would like to promote to network administrators. Once it's approved, it will be displayed on screen(s). This is a very practical solution, but it could also become a hassle if students or instructors decide to send in their content at the last moment. If this is the case, you can try to set guidelines clearly stating that PDFs need to be sent in at least two to three weeks prior to the date of the event.

Students are constantly in a rush so keeping your messages short and simple is the best way to go. You don't need to display a long, lengthy message to impact your students; all you need to do to draw their attention is by displaying a concise message that gets to the point. When targeting an event to your audience, think of the following elements: Who, What, Where, and When.

Interactivity is a key technique for engaging with your students. Allowing your students to see the information is great, but it can only get you so far. You want them to actually interact with the screen. This can be anything from allowing them to reserve a study group room in the library, having them vote for a student officer, or liking a Facebook page so they may receive up-to-date newsfeeds. In addition to keeping your messages short and simple, you can have students gain more details about a subject by including a QR code on screen. Implementing clear calls to action can help you measure the effectiveness of your message. This will be very helpful in the future when it comes to scheduling and promoting your future messages.
Go To Post >
---
Categories:
News
|
Miscellaneous
|
by Christine
Posted on 03/11 at 12:19 PM
---
---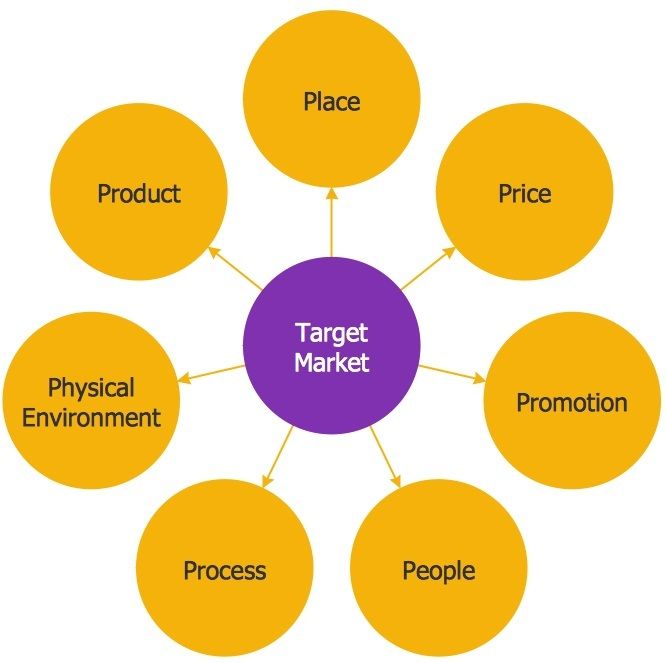 Businesses across a variety of industries are commonly using digital signage to engage with their customers. However, content is not necessarily everything, Strategy is a large factor as to whether or not your digital signage is successful. By employing marketing strategies, you can learn how and when to display content which can successfully influence your customers. Your customers need to have a positive experience with digital signage. Digital signage helps reflect the brand and culture of your organization. Keeping your brand and culture consistent throughout the duration of your digital signage helps reinforce the message you are trying to target to your consumers. In order to maximize the effectiveness of digital signage, it's essential that goals and objectives are identified and the needs of the audience are clear. Is your goal to relieve boredom among customers who are waiting in the lobby of your business? Are you trying to boost sales by promoting a new product? It's essential that you have an idea of what you are trying to achieve before uploading content.

You need to have a clear understanding about the needs of your audience. Taking the time to create a customer profile can help you remain focused and customized communication can maximize customer engagement. It essential to keep your content focused. If you have helpful customer data, you could use this to create messages that are more focused and personalized. If you used previous marketing strategies that were successful, you could easily tweak the content and incorporate those messages into digital signage as well. What assets do you currently have available? If your corporation commonly uses social media, you should incorporate your posts onto digital signage.

Measure the impact of your communication to ensure if it's actually fulfilling your goals and objectives. Digital signage can help drive customer satisfaction and increase customer engagement. It can be very impactful as long as it's approached in a strategic manner.
Go To Post >
---
Categories:
News
|
Miscellaneous
|
by Christine
Posted on 03/03 at 10:47 AM
---
---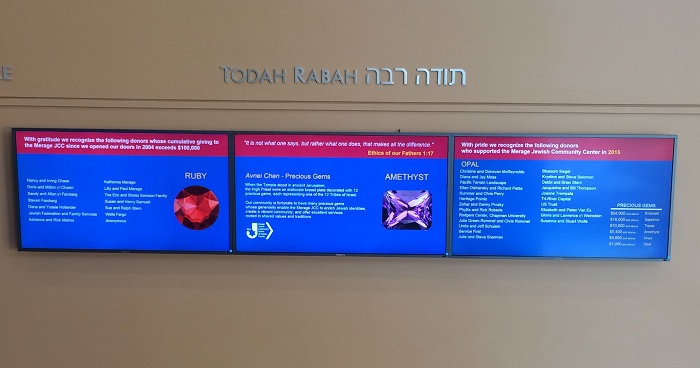 UCView digital signage recently started work with the Merage Jewish Community Center. The Merage Jewish Community Center, which opened in 2004, offers a wide variety of activities geared towards individuals of all ages. This extraordinary and spacious facility offers programs and services such as a top-notch health and fitness complex, licensed preschool and toddler care, Teen Lounge, gymnasium, Jr. Olympic swimming pool, senior center, adult education rooms, a professional theater and auditorium with banquet facilities, Kosher café and the new Holocaust Education Center and Memorial Garden. In order to commemorate those who helped expand the facility, the community center decided to display a digital donor recognition wall, powered by UCView digital signage software, which can be viewed by the many members and visitors who walk through their doors. Read the case study for more details.
Go To Post >
---
Categories:
News
|
Case Studies
|
by Alex
Posted on 03/02 at 01:38 PM
---
---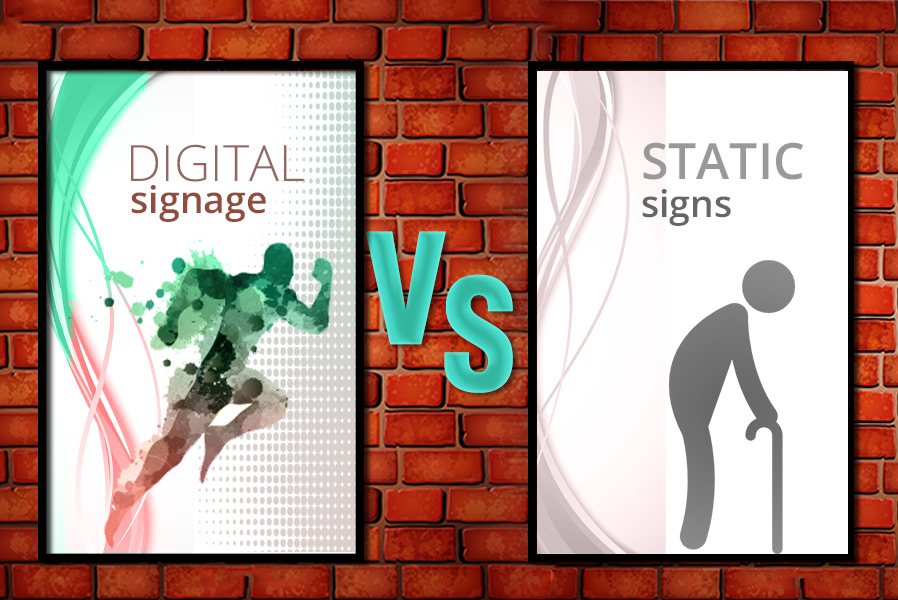 Whether you run a restaurant, a hotel, own a small boutique clothing store or are a leading retailer, the shift towards digital signage in the last few years will be impacting the way you engage your patrons. From digital menu boards to high quality interactive kiosks, digital signage is taking over static signs by providing a wide range of benefits that simply can not be matched. Here are some of the reasons digital signage is a better choice than traditional static signs:
Change Content On The Fly
With a static sign, if you create an ad and have it printed, you are stuck with it. With digital signage software, however, you can make as many changes as you want to any aspect of your ad instantly.You have complete control over the visual design elements as well as the informational content. As soon as you make updates, the digital signage players broadcast the new information to the displays and you have a new ad.
You longer have to pay to have an ad printed over and over and you have the ability to split test your ad quickly and efficiently. If you have two different calls to action, for example, you can have one display part of the time your business is open and switch over to the other CTA for the remaining part of the day and measure the results. This gives you tremendous efficiency when it comes to testing customer responsiveness to particular offers.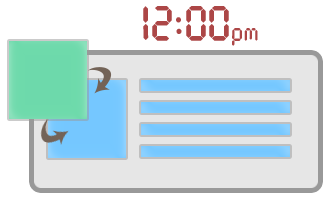 The Power of Dayparting
Another benefit that has businesses searching for a digital signage solution every day is the fact that ad information can be rotated or changed automatically, according to the schedule you set. Imagine you are a restaurant owner:
With digital signage menu boards, you could have your breakfast menu displayed until 12 pm when it would instantly change to your lunch menu, every day.
Or, perhaps you have special Happy Hour offerings every Thursday after 6pm. Forget about rewriting and changing the old chalkboards - digital signage software can rotate your menus based on:
Location
Time of day
Week
Month
Year
This same concept can be applied to other displays as well. In fact, some companies are using signs to change with the weather. Own a boutique shoe store? Have your digital signage software display different ads based on the weather: show rain boots when it's raining or sandals when it's hot and sunny outside.
Your patrons will absorb information easier
Perhaps the most important benefit that digital signage has over static signs is that it makes it easier for your prospective customers to absorb and retain information, which is the entire point of an ad. Recent study found that 70 percent of Americans recall seeing a digital signage display in the past month. And of that 70 percent,47 percent recall seeing a specific ad. That's a nearly 50 percent retention rate.Not bad for a glanced based advertising medium.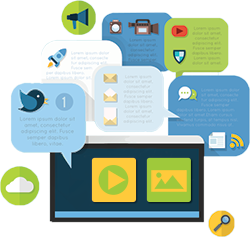 Another study logged impression rate (how many times viewers saw a particular advertisement) for both static and digital signs in multiple restaurants. Impression rate for static signs peaked on the first day but tapered off for the remainder of the study.Digital signs, however, kept a steady impression rate throughout the study averaging almost as many impressions per day as static signs generated at their peak.
With static signs, you have to limit yourself to short ad copy because no one is going to spend 10 minutes trying to read the small print on a poster. With digital signage you can display video content, play audio, have customers interact with the screen and have the freedom to construct your ads in unique, engaging ways.
Go To Post >
---
Categories:
News
|
by Christine
Posted on 02/24 at 12:40 PM
---
---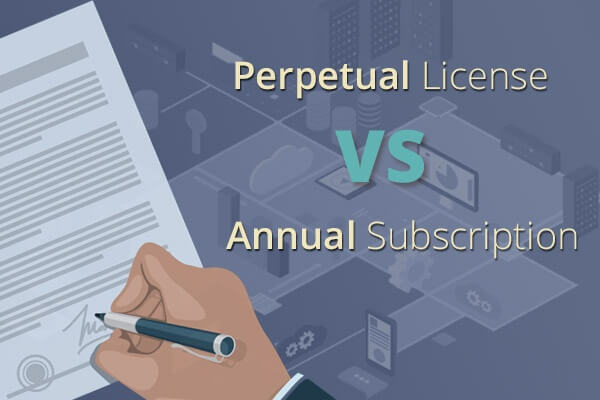 In keeping with the philosophy of giving the customer as much flexibility as we can, UCView is pleased to announce our new server licensing options. We understand that every business is different and one glove does not fit all when it comes to setting up a digital signage network. We are giving our customers the option to purchase our servers and software outright or sign up for an annual server subscription option.

Perpetual License: Perpetual licenses allow for a customer to make a one-time payment for the digital signage server and use the licensed software indefinitely with yearly support. On the date of purchase, customers are also entitled to one full year of annual updates and free technical support. After the one year period ends, customers can choose to remain with the last version downloaded without technical support or purchase a one year Updates & Support package.

Annual Subscription: An annual server subscription allows the customer to pay an annual server subscription fee and use the licensed software for one full year. On the date of purchase, customers are also entitled to updates and free technical support. However, once the year ends, the software will no longer function unless a new subscription is purchased.
Benefits of Renewing Annual Updates & Support:
Regular software updates ensure that your digital signage software adapts to changing IT environment requirements. Furthermore, helpdesk support provides quick access to assistance if problems arise. Technical support is available online via chat, by phone, or by filling out a technical support ticket.
With the support agreement, you will be able to benefit from development work provided by the UCView Research & Development team. The R&D team continuously works to improve the overall performance and functionality of the software.
Throughout the year, customers will receive access to UCView's growing digital signage app store. Our aggregated collection of content provides up to the minute information from various resources.
Go To Post >
---
Categories:
News
|
Miscellaneous
|
by Alex
Posted on 02/22 at 12:05 PM
---
---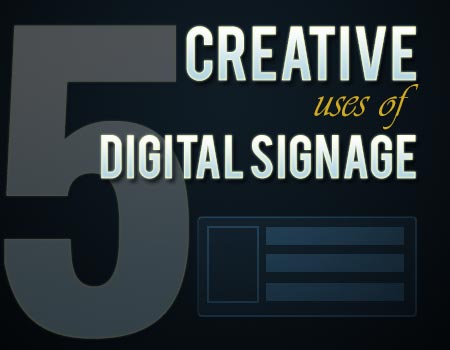 Digital signage allows companies to go beyond simply creating digital versions of the same static signs they used to have. With powerful digital signage software, interactivity and creativity can synergize together to create a truly unique ad experience for the viewer. Here are 5 examples of creative ways companies use digital signage for marketing to get your creative juices flowing:
T-Mobile's Angry Birds Campaign
In Barcelona T-Mobile created an ad that featured their phone and a copy of the Angry Birds app that allowed people to play the app on the phone and it was displayed on a giant digital signage board. The sign design was made in a way that when the bird went to the edge of the screen, a live action bird was launched at a replica game level in real life.
Battersea's
#LookingForYou

Campaign

Battersea carried out an ad campaign with the some magic from digital signage to help spread animal shelter awareness. Multiple digital screens were placed throughout London's shopping center and shoppers received special leaflets with a secret GPS chipped placed inside. The chip triggered the display of an adorable digital pooch that followed shoppers from screen to screen..
East Coast Jewelry's Mother's Day Love Note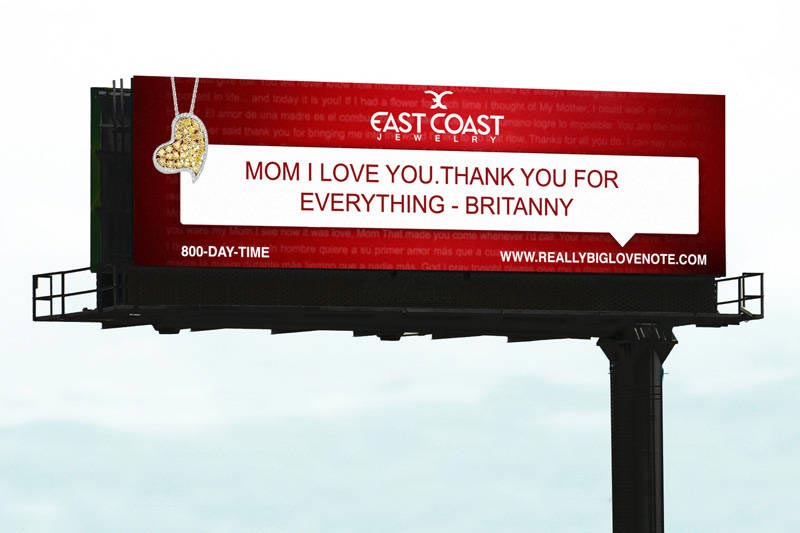 East Coast Jewelry used digital signage software to display custom messages on Mother's day taken directly from submitted visitor quotes on their website. The sign design was broadcast over a busy interstate in Florida for all travelers to see.
McDonald's Kings Road Campaign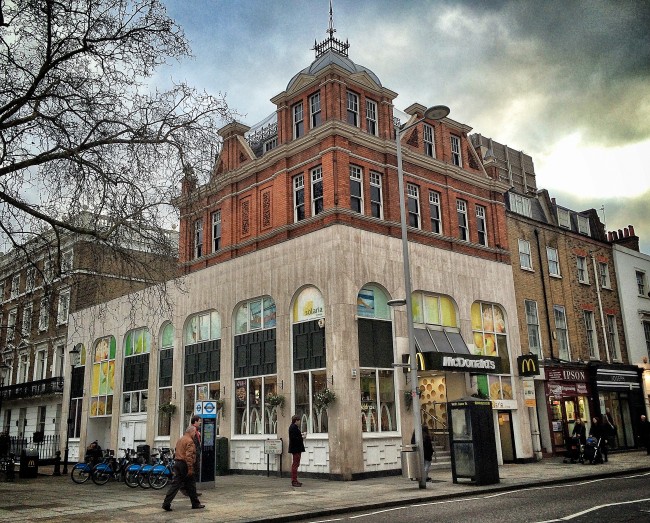 A McDonald's ad was created for the company that had on-screen objects in their digital menu boards bounce around a large digital signage display on a busy street. Users were then instructed to try and take a picture as the items flashed and bounced around. Anyone able to snap a picture was given that item from the McDonald's menu for free.
Go To Post >
---
Categories:
News
|
by Christine
Posted on 02/18 at 03:16 PM
---
---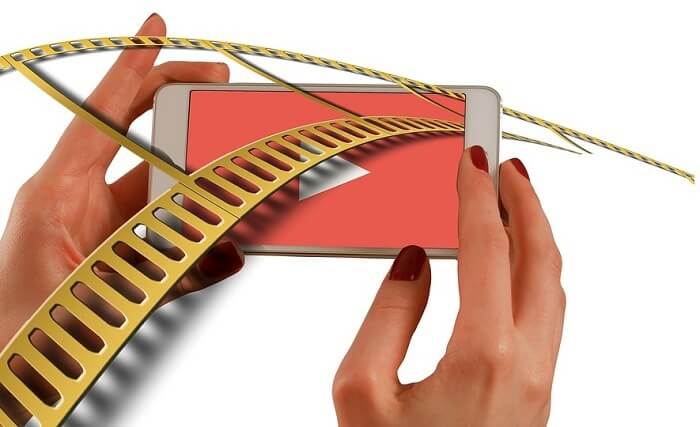 Viewership is increasingly evolving as more and more people are paying attention to digital video platforms. This growth in viewership will help enhance the effectiveness of your campaign and influence your brand image.

According to a Nielsen's report, it was revealed that TV fell by almost 10% whereas, the time spent on YouTube increased to 44% from December 2013 to December 2014. At this time, You Tube also increased in viewership more so than any other video platform (Case Study: The Evolution of Digital Video Viewership, 2015).

This study shows that digital signage video is essential in elevating your brand name and reaching a wide audience. In addition to an increase in digital signage video, it's also vital that such content is relevant to your target audience. Visual communication is necessary to improve the overall experience for your customers and employees; however, it also needs to be consistent as well. You definitely wouldn't want to overwhelm your audience and confuse them with too much information. In this case, digital signage helps organize and control what content is shown to your customers. In addition, digital signage videos increase retention and understanding among customers. Think about it. The majority of viewers spend only seconds viewing signage content. A 30-second video clip relevant to the product you are trying to sell is much easier to retain than just simple text on a screen.

Incorporating more videos into your digital signage layouts is a no brainer. They leave a lasting impression and are more eye-catching than other forms of content.
Go To Post >
---
Categories:
News
|
Miscellaneous
|
Page 4 of 40 pages
‹ First
<
2
3
4
5
6
>
Last ›
---