UC

View Blog Entries

by Christine

Posted on 12/02 at 03:04 PM
---
---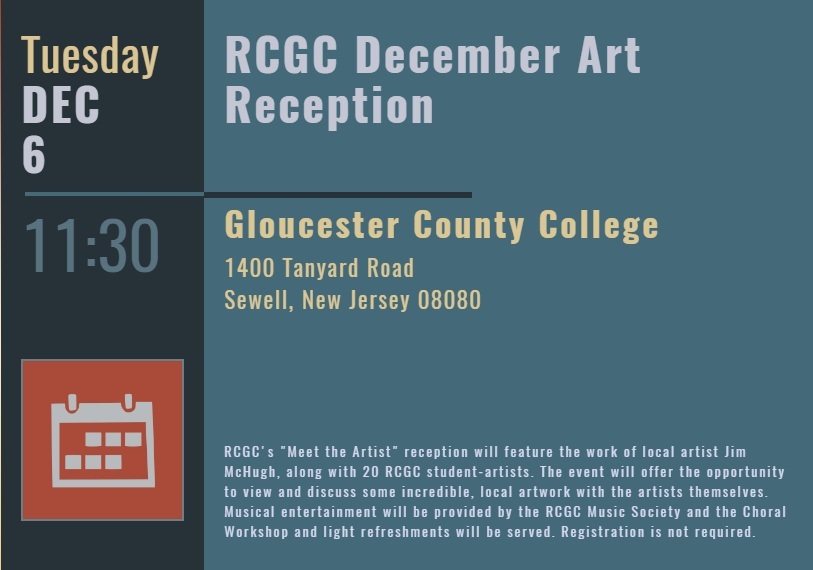 Display information about upcoming events happening in your area with the new Eventful HTML5 digital signage app. This new digital signage app is not only free to use, but is highly customizable, allowing for you to input the zip code of your area, enter in event keywords, modify the date and interval time, as well as change the layout to reflect the color scheme of your organization. With its professional and attractive layout, you can display the Eventful digital signage content in a variety of areas, including education institutions and the lobby of corporate buildings.
Go To Post >
---
Categories:
App Store
|
News
|
by Christine
Posted on 11/18 at 04:05 PM
---
---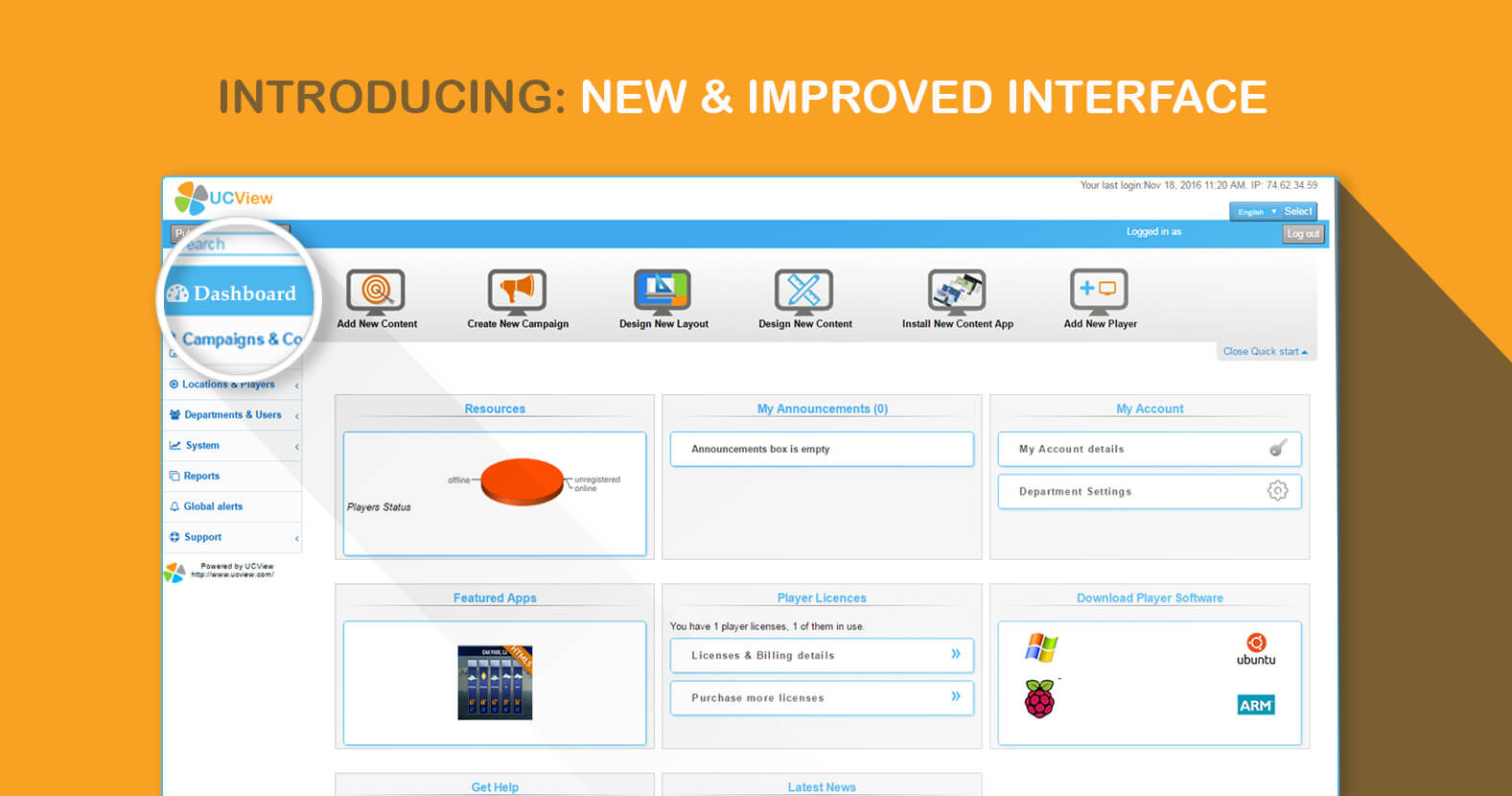 UCView upgraded their user interface to offer a more intuitive and smoother user experience. With its eye-catching design, UCView users can now navigate easily throughout the UI with ease. The flexible drag and drop digital signage software offers the same functionalities as before, but is now simpler to manage. Below are the latest features offered in UCView's digital signage software:

Simplified & Organized Accordion Design-With this new menu design, users can simply select a primary category of their choice which will then collapse to reveal subcategories. This helps organize modules in a way that will make navigation simpler for the user.

Easy to Use Search Bar – Can't quite find what you are looking for? Use the search bar feature in order to filter your results. By entering in any name created in your system, this tool will help you access just what you need in just seconds.

UCView's redesigned interface was built with the customer in mind, making tasks easier to access and providing a more flexible and manageable experience for the user.
Go To Post >
---
Categories:
News
|
by Christine
Posted on 11/11 at 01:57 PM
---
---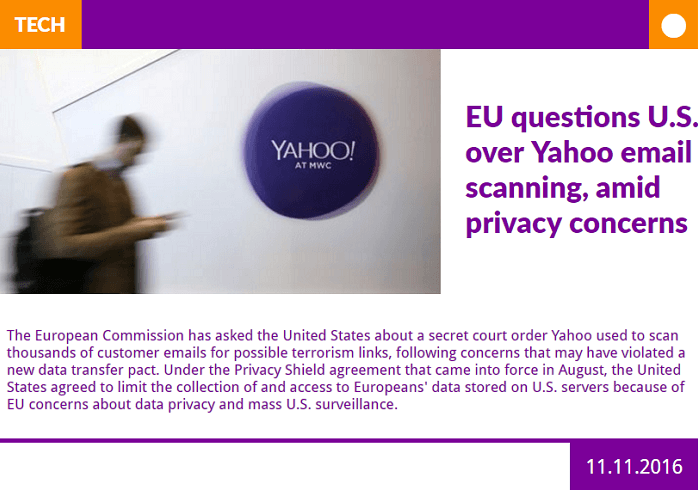 Yahoo U.S. News offers the latest breaking news stories taking place across the nation. Users can now display Yahoo U.S. News HTML5 content with a colorful and stylish new layout. Select from a variety of categories, such as Tech, Sports, Business, Entertainment, and Latest News. With its customizable features, the user can now change the header bar color, header accent color, background color, title color, description color, and even footer color to reflect the company's standard color scheme. This eye-catching free digital signage app is ideal to use in the break room of a corporate building or the student lounge of a university.
Go To Post >
---
Categories:
App Store
|
News
|
by Christine
Posted on 11/04 at 03:36 PM
---
---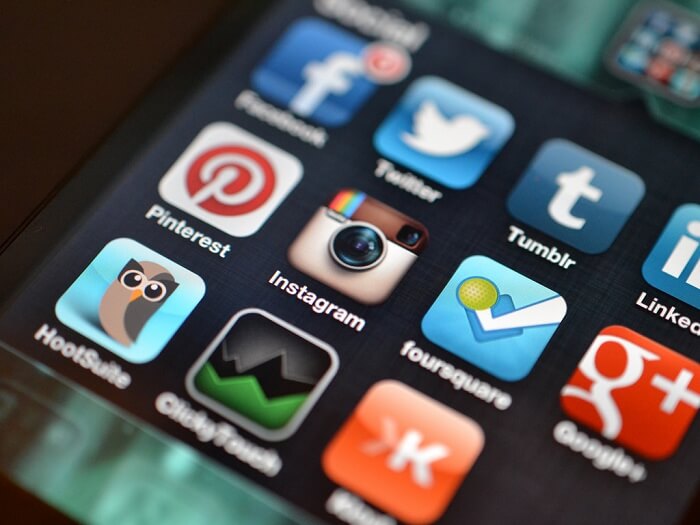 Digital Signage Dissemination of Information: Digital signage makes information available whenever and wherever it's needed. Information can be scheduled and updated remotely and at a moment's notice. Disseminating information is much simpler with digital signage and is much more cost-effective as it saves on printing costs. Strengthen Learning in the Classroom: Many college classrooms offer the opportunity to use multimedia to enhance lectures. In fact, the majority of students are already exposed to digital technology on a daily basis. According to PewResearchCenter (2015), roughly 68% of Americans have smartphones and 45% have tablet computers. Using media with interactivity, high-definition videos, graphics, etc. to reach out to students can help maximize overall enjoyment and engagement. In addition, approximately 86% of those ages 18-29 have a smartphone, allowing for many students to interact with the instructor and perform activities such as polls or surveys right inside the classroom setting. Improve Campus Community: Oftentimes, universities promote themselves as a community, however, there are many cases where departments don't communicate well with each other or are closed off from the rest of the university. Digital signage can be a great way to enhance interdepartmental communication. Highlighting information on sports, clubs, and fundraiser events can increase morale among the student body and motivate more students and staff to get involved. Emergency Announcements: Digital displays are optimal in providing accurate and reliable emergency information across college campuses. However, students or staff members could be anywhere when a crisis strikes. Digital signs can be updated instantly and since emergency evacuations can be controlled from one remote location, the reaction time can be very quick for everyone on campus. Social Media and Education: Social media is widely used for networking and engagement purposes; however, it also serves as a vital communication tool for classrooms to create a sense of cultural pride. Universities can utilize their Facebook page and other social media platforms to reach out to the student body. According to PewResearchCenter (2015), approximately 76% of online adults use social networking sites. The majority of these adults are between the ages of 18-29. Social media can serve as a tool to help quickly circulate pertinent information about the university to those on campus.
Go To Post >
---
Categories:
News
|
Miscellaneous
|
by Christine
Posted on 09/23 at 11:51 AM
---
---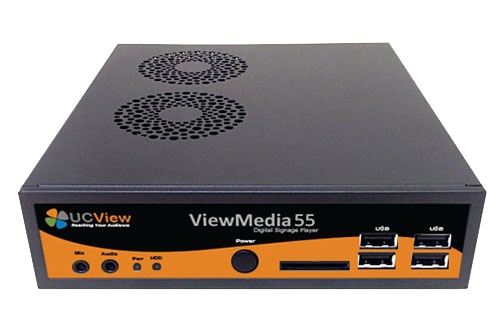 The View Media 55 Player is an optimal unit which is capable of running three digital signage screens via two display ports and one HDMI port. This small form-factor design is equipped with an Intel Core i3 6100 CPU and offers a scalable solution which could be used within a variety of applications, including digital menu boards. With a powerful computing performance, the View Media 55 delivers stunning visual content and a customizable solution at a low cost.
Go To Post >
---
Categories:
News
|
New Products
|
by Christine
Posted on 08/19 at 04:28 PM
---
---
UCView released the innovative Microsite feature which allows users to quickly upload a zip folder, containing any type of HTML template, to the UCView content management system. The system automatically unzips the folder and lets the user rearrange and edit the HTML content inside using a friendly graphical interface. In addition to a quick and easy upload, the user can make instant edits and even rearrange text and images by using the move tool to drag and drop items anywhere on the preview. This allows for end-users to keep their content consistently up-to-date and fresh for their viewers without the need to write code for their digital signage.
Go To Post >
---
Categories:
News
|
Features
|
by Christine
Posted on 08/05 at 03:25 PM
---
---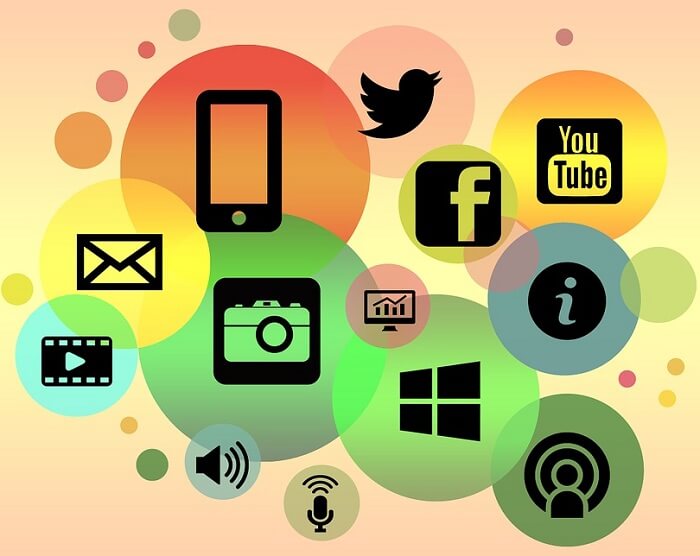 Digital signage can be a very successful and powerful tool for communicating information to your targeted viewers. However, if used incorrectly, its potential in reaching your audience can fall completely flat. Below are just five of the most important things to remember when creating and administering digital signage.

Keep Messages Simple: When displaying text, make sure that it's easy to read and stands out for viewers who are simply passing by the screen. It's best to use dark text on a light background, such as black on white, or vice versa in order to guarantee ample amount of contrast on screen.

Timing of Content: What's the point of displaying significant messages if viewers passing by the screen won't even have enough time to read it. The screen frequency should not be too fast. It's recommended to keep messages on the screen for no less than 8 seconds. On the contrary, it's also important to not keep content on the screen for too long; otherwise your viewers will quickly lose interest.

Dynamic Signage: Most digital signage screens are silent, meaning that any images, videos, and text that display on screen needs to be dynamic. It should also be consistent throughout a loop, displaying relevant, yet engaging content with brand imaging or colors.

Relevant Content: Evaluate the content that's displayed on screen. Is it more educational or entertaining? Make sure that the message is clear, relevant to your industry, and is easy enough to read with very basic terminology. Consider using words that rhyme with each other in order to help your audience retain the information.

Call to Action: Begin a call to action by embedding it into each screen being used. For instance, displaying text such as "Try it for Free" can be enough to motivate the viewer to try the product being advertised. It's also helpful to display a QR code for the viewer to learn more about a product. Placing a call to action on screen enables for the viewer to actually take action, therefore increasing sales.
Go To Post >
---
Categories:
News
|
Miscellaneous
|
by Christine
Posted on 06/06 at 02:30 PM
---
---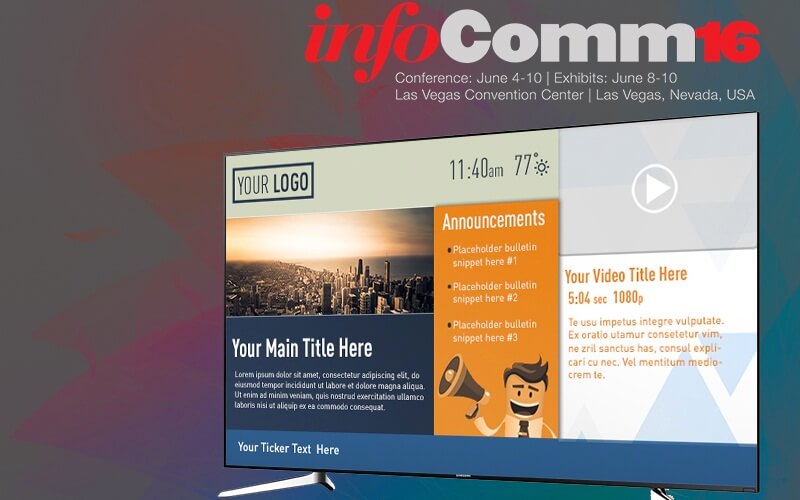 UCView invites you to visit us at InfoComm 2016 in the Las Vegas Convention Center, Las Vegas, NV! We will be showcasing our latest products and innovations for digital signage, which will feature a Samsung 85" Ultra High Definition 4K screen. InfoComm is the largest professional tradeshow in North America, featuring cutting-edge audio-visual technology and digital signage. See us at Booth #N02173 from June 8th until June 10th and learn more about how our technology is advancing the overall user experience within the education industry, retail, and more.
Go To Post >
---
Categories:
News
|
by Alex
Posted on 05/17 at 11:27 AM
---
---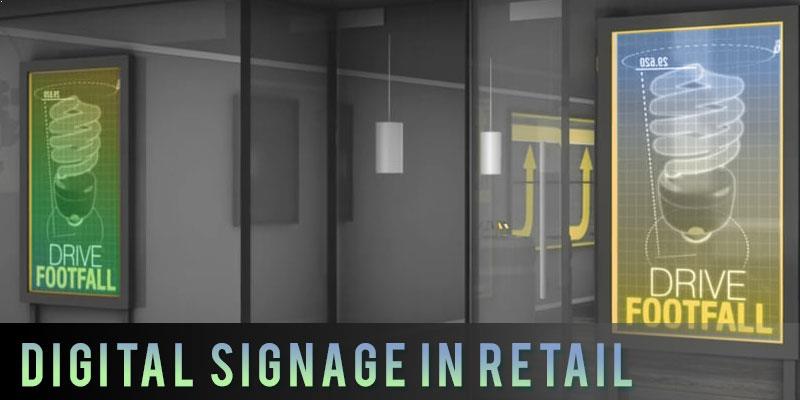 According to a new study, the typical adult is exposed to about 360 advertisements per day across all major media outlets. But these are just ads—and do not account for all of the branding and advertising that we're exposed to within an average 24 hour period. When you begin to take a look at these numbers, they get a lot more existential.
Believe it or not, we're exposed to anywhere from 3,000 to 20,000 different messages, images, brands, and other types of advertisement on a day to day basis. Of course, these numbers include everything—from the grocery store sign down the road, to the label on the soda you're drinking, to the spam emails in your email inbox.
Of course, just because we're exposed to these advertisements doesn't mean that we're taking note of all of them—much less buying products because of them. Very few actually make an impact large enough to stay in our memory, and far fewer actually result in a sale down the road.
But here is the big question

If you're a business owner and you're trying to make an impact, how can you increase your odds of getting the customer attention you really need?
The answer, quite possibly, could be digital signage.
Why Digital Signage?
Digital Signage represents a growing trend in the world of retail advertising, in the sense that it serves as a bridge between old-world marketing ideas and the advent of new technology. According to recent studies, 76% of consumers have entered stores just because the signage was interesting. 75% of consumers have told their friends about stores that they've been to because they were impressed by the signage.
In addition, an estimated 68% of Americans have made purchases because the in-store digital signage advertising of the product or service was appealing.
There is no shortage of evidence pointing toward the fact that digital signage is becoming a more common (and effective) means of advertising — but how can it help us to solve communication problems, especially as they pertain to customers?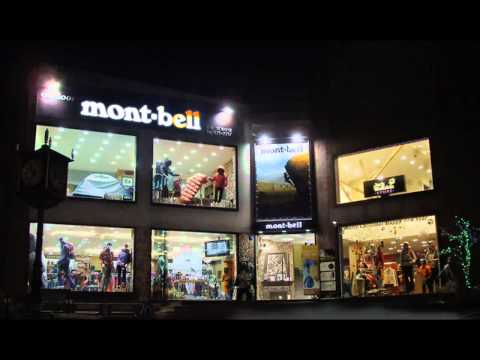 How can digital signage in retail stores help us communicate better with customers?
Digital Signage boasts several advantages over traditional ink-and-paper signage—and some of them can directly contribute to better communication with customers. Of course, you need to use them properly to maximize their effectiveness—but this has more to do with common sense than any kind of specialized marketing practices.
Ideally, you would want to place your signage screens where they are easy to see. You would also want to avoid over-cluttering it. With digital signage, you also need to make sure that the advertisements or messages are formatted correctly—but once you get these simple things taken care of, the benefits become significantly more pronounced.
In-store digital signage can change as-needed without any real additional cost to you.
Granted, you might need to pay someone to put together a new graphic or advertisement for your ad campaigns—but still, the small costs associated with getting this done pale in comparison to the high cost of printing real brick-and-mortar signage every time something changes. And if you're feeling a bit creative, you can always utilize built-in content creation tools, such as Slide Designer in UCView, to create ads without shelling out extra bucks.
The ability to adapt your advertising to fit with changes in your retail business and customer base is invaluable where communication is concerned, because being adaptable gives you the ability to stay as relevant as possible. In this respect, retail digital signage makes a ton of sense. You could literally change it on a daily basis if you wanted to—a task that'll probably require little more than a few keyboard strokes on your laptop.
It's easier to catch someone's eye in your retail store with digital signage
Digital screens have several advantages over traditional signs and posters. They give off significantly more light, for one thing. The images also have the potential to be super crisp and clear. They can utilize and incorporate movement, animations, and graphics-in-motion, and have the ability to display their content in bright, vivid, eye-popping colors.
These advantages make them much more noticeable in real-life scenarios. This is why digital signage in shopping malls and retail stores tends to do so well. People notice these screens because they really stand out against the comparatively dull ink-and-paper signs around them.
And when you add interactivity to the mix, they become even more effective! People love screens that they can interact with—so a kiosk with some buttons, or a touch-screen that you can use to learn more about a product or service could do wonders to help get attention and make an impression that consumers will remember.
Strategically placed digital signage screens allow you to communicate with your retail customers in real-time.

Keeping your signage updated is one thing. Communicating in real time with your customer base is something else. Imagine having a sign that you could change every hour. Imagine being able to display your drink specials or hourly sales at exactly the right times without needing to change anything but a file on your computer.
Imagine being able to make last-minute changes to prices or selection (as advertised on your signage) the split-second before you open your doors—or even during the busiest parts of the day.
Imagine being able to direct customers to a convenient kiosk, where they'll have the opportunity to navigate through a menu or a how-to, without the need to funnel them toward a register or a salesperson who's too busy to show them the attention required to fully educate them on the products/services you have to offer.
Let's be honest. The business world is a brutal place. It's competitive, volatile, and unkind to those who take too long to adapt to new technology and customer needs. Digital signage might be the best way to catch the attention of new consumers—but it may also be the best new method for engaging older customers.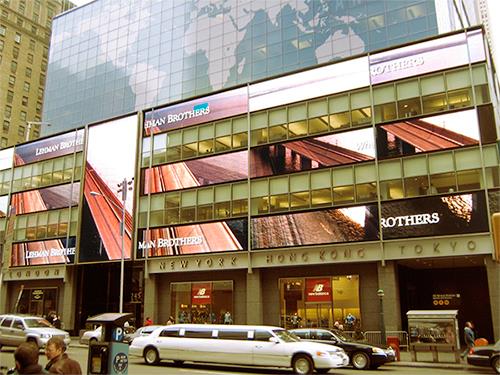 Is switching your retail store advertising to digital signage going to provide you with a foolproof method for success?
Unfortunately, there's no such thing as a fool-proof plan anymore. Digital signage, even at its most advanced, isn't going to do the job for you unless you handle and manage it properly. You need to keep the psychology of your customers in mind, and you need to utilize it in ways that will truly add to their experience—not take away from it.
Here are some simple tips that you need to keep in mind before putting time, effort, and energy into such an upgrade.
Make sure to place your signage thoughtfully.

Customers need to be able to access the screens in a manner that's not going to be cumbersome or difficult. Avoid placing screens in places where people will need to strain their necks, lean over, or search for the information for more than a few seconds.

Keep basic customer psychology in mind

Keep screens in places that make sense, and make sure that they're accessible. Remember that selling anything revolves around building the value above the price—so make sure that your digital signage screens are placed inside the store in such a way as to help this process, not hinder it.

Make sure that your graphics, layouts, and designs are stylish, attention-grabbing, and simple

Overly-complicated graphics will spell disaster for your marketing efforts. The same is true for digital signage that's boring or too old-fashioned. Remember that you need to appeal to your customers. Don't confuse them, alienate them, or design graphics that look like they would have been in style five years ago.
In Conclusion
Communicating with your customers is a process that's accomplished in innumerable different ways. Your advertising, your décor, your branding, your salespeople, and your media all work to accomplish this—and they're truly only the beginning of the process.
Unless you can effectively communicate your message to your customers, you're going to end up missing the mark.
The key thing to remember, however, is that customers need to know three things about you before they'll buy from you. They need to know that you're legitimate, they need to know that you're offering real value, and they need to know that they can feel at ease making a purchase with you.
There are certainly more elements than these to consider—but without these, you aren't going to do very well in the modern-day marketplace.
Retail store digital signage can help you on all three fronts, because it can boost your ability to communicate with your customers about what you have to offer. It can help to convey the fact that you know what you're doing, that you're offering real value for the money, and that you're going to make their lives better if they choose to do business with you.
These things are all subtle, and admittedly difficult to do—but digital signage can certainly fill a vital gap for modern businesses looking to appeal to the tech-savvy masses. If you would like to see just how easy it is to start creating retail digital signage, content with our software - you can always sign up for our free 30 day demo or speak with one of our experts.
Go To Post >
---
Categories:
News
|
by Christine
Posted on 04/27 at 03:50 PM
---
---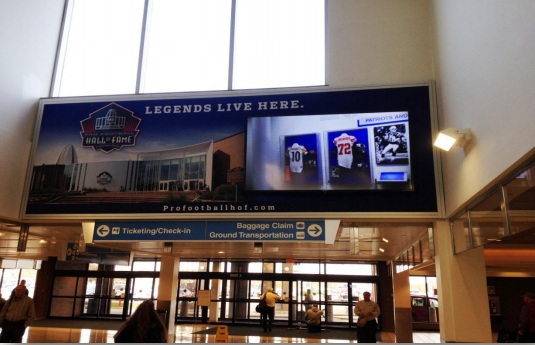 The springtime marks the start of the travel season. Along with an increase in travel comes a wave of stress among personnel in the transportation industry as well as the travelers themselves. With hectic situations, such as increasingly long lines and the hassle of getting through security, many airports and subway/train stations are opting to use digital signage to help alleviate such conditions.

Only a few years ago digital signage was mainly used to as a snazzy way to display arrival and departure information, however, due to its evolvement in flexibility and ease of use, digital signage is now being used as a vital tool for getting people to the right place in the quickest and most effective way possible. One such digital signage tool includes wayfinding kiosks, which makes the experience of navigating through a maze-like airport much smoother for travelers, especially those who are inexperienced. Digital signage is also frequently used to market products within stores and even digital menu boards now adorn the walls of restaurants in terminals.

The subway/train station is also now flooded with digital signage being used as a tool to help tourists get from point A to point B. Digital signage is used in a growing number of stations to help people get where they need to be and can commonly even be found inside of subways/trains as well.

Along with traveling to the destination, hotels and resorts are also booming in business as well. The hospitality sector is increasingly depending on digital signage to get weary and impatient travelers checked-in to their rooms and informed with the amenities that are offered at the hotels/resorts. Travelers this summer will be expected to see many forms of digital signage in places such as amusement parks and museums as well. Digital signage is becoming vital for tourists, providing them with a smooth experience during their travels.
Go To Post >
---
Categories:
News
|
Miscellaneous
|
Page 4 of 42 pages
‹ First
<
2
3
4
5
6
>
Last ›
---