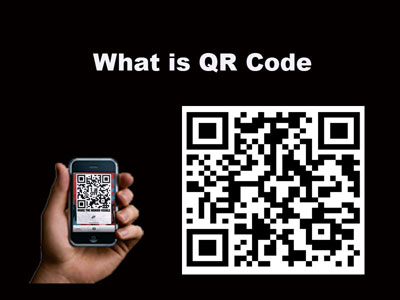 QR code abbreviated from Quick Response code, it is a bar code made of a two-dimensional code that is readable by barcode scanner or camera telephones. The code consists of black modules arranged in a square pattern on a white background. The QR code can contain information like text, URL, phone number, SMS, or Contact information Vcard.
Today QR codes are used in many digital signage applications as call for action advertising, proof of performance and ROI use. The QR code allows the advertiser to provide the audience with fast access to information, promotion and coupons, without the need to memorize any coupon codes, website or contact information.

Some of the reasons they are more useful than a standard barcode is that they can store much more data, including URL links, geo coordinates, VCard, SMS, etc. Another key feature of QR Codes is that many modern cell phones can scan them. Once it is in your cell phone, it may give you details about that business or promotion.


How can you use QR codes to benefit digital signage?
There are many ways to utilize QR Codes in digital signage; the concept of QR codes in digital signage is to display the QR code on the screen in combination of content or an ad. The audience can scan the QR code from the display to get additional information on content or promotion displayed on the screen. Using this technology you can measure and improve the digital signage ROI.

The success in using QR codes is dependent on some important factors. First and foremost is that you need to have a captive audience and they are close enough to the screen so they will be able to scan the bar code. Second, if you going to have QR codes in your marketing plan for digital signage make sure you keep the content relevant and attractive.


How do I generate QR CODES?
There many free or-code generators that can help you generate images of the QR code. You can use these images as an ad and upload them to your digital signage CMS, With UCView as we always promise to make thing simple, you can use our free app QR-Coder from our content store to generate your QR-code directly to your display. Using QR-Coder app you can generate any type of QR code in just seconds. You can publish the QR code as independent ad or as a sync ad related to any ad or content in your playlist, this will allow you to play relevant qr code to the content currently plays on the screen.