How Employees Can Benefit From Digital Signage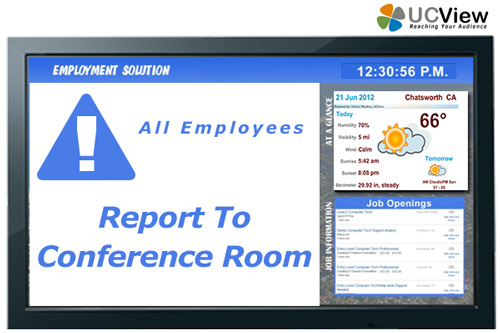 When you think about the target audience for digital signage who is the first group of people to come into mind? Most likely digital signage operators will think of their customers. Although targeting customers is extremely important, there are other groups of people who can benefit from digital signage as well, such as your employees. Digital signage can be very beneficial for your work environment. For instance, many companies are starting to use digital signage as a central tool for training. Instead of having to hear a lecture from one of the staff members, all of the essential information for training, including exams, can be done over digital signage. Signage is more reliable than bulletin boards as it is more likely to catch the employee's eye and hold their interest.

Digital signs can be placed around cafeterias, meeting rooms, hallways, break rooms, and other areas where employees are likely to view it. Display information on benefits, upcoming events, health and safety, corporate activities, the weather, news, trivia and other content which can be used to inform or entertain employees. Operators can provide inspirational messages to improve the morale of employees, or provide statistics and data for meetings. Digital signage can be very effective for employees and departments to communicate with each other as well as increase the productivity rate.
Posted by Christine on 02/22 at 03:11 PM
News
•