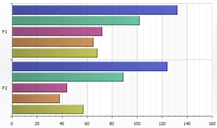 Nielsen, the global leader in marketing and media information, has released the first quarterly report that measured the audience reach of digital place-based advertising networks. The "Fourth Screen Network Audience Report" measured ad exposures of ten digital out of home networks that included venues such as movie theaters, bars, gyms, hotels and gas stations. Overall, the report finds that digital out of home networks reach 237 million viewers monthly, with 50% reaching the 18-34 demographic. This marks the first time ever that a legitimate authoritative source has measured the digital video ad exposure. Now advertisers have the numbers to see how digital out of home networks compare with the other three screen networks - television, internet and mobile.
This is another significant step towards creating a fruitful relationship between advertisers and the digital signage industry. U.S. advertisers have long been leery of investing significant resources into running campaigns on DOOH networks, but when presented with numbers that show digital displays either match or trump the reach of traditional outlets, it will be impossible for them to continue to ignore the potential of digital networks. The numbers presented might not be proof of efficiency for digital advertising, but that's not exactly what the digital out of home networks are constructed for. Digital networks' job is to provide screens that reach audiences outside of their homes, while the advertisers' job is to bring creative content that will move the audiences to desired action. Judging by this report, it's clear that digital screens are performing their job quite well. It is up to the advertisers to expand their strategy and realize greater campaign efficiency with digital advertising.
To read the official Nielsen press release, click here.