What is Dynamic Content?
What is Dynamic Content?
What is Dynamic Content?
What is Dynamic Content?
---
Posted by Christine
on 02/06 at 03:45 PM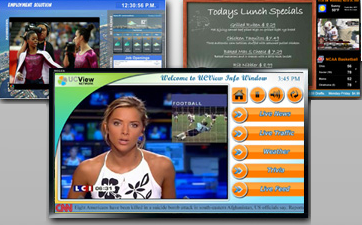 If you were to define digital signage, what type of thought goes through your head? Many people will define digital signage as an electronic board that has rotating content or advertisements. Dynamic content is defined as content that changes based on the preference of your targeted audience. Digital signage is dynamic content; operators are able to change messages, images, and other information by uploading content via databases and XML files. Ads can then automatically be pulled from the database and publicly be displayed at its scheduled time.

Information can also be displayed in mere seconds, by having a ready-made template where each department can upload images, messages, and other forms of content. For instance, if you would like to change the name and image for the Employee of the Month, it can be easily changed by entering information into a ready-made template already in the system. Dynamic content is extremely useful for many businesses because it's not only a hassle-free solution, but it's cost-effective. Everything can be uploaded to the monitor without the need of printing out costly paper. Dynamic content can also be controlled from a remote location and network operators can have the ability to control multiple screens at one time.
Related Categories || News &nbsp •