Digital Signage For Corporations
Digital Signage for Corporate Communication
Manageable Foundation for Your Digital Signage Network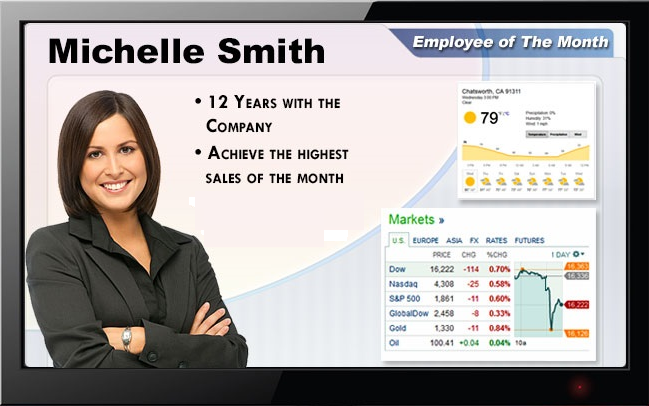 Time and knowledge is money in the corporate world, so up-to-the-minute data is crucial to your bottom line. Targeted and timely messaging creates market advantages for your clients, visitors and employees and UCView's unrivaled digital signage solutions offer robust, easy-to-use, cost-effective capacity to help you maximize your productivity. Bright screens, eye-popping graphics and dynamic content makes the UCView digital signage system more dramatic and effective than print media, and gives you many options to easily improve and expand your content:
Deliver high-impact product and service messages to your lobby guests.
Greet visiting companies and officials with eye-catching welcome messages - and quickly change those greetings to match each visitor with only a few keystrokes - even if you're out of the office.
Foster a positive, informed work area with motivational messages, new corporate policies, sales figures, industry news, local traffic and weather report, or any other relevant information.
Announce holiday greetings, employee days off, employee awards, and special event information.
Schedule ad campaigns to display on every monitor or selected monitors wherever and whenever you need them. Run multiple campaigns on one display or many. Change configurations at any time.
No special skills or extra IT costs are needed to operate the UCView digital signage software; simply upload your internal TV content, PowerPoint presentations, video, graphics and Flash media, schedule your content campaigns and the UCView System does the rest.
Hold live video conference meetings through any display at any location in your network. Enhance the success of your video conferences with strategic use of statistics, charts, spreadsheets and supplemental video, all easily added to any section of the screen.
Broadcast emergency escape plans for each area of your facility. Display directions to safe exits, places to avoid and stream verbal instructions. Carefully plan campaigns, set them up in advance, and implement them with a mouse click.
When appropriate, sell advertising space to related industries to both improve relations between vendors and recoup system costs ahead of schedule.
Try our software for free and see what it can do for your business.