Digital Signage For Hospitality
Spend your money on products, not exposure
Manageable Foundation for Your Digital Signage Network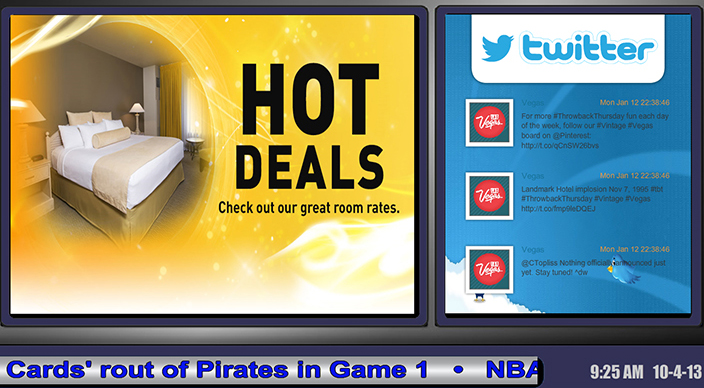 The hospitality industry adopted digital signage early on and already enjoys its many benefits, including flexible deployment, straightforward scheduling, and reliable operation. If you haven't yet joined the digital signage revolution, now is the time to hook up with UCView's digital signage solutions so you can offer a multi-use media environment for your guests.
Display greetings, directions and branding to lobby guests and behind the registration desk.
Digital signage in elevators provides guests with information about restaurants, amenities, in-hotel shops, limited-time special offers, and local businesses. Modify content to suit changing needs quickly and around-the-clock, without the need of complicated IT infrastructure and personnel.
An in-hotel digital signage network can provide location-specific content such as workout tips for your gym, suggested selected menu items for in-hotel or nearby restaurants, and news, weather, and supplementary information in the corridors.
UCView digital signage solutions are infinitely expandable. Start with a few signs and add as many as you need, at any location. Whether you host the network or have us host it for you, your message outreach will efficiently and reliably increase.
Concierge desks can advertise and present information for tickets to shows, attractions, and other events. Hotel specials and other services specific to your location and concierge expertise can be looped in for maximum exposure.
UCView's digital signage interactive features can help the concierge staff improve and enrich your guests' experience.
Replace print media clutter with dynamic video, Flash media, Power Point presentations, and slide shows. Schedule ad campaigns for rapid changes that serve varying markets or seasons, and give additional benefits to advertisers. These paid ads help you quickly recoup your investment in digital signage.
Try our software for free and see what it can do for your business.