RackMedia 100 Digital Signage Player
Manageable foundation for your digital signage network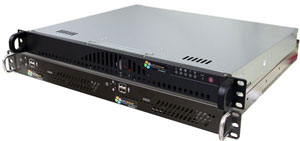 RackMedia 100 Digital Signage Player Overview
---
UCView centralized digital signage solutions help resolve the most common digital signage challenges associated with traditional mini PC environments, by centralizing the player in a secure rack environment where they can be easily managed. Using standard network connections, it also delivers the exceptional digital signage deployment experience end users expect. Welcome to digital signage for the next generation of your business.
Latest Technology Features
---
UCView's RackMedia digital signage player is a remote player which provides a fully functional digital signage solution. Even though it is remotely located, each centralized player can control one or more displays, and they each provide the consistent performance that is needed. UCView's centralized digital signage players are ideal for typical digital signage deployment, requiring cost effective access and a stable network. Digital signage network administrators can manage this environment with the same proven, powerful tools used by other digital signage player solutions long used by UCView's portfolio of products.
In general, the RackMedia centralized digital signage player can provide significant benefits for your enterprise:
Ensure business continuity and easy maintenance.
Provide a robust player experience with minimal down time.
Dramatically reduce total cost of ownership.
Reduce risks associated with traditional player computing.
Respond quickly to changing customer and market demands.
Greatly increased data security and player located in a secure location.
RackMedia 100 Specifications
---
QuickSpecs

See detailed specs

US QuickSpecs »pdf

Processor

Processor family

Intel® i3 (3.1GHz) (Optional i5 / i7)


OS

Support Operating system

Windows XP, XPE, Vista, 7 or Linux


Memory

Memory

2 GB Up to 4GB
PC2- DDR2 RAM

Video Output

Video OutPut Connectors


1 X HDMI Connector
1 x Display Port

Network

LAN/WAN Controller

10/100 Network Adapter
Wi-Fi 802.11G Built in

Storage

Hard Drive

60GB Solid State Hard Drive
Optional 128GB

Other Info

Dimensions

Form Factor (Size)
Size 192 x 210 x 62mm
Warranty - year(s) (parts/labor)

1/1/1

Support Media Format
---
Video

Microsoft Windows Media

WMV

MPG Family

MPG
MPG1
MPG2
MPG4
H.264/AVC

H-264
MOV
m4v
Quick Time
DIVX

H-264
MOV

Flash Macromedia

Flash FLV
MPEG layer

MPEG 1
MPEG 2
MPEG 3
ELECTRONIC MEDIA:

Microsoft PowerPoint

PPT

Adobe Flash

SWF

Live RSS

RSS
XML
Web Pages

HTML
Dynamic Pages
Acrobat PDF

PDF

Images

JPEG Images

jpg

GIF Images

gif

BITMAP Images

bmp

Audio

MPEG-1 Audio Layer 3

MP3
Windows Media Audio

WMA
Audio for Windows,

wav
wave
Support
---
The UCView Updates Subscription provides peace of mind while installing and running our Digital Signage Server along with additional training and design support. Updates Subscription is included free of charge for the first year of your contract and is renewable thereafter for a small fee.
---
By hosting your own narrow casting signage network, you avoid accumulating monthly fees as well as increase throughput speed by minimizing bandwidth irregularities.