View Media 50 Digital Signage Player
View Media 50 Overview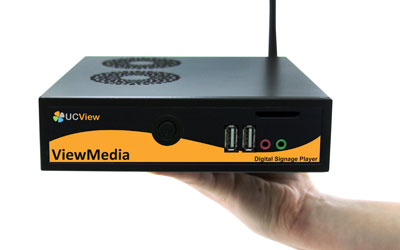 ---
The View Media 50 digital signage player requires a SaaS or server in order to run a digital signage network. SaaS is hosted on a cloud, allowing for you to access your digital signage network via the Internet. SaaS allows for centralized management from one location. A server, however, is both a hardware and software solution with the same management functions as SaaS. Servers are crucial for corporations that rely on security and carry sensitive information. In addition, using a server is ideal if Internet connection and downloads are internal and communication is local via an on-premise based solution.


The View Media 50 is UCView's most cost-effective digital signage player. The revolutionary new design and power will redefine the media playing industry. The View Media 50 digital signage player helps you accomplish more with every minute of your time and every dollar of your investment.
Two HDMI ports for quick and easy connection
Linux capability
Delivery of stunning visuals (video and images)
Mini form factor
Lightweight (2 pounds)
Up to 16GB memory


Features
---
Superior manageability features:
Combining technologies from UCView, Remote Access, and Intel, the ViewMedia provides digital signage managers a full range of remote management capabilities which lower maintenance costs and protect the digital signage assets.
High Speed Technology:
The View media 50 includes a 2.5GHz Intel CPU with built-in graphics, providing your digital signage with powerful computing performance and high speed technology.
Compatible with Multiple Operating Systems:
The View Media 50 is compatible with multiple operating systems, such as Windows 7 or Linux. This helps provide a broader range of usability among customers.
Cost-effective:
Affordable and durable, this device will last for many years to come. The View Media 50 includes
Wi-Fi and USB 3.0. Live TV via USB is optional.


Player Specifications
---
QuickSpecs

See detailed specs

US QuickSpecs »Player PDF

Processor

Processor family

2.5GHz Intel CPU with built-in graphics


OS

Support Operating system

Windows 7 or Linux


Memory

Memory

2 GB Up to 4GB
SoDimm DDR3

Video Output

Video OutPut Connectors

1 X DVI Connector
1 X HDMI Connector

Network

10/100/1000 Mbps Gigabit Ethernet (RJ-45)

Built-in Wireless Adapter
Wi-Fi 802.11 a/b/g/n

Storage

Hard Drive

60GB SSD


Other Info

Dimensions

Form Factor (Size)
Size 6.5 x 7.5 x 1.75"
Warranty -3 year(s) (parts/labor)

3/3/3


Support Media Format

---

Video

Microsoft Windows Media

WMV

MPG Family

MPG
MPG1
MPG2
MPG4
H.264/AVC

H-264
MOV
m4v
Quick Time
DIVX

H-264
MOV

Flash Macromedia

Flash FLV
MPEG layer

MPEG 1
MPEG 2
MPEG 3

ELECTRONIC MEDIA:

Microsoft PowerPoint

PPT

Adobe Flash

SWF

Live RSS

RSS
XML
Web Pages

HTML
Dynamic Pages
Acrobat PDF

PDF

Images

JPEG Images

jpg

GIF Images

gif

BITMAP Images

bmp

Audio

MPEG-1 Audio Layer 3

MP3
Windows Media Audio

WMA
Audio for Windows,

wav
wave

View Media Guidelines

Operating System Support: Windows 7 Embedded and Windows 7 Professional
Supports Windows Network, including Active Directory or any Windows Network Environment, such as VPN, VLAN, etc.
UCView is a Windows Native .NET application
All communication between UCView application and the UCView server is done over Port 80. All other ports can be blocked.
Anti-virus can be installed on a player machine, however, anti-virus can affect player's performance while it's running.