View Media 50 Digital Signage Player
Manageable Foundation for digital signage network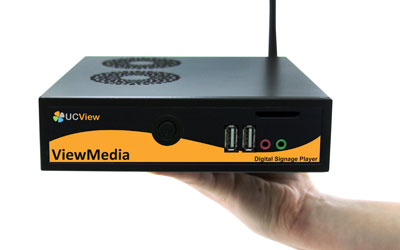 View Media 50 Overview
Buy $650.00
---
The View Media 50 is UCView's most cost-effective digital signage player. The revolutionary new design and power will redefine the media playing industry. The View Media 50 digital signage player helps you accomplish more with every minute of your time and every dollar of your investment.
Features
---
Superior manageability features:
Combining technologies from UCView, Remote Access, and Intel, the ViewMedia provides digital signage managers a full range of remote management capabilities which lower maintenance costs and protect the digital signage assets.
High Speed Technology:
The View media 50 includes a 2.5GHz Intel CPU with built-in graphics, providing your digital signage with powerful computing performance and high speed technology.
Compatible with Multiple Operating Systems:
The View Media 50 is compatible with multiple operating systems, such as Windows 7 or Linux. This helps provide a broader range of usability among customers.
Cost-effective:
Affordable and durable, this device will last for many years to come. The View Media 50 includes
Wi-Fi, USB 3.0, and Live TV via USB.


Player Specifications
---
Processor

Processor family

2.5GHz Intel CPU with built-in graphics


OS

Support Operating system

Windows 7 or Linux


Memory

Memory

2 GB Up to 4GB
DDR3 SDRAM

Video Output

Video OutPut Connectors

1 X DVI Connector
1 X HDMI Connector

Network

10/100/1000 Mbps Gigabit Ethernet (RJ-45)

Built-in Wireless Adapter
Wi-Fi 802.11 a/b/g/n

Storage

Hard Drive

60GB SSD


Other Info

Dimensions

Form Factor (Size)
Size 6.5 x 7.5 x 1.75"
Warranty - year(s) (parts/labor)

1/1/1


Support Media Format

---

Video

Microsoft Windows Media

WMV

MPG Family

MPG
MPG1
MPG2
MPG4
H.264/AVC

H-264
MOV
m4v
Quick Time
DIVX

H-264
MOV

Flash Macromedia

Flash FLV
MPEG layer

MPEG 1
MPEG 2
MPEG 3

ELECTRONIC MEDIA:

Microsoft PowerPoint

PPT

Adobe Flash

SWF

Live RSS

RSS
XML
Web Pages

HTML
Dynamic Pages
Acrobat PDF

PDF

Images

JPEG Images

jpg

GIF Images

gif

BITMAP Images

bmp

Audio

MPEG-1 Audio Layer 3

MP3
Windows Media Audio

WMA
Audio for Windows,

wav
wave

Support

---

The UCView Updates Subscription provides peace of mind while installing and running our Digital Signage Server along with additional training and design support. Updates Subscription is included free of charge for the first year of your contract and is renewable thereafter for a small fee.

---


By hosting your own narrow casting signage network you avoid accumulating monthly fees as well as increase throughput speed by minimizing bandwidth irregularities.