Digital signs with a common goal of delivering targeted messages to specific locations at specific times
What is Digital Signage?
Digital signage is a network of digital displays that can be controled electronically using a Cellular, Wi-Fi or standard TCP-IP network, allowing you to change the content remotely on any display on your network. Advertising using digital signage is a form of out-of-home advertising in which content and messages are displayed on digital signs with a common goal of delivering targeted messages to specific locations at specific times. Digital signage system
Allowing you to change the content remotely on any display on your network
Show customized multimedia messages such as video, animation, text, web pages or even live TV
Allow you to create and deliver targeted messages that affect, inform, educate and motivate your audiences when and where it matters most, and
Enable you to remotely change content on any display in your network
Digital Signage Solution By UCView
Digital signage screens are popping everywhere, helping companies and businesses to deliver information to their customers or audience when and where it matters the most. Whether it's at the supermarket, bank, university, or business, digital signs use dynamic content video, Flash, text, and graphics to draw attention and deliver a message.

UCView Media offers a complete suite of digital signage software and hardware solutions that let you to take easy advantage of this powerful technology. Deliver information to your market segment with a single screen in one location or thousands of screens worldwide using UCView's software as a service(SaaS) or ViewEdge digital signage server solutions.

The UCView System delivers up-to-the-minute digital content over cellular wireless, Wi-Fi or TCP/IP networks, and enables display owners to easily and flexibly manage, schedule and deliver their content. An optional advertising module even lets advertisers login, manage, schedule and control their advertising campaigns. UCView digital signage solutions work in almost any media environment, including electronic billboards, dynamic, narrowcasting, DOOH (Digital-Out-of-Home), out-of-home media networks, education signage , employee TV, captive audience networks, electronic boards and corporate communications.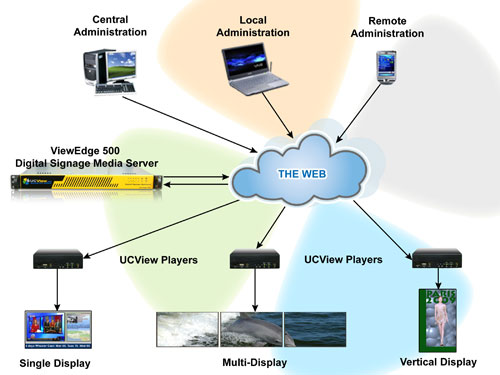 Key Benefits
Key Features

Centralized server controls your digital distribution.
Reliable and robust technology for fast delivery and continuous operation.
Add as many displays as you need, when you need them.
Enable local administrators for each location or give advertisers login authorities to schedule and manage their own regional or local ad campaigns.
Secure infrastructure ensures delivery of certified content.
Connect from anywhere using a simple browser.
Non-intrusive small digital signage player can be attached to the back of a monitor and use wireless connectivity to eliminate cabling and associated IT interaction.
Smart digital signage player available with a direct connection to the internet, eliminating the need for a local access point.
Use your own PC as a media player.*

Manage your digital content distribution from a web-based, centralized management console using any web browser.>
Modular and scalable infrastructure allows you grow from one location to thousands quickly and easily.
Delegate access, enabling multiple administrators and advertiser to log on. Advertising affiliates can schedule and manage their own ad campaigns.
Control advertiser content by blocking or permitting ad campaigns.
Reach your target audience by delivering separate schedules for each display, optimizing exposure of key information when it's most influential.
Deliver rich media including: Multiple video formats, Flash media & presentations, Power Point presentations, multiple audio formats, RSS feeds, slide shows and many other popular media formats.