Digital Signage Kiosk
Providing a manageable foundation for your digital signage network
Kiosks are often used to provide touch screen communication for customers and can be found in centralized locations. The systems are mainly used as self-service tools. Instead of asking personnel for assistance, customers can use a kiosk to schedule appointments, register for an event, sign-up for membership, and much more. This computerized device serves as a very important tool for customer service.
A kiosk is a computer device which is mainly setup in a public location. Kiosks can be found virtually anywhere and can be seen in areas such as retail stores, schools, and movie theaters. Kiosks normally perform a specific task, such as allow customers to sign-up for membership or make a quick purchase. Kiosks are not at all difficult to use, in fact, it's mainly setup to be simple to use for individuals. With simple instructions, first time users typically can utilize a kiosk without having any problems.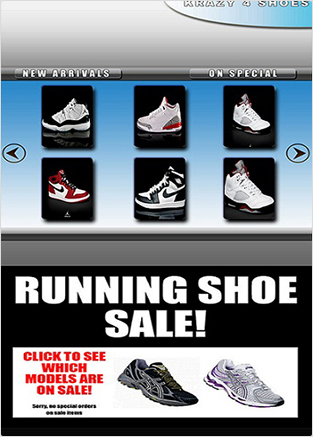 Many people think of a kiosk as a large bulky device which looks unappealing. Kiosk machines have changed significantly over the years. The systems can actually look quite stylish. Kiosks used in retail settings, for example, can have a very sleek look and reflect its surroundings. Organizations can even customize their screen by personalizing it with their company themes, colors, and logos. Customers often use kiosks as a self-service tool, providing quick assistance; however, it can be used by employees as well. Employees can look up their work schedule, vacation days, reports, and other important work-related content. These devices alleviate the hassle that can often fall on the shoulders of personnel. Instead of relying on personnel to retrieve your information, all of that information can be given to you within seconds by using a kiosk. Whether it's a map or tickets to a show, kiosks can provide instant results. There is no need to wait around and go through personnel for assistance. Kiosks are a fast and simple solution which allows for you to efficiently complete your tasks.
Administrators can remotely manage all kiosks. Administrators can even manage and control what the screen displays, such as the content that shows up on the screen and how people access their information. Kiosks are quick and effective solutions which can be used virtually in all locations.
UCView Digital Signage software allows you to manage digital signage content for kiosks and interactive screens. The software allows you to use any popular file format and enhanced usability which allows an organization to implement kiosk technology easily and quickly without additional IT and personnel effort.
Digital Signage Kiosk Software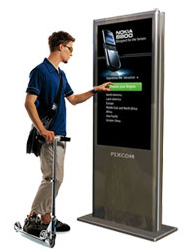 EZBoard allows you to create and design kiosk screens, starting with easy content management, scheduling, and ending with content distribution and monitoring of kiosks or player stations. EZBoard is a new unique signage module which allows simple creation of high-quality touch screen menus and kiosk function, creating content from animated digital signage templates and management of playlists from the web browser in minutes. EZBoard makes it easy to create integrated wayfinding or touch screen information kiosk, which allows you to communicate important information or data to the visitors and employees, inform them about events, or display useful information, like traffic, news, weather, trivia and more.
Learn more
Kiosk Software Features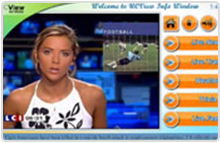 Drop down menus allow customization with no programming required
Applications can be installed or removed or changed at any time
Create menus and sub-menus, using drag and drop function.
Remote management tools.
Top-notch customer support
Real-time reporting on kiosk function
Supports multiple languages.