Digital Signage Software Features
Digital Signage Software Platform for Growth
UCView Digital Signage Software Platforms provide the scalability, flexibility and features for digital signage growth. UCView provides feature-rich digital signage platforms that offer complete flexibility and control over the displays, content, and functionality of their playlists.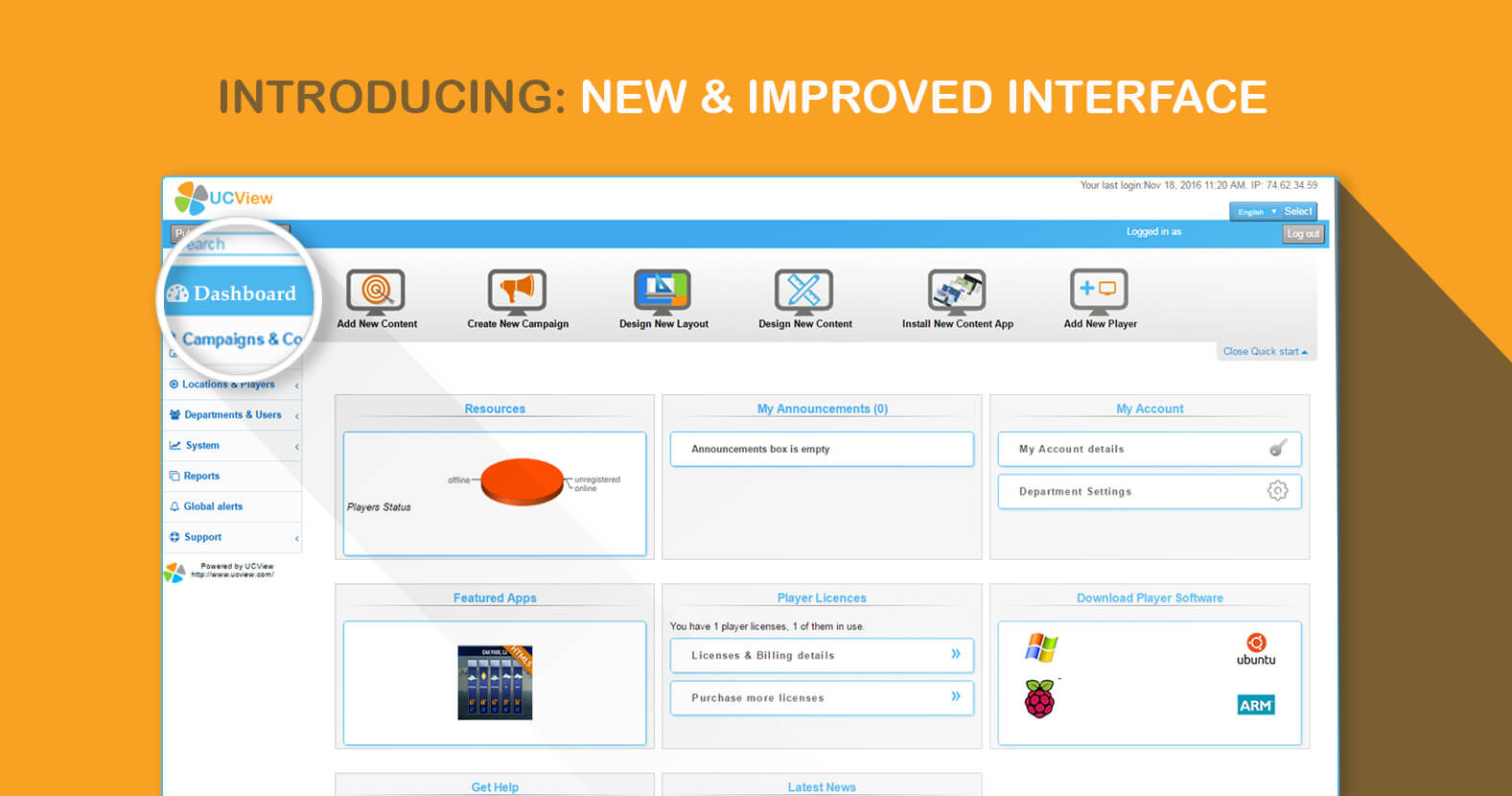 Easy to Use Web-Interface
From any known browser, quickly access our versatile and customizable web-based user interface. The flexible user interface consists of simple to use tools for optimal digital signage communication.

Multi-Screen / Video Wall
UCView's video wall digital signage feature consists of a simple and easy to use player with setup only taking minutes. Only one player is needed to run multiple displays and deliver flawless content to your audience.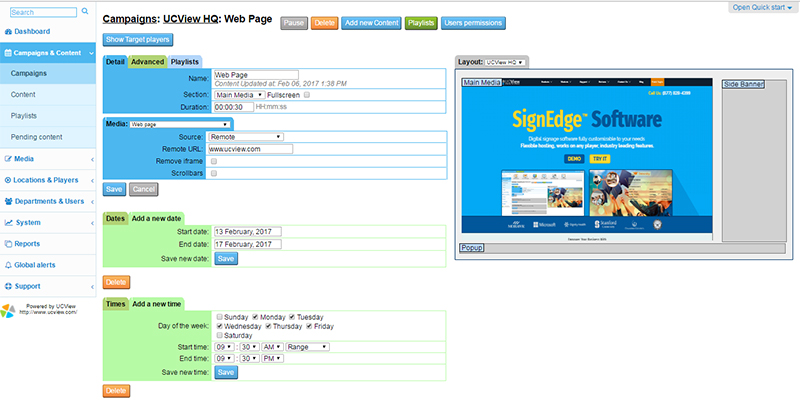 Campaigns & Content Scheduling
Flexible content scheduling with capability to schedule content by location or player, player groups, time period, tags, and rules. Dayparting/scheduling by date, time, event, on demand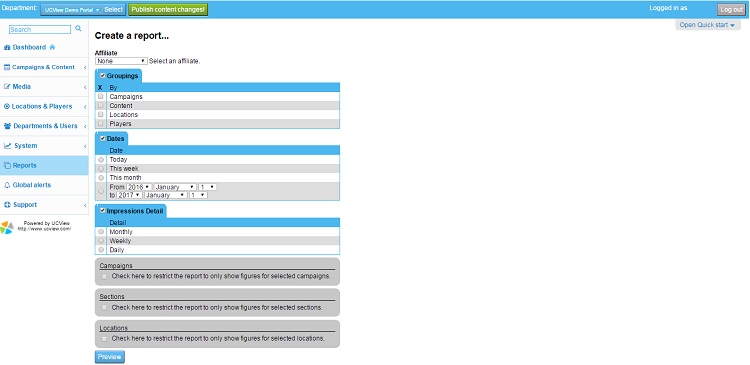 Analytics & Reporting
Admin dashboard for report overview. Create customized reports in seconds. Create proof-of-play reporting PDFs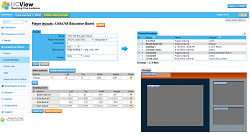 Layout Designs
Full feature layout designer Auto-rotate/resize/crop (portrait to landscape, any resolutions, drag and drop functionality, background and overlay with transparency.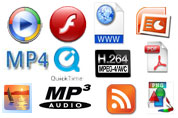 Supported Media Types
All of our players support popular formats shown below: WMV, Quick Time, MPEG layer 1,2,4, H-264, H-263, AVI, m4v,FLV, Div-X Images,Adobe Flash, PowerPoint, RSS,PDF, MP3 and More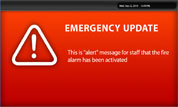 Emergency Messages
Activate Real Time Emergency Messages. Allow messages to be set by location or group of locations. Active alert through API, cell phone or from a remote computer. Include text, video and sound in the alerts.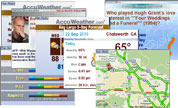 Built-in Content Integration
Over 20 Type of News by Yahoo, AccuWeather,and more. Trivia Games, RSS Ticker, Traffic Report, Daily Weather, 5 days forecast, Radar, Pollen, Multi Language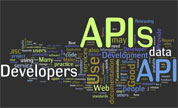 Digital Signage API
Activate content remotely using API call. Activate alerts or video on demand. Use any wireless device to interact with the display. Include text, video and sound in the alerts.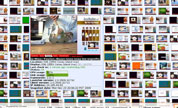 Network Monitoring
Check the status of your network with Player Health Monitoring. View live signal and snapshots from each display.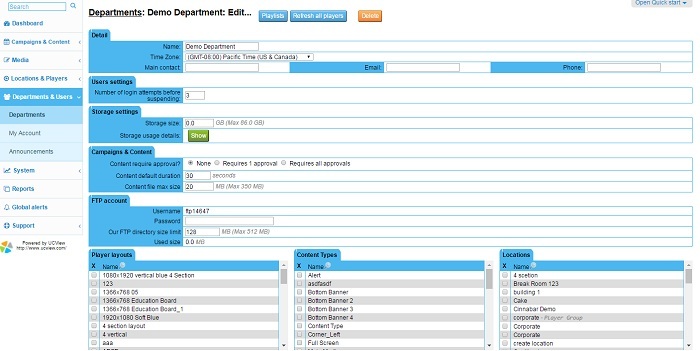 Departments & Users
Users can be assigned different access rights. Create a department with limited access per display and section. Activate content approval system to assign an approver for each content that's uploaded.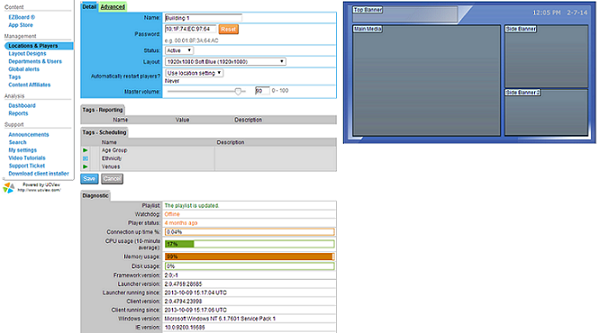 Maintenance Scheduling
Perform remote maintenance tasks such as reboot, upgrades, and rollback. Reboot task can be scheduled to execute at specific times. Seemingly upgrade to any future version.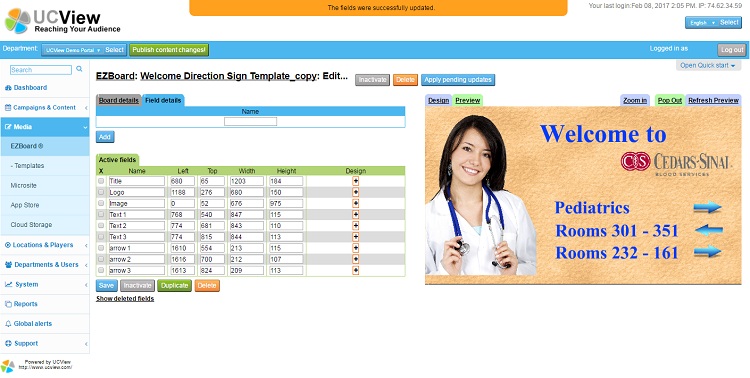 Content Creation
UCView EZBoard is the fastest, most cost-effective tool for creating dynamic animated content for digital signage. You can create dynamic messages including animation in minutes, without any scripting, by just using your web browser.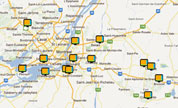 Map View
We've taken Google maps to the next level! As long as you have web access, you can check out where your displays are located anytime from anywhere with our new interactive Google Map View feature. This powerful tool allows for network owners and location managers to view the locations of all current digital content ensuring real-time accuracy.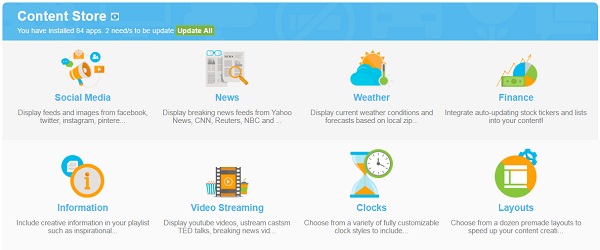 Content App Store
A new content store design was implemented to provide customers with a variety of apps to choose from. UCView content apps can be accessed through UCView's portal or server platform. Users can select from a number of widgets or content apps available to improve their digital signage network.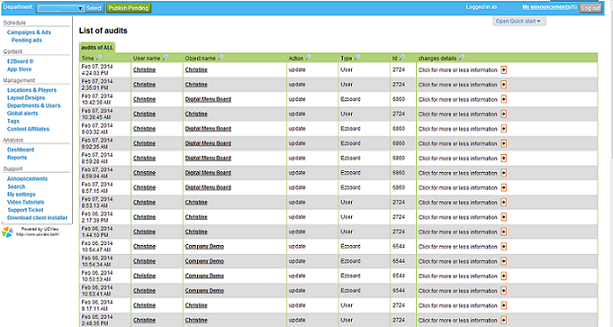 Audit Trail
Audit Trail is used for security purposes. An electronic audit trail provides a detailed history of digital signage operation, recording any data that was entered. Administrators can view who had access to the system, what actions were performed, and the date and time it occurred. Audit trail provides top-notch security for trouble-free operation of your digital signage system.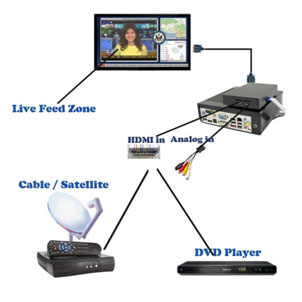 Live TV
The AVerMedia HDMI capture card allows for premium screening of your digital signage display. The HDMI capture card allows for users to connect to their cable/satellite set-top box and HD video recorders to capture HD video content and display it for viewing through their digital signage monitors.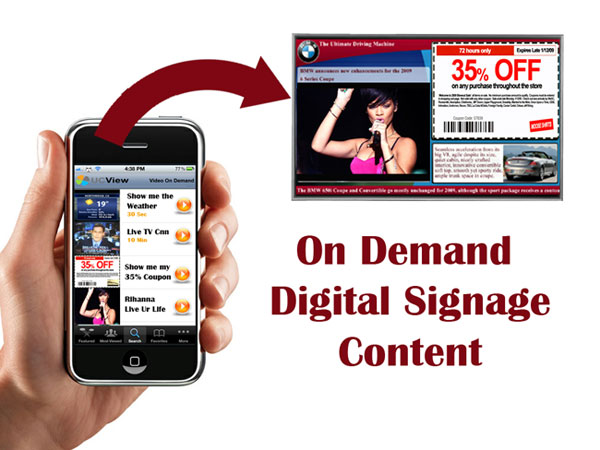 Video On Demand
Video on Demand allows access to content and apps stored in your library. Using a handheld device, updates can be added automatically to your digital signage display.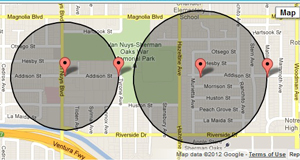 Digital Signage GPS
Can be used with transportation vehicles. Triggers and changes content by geographical location of your player. Plays content once you reach the desired coordinate or intersection.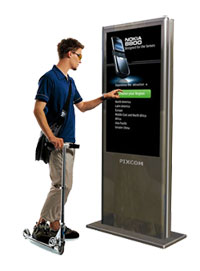 Touch Screen Kiosk
Utilize content equipped with a touch-screen menu that interacts with the public. UCView supports Kiosk functionality through touch-screen and EZBoard.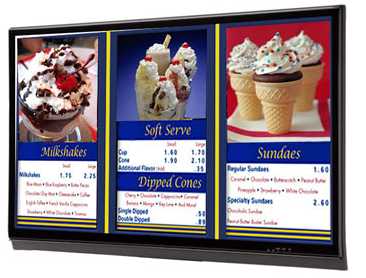 Digital Menu Board
Digital menu boards are a cost-effective method which saves time and money, allowing for you to modify menu items in just seconds. Digital menu boards can be very profitable for your business and little maintenance is required to keep it running all day.