Did you know that digital signage is 10 times more effective at capturing people's attention than static signs? That comes as no surprise because with a digital menu you can let your creativity run wild with vibrant images, animations and videos.
Digital menus go a long way in boosting foot traffic, increasing sales and overall customer satisfaction.
However, an extra perk of digital signage that often gets overlooked is dayparting. Dayparting is like having your own personal assistant that works around the clock to display the right information to the right audience at the right time.
Dayparting is widely used with menu boards but has applications in any business that needs to deliver timely information or quickly change room ambiance and energy. Using dayparting you can make your displays automatically show relevant content (i.e. menu items, ads, personalized messages) during the relevant time of day, week, month or season. Advertisers can even incorporate geoparting to personalize their offerings to customers based on physical locations as well.
The best part is that dayparting is not only convenient but can save you some time and money on a daily basis.
Save Time, Space & Costs
Imagine running a popular cafeteria where you are offering different breakfast, lunch and dinner menu options. On top of that, let's say your cafeteria is located in a resort where your patrons expect their meals to vary from day to day. So, if you are going with the vintage chalkboard menu solution imagine how much time you will be wasting writing, rewriting and switching out menus. Besides becoming better at calligraphy you are not gaining much benefit. Not to mention all the space requirements you will need to consider.
If you use a digital menu board with a dayparting feature your menu can automatically display the right items based on time of day and day of the week. You can even schedule out different menus weeks or months ahead – all in a single session.
Automatically rotating menus save time and screen real estate.
Updating digital menus is as easy as changing item names on a spreadsheet. And you can do it anywhere where you have access to a computer. You can even pick which images or videos will accompany relevant menus to make them even more dynamic. No more paying for printing and shipping every time you need to update a menu or run a new promotion.
Setting Up a Dayparted Menu
Using UCView's digital signage portal you can set up your own dayparted menu quickly and efficiently. If you already have a display, and a menu design in mind then it's just a matter of transferring your design to the screen.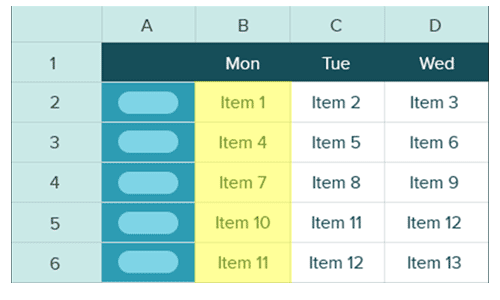 After our team has set up your menu you can update any visual or text element using a simple google spreadsheet. Once you hit save the menu will automatically refresh with updated content. The best part – you can setup dayparting days or weeks in advance leaving out the need to manually update the menu constantly.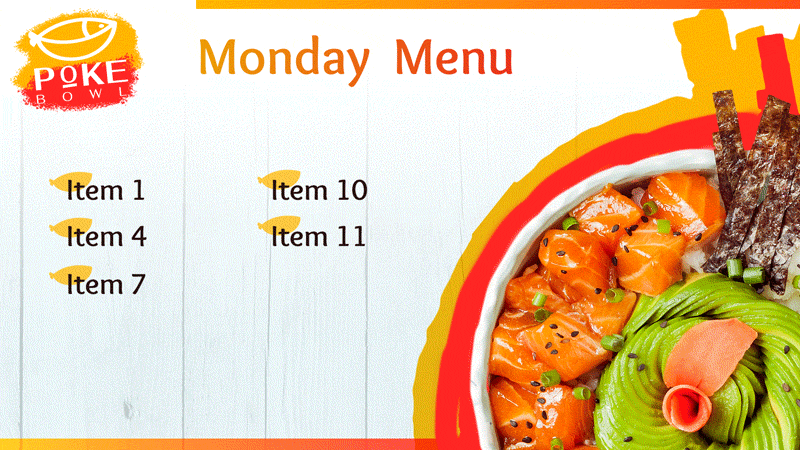 If you would like to know more about how you can start using a dayparted digital menu in your own establishment set up a quick one-on-one call with one of our digital signage specialists.