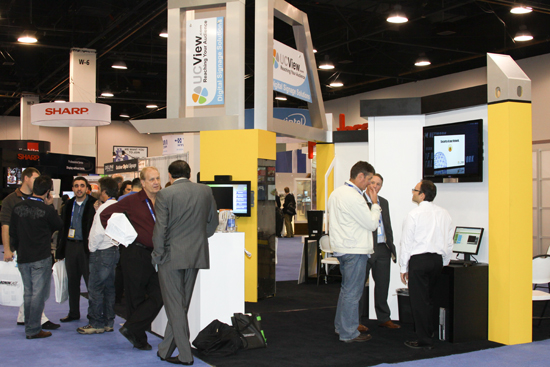 Thank you for visiting us at the 2010 Digital Signage Expo. We enjoyed all of the inspiring conversations, and the positive feedback we received regarding our products exceeded all our expectations. UCView Media had a very fruitful experience, and we will continue to champion digital signage solutions for our partners worldwide.
Our team is relentless in its pursuit of designing and developing a platform to suit our partners' ever-growing needs. We were very pleased with the overwhelmingly positive response to some of the newest additions to our platform that we unveiled at DSE2010. Some of the newest key additions to our products included:
• Global View, a feature providing a live snapshot of all your network's displays
• EZ Board, an easy-to-use content creation tool
• GPS and audience measurement integration
• Touchscreen capability for interactive displays
• ViewEdge Digital Signage Server series
• World's first interactive gas station pump top
We invite our guests from DSE2010 to experience the benefits of UCView Media first-hand. Visit our website at http://www.ucview.com and receive a free 30-day trial. We look forward to all of your feedback on our software, and we encourage you to share this risk-free offer with your customers and partners.
Thank you again for your interest in our innovative digital signage products. We will contact you soon to discuss how our solutions can cater to your specific needs.

Best regards,
Guy Avital
CEO
UCView Media Inc