Digital signage can be found everywhere, from a massive video wall solution installed within a casino to a wayfinding kiosk located in a building of a university campus. In addition to increased digital signage use, the need to combine digital signage with interactivity has been immensely growing in popularity over the years. Smart sensors built into digital signage is helping increase consumer engagement as well as boost sales.

UCView recently implemented a digital signage unit, powered by Raspberry Pi, which contains a built-in proximity sensor. A proximity sensor is able to detect the presence of those who are nearby without any physical contact. For instance, an ATM screen with a built-in proximity sensor can automatically trigger a playlist of ads for display whenever it senses an approaching patron. Once the patron steps away from the screen, the ATM will revert back to displaying previous content. This solution helps deliver personalized content to passersby at the right time, therefore, enhancing the relationship between the business and the consumer.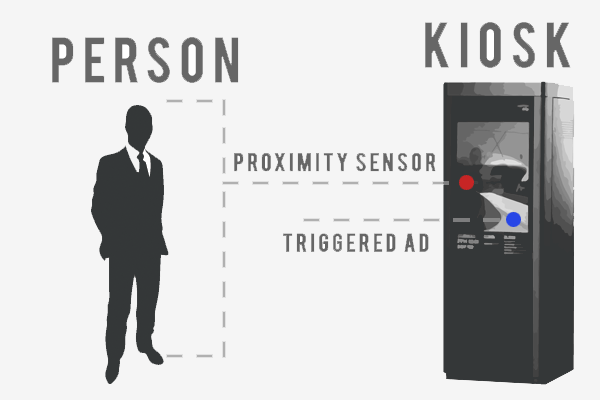 Proximity detection has a variety of unique uses in digital signage. In certain circumstances it can replace some touch functionality; the user would not have the need to touch the screen to navigate to a particular option. Paired with voice over technologies, proximity sensors can be used to help the visually impaired navigate through touch screen interfaces. When used in a contextually relevant environment, proximity sensors can provide passersby with relevant information. The use of proximity sensors are extremely beneficial for patrons as it not only enhances the consumer experience, but it boosts their attention, awareness, and overall satisfaction.