Date Time Widget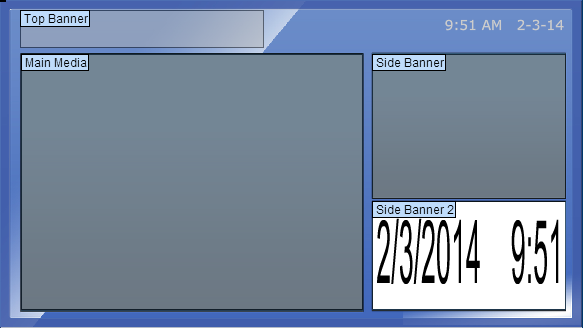 Stay digitally up-to-date using our Date Widget. Perfect for your dashboard or digital signage, the Date Widget provides a powerful tool in organizing all of your important upcoming events. Users can choose and change from fun and attractive fonts, color schemes, and backgrounds. Plus, you can control and post your changes instantly and easily with the dynamic interface available in the widget.
SIZE FORMATS
This content app can be cropped to fit aspect ratio 16:9 or 4:3; this feed can be customized to fit any zone size except for the header and footer. This content is best shown in the side banner or in the main media section on a horizontal screen.
LENGTH
We recommend the clip to be shown for 30 - 60 seconds, however, you may select any duration.
ANIMATION
Animation is included with this app.
AUDIO
No sound. Optional music on music zone available.