Signage iCal Widget Content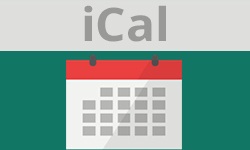 The iCalendar widget allows for you to view your daily, weekly, monthly, and even yearly schedule. UCView allows for you to customize your iCalendar and keep it up-to-date by arranging the number of events to be displayed on screen, the number of days back, and the number of days forward. This free digital signage app is very helpful for keeping employees on top of their upcoming meetings and deadlines. This is also ideal for education institutions to keep students well-informed on upcoming events and activities.
SIZE FORMATS
This content app can be cropped to fit aspect ratio 16:9 or 4:3; this feed can be customized to fit any zone size except for the header and footer. This content is best suited for the main media section on a horizontal screen.
LENGTH
You may select any duration for this app.
ANIMATION
Animation is not included with this app.
AUDIO
No sound. Optional music on music zone available.