Signage Sky Sports HTML5 Content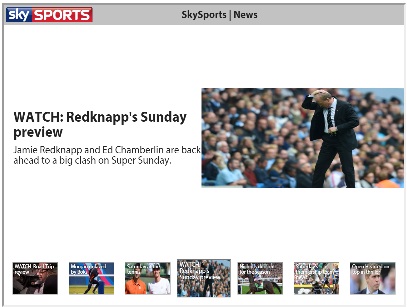 Sky Sports News HTML5 delivers a constant flow of hot topics focusing on the world of sports. This app functions as a slideshow, allowing for your audience to keep up to date with top sport news stories occurring throughout the globe. Customize the app by selecting a text theme color or background color of your choice.
SIZE FORMATS
This content app can be cropped to fit aspect ratio 16:9 or 4:3; this feed can be customized to fit any zone size except for the header and footer. This content is best shown in full-screen mode or in the main media section on a horizontal screen.
LENGTH
We recommend the clip to be shown for 30 - 60 seconds, however, you may select any duration.
ANIMATION
This app runs in a slideshow format.
AUDIO
No sound. Optional music on music zone available.