Bar Chart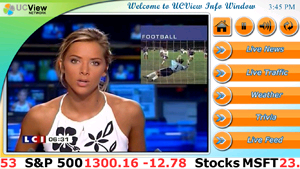 Barchart is a leading provider of financial content, ranging in services from integrated digital signage content and market data feeds to software licensing and white-labeled products. Our solutions are completely customizable or turn-key. Whether you require dynamic market data and market information for your website or streaming real-time market data feeds for front or back-office systems, Barchart provides both simple and comprehensive market data services to fit your needs. Our advanced technology ensures reliability and low latency, as well as seamless and quick integration.
SIZE FORMATS
This content app can be cropped to fit aspect ratio 16:9 and 4:3; this feed can be customized to fit the bottom banner.
LENGTH
You may select any duration for this app.
ANIMATION
Animation is included with this app.
AUDIO
No sound. Optional music on music zone available.