Signage Digi Know Content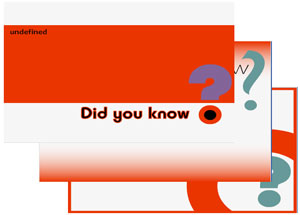 Creating fun, unique factoids, interesting tidbits, and much more on a daily basis has never been easier or more fun with the "did you know" digital signage content app. This content app offers many features, including custom-tailored design elements such as unique color palettes, state-of-the-art animation tools and components to best serve your communication goals. Plus, this digital signage content app allows you to incorporate live data and tag statements with time and date information, delivering a high-impact message to your audience whenever and wherever you need it in no time at all. The benefits of incorporating "did you know" statements into your digital signage displays. There are endless opportunities in utilizing the "did you know" content into your daily advertising line-up. This application allows for you to stand apart from competitors by offering personalized, memorable, and up-to-date messages with style and flair. Each message you provide can be used to inform, educate, and capture your audience's attention while keeping them engaged with relevant and attractive content. Additionally, this app features the ability to constantly display an unlimited number of tips and something new every day. This app offers a user-friendly platform for advertisers to integrate key content seamlessly and efficiently into their display.
SIZE FORMATS
This content app can be cropped to fit aspect ratio 16:9 or 4:3; this feed can be customized to fit any zone size except for the header and footer. This content is best shown in full-screen mode or in the main media section on a horizontal screen.
LENGTH
We recommend the clip to be shown for 30 - 60 seconds, however, you may select any duration.
ANIMATION
Animation is included with this app.
AUDIO
No sound. Optional music on music zone available.