Signage Folder Slideshow Content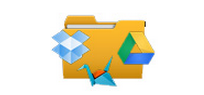 Load all of your images to any local folder, shared network folder, Google Drive, or Dropbox and use the Folder Slideshow app to display a slideshow of images on your screen. This innovative digital signage content app allows for you to use a smart phone to upload images and make updates via a folder and then have those images show up on your screen in slideshow mode. There is no need to log in to your content management system in order to add pictures onto your screen.
SIZE FORMATS
The images used within this content app can be cropped to fit aspect ratio 16:9 or 4:3; this feed can be customized to fit any zone size except for the header and footer. The content for this app is best suited for the main media section on a horizontal screen.
LENGTH
We recommend that the images for this app are shown for 30 - 60 seconds, however, you may select any duration.
ANIMATION
This app runs in a slideshow format.
AUDIO
No sound. Optional music on music zone available.