QR Code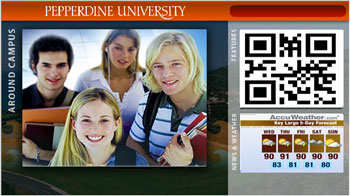 A QR code, which is short for Quick Response code, is a bar code made of a two-dimensional code that is readable by a barcode scanner or camera telephone. The code consists of black modules arranged in a square pattern on a white background. The QR code can contain information like text, URL, phone number, SMS, or contact information via a vCard. UCView Technology allows you to generate and embed QR codes with your digital signage content. With the use of an easy to use app, you will have engaging content in just minutes.
SIZE FORMATS
This content app can be cropped to fit aspect ratio 16:9 and 4:3; this feed can be customized to fit any zone size except for the header and footer. This content is best shown in the side banner or in the main media section on a horizontal screen.
LENGTH
We recommend the clip to be shown for 30 - 60 seconds, however, you may select any duration.
ANIMATION
Animation is not included with this app.
AUDIO
No sound. Optional music on music zone available.