Early adopters are facing real challenges in creating, localizing, and managing content
Digital Signage for Financial Institutions
Manageable Foundation for digital signage network
Financial institutions usually feature long lists of valuable customer services - and equally long customer lines that can cause you to lose business. UCView Digital Signage Solutions help you improve customer cycle time and turn long lines into selling opportunities: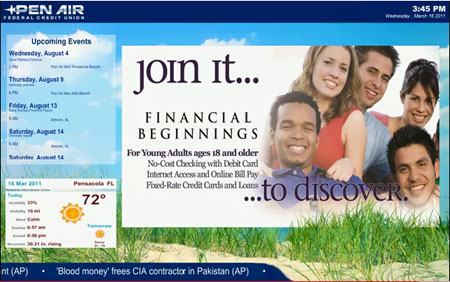 Display current financial solutions, including home mortgage rates, specialized investment services, promotions for new accounts and contact information to drive waiting customers to your other offerings
Use attractive graphics, music, and video to entertain and inform your customers.
Scroll ticker-style information such as news, weather, sports and other information across the top or bottom of your display screen.
Create custom campaigns and schedule them for each area in the branch or to be distributed to all branches at once.
Reduce your reliance on expensive static print ads and save time, money and outsourcing uncertainty.
Show holiday hours, policy changes, or other special announcements, all updated at any time, from anywhere, with a few mouse clicks.
Place digital signage in drive-thru lines and outside your entrance to get your targeted messages and service ads to those who don't enter your branch.
Touchscreen displays can provide customers with a high-tech sign-in pad in order to see financial and account specialists.
Rent advertising space for local businesses and related organizations as another service for waiting customers - and more quickly recoup your digital signage investment.
UCView's digital signage can be used in single-location financial institutions and large financial institutions with multiple offices. Expanding your signage solutions is as simple as adding players and displays. Add new displays to existing campaigns for different offices in different time zones with UCView's easy-to-use interface.