OmniView Solution For Stadiums

Robust, end-to-end, IPTV and digital signage
OmniView is specifically designed for stadiums that need full control over extensive multimedia systems deployed throughout the venue. OmniView provides additional revenue streams as well as elevated user experience with live streaming content and targeted advertising with dynamic content. Administrators can easily manage integration and delivery of content from multiple sources to different areas of the venue such as restaurants, clubs and VIP booths. You can even go beyond regular screens with video walls and large LED displays.
When used together with smart displays, OmniView removes the need for complicated setup boxes and enables full hardware management. Administrators have full control over every screen in the venue from a central point. Content playing on any or all screens can be changed manually or through a trigger based on time or an event.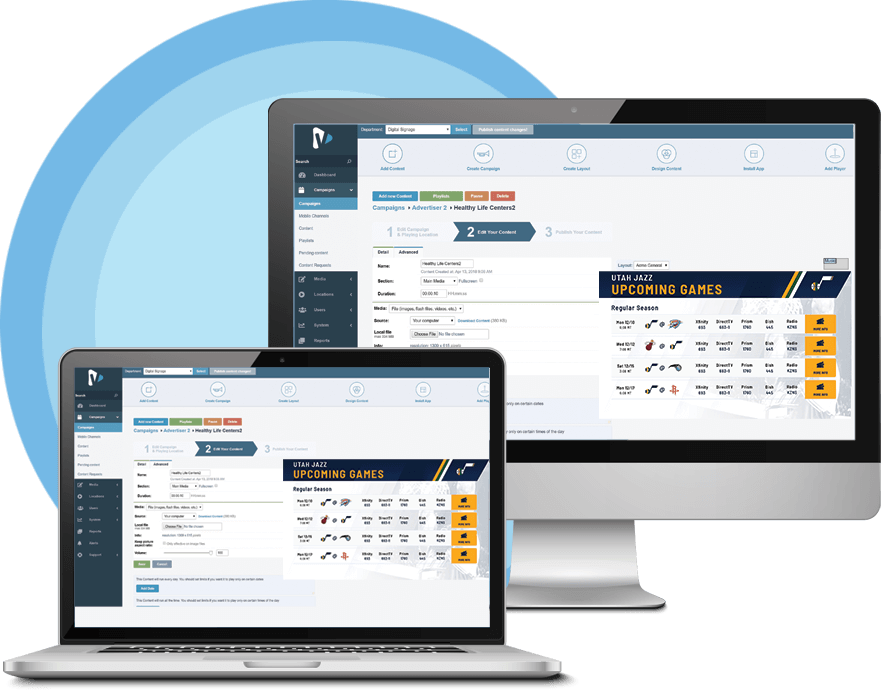 How We Can Help
Our system is easy to install, manage, and use for scalable delivery of high quality, live, and on-demand digital content in any media formats. No special skills or extra IT costs are needed.
Go with an on-premise solution to leverage your own data centers or opt for the cloud with CMS maintenance.

13 Years
In Business

6,000+
Happy Customers

10,000+
Installations
Full Control Over Your Screens
OmniView gives you full message synchronization across all screens at any time. Override currently playing content on any or all screens at any time. This is useful when you want your patrons to focus on an important message or alert, watch the live game and more. Easily schedule a campaign change based on time or a certain event. Additionally, you can override currently playing campaigns on all screens at any time.
Control how you screens behave by adjusting brightness and volume or turning any screens on or off. All this can be done conveniently and quickly from one location. With OmniView's global view feature you can see the status of all the screens in your venue simultaneously. If any screen experiences issues you will receive an alert ensuring minimal downtime.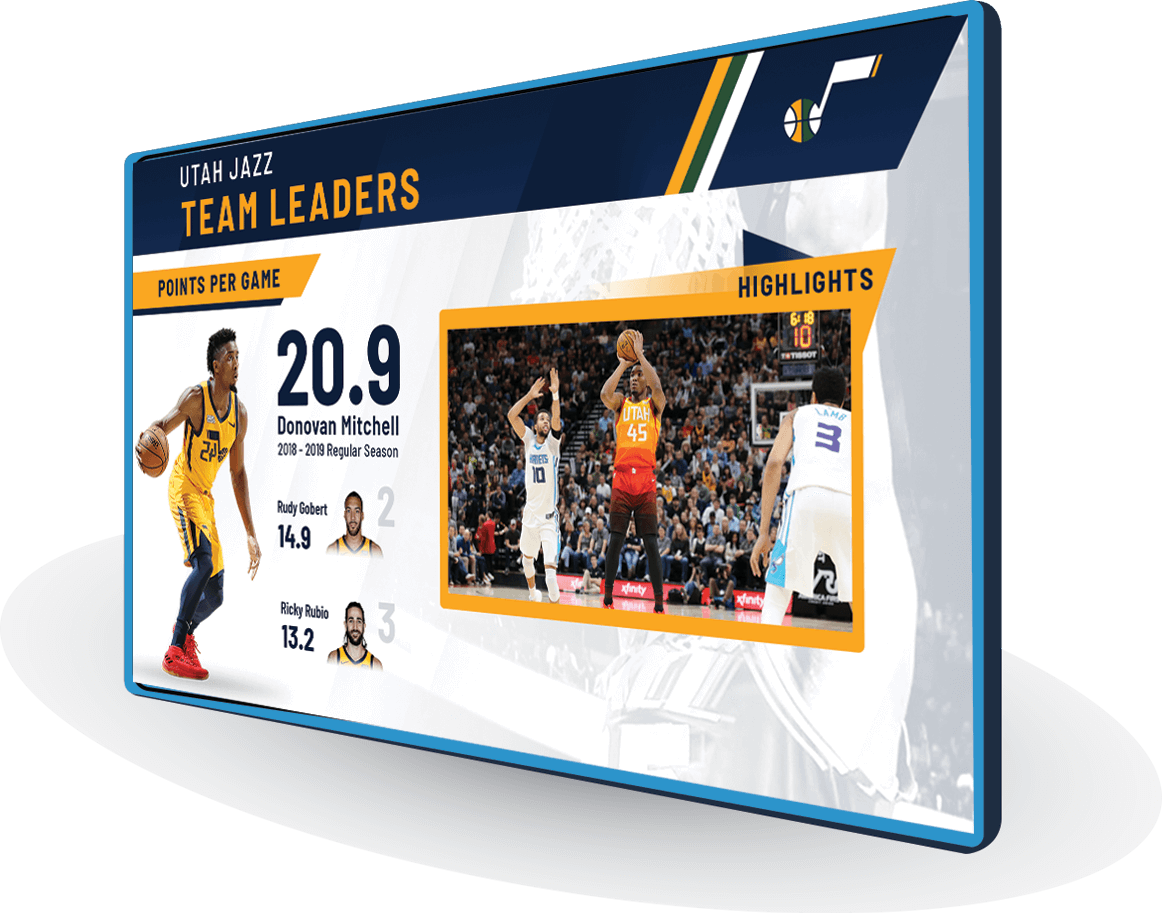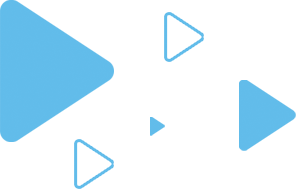 Complete Digital Experience
IPTV
Stream venue programming or external channels on any or all screens throughout the venue. Stream all angles of a game or show, on multiple devices at the same time; allowing your patrons to leave their seats, and continue to experience the context of the event, further opening up chances to increase revenue.
MENU BOARDS
Using UCView software display smart menus with dayparting, engaging layouts and appetizing images. Easily updated items on any menu board from one location. Menu boards are also a great option for promotions and branding opportunities.
VIDEO WALLS
Outfit empty section of your venue with large, beautiful video wall to entice visitors and create a special ambiance.
TOUCH SCREEN KIOSKS
Give customers a luxury suite experience by placing one or multiple touch enabled screens in a VIP booth. Patrons have the choice of viewing a live stream of the venue event on one TV and external channels on another at the same time. Customizable touchscreen interface can reinforce branding and summon concierge services at a patron's request without having to leave their seat. Optional integration with POS systems provides the ability for patrons to purchase food and merchandise right from their seats.
ADVERTISING
Create opportunities for targeted advertising in any location of your venue. Quickly update ads from any computer or mobile device. Schedule ads based on location, time or events. Use vivid imagery, videos and animations to capture attention and reinforce branding. Expand your revenues streams with 3rd-party advertising and co-branding.
Full Hardware Management
With OmniView you have full control of your hardware without the need for additional equipment. If you are using Smart Screens from one of our partners you do not need to purchase any setup boxes.

Time & Event
Triggers

Local
Weather

Interactive
Experiences

Live
Updates
You can choose from a variety of L-Bar style layouts for the screens that show live weather and RSS feeds in addition to the live stream. L-Bar style layouts are perfect for brand reinforcement and 3rd party advertising.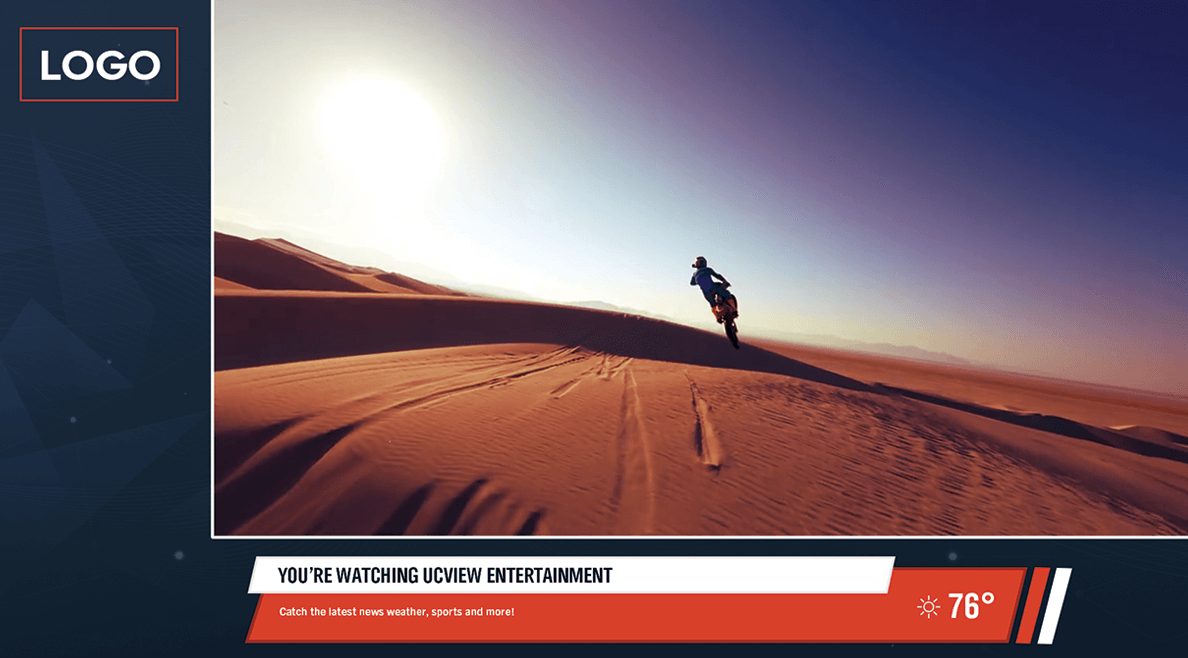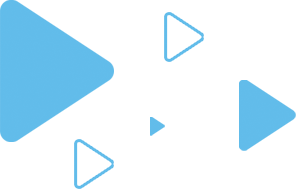 Digital Signage Capabilities
Utilize the power of digital signage to integrate dynamic video, animation, vivid images and dozens of apps into your displays enhancing customer experience. Combine the power of IPTV and digital signage together and stream live broadcasts directly on the display with your content to attract attention and provide a seamless entertainment experience.
SCHEDULE WEBINAR FOR AN
IN-DEPTH WALKTHROUGH OF OUR SYSTEM