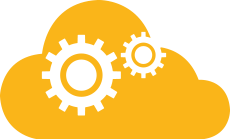 Cloud-based Digital Signage Players
Digital signage players with a SaaS (software as a service) are very useful for both large and small organizations. SaaS is hosted on a cloud, allowing for you to access your network via the Internet. SaaS eliminates the hassle of having to own and manage a server. It's an ideal solution for any corporation that wants to deploy on an international scale. Cloud digital signage players allow for control and management all from a remote location. It's highly secure and extremely beneficial for corporations that don't want to handle the installation process, maintenance, and upkeep of a system in their own facility.
Server-based Digital Signage Players
A server is a hardware solution which allows for management and scheduling all from a remote location. Server-based digital signage players are vital for organizations that rely heavily on security and carry sensitive information. Servers are ideal if Internet connection and downloads are internal and communication is local via an on-premise based solution. Just one server can be used to connect with multiple players.