SignEdge Xtreme All-in-One Media Player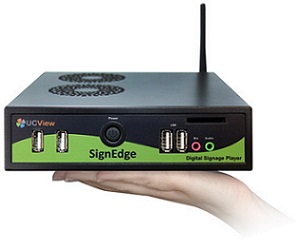 SignEdge Xtreme allows for you to communicate to a wide audience without any complications. Communication to your audience is easy and fast, as this robust player includes powerful computing performance and high-quality graphic displays. The SignEdge Xtreme provides you with premium operation of your digital signage network.
Standalone players do not require server or SaaS subscription. Annual software support and updates are $100, due after initial 12 months and each subsequent year.
Features
---
All-in-One: built-in hardware and software
i5 CPU with 1GB nVIDIA video card
120GB Solid State Hard Drive
Can run two (2) HDMI screens with a converter
Player Specifications
---
Processor

Processor family

i5 CPU


OS

Operating system

Linux


Memory

Memory

2GB up to 4GB


Capable of running two HDMI screens with a converter


Video Output

Video OutPut Connectors


1 X HDMI Connector

Network

1 Realtek® RTL8111D Gigabit LAN Controller


Storage

Hard Drive

120GB Solid State Hard Drive
Optional 32GB or 64GB

Other Info

Dimensions

Form Factor (Size)
Size 190(W)x190(D)x35(H)mm; 7.5(W)x7.5(D)x1.4(H)

Warranty - year(s) (parts/labor)

1/1/1


Support Media Format

---

Video

Microsoft Windows Media

WMV

MPG Family

MPG
MPG1
MPG2
MPG4
H.264/AVC

H-264
MOV
m4v
Quick Time
DIVX

H-264
MOV

Flash Macromedia

Flash FLV
MPEG layer

MPEG 1
MPEG 2
MPEG 3

ELECTRONIC MEDIA:

Adobe Flash

SWF

Live RSS

RSS
XML
Web Pages

HTML
Dynamic Pages
Acrobat PDF

PDF

Images

JPEG Images

jpg

GIF Images

gif

BITMAP Images

bmp

Audio

MPEG-1 Audio Layer 3

MP3
Windows Media Audio

WMA
Audio for Windows

wav
wave