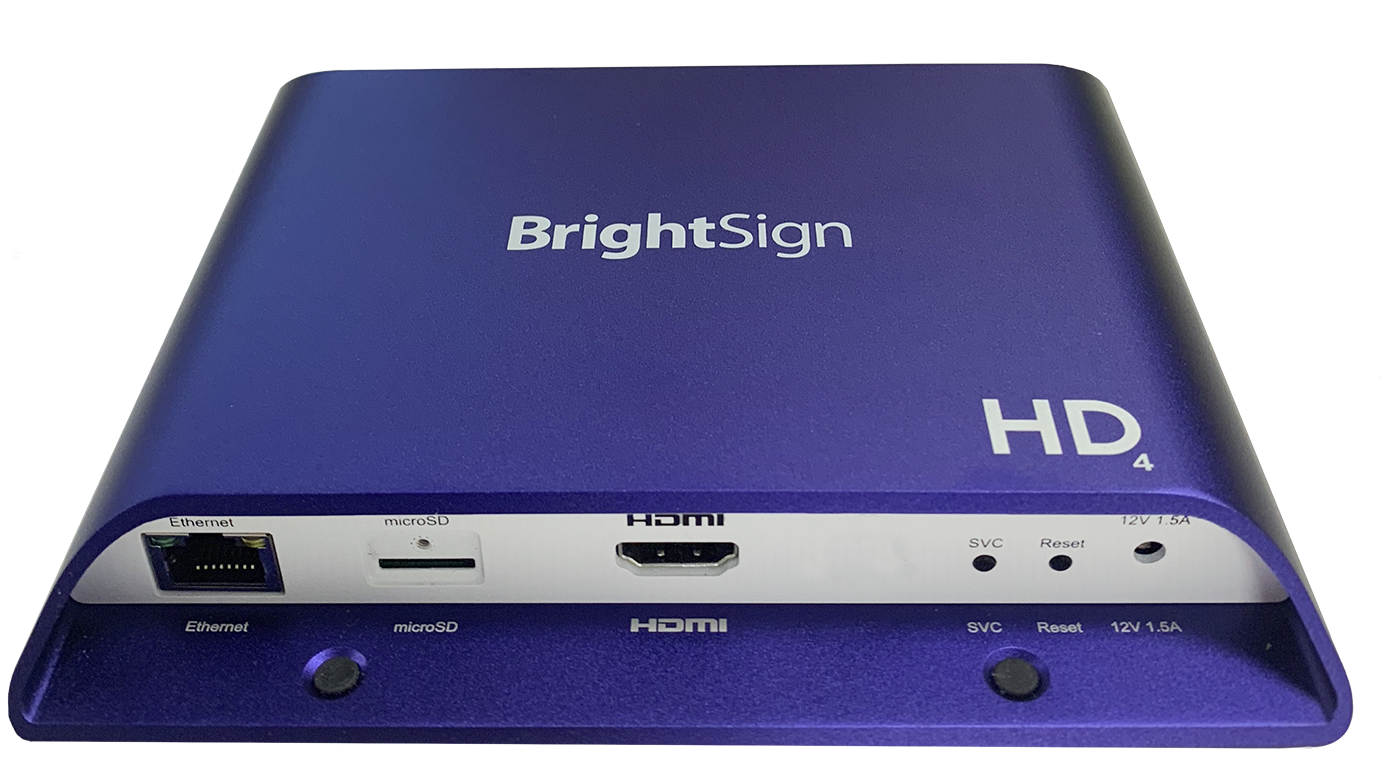 HD224
BrightSign's HD224 provides crisp and clear 4K and Full HD single video decoding, as well as modern HTML5 preformance and features. The HD224 can simultaneously playback local, networked or streamed content white presenting HTML5 elements.
The package is filled with features such as Gigabit Ethernet, IR, analog and digital audio.
HD1024
HD1024 provides the same features and build as the HD224, along with aditional interactive options via USB2.0 (typa A) serial ports to create a completely captivating experience for your audience.
HD224
HD1024
VIDEO ENGINE DECODER
True 4K@60p video decoding
X
X
Single 4K or 1080p60 video decoding
X
X
MEDIA FORMATS
Video Codecs for 4K content: H.265/H.264
X
X
Video Containers for 4K H.265/H.264 content: .ts, .mov, .mp4
X
X
Video Codecs for Full HD: H.265, H.264(MPEG-4, Part 10), MPEG-2, MPEG-1
X
X
Video Containers for Full HD: .ts, .mpg, .vob, .mov, .mp4, .m2ts
X
X
Images: BMP, JPEG, PNG
X
X
Audio: MP2, MP3, AAC, and WAV (AC3 is passed through)
X
X
HTML5
X (Mainstream)
DISPLAY RESOLUTIONS
4K resolutions: 4096x2160, 3840x2160, 3840x600
X
X
Upscaling to: 3840x2160x24/25/29.97/30p
X
X
1920x1200, 1920x1080 x24/25/29.97/30/50/59.94/60p, 1920x1080x50/59.94/60i, 1600x1200x60p, 1440x1050x60/75p, 1440x900x60/75p, 1360x768x60p, 1280x1024x60/75p, 1280x960x60p, 1280x800x60p/75p, 1280x768x60p, 1280x720x50/59.94/60p, 1024x768x60p, 800x600x60/75p, 720x576x50p/50i, 720x480x59.94/60p/60i, 640x480x60p
X
X
HARDWARE INTERFACES
External micro SD Slot (SDHC and SDXC); SDHC storage up to 32GB SDXC storage up to 2TB
X
X
USB High Speed Host Port (also supports content updates)
X (Type A)
12-pin Phoenix GPIO port with 8 bi-directional GPIOs
X
X
3.5mm RS-232 Serial Port X3.5mm IR In/Out
X
X
3.5mm Audio Out (analog -or- SPDIF digital, non-simultaneous)
X
X
HDMI 2.0a Out
X
X
Ethernet X (Gigabit)M.2 (E) Keyed Wi-Fi/Bluetooth Connector
X
X
Wi-Fi External Antenna Connector (optional)
X
X
Status LEDs
Power, Error, Busy, Update
Reset and Service Buttons
X
X
Real Time Clock
X
X
FEATURES
H.265 Decoding: smaller le sizes and lower bitrates than H.264
X
X
HTML5: hardware-accelerated engine that plays modular HTML assets awlessly alongside high-bandwidth video
X (Mainstream)
BrightBeaconTM: 2-way Bluetooth/Beacon communication between mobile devices & signage (requires: wireless/Bluetooth module)
X
X
MISCELLANEOUS
Dimensions (W x H x D)
159.9 x 22 x 144.2mm or 6.3 x 0.87 x 5.7 in
Weight
12 oz
Power
12V / 1.5A (18 Watts)
Multi-Country Power & Regulatory Approvals
X
X
Built-in Wall Mounting Brackets
X
X
1 year warranty, parts and labor
X
X
Supported Features
| Feature | Windows | Linux |
| --- | --- | --- |
| Video Support | .webm .avi .wmv .m4v .mov .h264 .3gp .mp .mpg .mpeg .mp2 .mpg2 .mpeg2 .mp4 .mpg4 .mpeg4 | .webm .avi .wmv .m4v .mov .h264 .3gp .mp .mpg .mpeg .mp2 .mpg2 .mpeg2 .mp4 .mpg4 .mpeg4 |
| Image Support | png .jpg .jpeg .gif .bmp .svg | png .jpg .jpeg .gif .bmp .svg |
| Audio Support | .mp3 .wav | .mp3 .wav |
| Interactive Support | .pps .pptx .ppt .xls .xlsx .pdf .swf .flv .htm .html | .pdf .htm .html |
| Other Supported Formats | .3d .e3d .ugp .srt .vtt .wvtt | .3d .e3d .ugp .srt .vtt .wvtt |