SignEdge 50 Digital Signage Player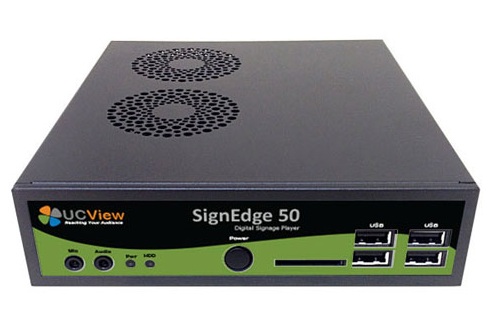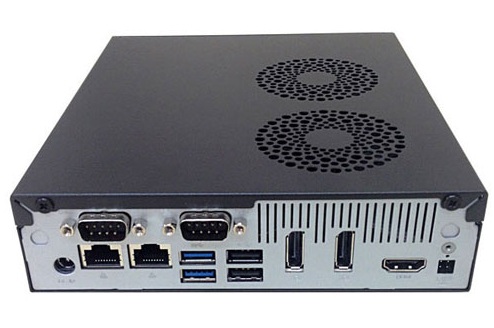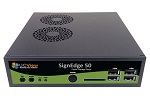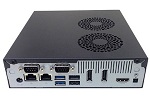 SignEdge Pro Overview
Standalone players do not require server or SaaS subscription. Annual software support and updates are $100, due after initial 12 months and each subsequent year.
---
The all-in-one SignEdge media player provides an out-of-the box solution for your digital signage displays, creating unique but powerful applications to enhance the performance of your digital signage monitors. This standalone player enables users to efficiently create content, insert content store apps, and manage a software and player bundle. Without a monthly subscription fee, the SignEdge player is a functional, but highly affordable all-in-one hardware and software solution. With advanced communication technology, this system allows users to reach their audience with dynamic content tools, RSS feeds, Twitter streams, local messaging, social media tools, menu board tools, and QR codes. This standalone player includes a built-in CMS and allows for easy ad scheduling, content creation, layout design, and touch screen functionality. This all-in-one player is easy to install and simple to use, making it ideal for both beginners and advanced users. Along with being user-friendly, practical, and powerful, this player requires no additional fees for displaying content and no monthly costs.
---
SignEdge features include built-in content design and creation engine, advance touch-screen and mobile marketing capabilities, and a growing content store offering more than 50 free dynamic content tools, including RSS feeds, Twitter streams and other social media visualizations, local messaging, menu board tools and QR codes.SignEdge is a high-functioning platform but simple and friendly enough that anyone, even if they didn't know a thing about digital signage, can set up and manage with little or no training.

Additional player highlights include all the scheduling, distribution and management capabilities of leading digital signage content management systems with the ability to play any type of media on your digital signage network (video, live TV, images, Flash, Web pages, RSS feeds and more) while fully supporting multiple languages such as English, Spanish and French for all aspects of the operator user experience. Plus, an easy upgrade path that's built into SignEdge's design, allowing small business users to grow their networks with their company and locations.

For those a little more tech savvy, SignEdge also features Intel's powerful, but budget-conscious Atom process, Nvidia's acclaimed ION2 graphics processor, Apple IOS for remote monitoring, Windows and Linux support and browser interface. Additional technical highlights include dual screen outputs, simple numeric string login, small form factor play unit and built-in WIFI applicable anytime, anywhere.

Once content is published, users can use additional tools like UCView's new Map View feature to see where all current campaigns are being displayed anytime from anywhere. From content creating to monitoring and maintaining, UCView's revolutionary SignEdge software player does it all. Enjoy!
UCView's innovative SignEdge software player offers several benefits. The cost savings of bundling several applications and software functions into one dynamic player rival the most sophisticated subscription and enterprise platforms available on the market. Thus, this simplified solution allows a significant decrease in advertising spending and quicker realization of advertising goals. SignEdge's simple set up is designed for absolute ease of use that anyone can operate and install with little or no training in just minutes. It's incredibly fast andeasy-to-use capabilities easily reduce the technical challenges associated with other software players. The player is also small enough to easily mount behind a display panel, or inside it, using industry-standard slots available on many monitors.Additionally, SignEdge's platform is highly flexible, running on all current Windows operating systems, as well as Linux. Management of a SignEdge system is available on any standard browser making it virtually versatile to users.
Connection Diagram
.
Features
---
Latest technology:
The latest video technology and the performance you expect from a leading commercial 2.5GHz Intel CPU with built-in graphics.
No additional fees:
The all-in-one SignEdge media player does not require a subscription or monthly fee.
Built-in content design and creation engine:
With a built-in content creation engine, have full management control over your digital signage network. Create, modify, and release content, ads, and more for your viewers.
Player Specifications
Player Comes With Pre-Loaded UCView Software
Quick Specs
See Detailed Specs
US QuickSpecs »Player PDF
Color
Charcoal
Construction
Aluminum die-casting
Dimensions
6 ½ x 7 ½ x 1 ¾ Inches
Processor
2.8 GHz Intel Celeron G1840
Memory
Installed: 2GB SoDimm DDR3
Capacity: 16GB SoDimm DDR3
Operating System
Linux Ubuntu 14.04 LTS
Network
2 x 10/100/1000 Integrated LAN
802.11 b/g/n up to 300 Mbps
Storage
60GB Solid State Drive
Video Output
2 Display Ports
1 HDMI
Input/Ouput
Front: SD Card Reader, 4-2.0 USB, 3.5mm Microphone Input, 3.5mm Audio Output
Rear:2-COM Ports, 2-3.0 USB, 2-2.0 USB
Warranty - year(s) (parts/labor)
3/3/3
---
Supported Formats
Video
Microsoft Windows Media
WMV
MPG Family
MPG
MPG1
MPG2
MPG4
H.264/AVC
H-264
MOV
Flash Macromedia
Flash FLV
MPEG layer
MPEG 1
MPEG 2
MPEG 3
Electronic Media
Adobe Flash
SWF
Live RSS
RSS
Web Pages
HTML
XML
Dynamic Webpages
Acrobat PDF
PDF
Images
JPEG Images
jpg
GIF Images
gif
BITMAP Images
bmp
Audio
MPEG-1 Audio Layer 3
MP3
Windows Media Audio
WMA
Audio for Windows
wav
wave