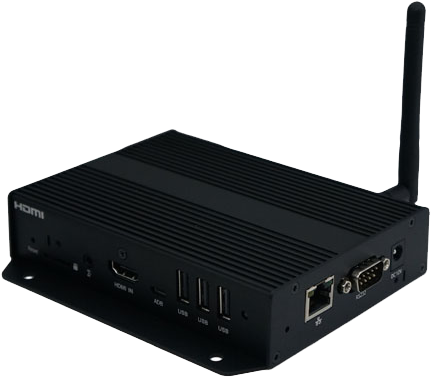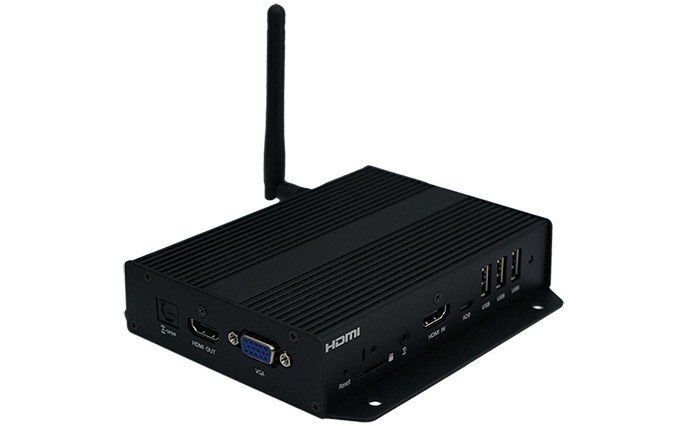 ViewMedia 35
ViewMedia 35 allows you to integrate video sources with dynamic HTML5 or image content to create advertising overlays and live video playback on any screen. ViewMedia 35 includes HDMI input port. With this you can add any video source, from a camera to live-tv, and play this back in real-time with ad based content. Create "L-bar" style screens that show live video alongside your unique branding. Or add your branding to any video source.
Features
Perfect for live streaming applications at a sports bar or a restaurant, ViewMedia 35 offers HDMI in video input and enables users to create any signage content using their favorite graphics/video software.
Dual output includes both HDMI and VGA outputs, allowing for more versatile applications. Play the same contents simultaneously for two different displays – do more for much less cost!
Remote control is your best friend for all scales of deployments. Take about convenience at its best! RS232 port allows users to receive display information, such as device status or any trouble shooting, and to turn the display on or off.
Easy switch between various viewing orientations. Multiple zone layout also available.
View Media Guidelines
Operating System Support: Windows 7, Windows 8.1, Windows 10, Linux
Supports Windows Network, including Active Directory or any Windows Network Environment, such as VPN, VLAN, etc.
UCView is a Windows Native . NET application
All communication between UCView application and the UCView server is done over Port 80. All other ports can be blocked. Anti-virus can be installed on a player machine, however, anti-virus can affect player's performance while it's running.
Quick Specs
Color
Black
Construction
Aluminum
Dimensions
138.60mm x 128.10mm x 30.20mm / 5.45" X 5.04" X 1.19"
Memory
8 GB flash memory
Operating System
Windows 7/ Windows 10/ Linux
Connectivity

WiFi: 802.11 b/g /n (2.4 GHz)

HDMI 1. 4 output (Full - HD 1080p with audio)

VGA out

Ethernet 10/100 BASE - T

USB 2.0 x 3

HDMI 1.4 input with HDCP (HD 720p with audio)

3.5mm analog stereo audio out

S/PDIF out

RS - 232

Micro USB for ADB

Optional 3G/4G mobile module via USB

AniBeacon™ (BLE)

Storage
Micro SD card slot ( support up to 32GB storage)
Power

Input: 100 - 240V, 50 - 60 Hz, 0.5A Max.

Output: 12V, 1.5A

UL/CB/PSE certified power supplies

Interchangeable connector system includes US plugs (Option for EU, UK and AUS plugs)

Accessories

HDMI cable

External 5dB Wi-Fi antenna

Velcro

Power/Micro SD card brackets

Warranty - year(s) (parts/labor)
1 - year limited parts & labor
Supported Features
| Feature | Windows | Linux |
| --- | --- | --- |
| Video Support | .webm .avi .wmv .m4v .mov .h264 .3gp .mp .mpg .mpeg .mp2 .mpg2 .mpeg2 .mp4 .mpg4 .mpeg4 | .webm .avi .wmv .m4v .mov .h264 .3gp .mp .mpg .mpeg .mp2 .mpg2 .mpeg2 .mp4 .mpg4 .mpeg4 |
| Image Support | png .jpg .jpeg .gif .bmp .svg | png .jpg .jpeg .gif .bmp .svg |
| Audio Support | .mp3 .wav | .mp3 .wav |
| Interactive Support | .pps .pptx .ppt .xls .xlsx .pdf .swf .flv .htm .html | .pdf .htm .html |
| Other Supported Formats | .3d .e3d .ugp .srt .vtt .wvtt | .3d .e3d .ugp .srt .vtt .wvtt |