Create Your Own Signage Layout From Scratch Or Use a Template
It's extremely fast and easy to design a layout, no technical experience is necessary. In fact, you can create a layout in less than ten minutes.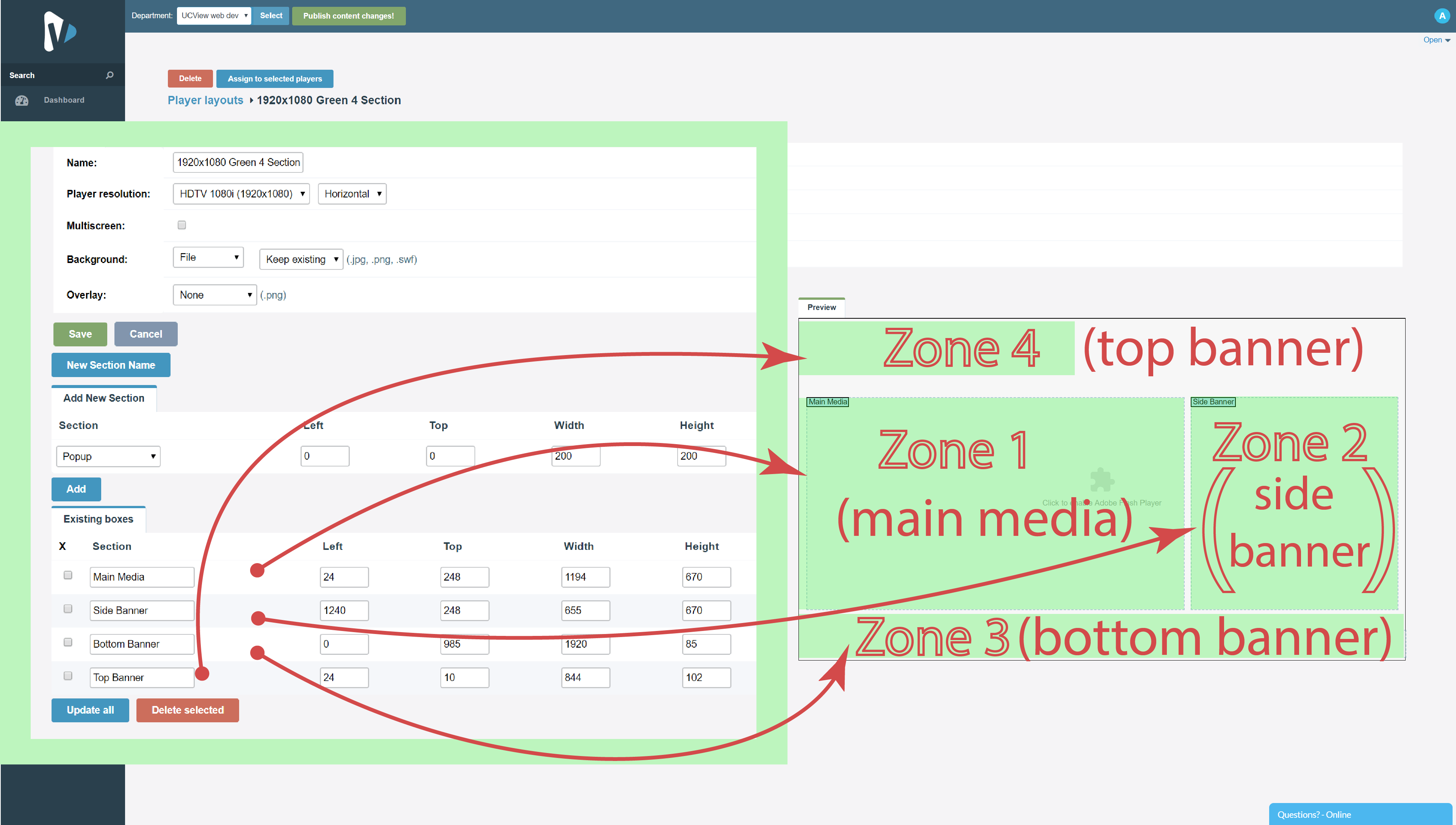 How to Design a Layout
What is a Layout: A layout is simply the background templates and style elements adorning the content and graphics displayed on a digital signage monitor. Why You Should Include a Layout: There are a variety of reasons why network operators and customers should use a layout design for their digital signage monitors. Layouts provide an all around balanced and professional look. Companies can also provide a signature design with their layout. For instance, a bank can display their logo so that it adorns the borders of the content being displayed. Layouts also create an eye-catching visual, which is more attractive for your viewers.
How to Create a Layout:
It's extremely fast and easy to design a layout, no technical experience is necessary. In fact, you can create a layout in less than five minutes. Changing a Layout: It's very easy to maintain and change a layout for your digital signage monitor. Log in to your UCView portal. Click on Display Layouts on the menu tab. Click on the appropriate display listed. To upload a new background or overlay, go to the Background or Overlay tab, you may insert a new image or press none. After you are done, don't forget to click on the Save button underneath the Details menu.
To add a new section for your screen, go to Add a New Box, click on the desired section and press Add. To make changes to the banners or main media screen, go to Existing boxes, make the necessary changes and press Update All. You may resize the layout by moving your cursor over the demo layout and adjusting the corners. The numbers in the Existing boxes will automatically change. If you would like to provide a Z-index and Audio Balance for your layout, press the More tab on your right hand side. Make the desired changes and press Update All.
What is a Z-index?
The Z-index determines where to stack each element. This method helps organize your layout so that the appropriate content, once it overlaps, will be layered either on top or below.
What is an Audio Balance?
Audio balance allows you to select where your sound will be delivered. You have the option of selecting audio to be heard on the right side, the left side, or equally throughout. How to Delete a Layout: You may delete a section by clicking on the left side panel of Existing boxes. A check mark will appear for boxes you selected to be deleted. Once you are finished making your selection, click on Delete Selected. Your screen will automatically refresh and the deleted section will be removed. If you are interested in deleting the overall layout, simply click on the button labeled Delete underneath the Details menu.