How to Create a New Location
---
Category:UCView Concepts And Architecture -> Locations
Click LOCATIONS & DISPLAYS tab under the MANAGEMENT MENU.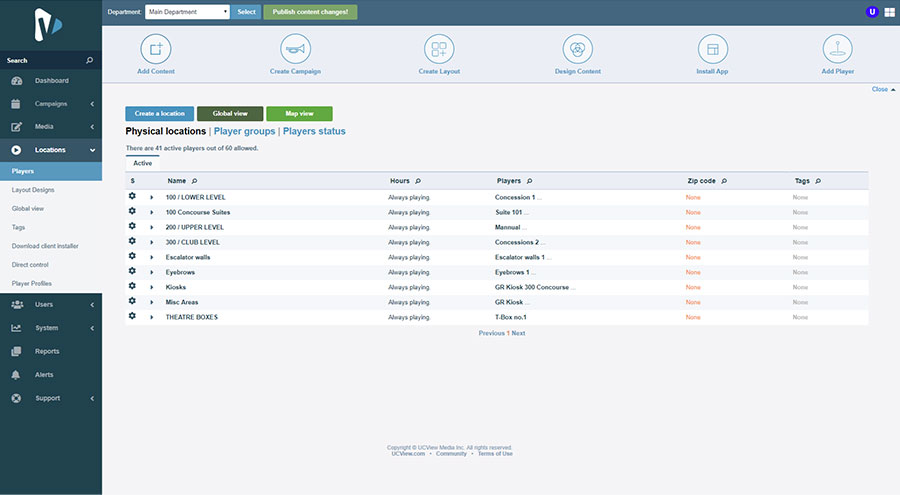 Click CREATE A NEW LOCATION.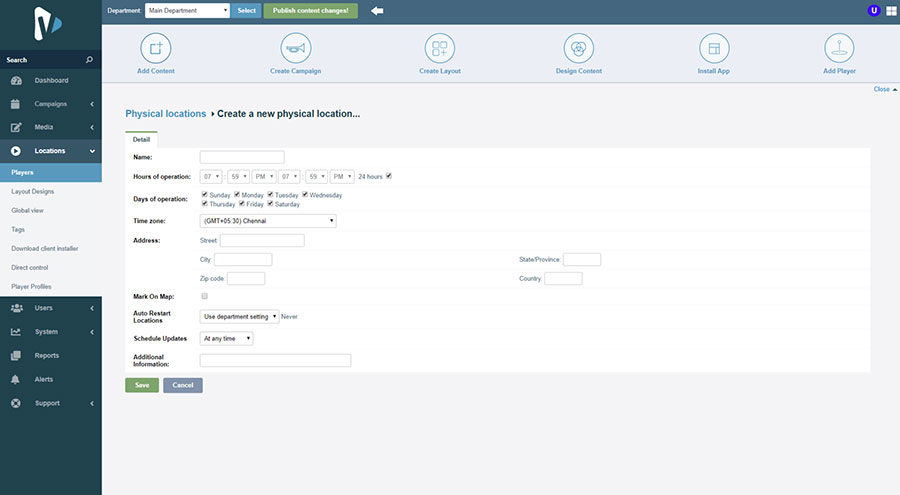 NAME: Enter location name.
HOURS OF OPERATION: Enter the opening and closing times of the location
(the monitor/display will turn on and off automatically according to the
times you specify in this field).
Note: If Hours of Operation fails to operate correctly, contact UCView Technical
! Support to assist the UCView System in recognizing your particular display(s).
DAYS OF OPERATION: Click the check boxes next to the days you would
like the Location to operate.
TIME ZONE: Enter the time zone of the location.
The MAIN CONTACT, E-MAIL, PHONE and ADDRESS fields are used to
keep track of your client's information for this location. If you are the enduser
you do not need to fill in these fields.
SYNC DISPLAYS: Check this box to synchronize the content delivered to
multiple displays at this location. When selected, all displays will play video
and audio at exactly the same time. To avoid potential display and audio
problems, this box should be selected only when advised by your UCView
account or technical support representative.
AUTOMATICALLY RESTART LOCATIONS?: The default setting is USE LOCATION
SETTING: and Never. If you turn your signage off once a day/week,
leave the setting at Never. If your system runs 24 hours a day, we recommend
restarting the system to clear system errors and allow the operating
system to run reliably. To change this setting:
Select EVERY: from the drop down list.
HOURS: Enter the number of hours BETWEEN automatic start ups. The default
setting is AT ANY TIME. To restart the system during non-peak hours (or any
time that you like), Select ONLY BETWEEN: from the drop down list and enter
the range of hours in the accompanying boxes.
ALLOW SCHEDULE UPDATES: The UCView System allows you to create and
upload new content and schedule its display either instantaneously or at
any time of day (for instance, after business hours).
The default setting is AT ANY TIME, meaning your schedules are updated instantaneously. If you
would like to schedule updates within a specific time frame:
Select ONLY BETWEEN: from the drop down list and enter the hours in the
drop down lists that appear on screen.
Click SAVE.