Unbeatable Features
Digital signage software that offers complete flexibility and control over displays and content.
High Level Control
One ViewEdge virtual media server can control over a thousand digital signage players, which can operate from anywhere in the world.
Easy To Maintain
Self-contained hardware and software solution that minimizes maintenance and serpentine installation/administration issues.
Scalability
Cluster multiple server appliances to increase capacity and availability. Installing additional units is as simple as installing the first one.
Web-based Administration
Manage campaigns, content, layouts and displays using any web-enabled device from anywhere in the world.
Centralized
Unlike software-only solutions, the UCView Digital Signage Network increases system performance by centralizing the process and management to multi-user enterprise environments.
Adaptive Scheduling
Schedule content delivery on the fly or weeks in advance and have the option to use advanced scheduling features suchs as dayparting.

Try Our Server Demo Right Now
Simply navigate to our demo server login page and use the login credentials below:
Username: education
Password: ucview
Feel free to modify layouts/playlists or create your own!
ViewEdge Virtual Server Implementation
Virtual digital signage servers allow users to do more with less hardware.
The digital signage server can be implemented in a virtualization environment by using VMWare, Microsoft Hyper-V, and XEN. The virtualization software can be configured automatically to relocate the digital signage server from one host to another. UCView's digital signage software applications are able to be deployed rapidly.
Virtual Server Minimum Recommended Requirements:
2 Core CPU | 60GB SSD | 4GB RAM
UCView subscription updates provide you with a peace of mind while installing and running your digital signage server. Along with additional training and design support, subscription updates are included free of charge for the first year of your contract and is renewable thereafter for a small fee.
Have Questions?
Our digital signage experts are ready to walk you through a demo of our system and discuss the best options suited for your needs. All in our free online demo.Schedule one today.
Lets Talk
Administration

Web-based interface
Console for IP management
User account administration
Reports and statistics
Remote display management
Display failure notification
Secure remote administration
Full user security module
Maximum flexibility
End Users

Full campaign and ad management
Reports and statistics
Standard technical support
Appliance monitoring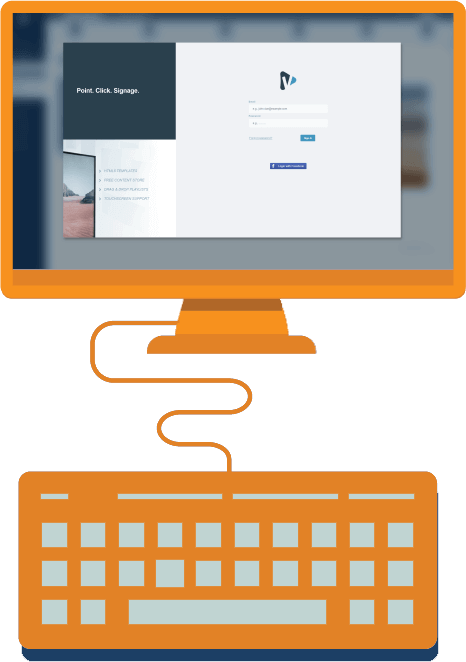 Try PO