ViewEdge 500 Digital Signage Server

Manageable Foundation for your Digital Signage Network

ViewEdge 500 Overview
---
The flagship UCView ViewEdge 500 provides industry-leading content management, performance, and availability with a 3.0 GHz Intel processor engineered for growing digital signage businesses requiring continuous accessibility and up time. The ViewEdge 500 Digital Signage server is our most popular fully integrated hardware and software solution for providing web-based management and media distribution. With complete control of up to five hundred media players, the ViewEdge 500 is an ideal choice for multi-location signage networks controlling any installation. One Digital Signage server seamlessly distributes: Live TV, web pages, Flash media, PowerPoint presentations, RSS feeds, and multiple videos, images, and audio formats. With no software to install or network modifications to perform, setting up a UCView Digital Signage Appliance is simple and hassle-free.
Features
---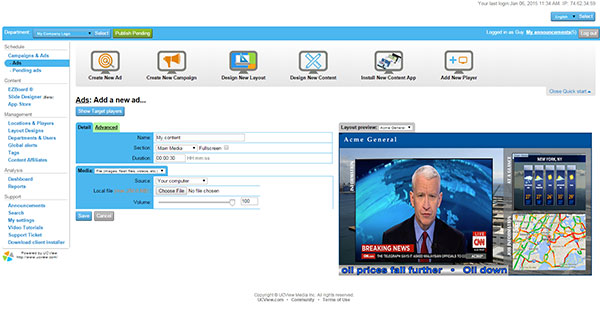 In general, a centralized digital signage server can provide significant benefits for your enterprise:
One ViewEdge 500 media server can control as many as 750 media players, operating anywhere in the world.
Compatible with Intranet, Internet, and V-LAN connections.
Self-contained hardware and software solution that minimizes maintenance and serpentine installation/administration issues.
Cluster multiple server appliances to increase capacity and availability. Installing additional units is as simple as installing the first one.
Web-based administration: manage campaigns, content, layouts, and displays using any web-enabled device from anywhere in the world.
Unlike software-only solutions, the UCView Digital Signage Network increases system performance by centralizing the process and management to multi-user enterprise environments.
Schedule content delivery on the fly or weeks in advance.
Server Specifications
---
QuickSpecs

See detailed specs

US QuickSpecs »pdf

Processor

Processor family

CPU: 3.3 Intel Xeon E3-1230 v3 Processor