Digital Signage servers
UCView Media has been serving digital signage networks for 10 years. We understand that a one-size-fits-all approach to digital signage simply won't do. That is why UCView Media is focused on creating versatile digital signage solutions and services that suit your network's unique needs and allows you to spend more time on other aspects of your business.
The ViewEdge digital signage Server Advantage
UCView Media's digital signage servers are an essential part of our solutions portfolio. The ViewEdge servers have set the industry standard for simplifying network operations, providing cost-effective performance and delivering state-of-the-art content distribution solutions. Our prestigious digital signage servers easily integrate and support hundreds of displays, while providing a robust software platform to help reduce complexity and maximize control.
The ViewEdge series features five classes that cover networks of all sizes, enabling you to get all your digital signage needs from a single vendor. Whether you own a private network with a few displays or an enterprise-class network with thousands of displays, UCView Media has the digital signage server to fit your business and budget needs.
Cloud vs. Signage Server Comparison
SIGNAGE SERVER BENEFITS

Host on your own signage server hardware.
Extreme customization.
Active Directory LDAP Integration.
Perpetual server license: one-time purchase.
Complete application control.
Full security and control.
Players do not require internet access.
Internal file delivery.
Fine-tune network optimization.
CLOUD BENEFITS
Host your content on our world-class data centers at a state-of-the-art facility.
24/7/365 monitoring for 100% uptime operations.
Managed, secured firewall and anti-virus services.
Managed reliable hardware services.
Advanced support for client-specific needs.
Managed backup services and failover host signage servers.
Subscription pricing: month-to-month.
Software support, including lifetime free upgrades, updates, patches, and error free operations.
By hosting your own narrow casting signage server network, you can avoid accumulating monthly fees as well as increase throughput speed by minimizing bandwidth irregularities. Choice in digital signage server platforms and features
Regardless of whether you run a small digital signage network at your corporate office, restaurant, educational facility, hotel, supermarket, or you operate a global digital signage network, ViewEdge digital signage servers deliver innovative technology in a variety of classes to meet your unique needs.
SIGNAGE SERVER DIAGRAM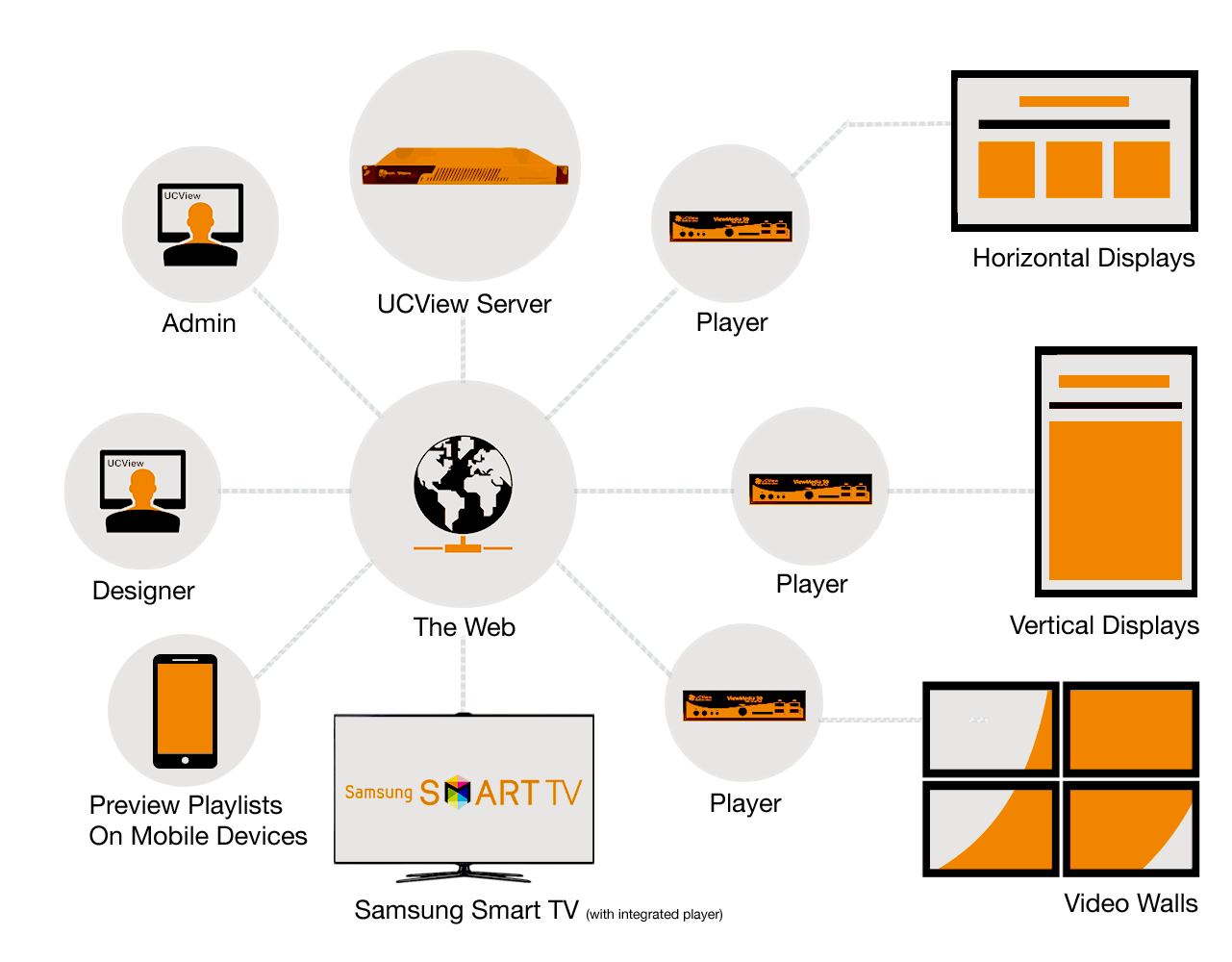 SIGNAGE SERVER INTERFACE