UCView Media has been serving digital signage networks for 8 years. We understand that a one-size-fits-all approach to digital signage simply won't do. That is why UCView Media is focused on creating versatile digital signage solutions and services that suit your network's unique needs and allows you to spend more time on other aspects of your business.
---
The ViewEdge Advantage
UCView Media's digital signage servers are an essential part of our solutions portfolio. The ViewEdge servers have set the industry standard for simplifying network operations, providing cost-effective performance and delivering state-of-the-art content distribution solutions. Our prestigious digital signage servers easily integrate and support hundreds of displays, while providing a robust software platform to help reduce complexity and maximize control.
The ViewEdge series features four classes that cover networks of all sizes, enabling you to get all your digital signage needs from a single vendor. Whether you own a private network with a few displays or an enterprise-class network with thousands of displays, UCView Media has the digital signage server to fit your business and budget needs.
---
By hosting your own narrowcasting signage network, you can avoid accumulating monthly fees as well as increase throughput speed by minimizing bandwidth irregularities.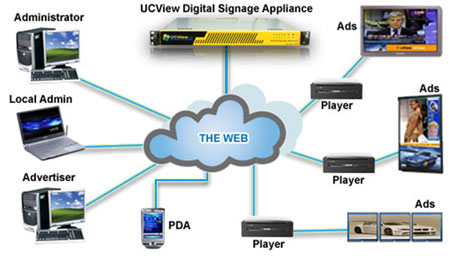 Choice in server platforms and features
Regardless of whether you run a small digital signage network at your corporate office, restaurant, educational facility, hotel, supermarket, or you operate a global digital signage network, ViewEdge servers deliver innovative technology in a variety of classes to meet your unique needs.
A straight-forward installation process for simple, efficient deployment
You can quickly add and control locations from anywhere on your network. Connect UCView's ViewMedia players to your digital signage server and start delivering content to your network without complex cabling, firewall and proxy access, or other IT-related hassles.
Standard-setting innovative technology and services

The ViewEdge series was designed with our customers' varying needs in mind. As a result, we developed a product that sets the industry standard for delivering a rock-solid base while retaining all the necessary flexibility to accommodate any client's needs. We continue to define value by integrating innovative technologies into our platform to not only set but exceed the very standards we set.
Hardware built for excellence and reliability
UCView's direct model and vast experience in deploying digital signage networks allow us to deliver digital signage servers of the highest quality. We focus on delivering the most reliable digital signage servers, and to ensure our product's performance every ViewEdge server undergoes thorough testing before it leaves the factory.
Leading content management and narrowcasting systems
UCView offers robust content management software and tools. Along with tight integration with leading third-party suites, our platform provides a central flexible digital signage solution across the entire server life cycle. In addition, strict adherence to industry-standard protocols helps drive greater efficiency.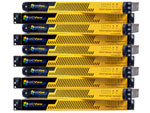 Tested, certified, and ready-to-deploy digital signage configurations
Let UCView take the guesswork out of deploying digital signage with tested and proven results. Years of experience have given us the knowledge to optimize network configuration, letting us provide you with the best setup for your network.
Cost-effective performance
The ViewEdge servers offer industry-leading functionality, price, and performance, which helps reduce total cost of ownership and optimizes your budget. When you are ready to move from one to multiple locations, or your pilot project requires multiple locations, the UCView system provides you with solutions to get you up and running in a matter of days - not weeks. With purpose-built digital signage systems intended for many markets, we facilitate the process of reaching your audience with your message.

Great out-of-the-box experience
To make things easier on you, we build commonality into our digital signage servers. From connecting the components, to a simple 5-step setup process, our digital player deployment takes just minutes.
You are not alone with UCView Media

Choosing UCView as your digital signage solutions provider is the intelligent way to make sure your time is spent concentrating on your business. Our dedicated digital signage experts will provide one-to-one advice at any stage of the deployment process. Whether you are researching digital signage solutions to fit your needs, seeking help with first-time deployment, or looking to expand your existing network, we have all the answers you are looking for.
---
ViewEdge 10
The ViewEdge 10 gives you complete control of up to ten digital signage players. You can micro-manage each location, delegate authorities and update any aspect of your network from one location. Powered by the robust UCView system, this server appliance will provide an accurate, modular, scalable and cost-effective solution.

Learn More »
---
ViewEdge 100
The ViewEdge 100 digital signage server increases player control from 100 - 250 units, perfect for a mid-sized single location installation or multiple small location installations. The same ease of operation as the ViewEdge 10 server, plus increased video capabilities and faster throughput of data allows you to keep your network running smoothly.

Learn More »
---
ViewEdge 500
The ViewEdge 500 digital signage server increases player control from 500 - 750 units, perfect for growing a national digital signage network. This class features the same ease of operation as the ViewEdge 100, as well as advanced video capabilities and faster throughput of data.

Learn More »
---
ViewEdge 1000
The ViewEdge 1000 digital signage server offers even more power, more control, and more efficiency. This enterprise-class digital signage server redefines power and flexibility for digital signage network administrators. Engineered for large-scale digital signage deployments, this server lends you powerful new administrative features, efficient monitoring tools, and an advanced media distribution platform that can grow with your digital signage network. Planning a scalable digital signage infrastructure can be the key to keeping up with demands in your industry. ViewEdge 1000 can confidently accommodate growth in processing needs and capabilities thanks to its architecture.

Learn More »
---
ViewEdge Virtual
The ViewEdge Virtual Server Digital signage virtual servers are quickly becoming the standard platform of choice. Corporations are starting to make the shift from physical servers and locally-installed content management applications to virtualization technologies, such as VMware, Microsoft Hyper-V, XEN, and Citrix. Implementing the UCView ViewEdge Virtual Server application in a virtualization environment enables customers to lower capital and operational costs of their digital signage network operation.

Learn More »