ViewEdge 1000 Digital Signage Server

Manageable foundation for your digital signage network

ViewEdge 1000 Overview
---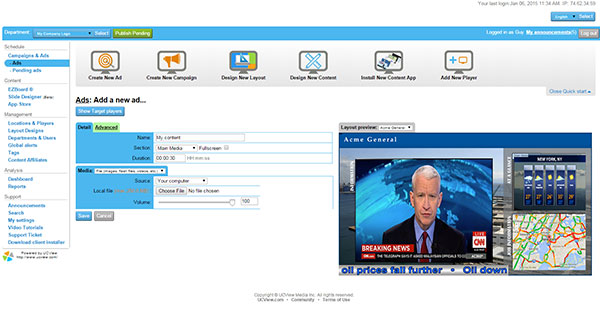 The UCView ViewEdge 1000 server is part of a new family, ViewEdge digital signage server solutions provide optimized digital signage deployment in order to greatly reduce costs, maximize power efficiency by scaling your digital signage network across a multi-server environment, and maintain total flexibility. Each server supports two Intel Xeon processors with 8 DDR3 DIMM sockets, 3 SAS hard drives and support for a low profile x16 PCI-e Gen 2.
The ViewEdge 1000 Digital Signage Server provides high-performance, is extensible, and is fully scalable. The scalable server architecture can help keep your digital signage customers and staff happy while leaving the door open for future growth and expansion of your network. The ViewEdge 1000 can balance heavy ad distribution and reporting loads. This type of enterprise digital signage server architecture offers an open-ended, flexible, way to provide enhanced digital signage capabilities and control as your digital signage network expands. Plenty of disk space, with server clustering, allows for plenty of space and reliable retrieval of media for a large number of locations.
With no software to install or network modifications to perform, setting up a UCView Digital Signage appliance is simple and hassle free.
Features
---
In general, a centralized digital signage server can provide significant benefits for your enterprise:
One ViewEdge 1000 media server can control over a thousand digital signage players operating anywhere in the world.
Compatible with Intranet, Internet, and V-LAN connections.
Self-contained hardware and software solution that minimizes maintenance and serpentine installation/administration issues.
Cluster multiple server appliances to increase capacity and availability. Installing additional units is as simple as installing the first one.
Web-based administration: Manage campaigns, content, layouts, and displays from any web-enabled device from anywhere in the world.
Unlike software-only solutions, the UCView Digital Signage Network increases system performance by centralizing the process and management to multi-user enterprise environments.
Schedule content delivery on the fly or weeks in advance.
Server Specifications
---
QuickSpecs

See detailed specs

US QuickSpecs »pdf

Processor

Processor family

CPU: 3.3 Intel Processor


Server Capacity

Support Players #

1000 - 5000+ Players
Multi-Server Environment

Memory

Memory

8GB DDR3
SDRAM

Back Panel Connectors

Video OutPut Connectors

1 X VGA Connector
Devices

2 USB
2 PS/2 (Keyboard/Mouse)

Network

LAN/WAN Controller

2 X 10/100/1000 Network Adapter

Storage

Hard Drive

Two 1TB ATA Hard Drive
Disk Mirroring

Other Info

Dimensions

19 inches 2U
Size 17" X 11" X 3"
Interface

Interface
Web and Console

Power Requirements:

Voltage and Amp

AC 100-200 Volt
450 W

| | |
| --- | --- |
| Warranty - year(s) (parts/labor/onsite) | 1/1/1 |

Key Benefits

---

The flagship ViewEdge1000 provides industry-leading management, performance, and availability in a 2U rackmount server engineered to excel in digital content management environments. This can include a small digital signage network in a growing business to large deployment sites, which require continuous accessibility and uptime.

Optimize System Performance and Ease of Serviceability
Manage Seamlessly from Anywhere, Anytime
Enterprise-class Redundancy Features
Maximum flexibility

Administration and End User System Features

---

Web-based interface


Console for IP management
User account administration
Reports and statistics
Remote display management
Display failure notification
Secure remote administration
Full user security module
Maximum flexibility

End Users

Web-based interface
Full campaign and ad management
Reports and statistics
Standard technical support
Appliance monitoring




Support

---

UCView subscription updates provide you with peace of mind while installing and running your digital signage server. Along with additional training and design support, Subscription Updates are included free of charge for the first year of your contract and is renewable thereafter for a small fee.

---

If you host your own narrowcasting signage network, you can avoid accumulating monthly fees as well as increase throughput speed by minimizing your bandwidth irregularities.